On Friday afternoons, after his last patient appointment, Dr. Curtis Manning puts his stethoscope away and leaves for his other job – defenseman for the Calgary Roughnecks.
For nine seasons, Manning has sported number 10 for the local National Lacrosse League (NLL) team. In those years, he has played more than 100 regular-season games and 19 playoff games, and tied the club record for most caused turnovers in a single season. Over that same period, he completed medical school and residency training, joined a family medical practice in Calgary, got married and became a dad to a baby girl.
It hasn't been easy to have a medical career and play pro lacrosse, too, "but, at the end of the day, if you can do something you love, it's worth it," Manning says.
Lacrosse has been a part of Manning's life since before he was even born. His father, Steve Manning, played in the Western Lacrosse Association and was coaching when his son arrived into the world in 1987. Raised in B.C.'s Fraser Valley, the younger Manning would go on to play university lacrosse as an undergrad at Simon Fraser University. In 2010, he won a silver medal with Team Canada at the World Lacrosse Championship.
That same year, Manning joined the Roughnecks and also began medical school at the University of British Columbia. For the next four years, whenever it was feasible, Manning would fly from Vancouver to join the "Riggers" (the nickname for the Roughnecks) wherever they were playing. He was adamant about his priorities: medical school came first, lacrosse second. Even so, he managed to play the majority of regular season games that year and through the rest of his medical schooling as well (the exception being 2011 when Manning missed all but two games as he focused on his studies). "The team was really understanding and that's why it worked," he says.
The medicine-lacrosse balancing act is a bit easier now that Manning lives in Calgary. He currently trains three evenings during the week, either with the team or on his own. NLL games are played on Fridays, Saturdays or Sundays and the team reconvenes the day prior, either to practice before home games or to board their flight when they're playing away.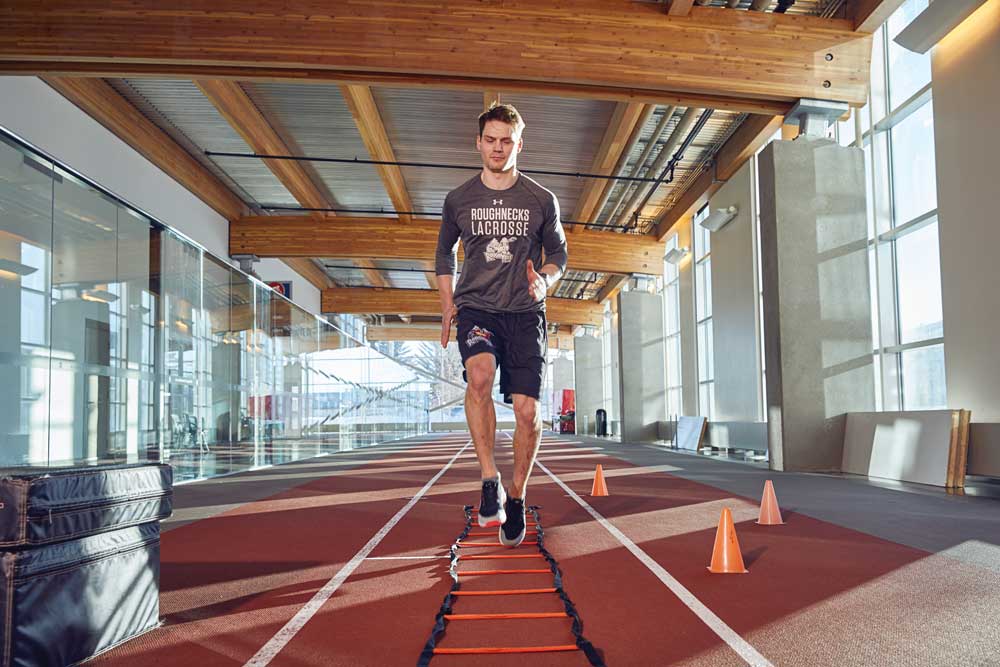 Family doctor and Calgary Roughnecks player Curtis Manning at the Canadian Sport Institute Calgary.
Lacrosse is a speedy, dynamic game, often described as a combination of basketball, soccer and hockey. Players never stop running and change direction on a dime. As far as training goes, in the lead up to the season, Manning (known to his teammates as "Manno") and the Riggers focus on lacrosse-specific workouts by lifting lighter weights, performing explosive moves and practicing skills. Once the season starts, they shift their focus to maintaining strength and preventing injury.
As one of the longest-serving veteran players on the team, Manning has to work harder to keep his 30-year-old body in game shape – at least compared to when he was 22. "When you're young, you just show up and play and you don't pay the price if you aren't doing anything else," he says. These days, he stretches carefully before and after games and works out at home with resistance bands and massage balls to improve his mobility.
Manning and his wife Monique cook most of their meals at home, preferring fruits and vegetables, good-quality protein and whole grains. "It's more a Mediterranean-style [diet] but it doesn't follow any rules or structure," he says. His approach to fitness and nutrition seems to be working: the Roughnecks' strength and conditioning coach Jamie McCartney ranked Manning's among the top three standout performances by a veteran player in the team's pre-season fitness testing.
For the most part, Manning keeps his lacrosse and medical worlds separate. He'll take the odd medical question from a teammate, but the team doctor usually handles any medical issues for the club. Most of Manning's patients don't even know that their doctor is on Calgary's pro lacrosse team. On his clinic's website, he lists skiing, hiking and cycling as hobbies. "I don't really bring it up or talk about it a whole lot," he says.
His less-talk-more-action approach extends to the turf as well. Last year, for the first time since the Roughnecks' inaugural season in 2002, the team missed the playoffs, so Manning and crew have their sights set on making the 2018 playoffs and a return to the NLL's Champion's Cup, which the team last brought home in 2009.
"We have high expectations to do much better," Manning says.