Eight years ago, Ian MacNairn, then an undergraduate student in the University of Calgary's faculty of health sciences, sat in his thesis advisor's office, crutches at his side, discussing ways to research the concept of embodiment in sport – the physical, mental, social and spiritual body a person achieves when fully immersed in athletic activity. The ideal project, they mused, would be to take someone with zero mobility and track them as they transformed into a hyper-mobile individual.
MacNairn suggested himself as a case study. "It was a natural fit due to circumstance," he recalls.
Two years prior, in 2006, an SUV had barrelled into MacNairn as he walked through a crosswalk near Foothills Medical Centre, requiring surgery to reconstruct his left leg. A former high school athlete, MacNairn hadn't jogged a single step since the accident, so his proposal to spend the next 10 months training, journaling and undergoing regular physiological and performance testing was daunting, not to mention that at the end of it all his plans were to enter the Canadian Death Race, a 125-kilometre (77-mile) run that takes place over the August long weekend near Grande Cache – earlier that week he'd seen a poster advertising it.
"This was really exploratory research, trial by fire," MacNairn says.
MacNairn trained for nine months, reaching a maximum of four hours of continuous running, and made good on his goal to enter the race. About 10 hours in, he found himself struggling with muscle cramps and diarrhea. The agony persisted over the remaining 40 km (25 miles).
"By the time I got to the last 10 miles, I was doing a really sad kind of walking," MacNairn says.
Just under the 24-hour cut-off time, MacNairn crossed the finish line in what he believes was second-to-last place. But, rather than feeling discouraged, the experience left him inspired.
"The first race opened a door into learning more about myself in a way that I never had access to previously," he says. "I could see other people being really excited about the exact same thing."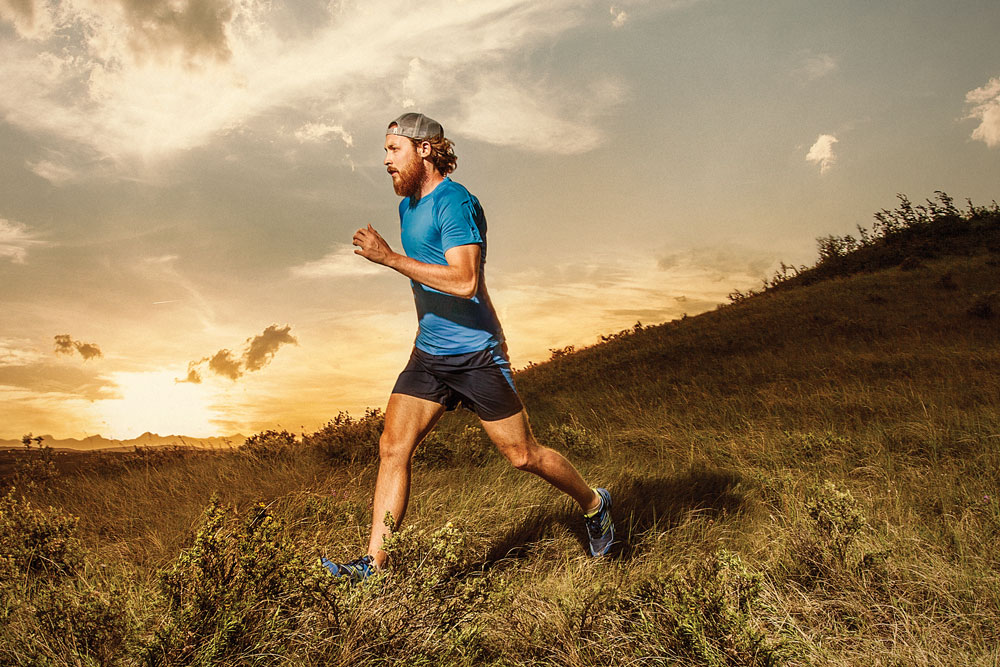 That first finish line was the starting point for a much bigger project. MacNairn turned his undergraduate thesis into a master's and now a Ph.D. topic, studying more than 1,000 ultra-marathoners and researching what draws them to their sport. He's also become a professional ultra-marathoner, sponsored by The North Face, Smartwool, Julbo Eyewear, Clif Bar and Xact Nutrition. In the seven years since his first ultra, the 29-year-old has participated in approximately 40 ultra-marathons. Now, he typically finishes at or near the front of the pack.
An ultra-marathon is defined as any race longer than the standard marathon distance of 42.2 km (26.2 miles). MacNairn's favourite ultras are highly technical courses of about 100 km that involve summitting mountains and crossing rivers. Runners carry most of their gear on their backs as they often travel 20 km or more between aid stations. MacNairn, who has celiac disease, can't always rely on aid stations to provide gluten-free food.
He generally runs every day, sometimes twice daily, aiming to achieve goals of duration rather than distance. He prefers trail running in the mountains, often picking his way across dicey terrain alone. Last year, he fell 30 metres down a mountain on a solo training run and had to crawl out, an accident that forced an end to his racing season. Now back at full strength, he averages 22 hours a week (150 to 180 km) of running, putting in his time day or night. He adds hot yoga to his schedule in the weeks before a race to keep his muscles limber and to help him adapt to extreme heat.
MacNairn faces an extra challenge – managing his type 1 diabetes, which he was diagnosed with at age 10. He has blacked out on training runs and was forced to end a race last summer after 85 km when his blood sugar plummeted dangerously. To keep his levels in check, he wears a continuous glucose monitor clipped to his shorts during a race. It buzzes with alerts if his blood sugar soars too high or dips too low. (His list of sponsors includes Animas, a Canadian company that makes an insulin pump system for diabetics).
"[Diabetes] changed my perspective of the world and my relationship with observing myself, looking after myself," MacNairn says. "You develop a monstrous work ethic and diligence because if I don't work hard, I don't live."
MacNairn is, at heart, a researcher with a keen mind for numbers. His undergraduate and graduate studies have been entirely funded by scholarships, and he's currently enrolled in the U of C's MD/Ph.D. program, with plans to start medical school once his research is complete. His unconventional style defies that of the stereotypical introverted long-distance runner or straight-laced academic, though. Throughout the 2013 race season, he maintained a bushy mullet hairdo while setting a number of course records. He cut it off at the finish line of the last race of the year.
This summer's race season is a full one for MacNairn, with an ultra in Canada, three in Europe and another around Japan's Mt. Fuji. The road from injured undergrad, who couldn't walk unassisted from one classroom to the next, to globetrotting ultra-marathoner has been a long one, but even with his researcher's brain, MacNairn says the most significant changes in his life are ones that are impossible to measure.
"The biggest change was in my ability to endure difficulty and pain and continue on without stopping," he says, something that he sees in himself and recognizes in every ultra-marathon runner he encounters.