First, let's establish that it's pronounced "mode," and not "mod," like the Bea Arthur sitcom. It's pronounced the French way because Maud Salvi is from France. Those who hear the Sled Island Music and Arts Festival executive director's accent, and know she came here following a stint at Pop Montreal, might default to thinking she's French-Canadian. Mais non, Salvi hails from France – the you've-probably-never-heard-of-it-sized town of Saint-Romain-de-Jalionas, about 45 minutes east of Lyon.
Salvi's path from a childhood in France to festival director in Calgary by way of Montreal started with developing a taste for indie bands in her early teens. Born in 1984, she is part of the last generation who started high school before the Internet truly infiltrated everyone's lives, meaning she mostly discovered new bands through her network of likeminded friends. Her scene gravitated toward a volunteer-run live-music venue in Lyon, and Salvi and her friends began volunteering there as well, doing everything from cooking meals for touring artists to cleaning up at the end of the night. Even the cleaning tasks, she says, contributed to an overall spirit of camaraderie that she remembers fondly. "There was a really good culture around that place that I think was really important to have at the time," she says. "I feel really lucky that somehow that was my first introduction to live music."
That experience inspired Salvi to enroll in a post-secondary diploma program in production management. In her second year, she took advantage of a work-abroad initiative and went to Montreal to work for a booking agency. She returned to France after her student visa expired, but eventually decided she wanted to move to Montreal permanently. In 2008 she was back, this time as a permanent resident.
That same year, Salvi got a contract position with Pop Montreal, a multi-venue music festival, now in its 17th year. After the 2008 festival wrapped, Salvi was hired on permanently. She stayed with Pop Montreal for four years before making the decision to move on in 2012.
Salvi's subsequent job hunt in Montreal wasn't turning up much to get excited about. All the while, people who knew her and that she had left Pop Montreal were forwarding her notice that Calgary's Sled Island festival was looking for a new executive director. At first, Salvi disregarded the idea outright because she didn't want to leave Montreal. But eventually, she took a look at the posting. "When I read the job description I felt like it had been written for me," she says.
But it wasn't just the ideal job description that inspired Salvi to apply. She had attended Sled Island in 2012 and the festival had made a big impression. Salvi and her boyfriend at the time were close friends of Calgary musician Chris Reimer, who passed away in February 2012, and her boyfriend was involved in staging a commemorative photo exhibition about Reimer during that year's festival. Outside of the exhibition, Salvi took the opportunity to have the full Sled Island experience and enjoyed her time greatly.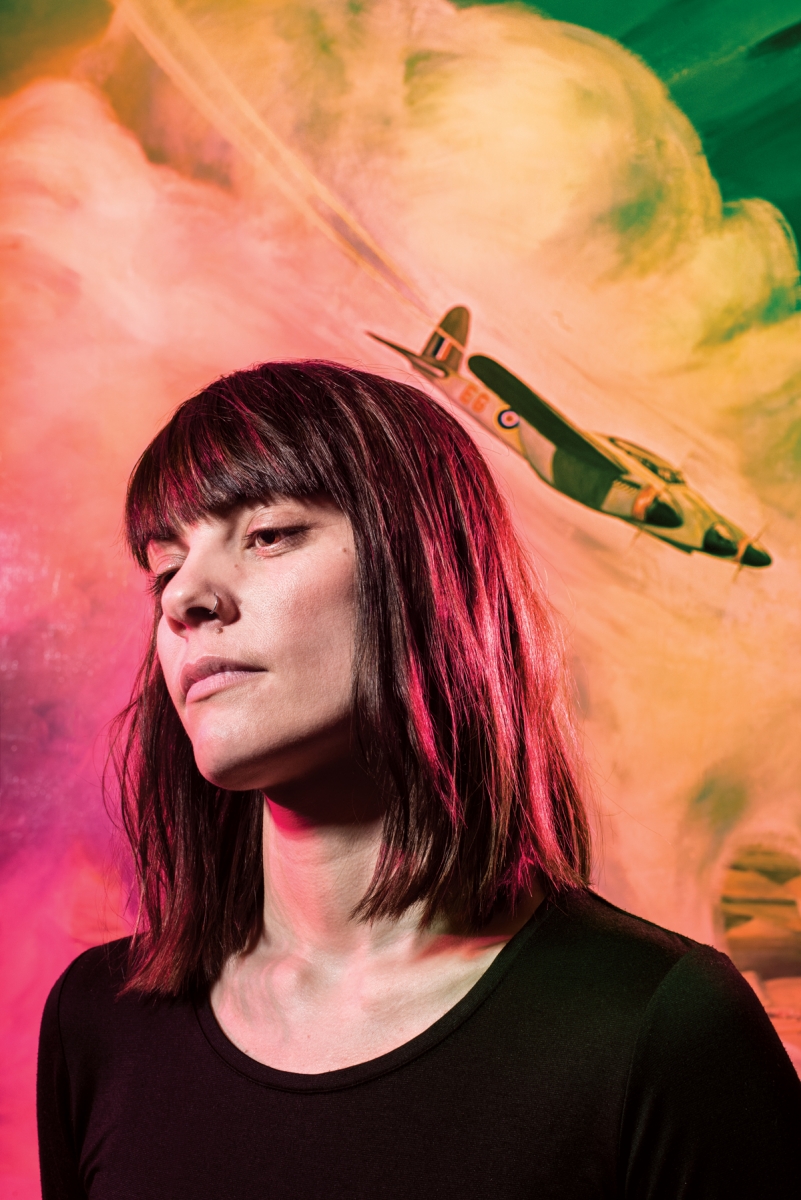 Maud Salvi, executive director of Sled Island Music and Arts Festival, at one of her favourite festival venues, the Royal Canadian Legion No. 1.
Sled Island, which started in 2007 and runs annually over five days in late June, uses the same format as Pop Montreal. Rather than taking place at one, big festival site, multiple smaller shows are staged in bars, nightclubs and other spaces throughout the inner-city. Attendees who purchase the festival wristband passes get access to all events (subject to capacity) and can hop from venue to venue. The experience Salvi had gained with Pop Montreal was directly applicable to Sled Island – plus the position was a move up the career ladder. She applied, was hired by the non-profit's volunteer board and started work in January 2013, just six months prior to the festival, which was scheduled to take place June 19 to 23.
That year, of course, goes down in infamy as the year of the flood, which hit the city full force on the night of June 20, just as Sled Island 2013 was hitting its stride. In the midst of staging an event involving 270 bands playing in 30 different venues, Sled Island received a mandatory evacuation order on the afternoon of Thursday, June 20 for the festival offices from their basement space in a heritage building on 4th Street S.W. (To make matters worse, Salvi's apartment was in the same building, so she was out of home as well as office.)
The Sled team quickly set up a satellite command centre at the Fairmont Palliser hotel, a longtime festival partner, and did their best to keep the wheels on the track. However, on the morning of Friday, June 21, the City revoked Sled Island's permits to stage its two marquee concerts at Olympic Plaza. The board and the festival team made the decision shortly after to call off the entire event and with that, Salvi's first Sled Island as executive director was over.
The end of the 2013 Sled Island Music and Arts Festival marked the beginning of a whole new ordeal, however – the looming threat of financial ruin. The fact that Sled Island even exists today, let alone that Salvi is still steering the ship, is testament to an extraordinary show of grassroots support from many pass holders, bands, sponsors, vendors and other parties who could have demanded refunds or payments, but chose to forego them in order to keep Sled Island viable. The festival also received money from the Alberta Arts Flood Rebuild Fund. In addition, other local festivals and arts organizations such as the Calgary International Film Festival and Calgary Underground Film Festival stepped up by offering tickets and passes to their own events as incentives to ticket holders to not request a refund from Sled Island. On Oct. 30, 2013, Sled Island announced that it would be back the following summer.
Even with the happy ending, after an initiation like that, it's a wonder that Salvi chose to continue and not embark on a 180-degree career change. "It didn't even cross my mind to quit," she says. "We had all worked so hard for that festival to happen and, especially for me, I wanted to have at least one year when I would do all the lead work and then get to see what it was like. How was it when it was actually happening? How does that feel, seeing it unfold the way it was supposed to? It felt like something I had to finish."
Salvi's resolve was also bolstered by the community response to keep Sled Island alive. "I think I just wanted to offer something even more awesome the following year to all those people who let us keep their money," she says. "They were taking a leap of faith by letting [us] have this money so we had to bring that thing back, hopefully in an even greater manner."
The 2018 festival, taking place June 20 to 24, will be the sixth under Salvi's direction. While she says the organizational aspects of the job get easier with experience, there continue to be big-picture challenges such as when the plummeting Canadian dollar added $80,000 to the budget of the 2015 festival because of contracts in other currencies. Though the susceptibility of Calgary's economy to boom-and-bust cycles certainly creates challenges for those running the city's large-scale arts events, there are other things about the city that Salvi has come to appreciate as unique opportunities for someone in her field. "I feel very fortunate to be here at this time because things are changing so much," she says. "Having the position that I have here, in a city like Calgary, it gives me access; I get a seat at the table for discussions that have to do with the arts sector at large and the city at large. Being able to be part of that and feeling like I can actually see the impact of my work in so many different areas is really fulfilling and gratifying."
If you are out and about during Sled Island 2018 and manage to catch a glimpse of Salvi, you'll likely see her on her phone, doing her buck-stops-here thing to make sure the festival is running as it should. You'll notice, however, that while she's working she's also trying to catch as much of the music as she can. Above all, the programming part is the best part of being a festival director, Salvi says. And in the end, it's all about the experience, for the audience primarily, but also for the people who put on the show.
---
Maud Salvi's Quintessential Sled island Venue
The Sled Island Music and Arts Festival presents shows in more than 35 venues, but if there's one that stands out it's the Royal Canadian Legion No. 1. With its bingo-hall seating and vintage-militaria decor, the room's aesthetics are often in sharp contrast to the edgy musicians that Sled Island puts on its stage, but that lack of congruency is also what makes it so great. "It's like no other space we use and it's awesome. I love it!" says Salvi. "To me it encapsulates Sled Island. If for some reason you can only go to one venue I would probably suggest going there – not even for the programming, but just for the vibe, for how special it is. Really, I haven't seen anything similar."