One morning, a little more than a year ago, Meaghan Mikkelson-Reid stepped onto the ice at WinSport's Joan Snyder rink and started skating to the far end, testing her body with long gingerly strides. Her legs felt okay, but Mikkelson-Reid's abdominal muscles, which are displayed in all their chiseled glory on her website, did not. For the first time in 25 years of playing hockey she couldn't pass or shoot the puck. "There's a lot of core [strength] needed to pass a puck – I didn't realize that," says the two-time gold medalist with Team Canada's women's ice hockey team, describing her inaugural skate after giving birth to a son in September 2015.
At that point, Mikkelson-Reid knew that the very ambitious plan she'd laid out – to return to the national team within three months of giving birth and to play in the world championships around the time her son would be six months old – was going to hurt.
There were many times over the course of that year she would wonder if she made the right choice. "I would come [to the rink] some days and I'd have slept three or four hours. I would have to do everything that everybody else was doing off of eight or nine hours of sleep. I would cry some days. I would think to myself, 'I'm so tired. I don't know if I can do this,'" she says.
Today, Mikkelson-Reid plays for both Team Canada and the Calgary Inferno of the Canadian Women's Hockey League. On a typical day, she wakes up early, drops her one-year-old at daycare and arrives at WinSport at 7:30 a.m. She trains until noon, then spends afternoons with her son. "We both nap," she says.
Twice a week, Mikkelson-Reid returns to the rink in the evening for Inferno practices. The team, which is coached by her husband, former professional player Scott Reid, has games on the weekends. It's a busy schedule that involves hefty planning and reliable babysitters, but now that Mikkelson-Reid is back, she says she has a renewed appreciation for life as a professional hockey player. "To play hockey for a living is pretty special and it's pretty unique to represent your country. I never doubt what I do," she says.
Mikkelson-Reid grew up in hockey-crazy St. Albert, a small city that borders Edmonton to the northwest. She first set her sights on the women's national team when she was 13, the same year women played hockey in the Olympics for the first time. As a kid, there were no all-female teams of her calibre so she played on boys' teams. "It was tough sometimes, I got made fun of, I got picked on a bit, but it made me stronger. Playing with the boys always pushed me," she says.
Mikkelson-Reid went on to play college hockey in the U.S., graduating from the University of Wisconsin in 2007, after four years on a full hockey scholarship. She came home to join Canada's national women's team, earning her spot after her first tryout. She was part of the Olympic gold-winning teams in 2010 and 2014, and her world championship medal tally includes five silvers and one gold.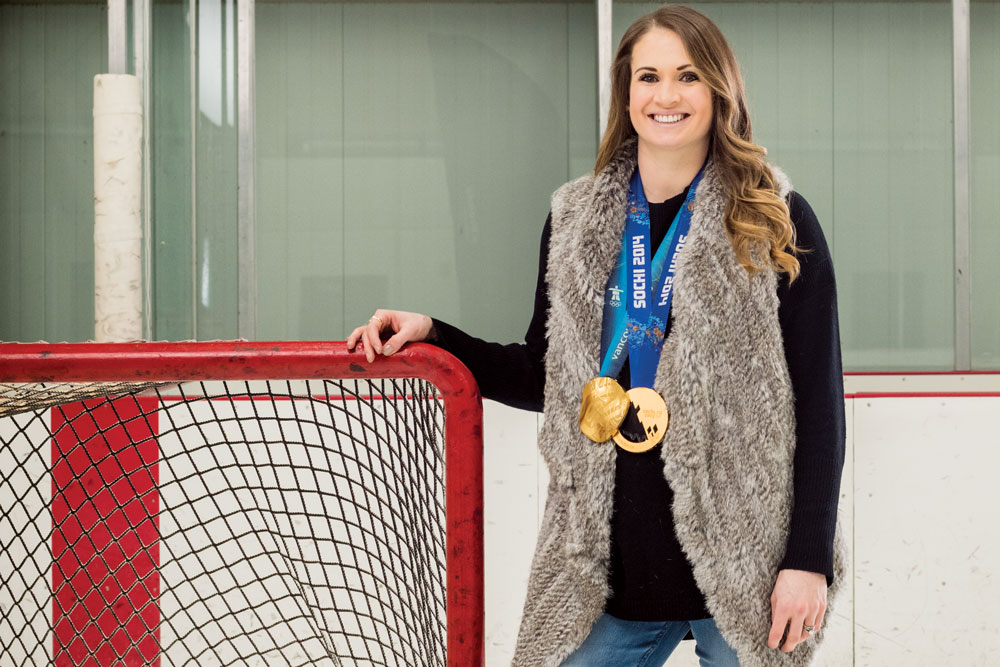 After the 2014 Olympics, Mikkelson-Reid decided to take time off from playing hockey so she and Reid could start a family. She stopped training but stayed in the game by coaching the Calgary Inferno for a year. Coaching made her realize that she wanted to return to playing after having a baby. "I wasn't done yet," she says.
When Mikkelson-Reid became pregnant in 2015, she set her sights on returning to the ice as quickly as possible. She worked with a local sports-medicine doctor and a Toronto-based pregnancy exercise specialist to create a training program for, during and after the pregnancy. It was an entirely different approach to training. For the first time in her career, she was encouraged to hold back. "When they say to do three-to-five sets, I've always done five and then maybe a couple more, just because I've always tried to push myself," she says. "It was hard for me to not push myself and stay within certain boundaries."
Her son, born on Sept. 27, 2015, was named Calder, the result of a "name-the-baby" contest the family put out to Twitter. The name references the National Hockey League's Calder Trophy for Rookie of the Year, which her great-uncle, Jim McFadden, won for his 1947-48 season with the Detroit Red Wings and the American Hockey League's Calder Cup, which her father, Bill Mikkelson, won in 1971.
Mikkelson-Reid was back in training six weeks after giving birth and back skating at seven weeks. At three months she was back playing with the Inferno and went to the national team camp at the four-month mark. She won a silver medal with Team Canada at the world championships that winter.
Mikkelson-Reid is the only new mother currently on Team Canada (teammate Hayley Wickenheiser has a teenaged son). She breast-fed Calder until he was almost one. While breastfeeding, her muscles had to work overtime to compensate for the laxity in her joints, making her prone to pulled muscles. That first season after giving birth she played with at least one injury at all times. But motherhood has also contributed positively to her strength, says Mikkelson-Reid. In her most recent fitness tests, her leg strength and volume were the highest they've been in her career.
All the hard work paid off last spring when Mikkelson-Reid and the Calgary Inferno won the CWHL's Clarkson Cup in 2016 – a career highlight, she says. In the team photo after the win, Mikkelson-Reid celebrates on the ice with her husband and their son, who is sitting in the trophy.
"One of the things I believe is the greater the sacrifice that you make to get something, the greater the satisfaction you feel in the end," she says. "Last year was that times 100 for me."