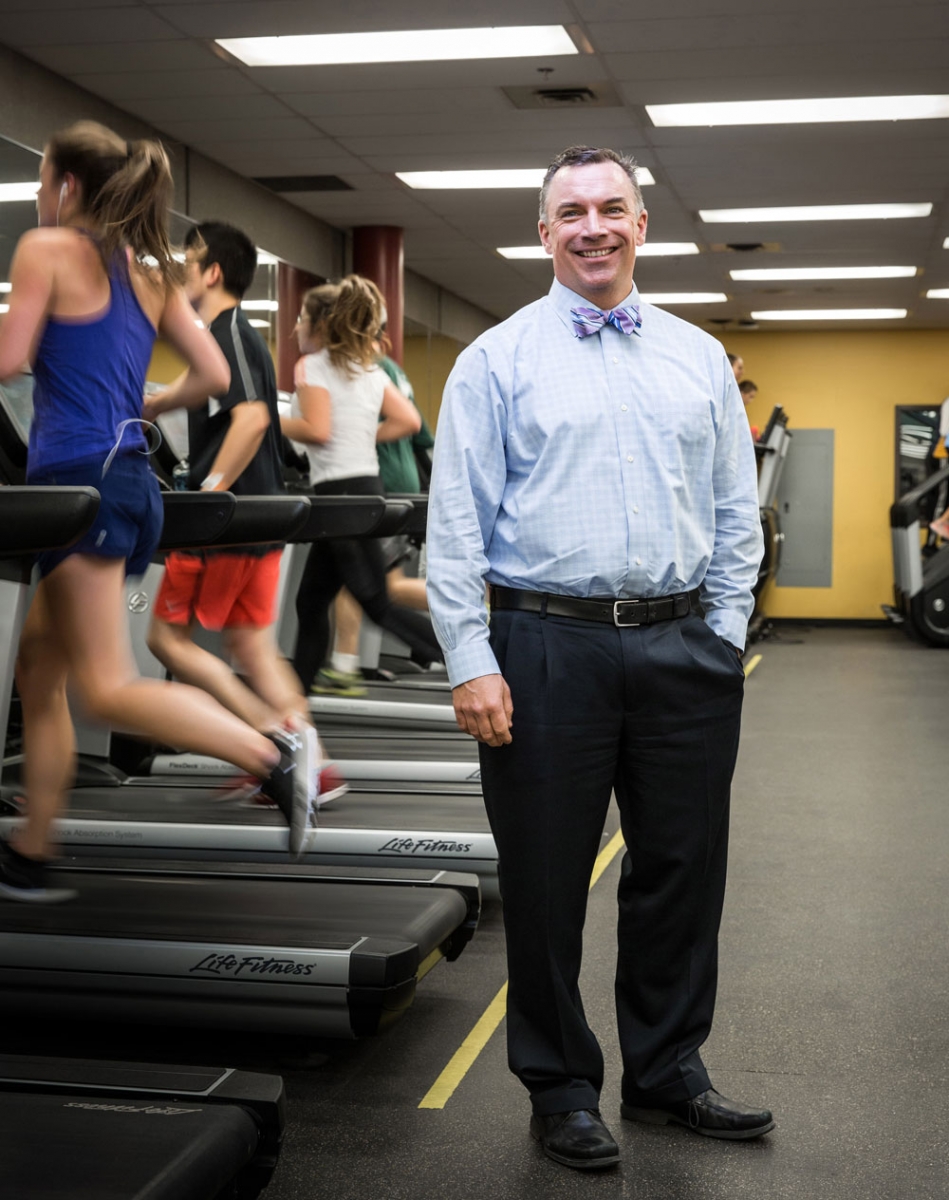 PHOTOGRAPHY by Chris Wedman
The first strides taken toward one of the largest running-research projects in the world can technically be traced back to a 17-year-old boy thinking that rappelling out of a helicopter would be cool.
As part of his application to work with the Alberta Forest Service (and jump out of helicopters), Reed Ferber first needed to pass a fitness test. He started running to get in shape, dropping 25 pounds in the process. In addition to helping him get the job, those first jogs were the start of a long-time relationship between Ferber and running.
Today, Ferber is director of the Running Injury Clinic at the University of Calgary, where he leads the world's largest study of running injuries. Since its inception in 2003, the clinic has seen 12,000 runners and has 4,000 patients (and counting) in its research database. Ferber and his colleagues developed a 3D-gait analysis system that is used at more than 50 clinics around the world to assess runners' biomechanical problems. All the data feeds back to Calgary where Ferber and his team study injury and gait patterns, publishing key findings on subjects such as gender-specific injuries, aging and stress fractures.
Sitting in his office at the University of Calgary, where boxes of the latest in fitness trackers are piled on his desk, Ferber describes himself as a very ordinary runner – he has the data to prove it. Since he started studying running, Ferber has undergone more analysis than almost anyone in his lab, which has shown that he's "as average as it gets."
"I'm just a normal dude who plods along," says Ferber, wearing his trademark bow tie. "I could run a two-hour half-marathon, a four-hour full marathon, plus or minus five minutes depending on the day, the terrain."
Ferber started running long distances as a grad student at the University of Oregon in the mid-1990s, when he and his roommate would put in a long run every Sunday to blow off stress. Soon, they realized they were running enough miles to train for a marathon. Over the next few years, the pair ran four marathons and more than a dozen half-marathons.
Ferber's weekly mileage dropped and his pace slowed over the years, however, his curiosity about running persisted. It was his love of research, of trying to figure out how things work, that inspired the idea for the Running Injury Clinic, a partnership with the University's Department of Kinesiology, that runs as an independent entity out of a lab space within the department. Right now, he and his research team are focused on a new gait analysis platform called Run Cubed (r3), which launched last year.
In addition to his work with the clinic's patients, Ferber puts his research to use in his own workouts. He runs for 45 minutes, three or four times a week, either on a treadmill or outdoors, sporting a black T-shirt advertising the clinic's logo, and mixes in exercises to maintain strength in his knees, his left one being problematic.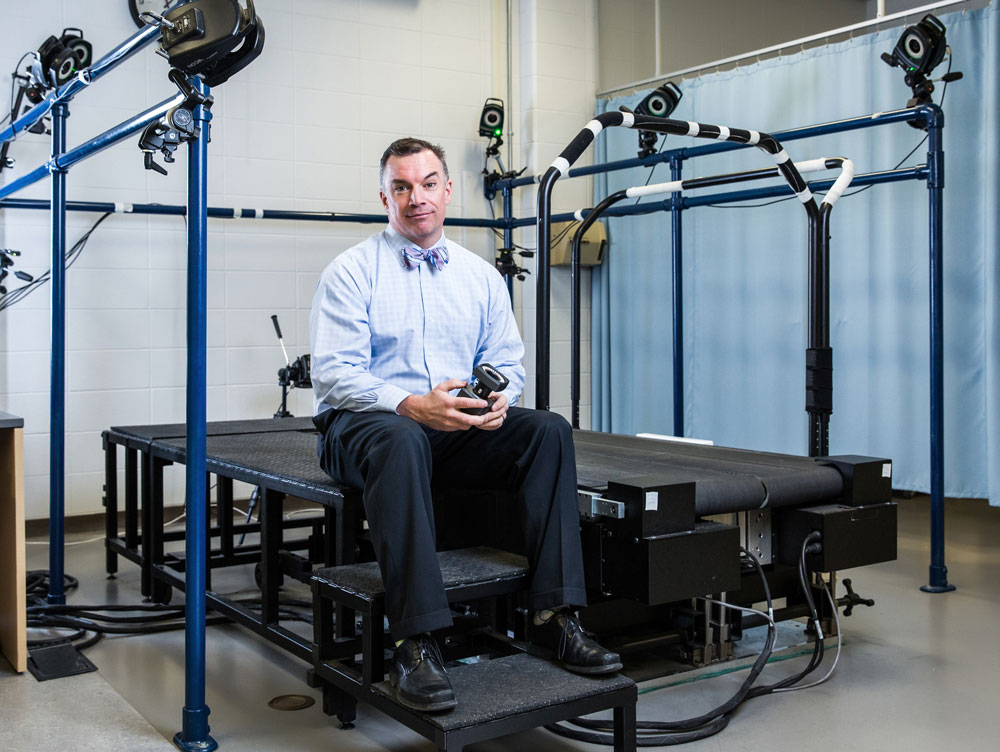 Reed Ferber at the Running Injury Clinic.
By testing himself, Ferber knows he's among the 80 per cent of the population that can wear a regular running shoe without stability or motion control. In 2011, when minimalist, or "barefoot" shoes became the hottest thing in running and Ferber was inundated with interview requests about the trend, he took a pair from the lab and set out to run a half-marathon 10 months later, collecting data on himself along the way. "When I run with a forefoot strike (as minimalist shoes force runners to do), my left knee is totally fine because there's a reduction in loading, but I'm also increasing the strain on my Achilles tendon by about 60 per cent," he says. "My knee was quite happy but both of my calves were very upset with me, and they screamed a lot."
Ferber's running history hasn't been injury-free, though he hasn't suffered a serious injury since 2002, when he was sidelined with left I.T.-band syndrome. He still remembers the frustration of being laid up, which he says helps him relate to his current patients. "I can totally empathize with the injured runner because my mode of de-stressing was gone," he says.
Unlike his wife, who gets up at 5:30 a.m. to work out, Ferber describes himself as a dedicated afternoon exerciser who is more intellectually productive early in the day. Outside of the clinic, Ferber's goals are to stay healthy enough to keep skiing with his family on weekends and run a few times a week. He's now 46 years old and well aware of his own research indicating that runners become more prone to injury after age 45. Even so, Ferber believes that his current fitness trajectory will one day allow him to run the Boston marathon at age 65.
"If I can keep this same pace going, then I'll qualify. I don't intend on doing special training to qualify for Boston, but if I qualify, it will just so happen that my age and time intersect right there."