Archery is a sport that prizes unflappable focus, perfect hand-eye coordination, flexibility, strength and, of course, aim. So the odds that a teenager who suffers from joint pain and other symptoms of fetal-alcohol syndrome would become an elite-level archer within three years of first firing a bow seem about as unlikely as, well, William Tell shooting an apple off his son's head.
But unlikely or not, that has been the speedy trajectory of 15-year-old Warren Collins' course into the world of competitive archery. "I want people to believe that anything is possible," says Collins, tucked in a stairwell away from the sounds of the busy shooting range at Jim-Bows Archery in northeast Calgary. "You don't have to listen to anybody; just prove them wrong."
Collins was born in Calgary in 2002 and was diagnosed with fetal-alcohol syndrome. When he was 10 days old, Jayena and Wayde Collins of Cochrane took him in, making him one of more than 100 foster children the couple (along with Jayena's parents) have cared for over the past four decades.
But there was something special about the way they and their four biological kids bonded with this baby, who had such severe withdrawal symptoms family members had to take turns rocking him in their arms. When he was two, Warren was put under the Collinses' private guardianship (his full adoption will be completed later this year). At first, his physical progress was slow – he didn't crawl until he was 18 months and didn't walk until he was three – but he grew quickly and sports became his forte. By the time he was 11, he towered over classmates on his football and lacrosse teams.
When Warren turned 13 in the summer of 2015 he received a bow as a birthday present. He first started using it that September when he went hunting with his father, uncle and grandfather. Immediately, his talent was obvious, says Wayde, who is now almost always outshot by his youngest son.
In November, 2015, within a few months of firing his first bow, Warren Collins qualified for the 2016 Alberta Winter Games, using a borrowed bow since he had already outgrown his first one. He went on to win gold in compound archery in the 12-14 male age group. (Compound archery uses a bow with a system of cables and pulleys to bend the limbs).
Since then, Collins has been on the podium in almost every archery competition he has participated in, taking top honours in approximately 80 per cent of them. Last summer, he won a silver medal in his age group at the 2017 North American Indigenous Games in Toronto.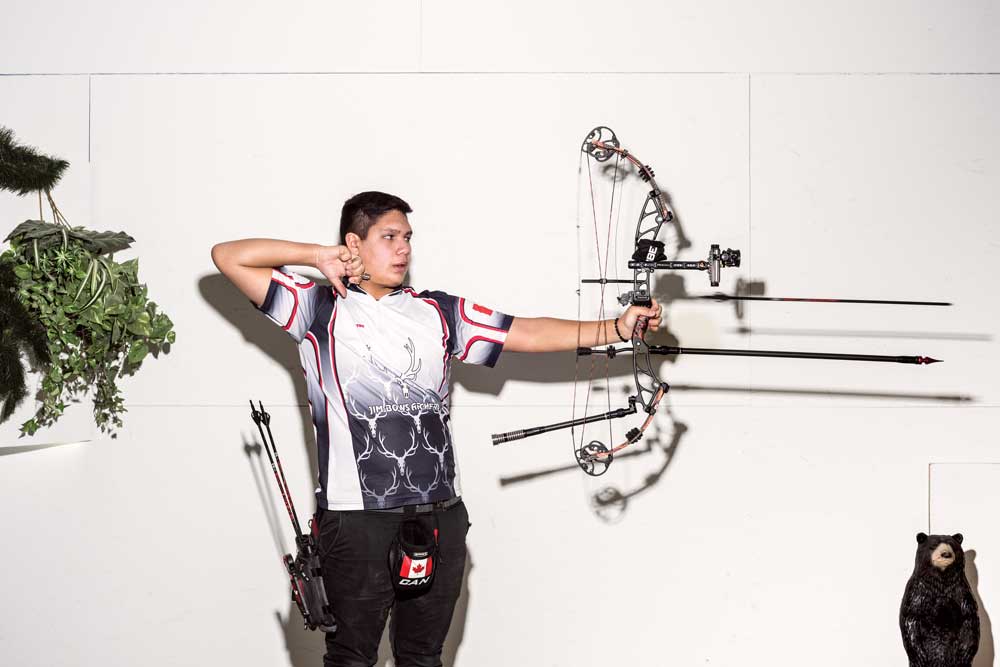 Collins says his toughest challenge in archery is mental. He has learned to focus on each shot, to neither grow cocky after a great one nor beat himself up for a bad one. His mantra while shooting is: "Every arrow is your first arrow."
Almost every day after school, Collins spends two to three hours firing arrows on the family farm. Each time he pulls back on an arrow is the equivalent of lugging 60 pounds of weight, and he sometimes shoots up to 100 arrows in a day. It's physically exhausting, even for a 280-pound teen who stands just over six-foot-two (and is still growing).
Outside of school-based workouts and some cross-fit, the majority of his fitness training comes from doing physically demanding farm work – what his family calls "eye-of-the-tiger training." Jayena Collins says the family makes a point of trying to eat healthy, though Warren eats like most teenage boys. (He sums up his eating habits as: "I eat a lot.") The family often cooks wild venison from the hunting harvest and Warren supplements his diet with Juice Plus+ products.
Unlike archery, school has been difficult for Collins. He has dyslexia, which makes math a struggle – his archery teammates often assist him with calculating his scores. He is currently enrolled in the Building Futures program, which allows him to earn high-school credits building homes alongside trade professionals, while still completing core academic subjects. "Life outside of archery can be busy," he says. "When I'm shooting, it's calming."
At the Saturday-afternoon shoot last winter at Jim-Bows, Collins passes his heavy bow to his dad after winning his division and discreetly tucks between the aisles of bows and archery accoutrements. Displaying growth as both a mentor and motivator, he takes time to console a younger teammate, who is frustrated by shots gone awry. "For older guys, teenagers are the future of sport. But the youth below us – 13, 12 and below – is the future of [teens]. We try to take care of each other," he says.
Right now, Collins has his eye on two big goals: competing at the 2020 Olympic Games if compound archery becomes a demonstration sport and securing a spot in the invitation-only tournament of the Organization of Professional Archery. He credits his successes to date to the members of the local archery community, who are essentially like his teammates, and to Jim-Bows, which helps sponsor him (a competition bow and its extras cost in the range of $3,500).
Collins also gives credit to his family. His siblings, in particular, have inspired him by participating in sports despite their own health issues, like his brother Karson, who didn't let cystic fibrosis stop him from riding bulls. "They showed me anything is possible," he says.