The Power of the Pop-Up
An increasing number of "pop-up" businesses, restaurants, events and even parks help add vibrancy to the city and more flexibility to business models.
By Nicole Halloran
Since 2011, food trucks have been popping up throughout the city.
Long before there were food trucks, farmers sold produce from truck beds. Before the Calgary Opera's tent popped up in the East Village, travelling circuses came through town.
Pop-ups have an immeasurable history as a way of doing business. Though it's not new, the concept itself seems to be, ahem, popping up more than it ever has in Calgary and around the world. Jason Johnson, an assistant professor of architecture at the University of Calgary, says "pop-up" may just be a more street-friendly term that's gaining popularity.
"It may be that we're just calling something people used to do all the time by a different name," he says. "It could just be the term 'pop-up' is trending as opposed to actually what they are, which is temporary installations."
These temporary installations take on many different forms, constantly changing the way we think about them and adding to the list of what might be consider a pop-up. A person with an idea who wants to test a concept can set up a table at a farmers' market. A burgeoning business owner who believes there is an opportunity to expand can open a storefront in a different neighbourhood to test the market. Seasonal businesses selling holiday decor can fill an otherwise-vacant space when the time is right. An artist who has something to share can line a street with paintings. An event can take place where it never has before.
All pop-ups fill space temporarily, but they may have very different goals. Whether it's to draw public attention, to test an idea to see if there's demand for a more permanent installation or to get people to reconsider a space, pop-ups emerge for different reasons. Johnson says the pop-up method has become more popular with retailers over the past five to 10 years, which may be part of why the concept seems to be gaining momentum.
A new factor allowing for more success for pop-up shops may be social media, which is undoubtedly contributing to the popularity of these businesses and events. Though temporary businesses have always existed, opportunities to promote them on social media haven't, and the new opportunities for marketing a temporary business or location faster may make them much more acceptable, not to mention more likely to thrive – many pop-up businesses have thousands of followers on Facebook, Twitter and Instagram, and social media users are actively engaged in encouraging others to visit while they can.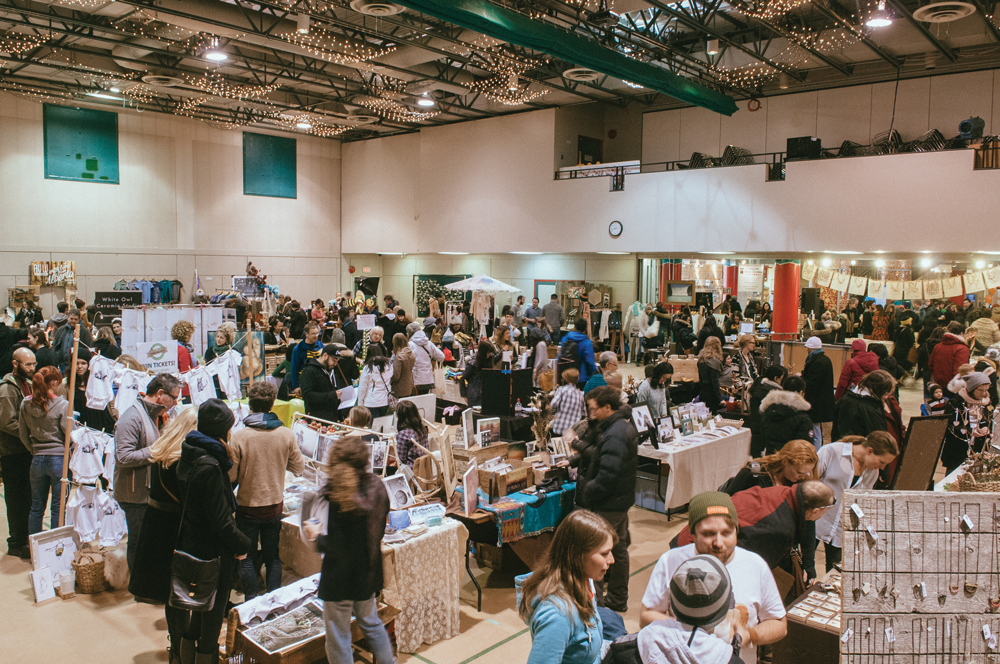 Market Collective welcomes artists and vendors to sell their goods several times throughout the year.
But, with pop-ups becoming better known, especially in the retail market, those interested in starting them must now compete on a higher level by designing better installations. Many pop-up entrepreneurs hire architects to create temporary or moveable spaces, from food trucks and kiosks to kitted-out Airstreams and collapsible furnishings and more that draw attention for their designs and unconventionality, says Johnson.
"I think fashion designers and jewellers and people who have a quickly changing retail environment like the idea of pop-ups because they can take an abandoned space, or a space that's empty for one or two months, and really activate it with their products, but also within a context of a really well-designed space that responds to what their identity might be," says Johnson.
This allows pop-up business owners to respond to the needs of consumers and develop a brand. Often, the new businesses that emerge as pop-ups are more unusual or experimental because they have room to take risks and respond quickly to challenges. "People can respond to changes in the market and consumer behaviour very rapidly," says David Low, executive director with the Victoria Park BRZ. "They're able to come in and provide the consumer with both an experience and products that are timely and relevant. Being able to change and adapt to that is really important. There's this appetite within the population for those more authentic experiences."
The ability to quickly adapt to consumers' needs is a luxury more-conventional developments don't always have. While it may seem easier to launch a pop-up than a conventional development, pop-ups come with their own set of challenges. Finding the space and getting approval from the City are just a couple of them. Contrary to the implications of the term, nothing really just pops up, says Low. "You only see the tip of the iceberg," he says. "I think a lot of people just assume that they can just pop something up, and, in reality, it's a little more complicated to execute it successfully."
Cam Dobranski learned this the hard way. In the fall of 2012, Dobranski, the owner of both Winebar and Brasserie Kensington, saw an opportunity in the vacant alleyway beside his businesses. He knew he needed to have a patio to keep his restaurants on the map during summers in Calgary, but he didn't want to create an obstruction in the street and couldn't think of a reason not to use the vacant alley space. However, property laws, AGLC regulations and City bylaws meant he couldn't transport alcohol from the restaurants out to the space, so he needed a plan B. To get around the problems, he decided to build a stand-alone bar in the alleyway that he could open for the summer and special events, but he didn't want to have to start from scratch.
Then, Matt Leslie, general manager at both of Dobranski's operations, mentioned builders recycling shipping containers into homes or businesses in places like Melbourne, Australia, where entire villages made of the repurposed crates were popping up. Building a bar out of a shipping container was environmentally friendly and saved Dobranski money and time. And the lower price of starting up allowed him to see if there was interest in the idea of a bar, without the risk of committing to a traditional development. Some support from the community, a little pressure on the City and a few permits later, Dobranski and Leslie had a fully licensed bar where there was previously nothing but wasted space. "The point wasn't for it to be fancy or anything. The point was to keep it for the people, and they just love it," says Dobranski. "In a city that's so conservative, this is just so outside the box."
Container Bar has since become one of the city's most notable pop-ups, which is due to the novelty of its construction. The structure is the first of its kind in Calgary, though it is certainly not the first pop-up.
The city has also seen pop-up cafs like Kaffeeklatsch, a mobile espresso and brew bar, bring coffee to unconventional places. The increasingly popular Market Collective craft and art market that sets up at different venues has been giving artists and vendors an outlet to sell their products for years. Since 2011, food trucks have been roaming the city's streets, serving long, hungry lines of people eager to try something new. Springboard Performance's containR turns recycled shipping containers in Sunnyside into an "art park." And, last year, fashion designer Lauren Bagliore set up a concept shop in Inglewood to test the Calgary market for her clothing.
None of these businesses have long-term commitments to a permanent venue and can come and go as they please. Their unconventional use of space has created an ongoing conversation about the impact of filling gaps in the city. The advantages of pop-ups are twofold; entrepreneurs, artists and event planners may need the space, but the space also needs to be used.
In major cities like San Francisco, Chicago and New York, pop-ups fill gaps and spaces, making the city more vibrant and engaging. John Brown, a founding architect with Housebrand and a professor at the U of C, says Calgary needs pop-ups for the same reason. "Our city, like most North American cities, has lots of holes in it," says Brown. "The streets aren't continuous, there are lots of empty lots and parking and there aren't a lot of continuous streets that are good, walkable pedestrian shopping areas. That's probably the biggest benefit of pop-ups. It's a way of stitching together the city."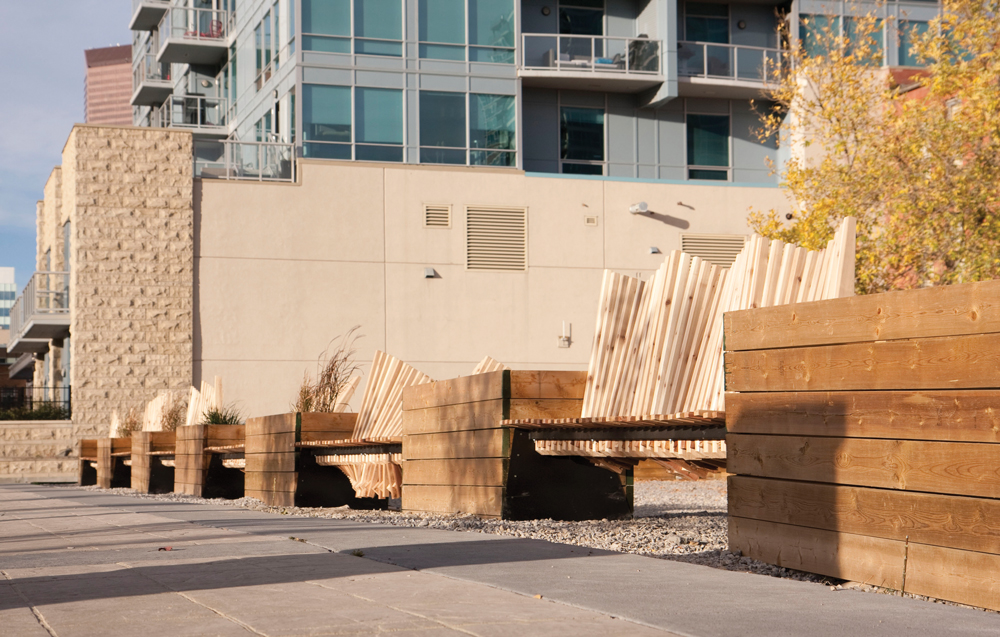 The benches in Victoria Park is an example of non-retail pop-up developments.
When the vacant lot of a stalled condo development in Victoria Park was vandalized, the Victoria Park BRZ decided it needed to do something about it. After the BRZ developed the space into a park, Brown, Johnson and their students got involved and came up with some ideas to enhance part of the space. "Pop-ups create life on the street," says Brown. "They create an interesting city. They do that much quicker than a conventional real estate development."
Together, Brown's and Johnson's students designed, built and installed temporary benches to help enliven the new park. In the wake of these and other enhancements, Low and the rest of the BRZ launched a pop-up strategy to help enhance the Victoria Park community. Since 2012, the strategy has helped to implement community gardens and parks, provide independent retailers with storefronts and allow a space for small-scale events.
Low says these short-term projects had a long-term effect on the community. The strategy helped people reconsider how space can be used and changed to revitalize a city. "There is something to be said for the more dynamic, ever-changing menu of uses that can go through a space," he says. "I think there is a certain appeal to that, and the notion of permanent uses within a certain space is something I think we really need to reexamine in some cases."
Amery Calvelli, co-founder of the speaker series Design Talks and host of the radio show Space + Place on CJSW, agrees. "We're broad, we're a prairie and we have wide expanding horizons. We have wide, expanding built environments. We have a lot of space in between them," she says. "Being able to explore the built environment that we already have and trying to enliven that allows the opportunity to see what the potential is for more vibrancy in the city."
Beakerhead is an example of a temporary, pop-up event.
In addition to retailers and restaurants, pop-up events also add vibrancy. While festivals are temporary exhibitions, most have a more consistent presence than Beakerhead, which spills out all over the city. Like other pop-ups, Beakerhead is about engagement. The annual festival (scheduled for Sept. 16 to 20 this year) celebrating the arts, science and engineering brings a shock factor to otherwise-dormant spaces, with temporary installations like a 25-foot fire-breathing octopus in Inglewood or a self-supporting climbable net structure in the East Village.
"We really firmly believe that bringing things to where people already are is really important," says Hanan Chebib, director of creative experiences for Beakerhead. "For us, it becomes more fascinating, more delightful, more surprising when we can utilize space in that way."
These unconventional uses of space force people to think about what the city has and what it could have, which is an important exercise for urban development, says Calvelli. "Pop-ups can create an alternative or create variance. It's drawing attention in really interesting ways to a need for alternatives in retail and commercial options," she says.
These alternatives are what help the city evolve into a more activated landscape. Spaces like an alleyway in Kensington that were once considered wasted or unusable require only a little innovation to reach new potential. Events like Beakerhead can bring attention to the arts and sciences in new ways, while bringing people into underused areas of the city. Calvelli says reconsidering how space is used is an important side effect of all that. "With the opportunity of the city growing, this is really the time to be thinking about those things," she says. "How does space become a destination? The place really is there, but how do we use it in an alternative way that makes for a more rich, urban fabric? What makes the city vibrant?"
Business owners, event planners, artists and innovators help make the city more vibrant by finding new use for space. Taking a chance on an idea is helping Calgary progress, and creates new opportunities for growth. It's an important aspect of city development, says Calvelli.
"A city becomes more vibrant when there's more public realm, when there are places we can meet," she says. "We tend to stay longer in a place when there are places to stay and places to meet. And I think that's what some of this is about. If we already have this built environment, how can we use it in a different way?"
---
Pop by these pop-ups
Hold your private function at of the city's top restaurants' pop-up dining and event spaces.
Get your caffeine fix from Monogram coffee at any of its pop-up locations around the city.
Lounge in giant beanbag chairs and watch a movie in the spaces transformed by Pop-Up Cinema.
Reclaimed Training Company owns multiple retrofitted RVs that house a variety of unique pop-up vendors and artisans.
Find the location of almost two-dozen of the city's food trucks using the website, app or by following @yycfoodtrucks.