Artists David Nielsen and Craig Friesen didn't exactly set out to make their first collaborative work a series of 18 wooden panels that run 24 feet long when placed side by side. But in taking inspiration from a subject no less epic than the First World War and melding it with a literary inspiration no less epic than Homer's Odyssey, it's not such a stretch that their Odysseus would turn out to be somewhat epic in nature as well.
The artists, who collaborate under the tongue-in-cheek moniker Quality Painters, were brought together in 2010 when aspiring art teacher Friesen received a practicum placement with veteran art teacher Nielsen at Bishop O'Byrne High School. Despite an age difference of 20 years, the two became fast friends, connecting on everything from taste in music to sense of humour.
They also connected as artists, sharing an appreciation for the work of German painter Max Beckmann, while Nielsen found fresh inspiration in his younger counterpart's penchant for "drawing with paint" and incorporating narrative elements to create comics-inspired mash-ups on canvases made from repurposed wood.
When the two decided to embark upon an artistic collaboration in 2012, Nielsen brought up The Odyssey as potential subject matter. The literary classic was close to his heart since his young son, Oskar, had recently read an adapted version of the novel aloud to him, cover to cover.
The duo decided to reimagine the saga in the context of a soldier from the Canadian prairies going off to fight in the First World War and his epic journey through war-ravaged Europe to return home. They drafted a concept for six panels (two sheets of four-by-eight-foot spruce plywood, cut in thirds). By the end of their first day, it was evident an additional six panels would be required. Ultimately, they used 18 panels.
Both artists contributed to all aspects of Odysseus. Working on six panels at a time, they began by painting an abstract "base," then built the historical and literary references on top, such as the depiction of the soldier's own "Penelope" back on the home front, facing mounting financial woes and fending off predatory males on her doorstep. Text elements were added in the later stages, adding to the graphic novel feel already created by the multiple panels and narrative structuring.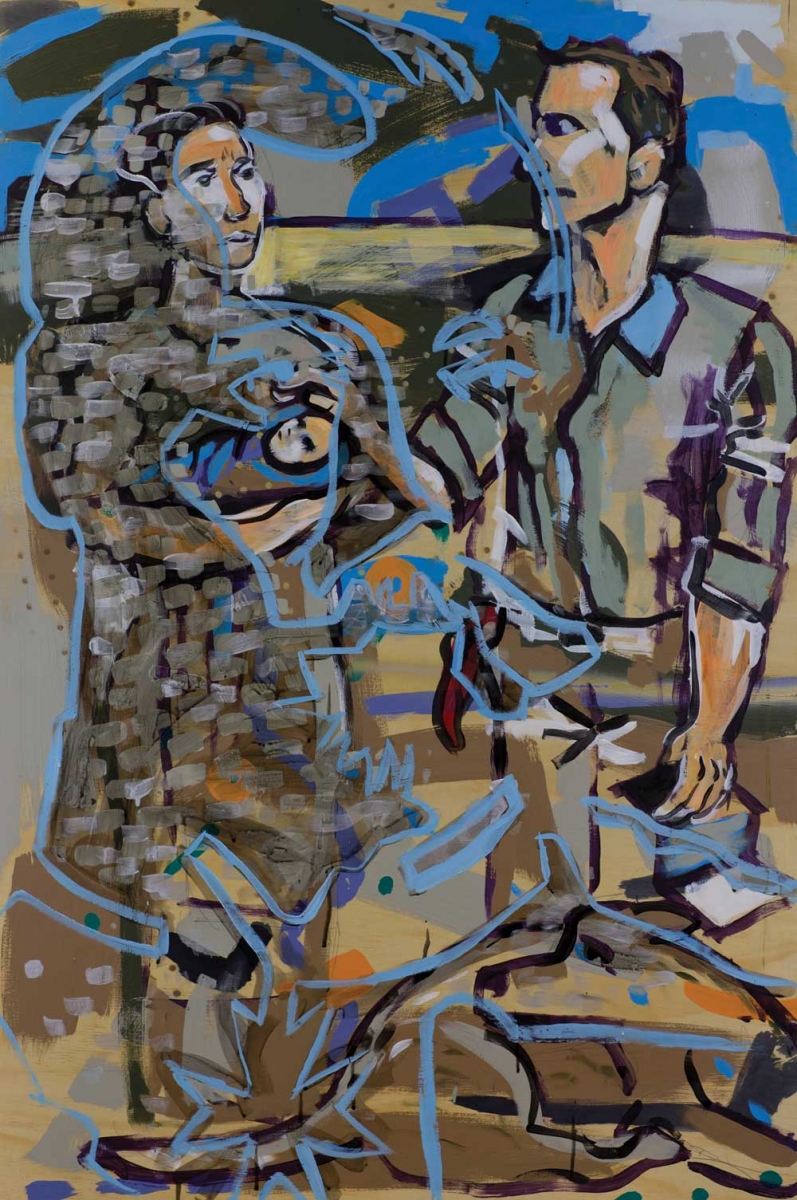 A detail from panel one, "The Call to Arms."
But despite looking like a graphic novel, Odysseus is no compact volume that can be slipped easily into a commuter bag and thumbed through on the CTrain. The 18-panel work's ambitious scope is its biggest challenge and the question now is just what kind of future it might achieve.
Since its completion in June 2014, Odysseus was selected to be part of the TREKS program, which tours works of art into rural areas and sometimes larger cities of Alberta, though participation was contingent on the artists producing a more compact version. The smaller panels, which are scaled reproductions, embarked on their tour this past September and will stay on the road for the next two years.
As educators, both Friesen and Nielsen hope to see the original Odysseus displayed in a facility such as a museum or other public institution, where it can be interpreted for its connections to both Canada's military history and classic literature.
"What we'd love to do is sell it, but we want to do it in a way that it could benefit veterans," says Nielsen. "It would be incredible to use our work to raise awareness or raise funds for veterans and then to have [the panels] work as educational tools."
Essentially, though, for all its lofty intentions and weighty subject matter, Odysseus is a human story at heart, created out of a friendship.
"It's really about one man's desire to go home," Nielsen says. "That's everybody's desire, in a way."
For more information, visit qualitypaintersyyc.com.