---
Doris Goranson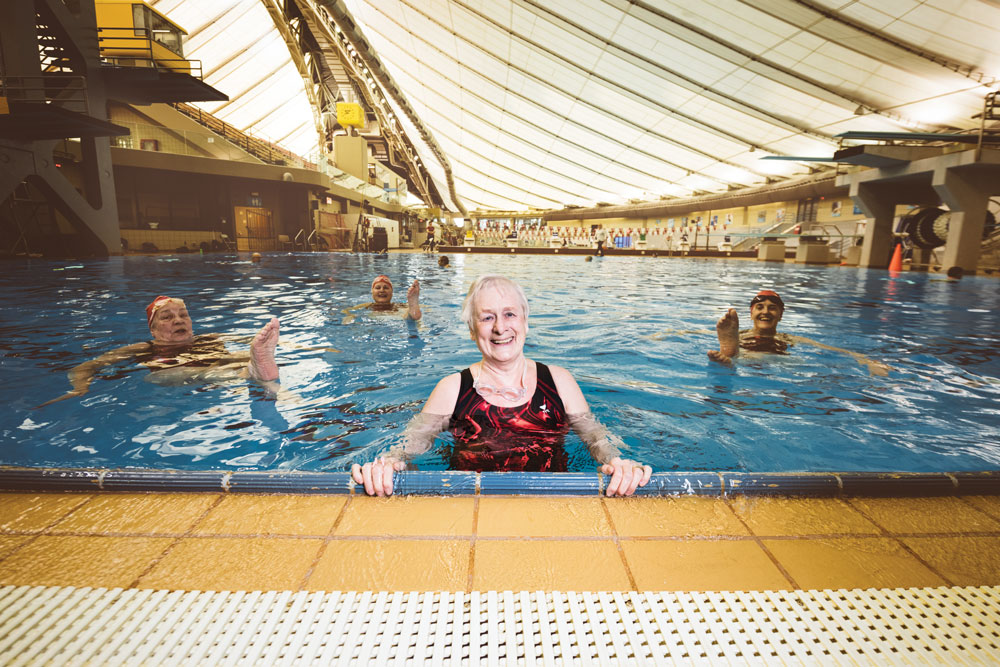 photograph by jared sych
Age: 81
Retired since: 2000
A member of: The Calgary Aquamums Masters Synchronized Swimming Club
Doris Goranson doesn't want to hear she's too old to do what she loves. The 81-year-old believes that as long as you keep pushing yourself, anything is possible, even after retirement. That's why every Tuesday and Thursday morning, you'll find Goranson practicing synchronized swimming routines in the Repsol Sport Centre's dive tank alongside her fellow Aquamums.
Goranson used to work as a sewing instructor at the Southern Alberta Institute of Technology and then as a production manager at Chintz & Company. She started synchronized swimming in her 40s because she liked it as a low-impact exercise, and joined the Aquamums at 55.
For Goranson, the Aquamums isn't just about maintaining her physical fitness as she ages. She also likes the music, learning new routines and, most of all, her teammates, who she calls "my best buddies." Combining fitness, learning and socializing, synchronized swimming is integral to all components of Goranson's healthy aging.
Despite having competed at 26 Alberta Provincial competitions and five World Masters Games since 1990, Goranson remains humble. "I'm not the best synchronized swimmer – but I love it!" says Goranson. "You get in that water, laugh and just work away at it. It's a wonderful stress reliever."
Goranson believes that one way to make the most of retirement is to stay curious. "You have to start thinking 'yes! maybe I can do that'," says Goranson. "It takes a little courage, but I'm always willing to try new things."
Since 1964, Masters synchronized swimmers have been training with the Aquamums. Club swimmers range in age from their 20s up to their 80s, but half of the Aquamum swimmers are 50 or older. For more information, visit aquamums.ca.
---
Emmett Hogan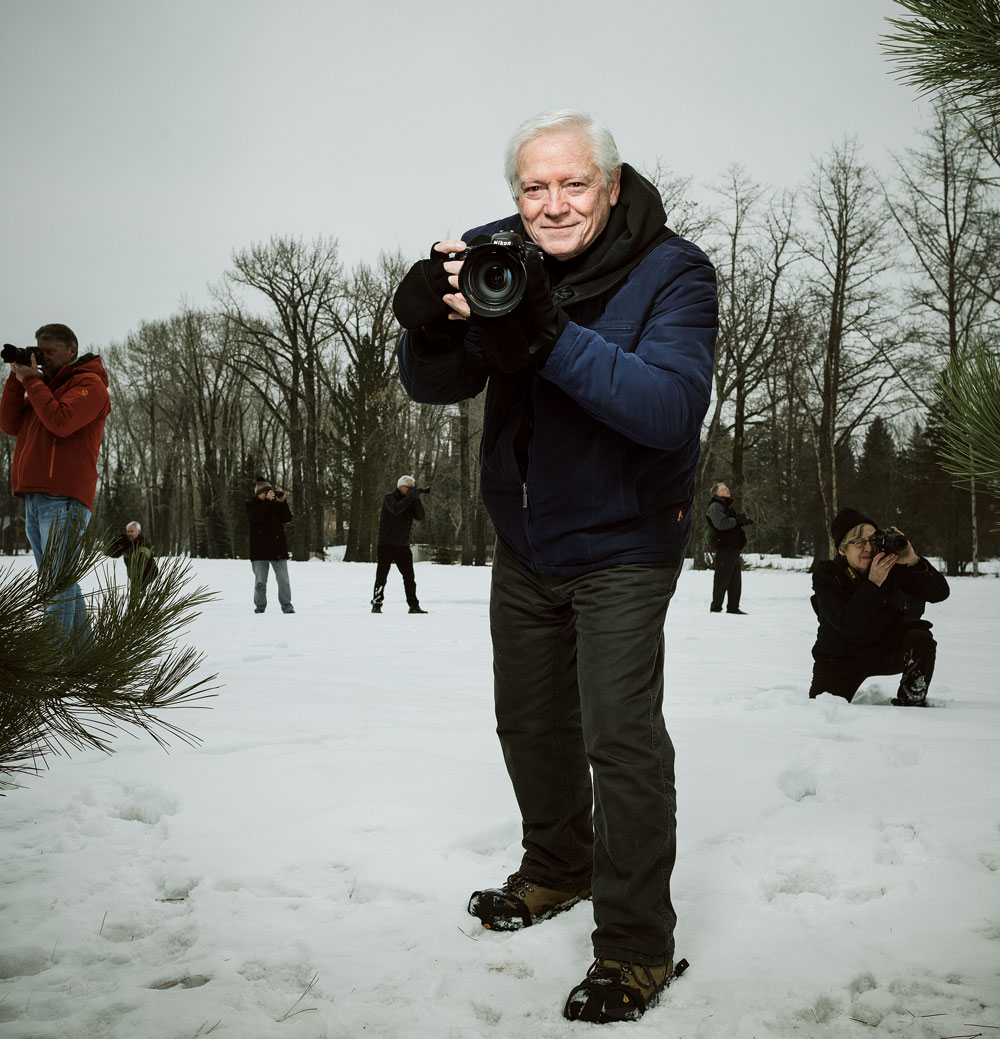 photograph by jared sych
Age: 75
Retired since: 2000
A member of: The FLC Seniors Camera Club
Emmett Hogan is always busy doing something. He cross-country skis and skates; he golfs and performs with his band, the Midnight Blue Jazz Society. But according to Hogan, his busy schedule isn't out of the ordinary. "I'd like to think this is the new normal for retirees," he says.
The former chair of the Criminal Justice Studies department at Mount Royal College (now Mount Royal University), Hogan brought teaching with him into retirement. After participating in a one-time photography workshop more than four years ago at the Family Leisure Centre (now the Trico Centre), Hogan helped launch photography as a regular FLC club. Today, he is the FLC Seniors Camera Club lead instructor, a volunteer position that involves planning weekly lessons, field trips and workshops.
While Hogan loves that photography offers endless possibilities for creative expression and opportunities to keep learning, his involvement in the club is also in keeping with his values. "Retirement is initially an adjustment as you re-organize your self-image without employment," says Hogan. "But people don't lose their abilities just because they get older. I've always believed that if you have talents and something to offer, you have a responsibility to give back to others."
The FLC Seniors Club offers a range of activities for Calgarians over 55 – everything from curling to cycling to line dancing. The club has 2,500 members in total, with just over 100 seniors actively involved in the FLC Camera Club. For more information, visit flcseniors.ca.
---
Teresa Rambold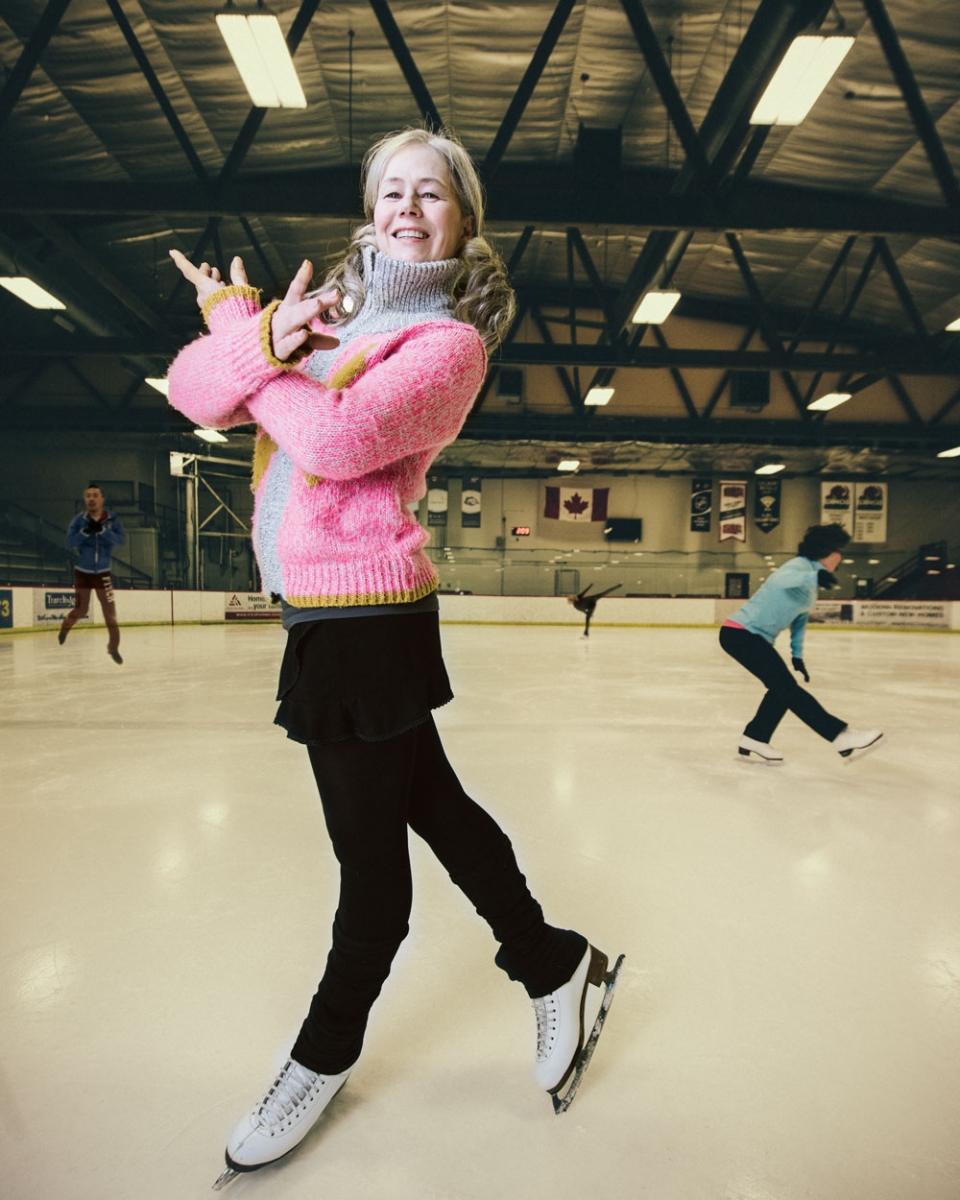 photograph by jared sych
Age: 59
Retired since: 1995
A member of: The Olympia Skating Club
Two years ago, if you would have asked Teresa Rambold to lace up her figure skates and try an axel jump, she probably would have laughed at the suggestion. "I never thought I'd be skating at my age," says Rambold. "I used to think figure skating was a sport for young people."
But last year, after a little coaxing, the former competitive skater and full-time coach decided to re-engage with the sport she has always loved. After taking 20 years off due to a serious injury, Rambold finally put her skates back on in January 2016. It was just as much fun as she remembered, so she joined the Olympia Skating Club in February 2016 and now trains there a minimum of three times per week. As well as the exercise, Rambold loves that the group inspires her creatively, and has introduced her to a new group of friends.
In June 2016, Rambold travelled to Oberstdorf, Germany, for the International Skating Union's International Adult Figure Skating Competition. She won two silver medals, but that isn't why she keeps lacing up her skates. "For me now, figure skating is about the joy of the sport and of the creative process," says Rambold. "It's not about trying to be what I used to be."
Rambold skates for the sheer enjoyment of it, because for her, retirement is about getting happy and living fully. "Now, I can see myself being 80 and still skating," says Rambold. "It's a really good feeling to do something that feeds the spirit."
Established in 2014, the Olympia Skating Club is one of two adults-only figure skating clubs in Canada. Of the 25 members in the club, 10 are over the age of 50. For more information, visit olympiaskatingclub.ca.
---
Gladys Sands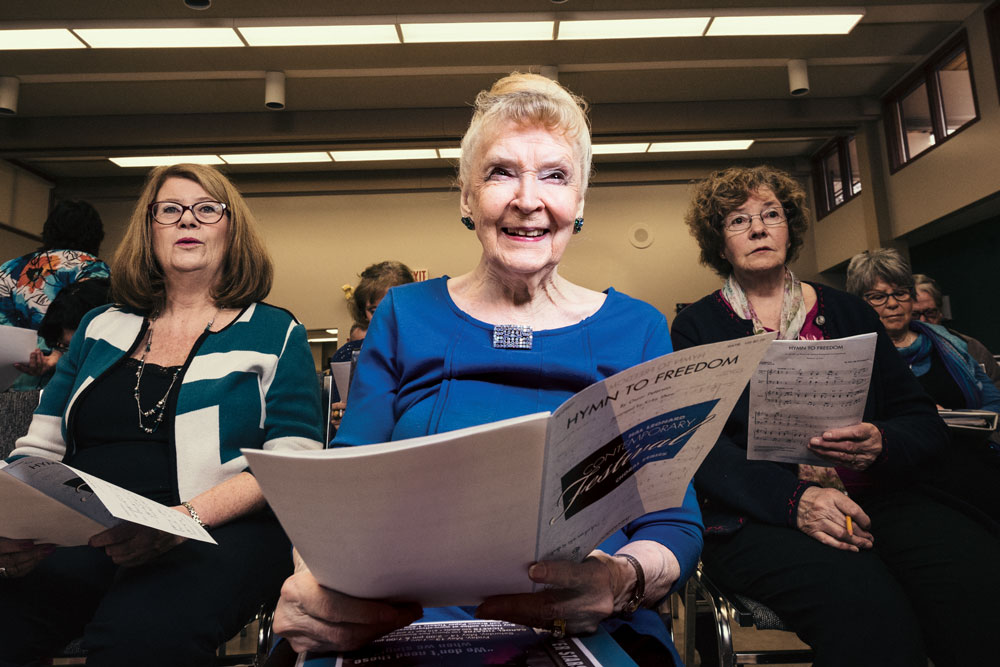 photograph by jared sych
Age: 93
Retired since: 1988
A member of: The Silver Stars Musical Revue Society
Gladys Sands has always been a star. Between the ages of 15 and 22, she was a professional singer. She was the vocalist for a jazz orchestra that toured Canada six times and one of three performers on the "Sunrise Serenaders" radio show. She was even offered the chance to tour as one of Benny Goodman's singers, selected by the King of Swing himself. (She was just 17 years old and couldn't go without her parents' permission. When her dad said "no," the vocalist Goodman chose in Sands' place was Peggy Lee.)
Sands gave up singing professionally when she got married and held a stable, sensible job managing the O'Neil Towers in downtown Calgary. But, on her 65th birthday, she left the nine-to-five grind behind and refocused on her music once again. "Even in my 40s and 50s, I knew I'd still be up on stage performing after I retired," says Sands. "Music has always been a part of me and that's why I'm still doing it. It's almost like I'm addicted to music."
Sands also plays guitar and piano, and has been part of three musical groups since retiring. Today, you'll find her performing with the seniors-only musical theatre group, the Silver Stars Musical Revue Society. She has been singing with the Silver Stars for 12 years and is currently the group's oldest active member.
Her secret for a happy, successful retirement is simple: you've just got to keep yourself busy. "Music is my life," says Sands. "And I'm not slowing down until I'm dead!"
Silver Stars Musical Revue Society has been running since 1998. Today, 28 members over the age of 50 are part of the society, whose next scheduled production is on May 13. For more information, visit silverstarsrevue.com.