Aurooba Ahmed isn't your stereotypical computer geek. She's in her early 20s, her long hair is perfectly styled and she has a bubbly personality. Ahmed grew up loving technology and taught herself how to program and design websites. She didn't fully realize her interests were exceptional until she went to university.
There were 500 students in some of Ahmed's classes when she started computer science at the University of Alberta. She recalls that in one of her classes only four other students were women, three of whom switched their majors not long after entering university. Ahmed frequently felt like a minority – and even experienced discrimination – simply because she was a woman.
"If I hadn't had good friends and supportive teachers, my university experience would have been a very lonely one," says Ahmed, now the co-founder of the Alberta-based web design and development business Wanderoak. "I wouldn't have kept going otherwise. I think that's definitely a part of why women drop out of STEM [science, technology, engineering and math] programs."
Ahmed's experience isn't unique. Women working in Calgary's STEM sectors, particularly the tech sector, use the same words when describing their experiences. Lonely. Difficult. Hostile.
It wasn't always this way. Carey Williamson, head of computer science at the University of Calgary, says that, when he entered the program in the 1980s, half the undergraduate students were women. "Computer science was a brand new thing," he says. "It was new and different. There was a level playing field for everyone."

But today, women are underrepresented in STEM sectors across North America. According to Williamson, currently 17 per cent of undergraduates in computer science at U of C are female. While there's no data on the gender divide in Calgary's workforce, data released by the tech giants Facebook and Google shed some light on the extent of this divide in the industry. In June 2014, women represented 31 per cent of all Facebook employees, but just 15 per cent of Facebook's tech employees. The trend is similar at Google: women represent 30 per cent of Google's staff, but 17 per cent of its technology staff.
There are multiple theories that try to explain this dramatic decrease in female participation. Williamson notes three in particular: a belief in the stereotype that computer science is for men; a lack of awareness of what computer science jobs really involve – they're not just about writing code fuelled by caffeine in a dark basement – and the absence of female role models in schools, universities and the workplace.
Despite Calgary being, to a large extent, still an oil-and-gas town, the city's tech sector has evolved out of subculture status in the last five years. According to the Calgary Economic Development sector profile, Calgary: Advanced Technology, Calgary has the second-highest concentration of tech sector employees per capita in North America, after San Francisco. And the technological innovations to come out of the city are also indicative of the sector's growth. The advanced robotics company EZ Robot is headquartered in Calgary, and the interactive iMirror was created by Calgary-based Nobal Technologies.
According to the Information and Communications Technology Council's 2015 to 2019 forecast, Calgary will see more than 10,000 additional computer science jobs by 2019. And, because of emerging technologies, this tech talent will be needed across all economic sectors.
The same forecast predicts that homegrown talent won't be sufficient to fill these positions. Getting more women interested in computer science isn't just a matter of sidestepping sexism; it's essential to filling the technology pipeline. "Diversity is a strength," says Williamson, "and that's exactly what we're missing."

Kylie Toh, a Calgary tech advocate, decided in 2013 that the city needed prodding to get more women interested in and working in technology. She founded Chic Geek, an organization that offers speaker events and a one-on-one mentorship program. Chic Geek also collaborates with a Toronto-based group called Ladies Learning Code to teach coding languages such as HTML, Python and Ruby, as well as digital skills that focus on layout and design.
Chic Geek's first event in February 2013 aimed for 40 attendees; more than 150 registered. "From that unexpected turnout, we knew this was something the community was interested in and needed," says Toh. Last year, Chic Geek held 57 events, attracting more than 800 women, men and youth.
It's not only women who lack confidence when working with the foreign languages of HTML and JavaScript, and some argue that groups like Chic Geek are exclusionary or focus on gender diversity without considering other diversity issues. Chic Geek counters that groups like it are not designed to be gender-equal and that there are several co-ed ventures aimed at the general public. HTML500, a one-day event where 50 of Canada's top tech companies teach 500 people to code for free, came to Calgary in January 2015. This spring, Lighthouse Labs introduced an intensive, part-time coding boot camp and the group has plans to launch a full-time program in October. Other often ad-hoc groups organize more casual meet-ups for those looking to enhance their skills. Just like the technology industry overall, though, these ventures tend to be male-dominated, which can be intimidating for women who want to learn new skills, and often prevents them from registering in the first place.
"Chic Geek isn't meant to be exclusionary, and a lot of men are supportive of what we're doing," says Toh. "If we do our work well, we won't need organizations like Chic Geek in the future." At present, though, such groups are an on-ramp to get more women interested in computer science.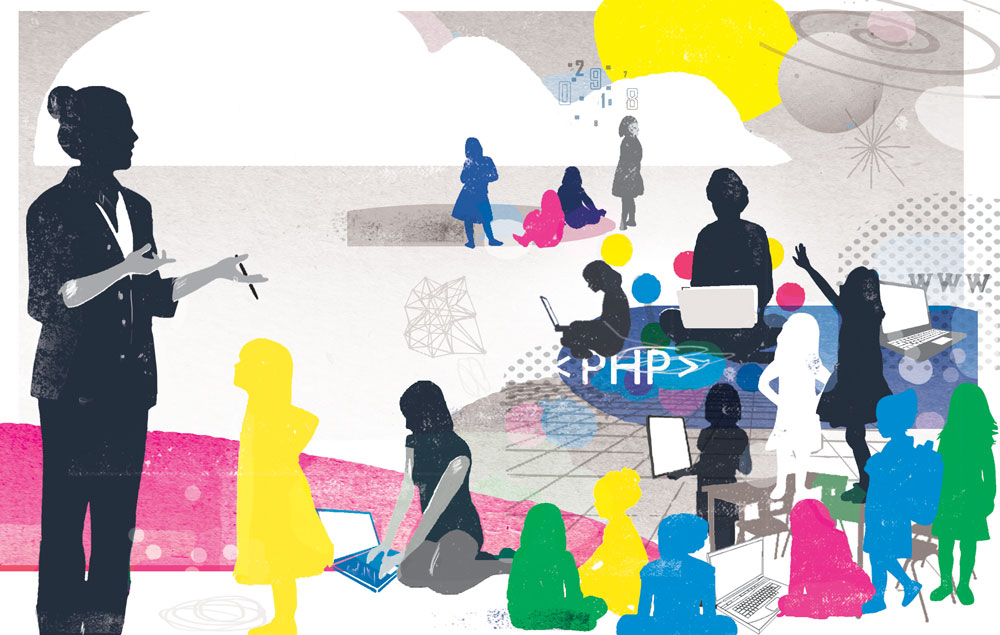 Gina Cherkowski, director of STEM education at STEM Alberta, a one-year-old not-for-profit organization, thinks the answer to significantly improving this gender imbalance comes long before adulthood. To get more women interested in technology and fill Calgary's STEM pipeline, Cherkowski believes we need to rethink how we socialize and provide opportunities to girls, allowing them to experience STEM projects while they're still in elementary school.
Still, old stereotypes die hard. In 1992, Mattel released Teen Talk Barbie. Each doll was randomly programmed to recite four phrases from a cache of 270 possibilities. One phrase some little girls heard as they played with their doll had Barbie proclaim, "Math class is tough!" which caused controversy and forced Mattel to remove the offending phrase from the list and offer to exchange the doll for one that had
no opinion on math. A more recent Barbie controversy saw Mattel pull the book Barbie: I Can Be a Computer Engineer off of Amazon after complaints about how Barbie the computer engineer was depicted as being inept and having to rely on Steve and Brian to help her do all the coding because she couldn't do it herself. While these controversies were short lived, they symbolize the way generations of women were taught: math, science and technology are hard, and women should think twice before studying them.
Cherkowski and STEM Alberta are piloting programs that can shift this thinking. The hope is they will fill Alberta's STEM industries with both men and women. Cherkowski believes that visual spatial skills, conceptual understanding and computational reasoning and problem-solving skills are essential for the 21st-century learner. One way to adequately prepare our kids for the future – and to attract more girls into STEM – is through hands-on learning with robotics.
"With robotics, there's an instant hook for kids and they're curious," says Cherkowski. "They're learning math and technology in a way that's creative and that's meaningful to them." Cherkowski's programs use robots like those from EZ Robot to teach kids mathematical concepts and to do basic computer programming.
Cherkowski helped pioneer the STEM Learning Lab summer camps that launched last summer. She was involved in designing the curriculum and combined STEM and art to provide kids with unique, meaningful and fun programs. Throughout the summer, campers took part in week-long workshops where they programmed robots to dance to the beat of music, navigate obstacle courses and compete in robot wars.
Other groups are also targeting girls for technology programs. Last year, Chic Geek also developed a curriculum on technology and entrepreneurship at the Calgary Girls' School. Volunteers crafted an interactive, hands-on curriculum for girls ages eight to 13. The girls discovered computer programming through a variety of methods including using a basic game called Scratch, learned different coding languages and observed how 3D printing works. Chic Geek also offers Girls Learning Code workshops on select weekends and this month is giving a workshop for girls on wearable technology.
Since 1998, the U of C's Minds in Motion organization has also offered programs to increase confidence and dispel stereotypes surrounding women in STEM fields. The organization offers clubs, camps and workshops that target girls, and the camps in particular have seen a surge in interest this year. In the summer of 2014, 37 camps were offered; this summer, there were 50. And the six girl-specific camps have boomed in popularity: 800 spots were opened in 2014 and the camps weren't filled. This year, there were 1,200 spots, all taken.
There aren't any such boys-only camps at present, but not because of lack of interest. Julia Sather, program coordinator for Minds in Motion, would love to create a boys-only environment. But, right now, she says the funding just isn't there; the girls' program is funded by the Canadian Women's Foundation. Cherkowski says she would also love to add boys-only programs at the STEM Learning Lab, but sees the need as less critical than programs for girls.

Not every Calgary family can send a daughter to a prestigious private school or afford supplemental weekend classes. Summer camps that can cost up to $500 for one week are not accessible for many families. To make sure these programs are not solely for the well-to-do, many rely on external funding to make them more affordable and, therefore, more accessible. In March, Google announced a Canada-wide initiative with Actua to make coding more accessible for Canadian kids. As an Actua member, Minds in Motion was able to spearhead its Codemakers project and, this year, was able to offer many technology workshops for free.
That being said, cost isn't the only barrier to entry, and these programs alone are unlikely to foster true diversity in Calgary's tech sector. According to Williamson, gender imbalance is just one problem; there are cultural disparities in tech fields, too. Williamson estimates that black students and Hispanic students represent less than three per cent of the enrollment in the U of C's computer science department, and there are virtually no First Nations students. While the university doesn't collect data from students on their ethnicity, data collected from fall 2014 enrollment indicate that 1.9 per cent of all U of C full-time students self-declared as First Nations. These students are underrepresented in the department of computer science and, as a result, tend to be underrepresented in the industry.
The team at Minds in Motion acknowledges this issue. In May, Krista Francis, an assistant professor in the U of C's Werkland School of Education and the Imperial Oil Science Technology Engineering Mathematics director for the faculty, visited a Treaty 6 school near Lac La Biche. She instructed teachers there on how to teach elementary-level children basic programming with robotics. According to Sather, Minds in Motion also goes into local aboriginal communities and at-risk schools to offer unplugged versions of the free Codemakers workshop.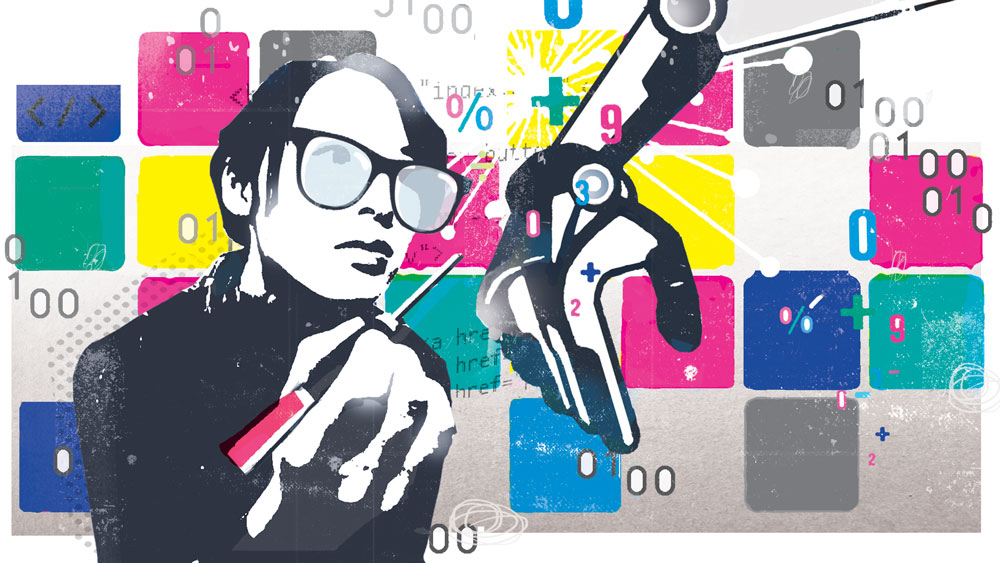 It's not just adults who realize it's time to do something. Salman Haider is a 16-year-old tech whiz, entrepreneur and tech education advocate. Recently, with sponsorship from Treehouse and the Bridge Foundation, he launched Code Calgary. The program has seen Haider and later additional teenaged computer aficianados teaching other kids – regardless of their socio-economic background, race or gender – how to code. These programs, too, are entirely free. "We have to make coding as accessible as possible. When everyone in our society can benefit, our economy benefits most," says Haider.
The ultimate goal for many STEM advocates is to get coding into the Calgary elementary school curriculum. Then all kids will have the opportunity to understand computer science and learn essential skills before they're socialized into thinking the subject is gendered. It also helps ensure more kids are trained with the 21st-century skills needed to become creators of technology and not just consumers of it.
"It's not that we want all these kids to enter the STEM fields," says Francis, "but we do want them to have that opportunity, and we want to broaden the field of potential candidates." The hope is that exposure at an early age will both generate greater interest among girls in STEM and nurture greater equality down the line.
Even with all the new programs, change won't be immediate. Calgary's tech sector has a long way to go before it achieves true diversity. Calgary may not balance its tech industries for years, but Francis is hopeful.
"There's no quick fix, but we're taking the steps to move in the right direction."