illustrations by jeff kulak
On May 1, 2013, a sheriff at the Calgary Courts Centre saw a suspicious item on the screen of his X-ray scanner. Closer examination revealed something that looked like a wallet with batteries, wires and an unknown solid substance. The courthouse and several city blocks were evacuated and a man was taken into custody as the bomb squad was called in to retrieve the item with a robot.
The man spoke Tigrinya, an East African language largely spoken in Eritrea and Ethiopia, and broken English. It took hours to find an interpreter. According to later media reports, the man became uncooperative while he was detained. Meanwhile, the crisis unfolded with anxiety and uncertainty before the bomb squad determined it to be a false alarm, leaving the police with more questions than answers and no clear idea why the man was carrying a device that looked like the apparatus of a bomb, but without any explosives.
This was a high-profile example of a quandary every large Canadian city faces daily as waves of people arrive from around the world. Not all speak English, and many come from countries where the police are feared, not trusted. These barriers lead to frustration and tension between police and immigrants. Investigations are hindered. And, in an emergency, miscommunication can cost lives.
This was all too familiar for Sgt. Bill Dodd. For five years as the head of the Calgary Police Service's Diversity Unit, he was part of the bridge between the police and Calgary's minority communities, and was often the point man for his colleagues seeking linguistic go-betweens. But, despite the fundamental relationship between communication and police work, no system existed to connect cops and interpreters.
"There was obviously a kind of disconnection there between people needing the service and people providing the service," says Dodd.
He decided it was time to solve a long-standing problem. The obvious idea was a digitized database that could connect police with oral interpreters and document translators. It was so obvious, in fact, Dodd assumed he'd be able to simply replicate some other jurisdiction's system. "We've made contact with a lot of other police agencies, especially in Canada," says Dodd. "And we hear the same thing back from them: 'You know what? Here's what we do and it's not a good solution. We're using [police] members, we're using family members, we're using the guy off the side of the street. We really need to do something better.' As we've looked around, there really is nothing comparable in Canada to this."
In emergency situations, CPS relies on Language Line, an American company that offers over-the-phone translation services. If someone in Calgary calls 9-1-1 and speaks a foreign language, they'll be connected to an interpreter thousands of kilometres away who will facilitate the communication. But this service is expensive and impractical in many instances, such as questioning a suspect or interviewing a victim. Whenever feasible, face-to-face interpretation is always preferable, not only because much communication is non-verbal, but also to establish personal trust.
So Dodd put together a project proposal for a database of interpreters in Calgary, possibly involving local partners with similar needs and interests, such as Alberta Health Services, Child and Family Services and the City of Calgary. The issue of language barriers in policing is well-known and not unique to Calgary, but the 2013 courthouse incident was "a glaring example that management could understand," says Dodd. CPS administration gave him the green light and the database project was publicly announced in March 2014. Once the database is operational, possibly as early as this month, it will benefit both CPS and interpreters who regularly call asking for work.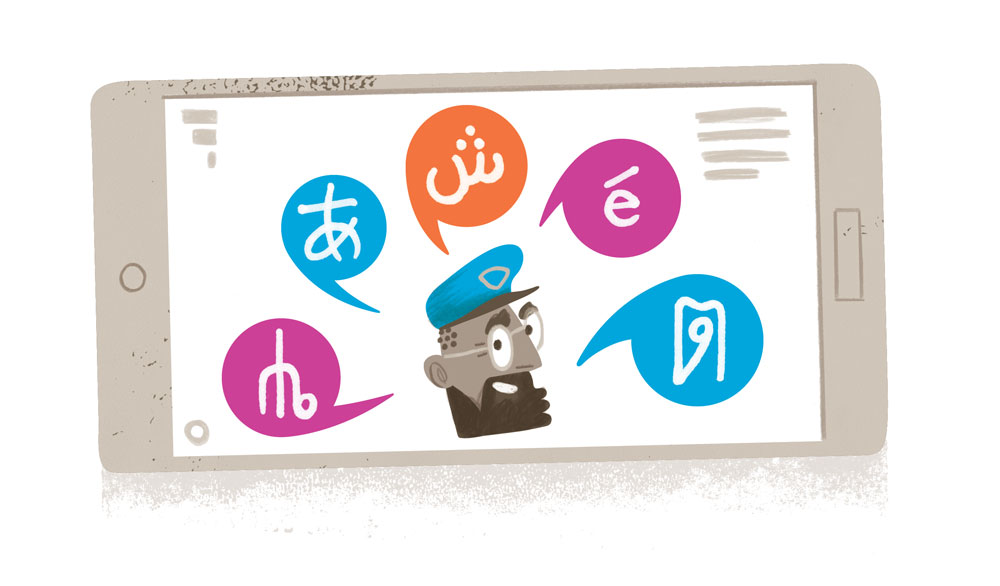 Dodd provides an example of how the system would work: "Say there's a domestic situation, a woman's been assaulted. She's now at the hospital. The police get called, now they have to go get the information from her." Upon arrival, the officers encounter a language barrier with the woman who speaks, for example, Punjabi. "They could go into this system – it would be a secure website," says Dodd. "They would log in with their regimental number and their password. They could make a request for a Punjabi interpreter in the next hour at the Foothills Hospital, and hit send.
"That request would be automatically sent via email or text message to all the Punjabi interpreters who are in the database. The first one who is able to take that call and do that work would just hit the 'Accept' button on their end. That would then be sent back to the requesting officer."
The interpreter shows up, does the job and is automatically paid by the system – the interpreter's equivalent of Uber. If the linguistic diversity of a multicultural city presents a challenge for police, it comes with a silver lining: the same immigrant communities that introduce language barriers often possess the language skills required for interpretation.
Elena Tessema arrived in Calgary with her daughter in 1993 as an Ethiopian refugee. She found work, most recently as an administrative assistant, but was between jobs in 2014 when she decided to pursue a new career as an interpreter and translator. A training program offered by the Calgary Immigrant Women's Association (CIWA) taught her to use her existing Amharic language skills professionally, along with things like effective listening, memory improvements and discourse analysis.
"I've always been interested in doing interpretation, because I know the barriers that language can cause," says Tessema. "I was fortunate that I had the English language [when I arrived], so I found it easier. But I do understand as an immigrant – I've got friends, family and so on who have that language barrier."
The work is flexible, usually a couple days a week either interpreting in person or translating documents. Tessema has done work for CPS and the courts, but primarily works with CIWA and the school boards, noting CIWA's interpretation and translation services are in high demand.
"When it comes to the law, if you don't have that communication skill, that language set, you can do more damage than good, because one word of misinterpretation can cause the message to be lost, or the wrong message to be transmitted," she says.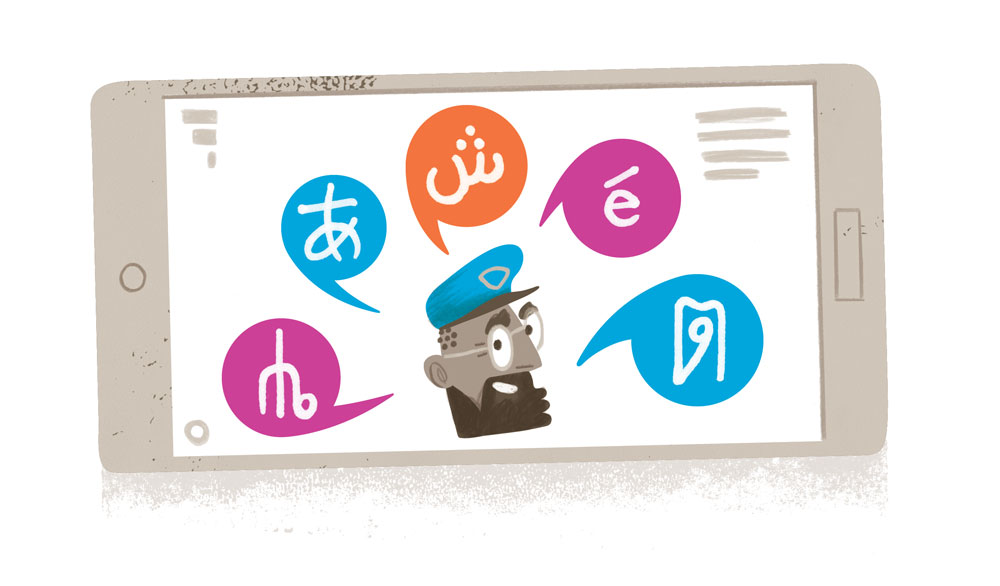 CPS Const. Charanjit Meharu knows something about that. For the better part of a decade, he was a general patrol officer in linguistically diverse areas of the city: District 5 in the northeast and District 7 in the northwest. Born in India and fluent in English, French, Punjabi, Hindi and Urdu, Meharu is especially well-equipped to deal with the most common languages and cultures in the northeast suburbs, where many South Asian immigrants reside.
Meharu says people were more inclined to speak straightforwardly to him "because I know culture, I know a lot of things beyond language … You get way more detail compared to if you don't." He was frequently asked by his colleagues to interpret for a non-English speaker or translate documents. One time, in 2008, he overheard the purported victim of a break and enter speaking on her cellphone in French about how the crime she'd reported was really an insurance scam. "By the end, I had about 10 pages of notes and I said, 'Merci beaucoup'" he recalled in a 2010 Calgary Sun interview. "She didn't expect a brown guy to speak French."
But not every cop knows five languages, and so professionals must be called in. Meharu, though, is dubious about the quality of many so-called interpreters. "I'm not claiming that I've seen [mistranslation] once or twice. Hundreds of times. Completely different direction of investigation because of lack of proper translation," he says, adding many calls in District 5 each day involved language barriers.
Part of the problem, according to the president of the Association of Translators and Interpreters of Alberta (ATIA), is that "interpreter" and "translator" aren't protected titles as they are in Ontario, Quebec and British Columbia. "Because it's not protected, you have people that are doing it without belonging to a professional association," says Hellen Martinez. Anyone in Alberta can advertise themselves as an interpreter without any formal training or accreditation and without any legal implication, she says, though ATIA is planning to lobby the provincial government for title protection.
Of ATIA's 210 members, only 15 are court interpreters, something Martinez says she would like to see increase. "To be honest with you, I find the interpreter side has been forgotten for quite some time," says Martinez, adding she's hoping to change that.
ATIA is one of the organizations – along with CIWA, Bow Valley College and the Calgary Court Interpreters Association – working with CPS to establish criteria for the interpreters in Dodd's database. The difference between interpreting for non-violent witness statements and interviews of suspects on sensitive gang-related files, for example, goes beyond security clearance. Additional skills and training will be required for each tier of the system to ensure quality.
"It's also risk-management for the police," says Dodd. "If you get somebody to do interpretation and it's wrong, one of the questions that's going to be asked in court is, 'What did you do to ensure that this person was qualified?'" These things all cost money, but Dodd points out the cost of using a police officer for interpretation is several times higher than the $45 per hour CPS pays professionals. "Somebody has to do the interpretation," he notes. "You have to pay somebody."
The plan is to get as many people with basic skills into the lowest tier and then help them get the professional training required to move up. People who have worked previously with CPS will be recruited, as will speakers of all languages from the general public. Getting more qualified interpreters into the field where they are sorely needed is crucial to maintaining an acceptable level of police service for all Calgarians. After all, if language barriers impede police work, then the quality of policing is diminished across the city.
"Absolutely," agrees Meharu. "You don't find any place where you don't encounter it nowadays. But [District] 5 is more than anywhere else."
The problem is so widespread, in fact, that even a database full of interpreters won't remedy every situation police encounter. From time to time, they will have to rely on their own ability to suss out information without the aid of a common language.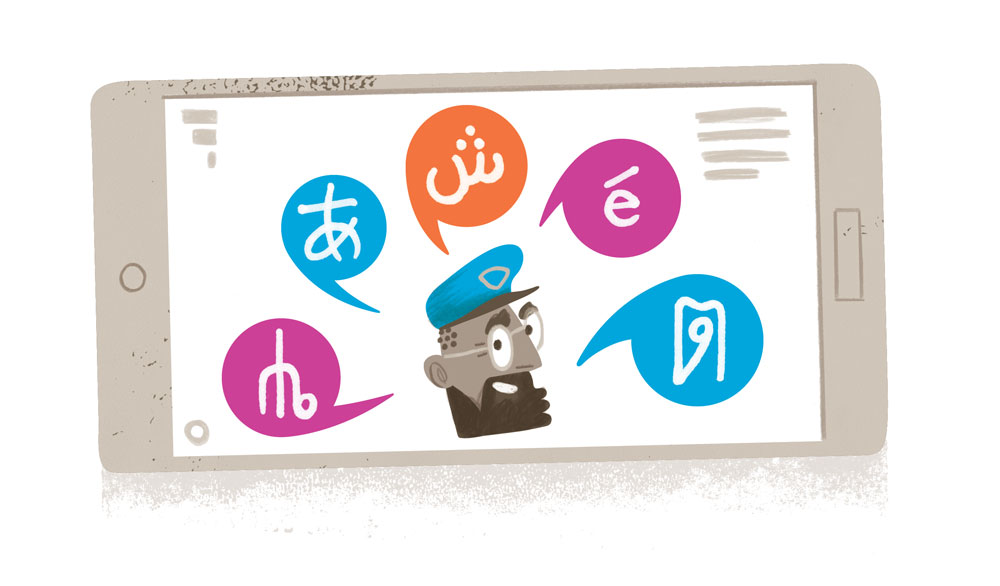 With a view from the sixth floor of a downtown Calgary building beside them, two cops sit down across a table from a pair of women – one from Vietnam, the other from Myanmar. The young female officer smiles and nods to them. Her older male colleague says, "Today we are here to talk, so just be casual; it's nothing serious." The nervous women don't respond. Two notepads with "Calgary Police Service" emblazoned on the cover flip open and the questioning begins.
How many people did you see? Two. Two men. What happened? Here it gets confusing: the women don't speak English. Once they understand what is being asked of them, they lack the words to explain. Two men. A house. Window. Did they break the window? No. One woman makes a motion with her hand as though sliding open a window. Were the men white? The women don't understand. Race? Colour? "Like me?" asks the male cop, who is Asian. "Like her?" pointing to the female cop, who is white. More confusion. The questioning moves on to clothing and hair colour, and whether something was taken from the house.
Eventually, a rudimentary picture of a break and enter takes shape. Many details are fuzzy or missing, but it's no matter: the crime hasn't actually been committed. It's all a training simulation.
This is a diversity training exercise CPS conducts with its recruits in conjunction with Bow Valley College. The women – recent immigrants to Canada and ESL students at BVC – have watched a short video depicting a crime. The recruits – who know no details of the video – are tasked with discovering what the women saw. In three classrooms, the same interactions are playing out with dozens of recruits and immigrants.
The goal is to help the recruits learn how to work within the confines of language barriers while being culturally sensitive. But CPS, which has run the workshop with BVC for nearly three decades, also views it as an outreach mission, a chance to connect with communities that might have a suspicious view of law enforcement rooted in their home countries.
On one hand, given that CPS was forward-thinking in launching this kind of training program decades ago, perhaps it's not surprising they are the first to conceive of an interpreter database. But, if multicultural awareness has been on CPS's radar for so long, why has this issue not been addressed sooner? "It really is amazing that there hasn't been a systemic way of tackling this," admits Dodd. "It has been an issue forever."
Aside from the bureaucracy and the sustained effort needed to effect change in a large organization, Dodd says the flawed patchwork solutions – having cops or family members do in-a-pinch translation – worked well enough, often enough, that the problem could be continuously put off.
The database has the potential to mark a significant change in the city's police work. But Dodd knows that depends on getting it correct from the start.
"That's extremely important for [police officers]. You gotta make it easy, you gotta make it simple and you gotta make it work," he says. "Because, if they try it once or twice and it doesn't work, they'll never use it again."