You've probably seen some of these places before. You might even drive by them every day. But have you ever stopped to think about why we call them what we do? This Remembrance Day, meet the Canadian veterans who gave their names to some of Calgary's famous (and not-so-famous) landmarks.
Pattison Bridge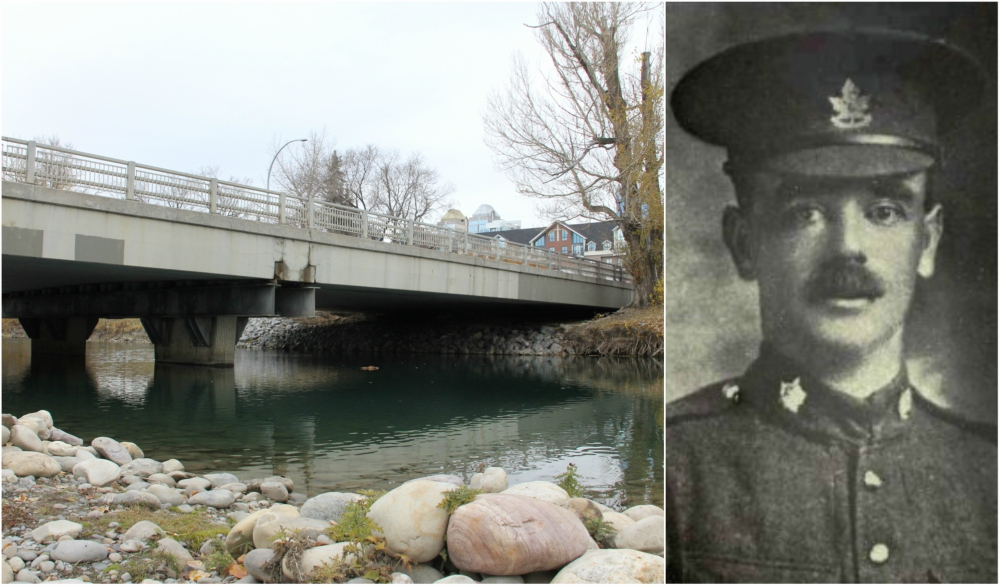 Private John George Pattison fought in the Battle of Vimy Ridge, when the Canadian Corps captured key territory from the German Sixth Army in April of 1917. Pattison was English-born, but emigrated to Canada and served in the 50th (Calgary) Battalion. On the second day of the battle, the Canadian forces were held up by a German machine gun that was causing severe casualties. Pattison dodged heavy fire as he leapt in and out of shell-holes for cover. He destroyed the machine gun with a grenade and single-handedly overcame the five remaining enemy gunners.
Pattison was awarded the Victoria Cross, the highest military honour given by the British Empire and Commonwealth. He acted, according to his citation, with "valour and initiative" as well as "utter disregard of his own safety." He was killed in action two months later, and was the only Calgarian First World War soldier to earn the Victoria Cross, which is now displayed at the Glenbow Museum. Pattison Bridge, which connects the Talisman Centre to Mission over the Elbow River along 1st Street, is named in his honour.
McCall Lake Golf Course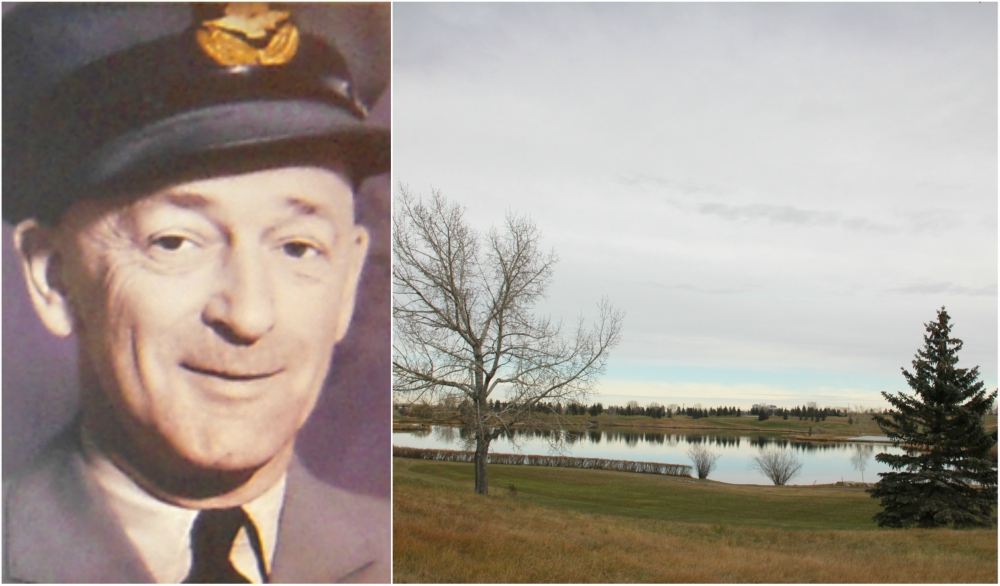 Captain Frederick Robert Gordon "Freddie" McCall enlisted in the infantry from Calgary at the outbreak of the First World War, but he was soon transferred to the Royal Flying Corps. After only 90 minutes of solo flight training, he was sent to France to fly reconnaissance missions. On one of these missions, he ran into five enemy planes and engaged them rather than retreating.
His victory earned him the first of many decorations during a career that included 35 confirmed victories. One of McCall's most famous landings came after the war, when a plane he was flying over the Calgary Exhibition and Stampede stalled with two young boys onboard. McCall managed to land atop the fair's merry-go-round, and incredibly, no one was hurt.
He spent many years as a civilian pilot before again volunteering his service in the Second World War. He died in 1949. Alongside the golf course, the Calgary International Airport's main service road and the McCall Industrial Park both bear his name, and the provincial electoral district that covers the area is Calgary-McCall.
Ian Bazalgette School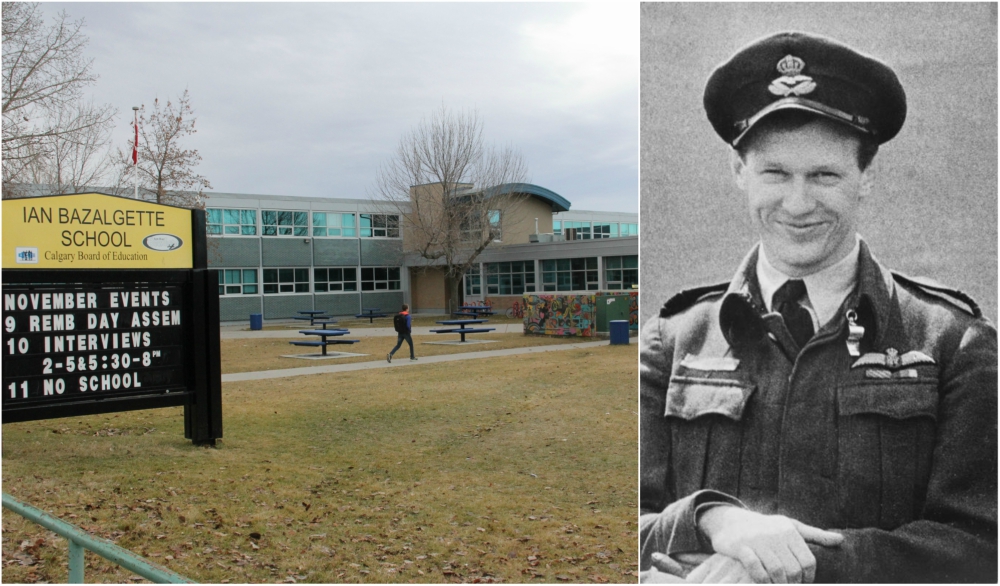 Known as "Baz" to his fellow airmen, Calgary-born Squadron Leader Ian Willoughby Bazalgette flew a career total of 58 operations in the Second World War, including several during the D-Day campaign. It was Bazalgette's final mission that earned him the Victoria Cross.
On August 4, 1944, he and the rest of his Lancaster Bomber crew were tasked with destroying a storage facility in northern France. The Lancaster was heavily damaged by anti-aircraft guns; two engines were out, the back of the plane was on fire, and two superior officers had been killed. Bazalgette took control, successfully bombing the target and ordering those who could to parachute to safety. He could have jumped too, but, unwilling to leave two injured crewmates behind, he tried to land the plane, which by then had lost all engines and was engulfed in flames. It crashed outside a small village, exploding on impact and killing Bazalgette and the remaining crew. A connoisseur of classical music and an enthusiastic gardener, Bazalgette is commemorated by this junior high school in Dover.
McKnight Boulevard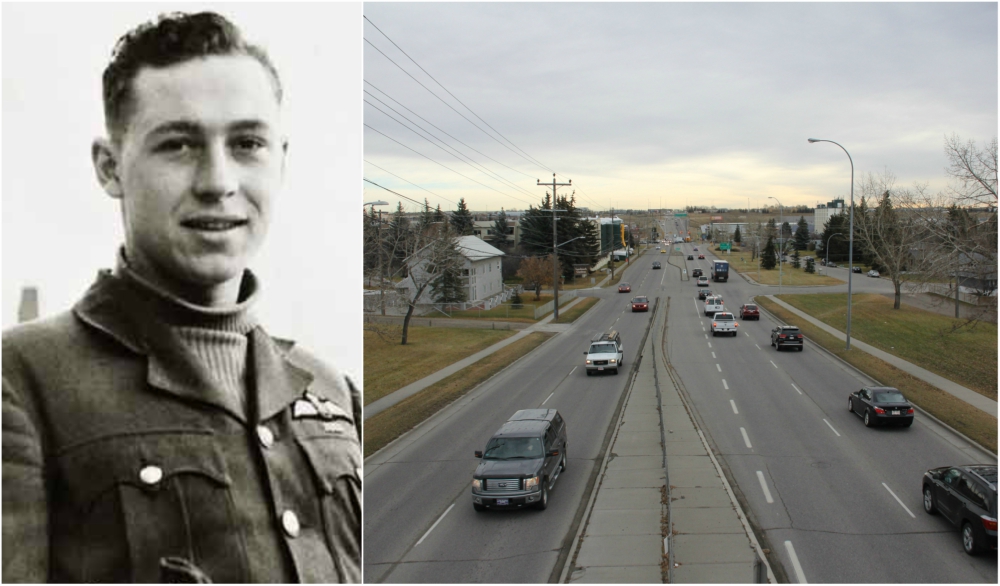 As a student at Crescent Heights High School, Flying Officer William Lidstone "Willie" McKnight earned a reputation as a cocky troublemaker. He refused to wear a helmet while quarterbacking the school's football team, and infamously crashed a car into a neighbour's fence while trying to impress a girl.
McKnight dropped out of medical school to enlist in the British Royal Air Force. His antics continued during his training, when he was briefly arrested along with a classmate for starting a riot. Once the war broke out, McKnight settled into his role as an ace pilot in the RAF's all-Canadian No. 242 squadron. In his typical irreverent style, he flew a Hawker Hurricane emblazoned with both a cartoon illustration of Adolf Hitler and a sickle-wielding skeleton.
His squadron participated in several important battles, including covering the evacuation of Allied soldiers from Dunkirk, France, and defending the English Channel from German air attacks during the Battle of Britain. McKnight won at least 17 victories and earned a Distinguished Flying Cross before he was killed in action over the English Channel on January 12, 1941, at the age of 22. McKnight Boulevard, which covers much of northeast Calgary, was named after him in 1967.
Henwood Street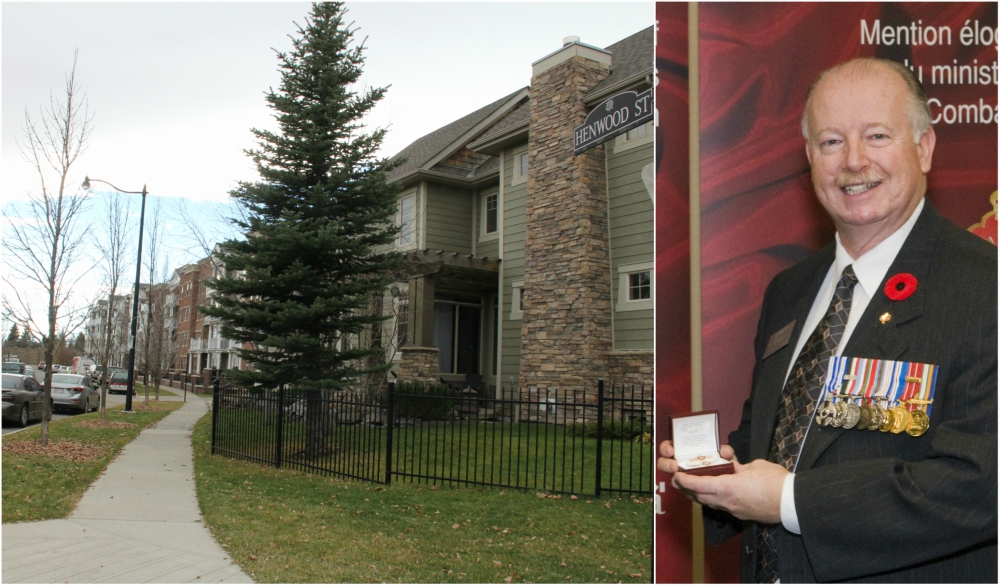 This quiet residential street in the southwest community of Garrison Green is named for a modern peacekeeper. Major (Retired) Bruce Henwood lost both his legs when his vehicle hit an anti-tank mine while he was serving in Croatia in 1995.
After his extensive rehabilitation and retirement, Henwood lobbied to overhaul the military insurance program that compensates soldiers who are severely wounded in the line of duty. He received a Meritorious Service Medal and the Queen's Golden Jubilee medal, and he advises Veterans Affairs Canada and the War Amps of Canada on the needs of veterans with severe disabilities. He is a member the Calgary chapter of the Canadian Association of Veterans in United Nations Peacekeeping (CAVUNP).
Henwood Street is one of 13 streets in Garrison Green named after Canadian peacekeepers.
Captain Nichola Goddard School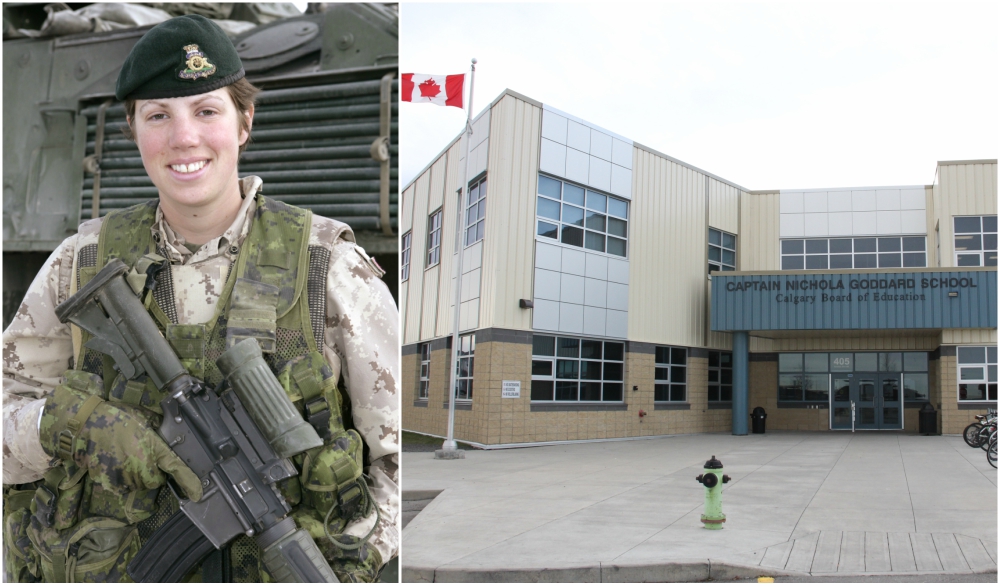 Captain Nichola Goddard emerged as a household name across the country on May 17, 2006, when she became both the 16th Canadian soldier to be killed in Afghanistan, and the first Canadian woman to die in combat since the Second World War.
Goddard, a forward observation officer serving in Princess Patricia's Canadian Light Infantry, was killed in a fight against the Taliban west of Kandahar when she was hit by a piece of shrapnel. She was 26, and is remembered as an avid reader, a dog lover and a Girl Guides volunteer.
Goddard had roots in Calgary; her parents lived in the city for more than a decade and her funeral was held here. She was posthumously awarded a Meritorious Service Medal, and since her death, a charitable foundation was established in her name. The grade 5 to 9 school named after her opened in 2012, in the northwest community of Panorama Hills.