This month is a big one for the airport. For starters, it got a new name. The airport is now officially the YYC Calgary International Airport. Second, its new International Terminal is officially opening on October 31. And it's really impressive – inspiration came from airports in Europe.
The new International Terminal is the size of 34 football fields and has added 2 million square feet to the airport. There are new technological elements, plenty of self-serve options and many, many more restaurants and shops. There are also numerous sustainability features and 10 per cent of the budget was spent on Canadian artwork and sculpture to really give the new terminal a sense of place.
Get a glimpse inside the new International Terminal before it officially opens on October 31.
---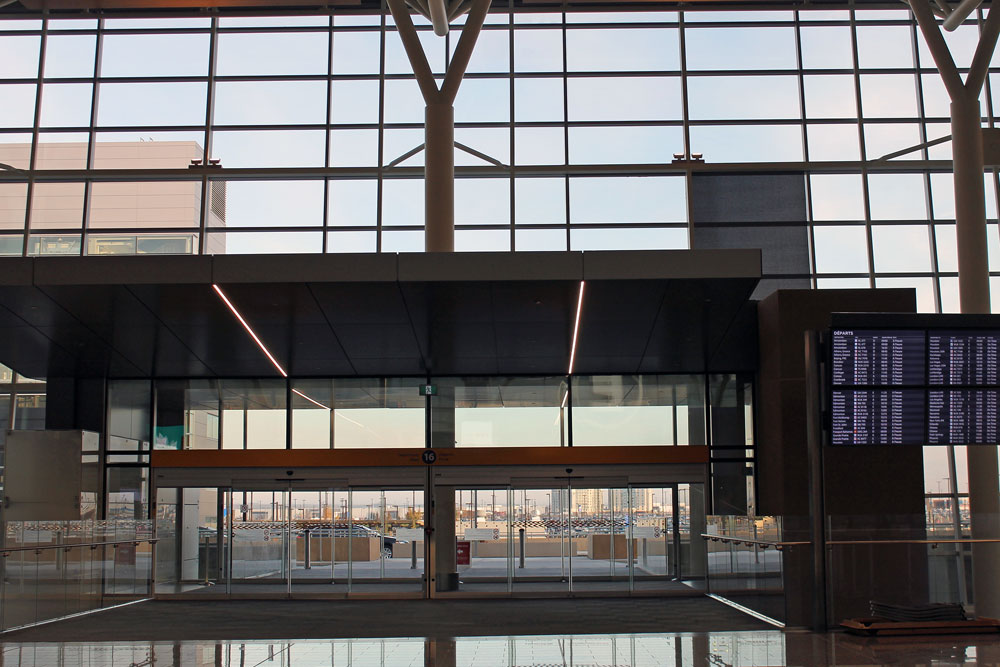 photograph by karin olafson
The first thing you'll probably notice when you enter the new International Terminal is how much natural light there is. Turns out, this was a design choice made for sustainability. The design maximizes the capture of natural light, which reduces the need for artificial light – so it also reduces how much energy the building uses. The International Terminal also collects rainwater and snowmelt, water that is then filtered, stored and used for flushing toilets. Geothermal radiant floor heating and cooling is used too – there are 660 kilometres of in-floor radiant heating tubing and 581 geothermal wells. This is the first airport in Canada that has a geothermal system for heating and cooling.
And those are just a few of the sustainable features that make this building green. According to Marco Mejia, the Vice-President of Planning and Engineering at The Calgary Airport Authority, the design choices will result in 27 per cent less power consumption and 52 per cent less water consumption.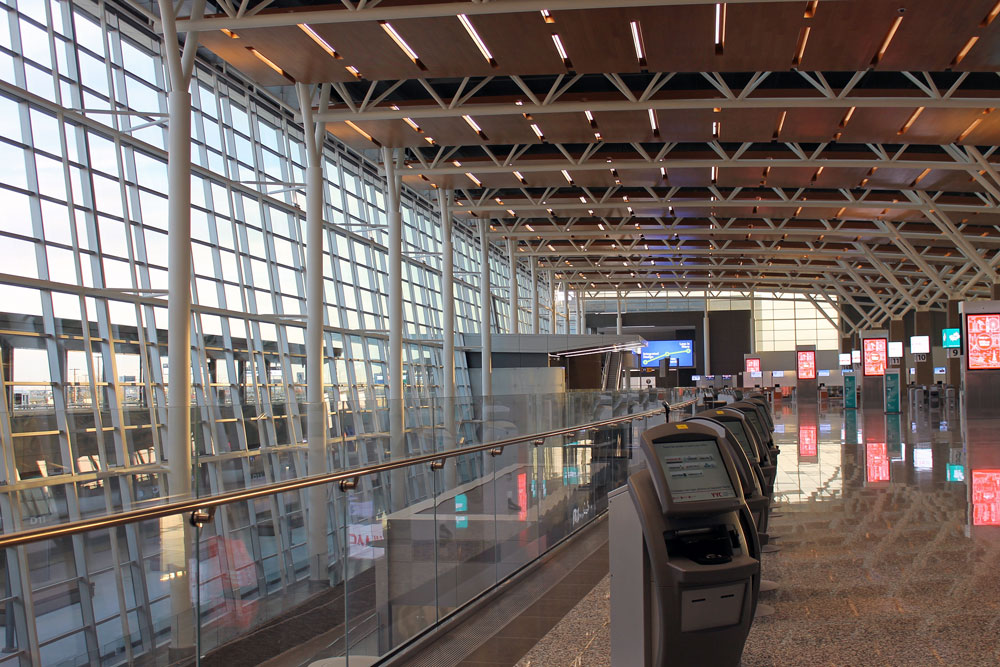 photograph by karin olafson
The next thing you'll likely notice are all the self check-in kiosks available. In the new International Terminal's departure hall, there are 238 self-serve kiosks where passengers can get their boarding pass and bag tags themselves. Bernie Humphries, the Vice-President of Operations at The Calgary Airport Authority, says that this was designed to give passengers the best possible experience. It will be efficient, but there are still full-service kiosk options too for passengers who prefer that.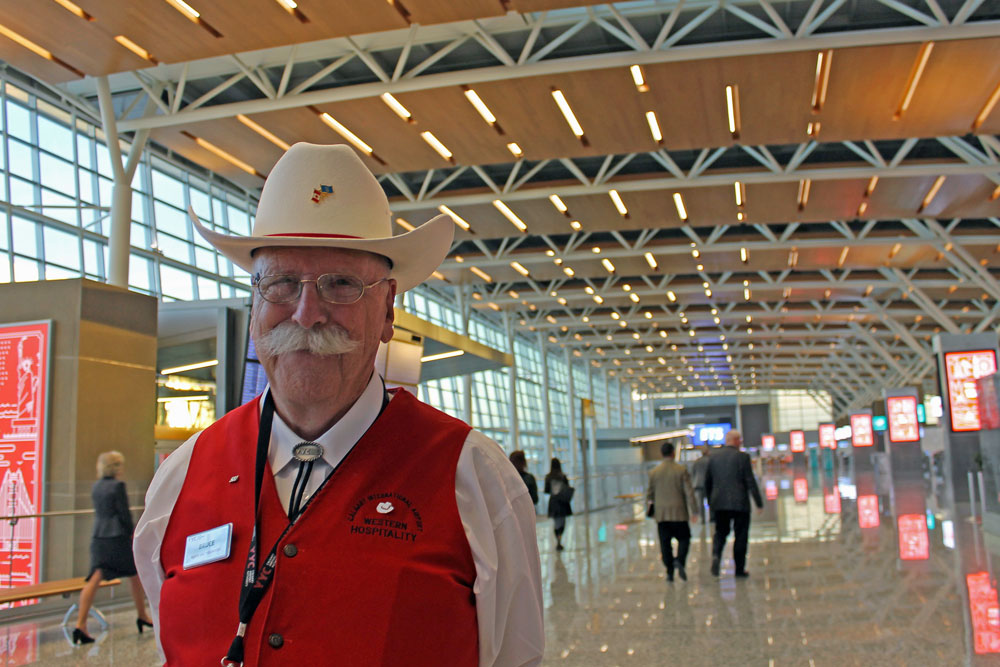 photograph by karin olafson
Like the old terminal, the new International Terminal will have White Hat volunteers. They're stationed throughout the airport to answers any questions travellers might have. There are more than 400 White Hat volunteers at YYC Calgary International Airport.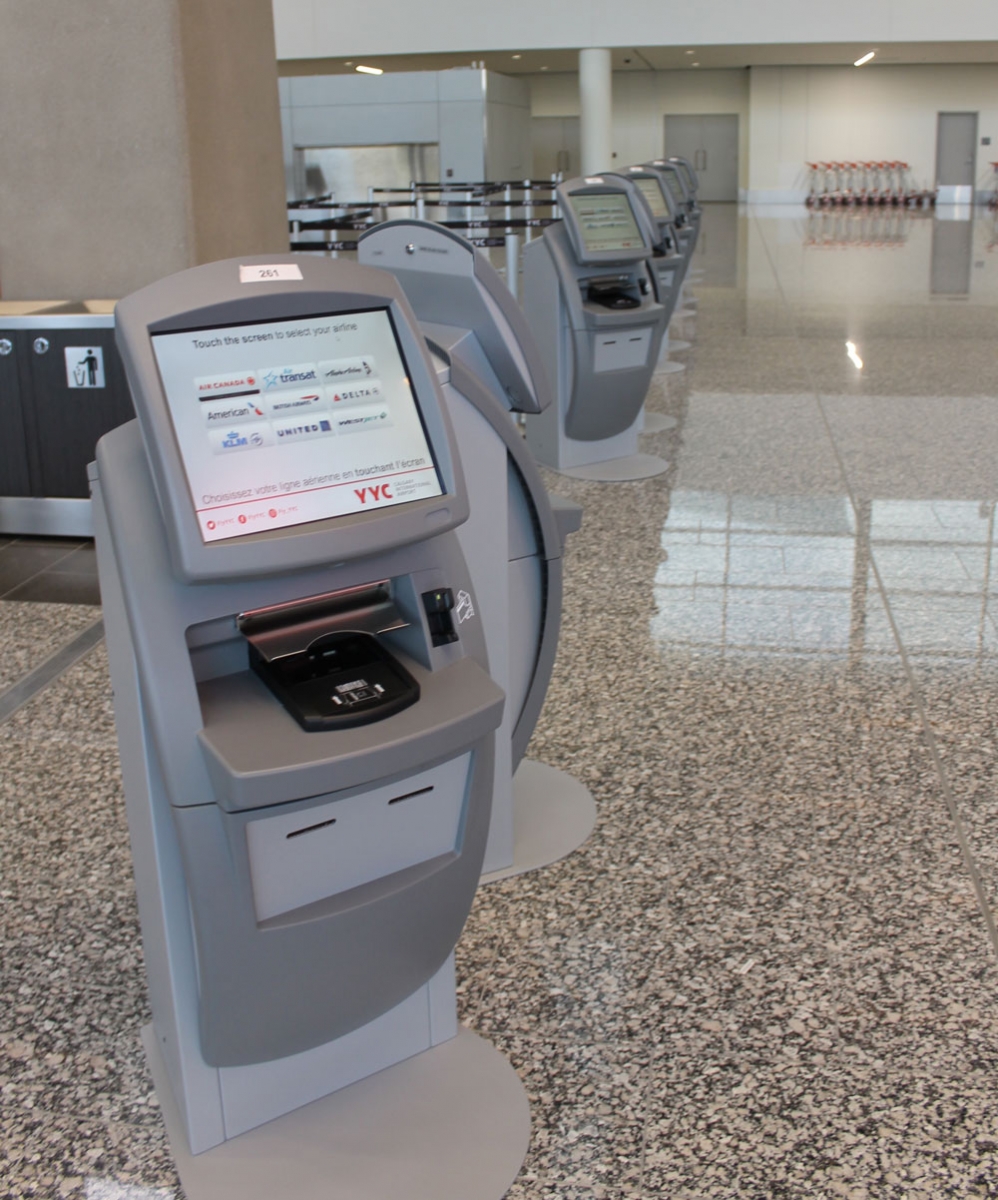 photograph by karin olafson
A detailed look at the self-serve kiosks in the departures hall.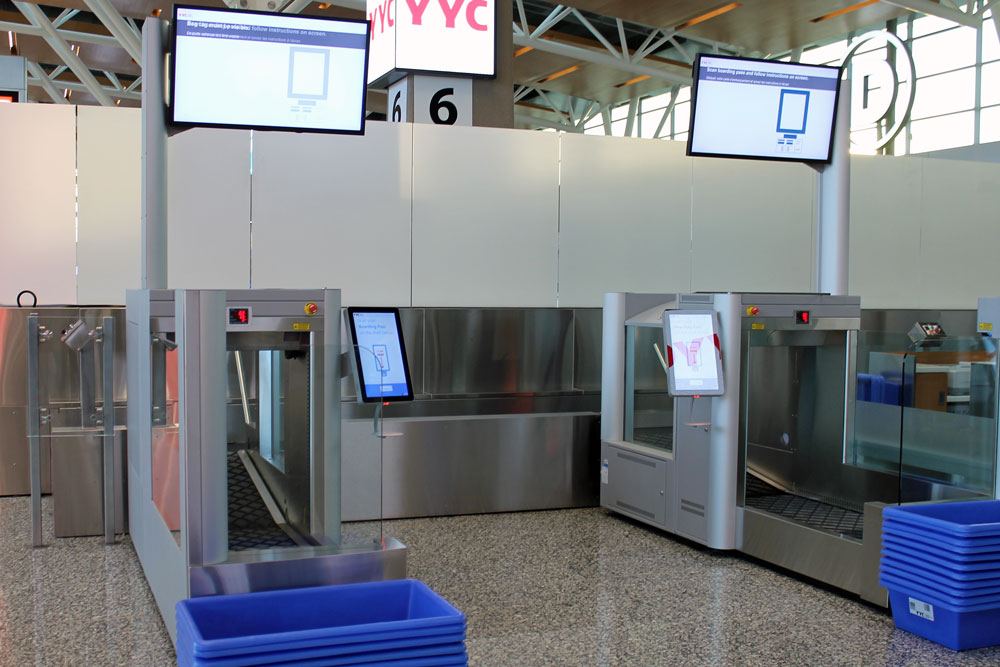 photograph by karin olafson
A new addition is the self-serve baggage check. Instead of waiting in line to check your bag at a full-service desk, travellers can check their own baggage through. There are 20 self-serve bag drop stations in total. The bags make their way to the airport's new tote system, and bags are tracked all the way to the aircraft. It takes bags less than 10 minutes to travel through this whole system and the system can process 4,000 bags per hour. Humphries says this will decrease the chance of bags getting lost on their way to the airplane.
The blue bins are for strappy bags. There is also an oversize section for travellers checking things like skis and bikes.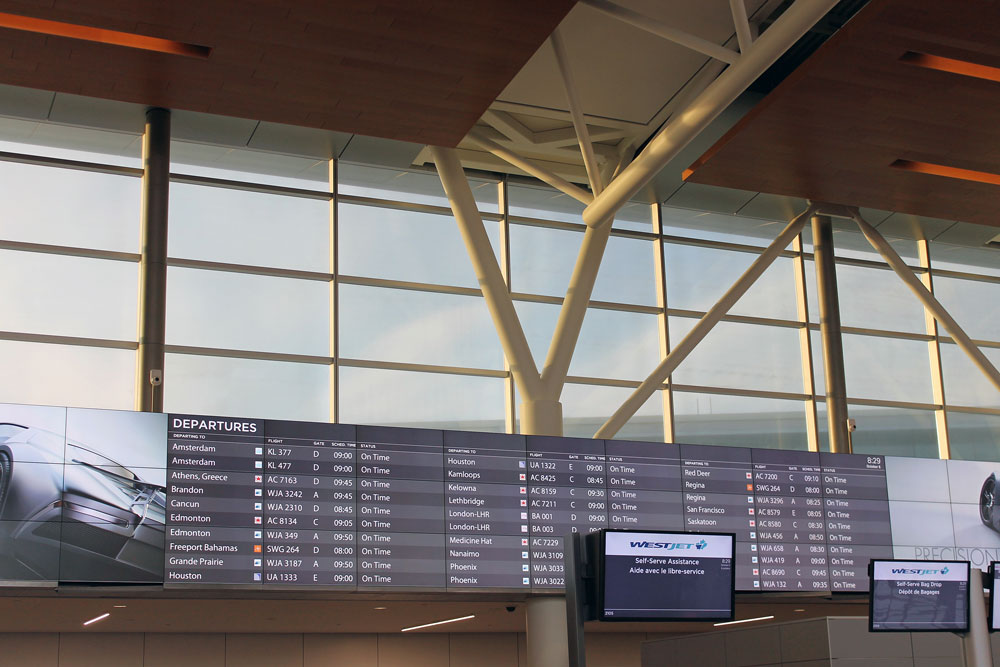 photograph by karin olafson
There's plenty of signage throughout the departures hall, so it is very easy for travellers to know if their flight is on time or delayed.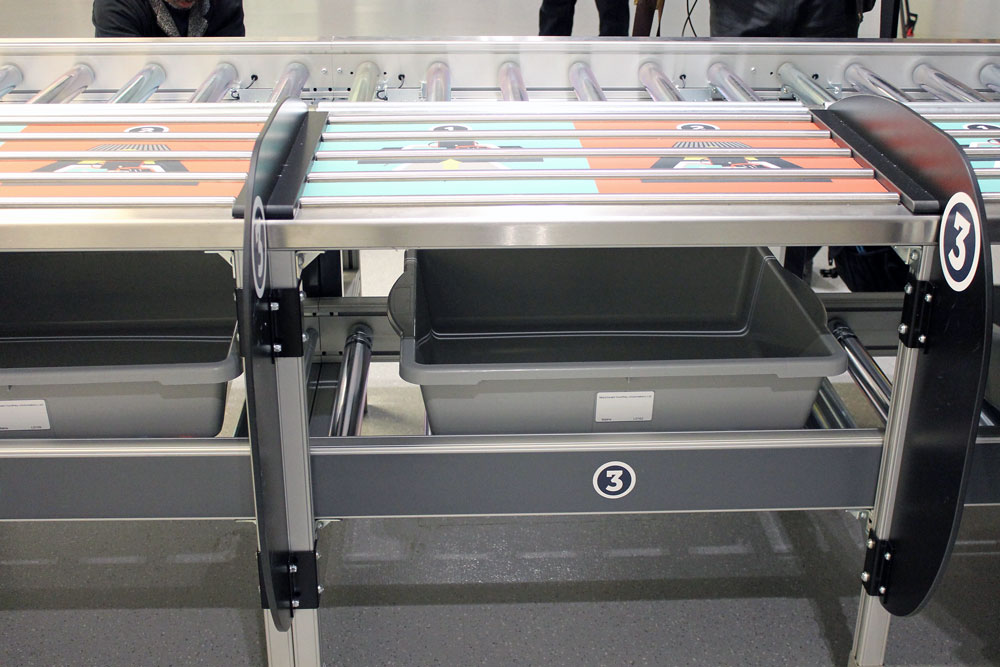 photograph by karin olafson
Travellers heading to the USA will notice something different when they go through security. This is the first full installation of CATSA Plus in its entirety. Four people can unload their carry-on luggage, coats and shoes at one time. There's a motorized system that keeps the grey bins on the lower level stocked, and the conveyor up top means the grey bins automatically move through the scanner. No more pushing other people's bins or waiting for that one slow person in line. It's entirely motorized – if a bag is rejected, it is automatically re-directed. The full system is 21 metres long.
There are also ceiling censors which follow passengers and share data with the airlines and airport, such as wait times and volumes at security. This will help with staffing.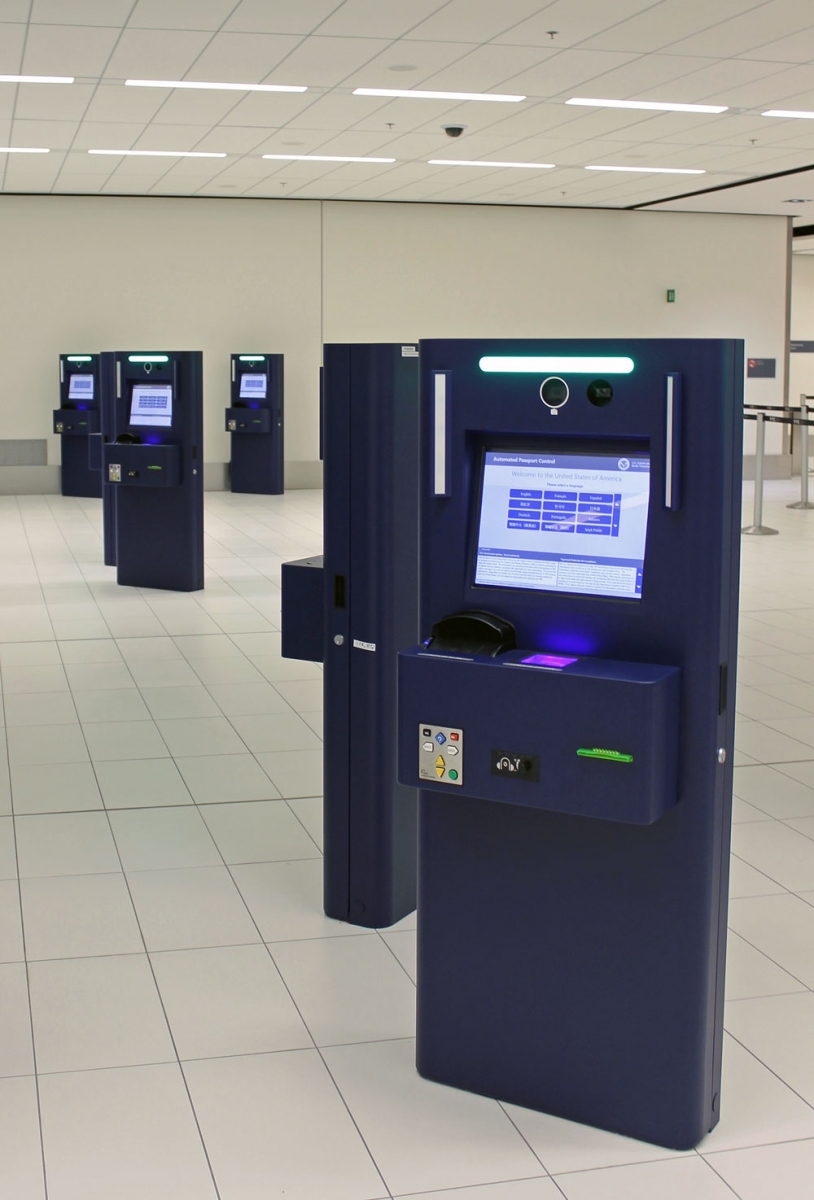 photograph by karin olafson
There are technological enhancements at US Customs too. Now, there are 25 automated passport controls that operate in 36 languages. These will ask travellers the same questions that the customs cards ask (but will be used instead of travellers filling out those cards) and can be used instead of waiting in line to see an officer face-to-face. There is still the option of filling out a customs form and seeing a customs officer in person as before.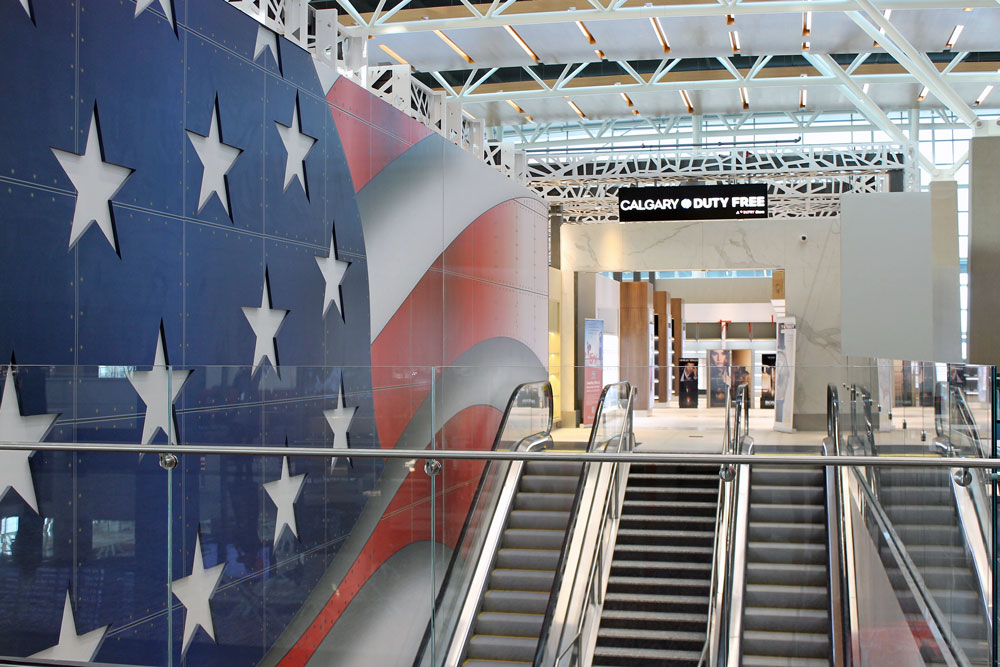 photograph by karin olafson
After going through security and customs, travellers will walk through Calgary Duty Free.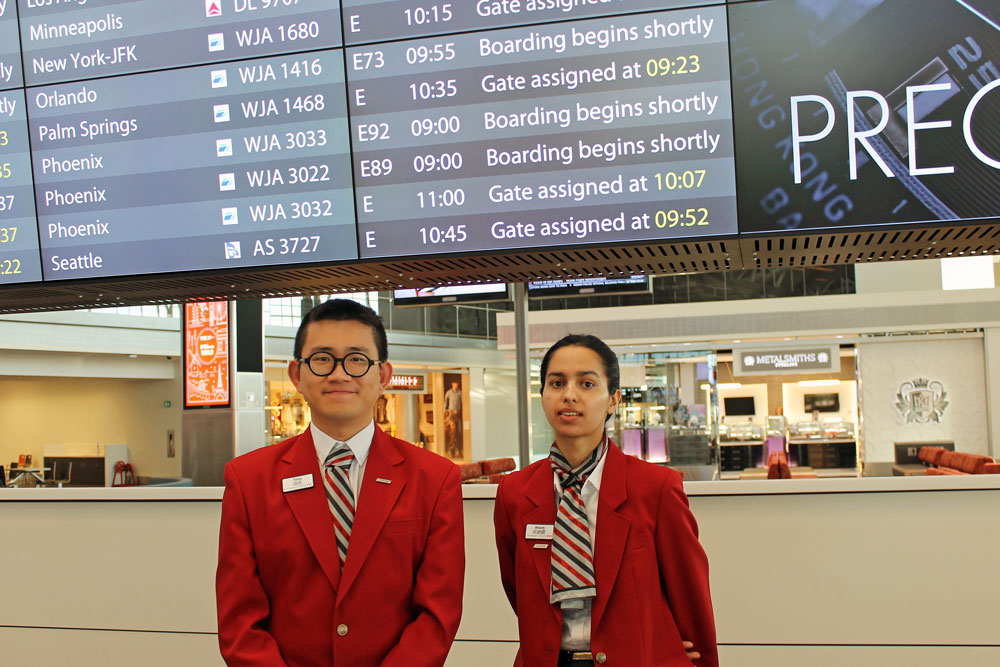 photograph by karin olafson
Customer Care Ambassadors are stationed throughout the airport, including in the various "retail plazas." Travellers can ask questions and get more information about their flights. A major difference in the new International Terminal is the call-to-gate system. This is the first airport in North America to use this system – it's used in airports in Europe. Travellers will initially only be told which concourse they are departing from (Concourse E for all USA-bound flights and Concourse D for other international flights). Passengers must keep an eye on the screens for announcements relating to gate assignment and boarding. The idea is that travellers will be able to spend much more time enjoying the stores and restaurants, rather than just sitting at their gate.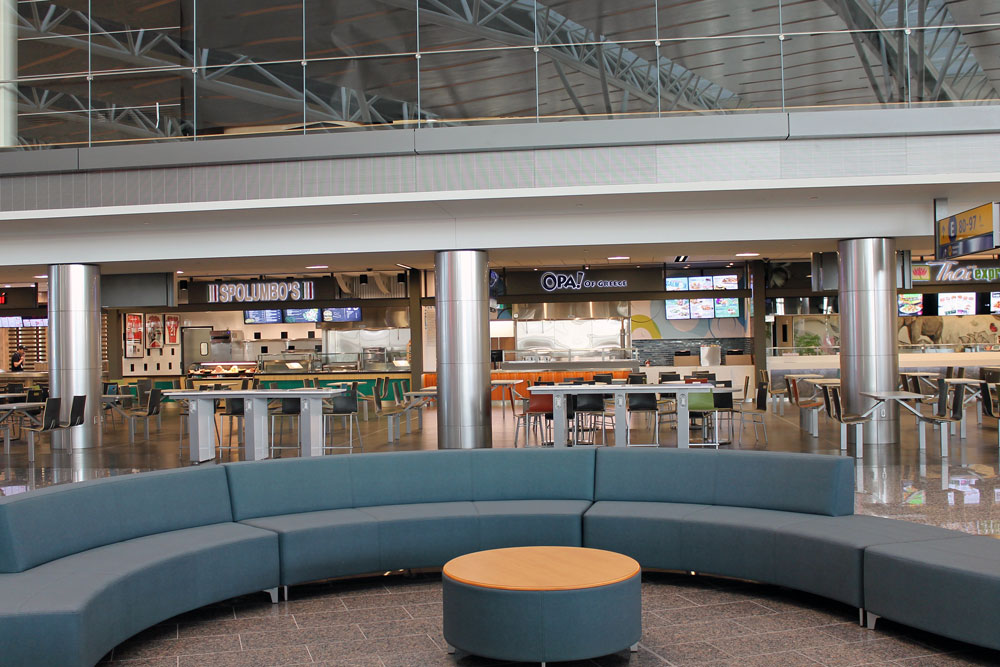 photograph by karin olafson
And it will be really easy to spend a lot of time at the new International Terminal. There are 50 new shops and restaurants, and 90 percent of that new retail is behind security. There are a range of dining options, including Spolumbo's, Thai Express, Belgian Beer Cafe, Hana Sushi and Green Chili.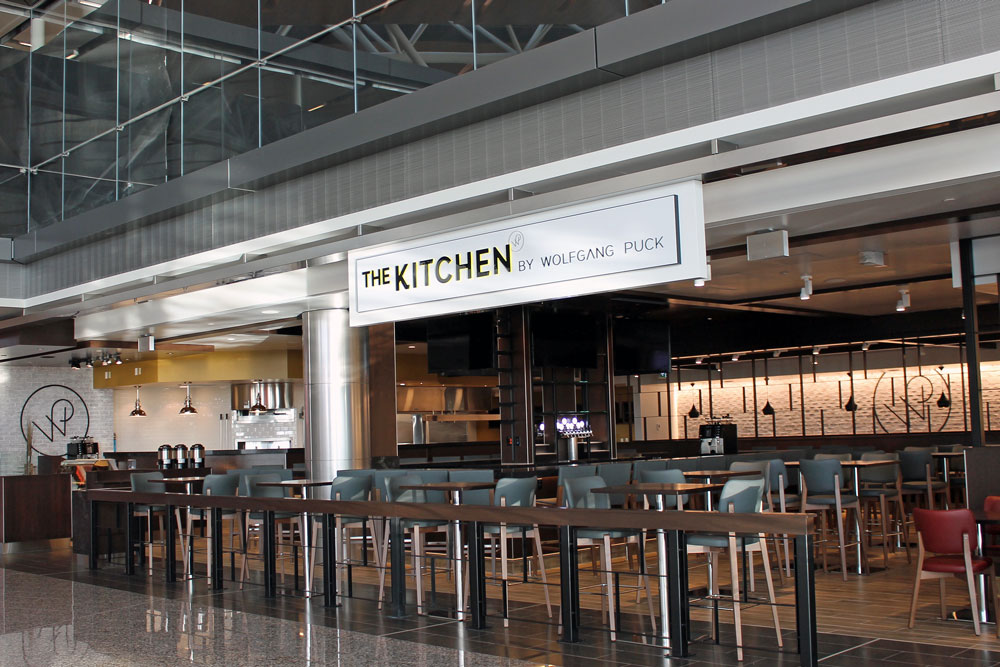 photograph by karin olafson
It's definitely not just fast food, either. You'll find Vin Room (International Departures Hall) and The Kitchen by Wolfgang Puck (US Departures Hall).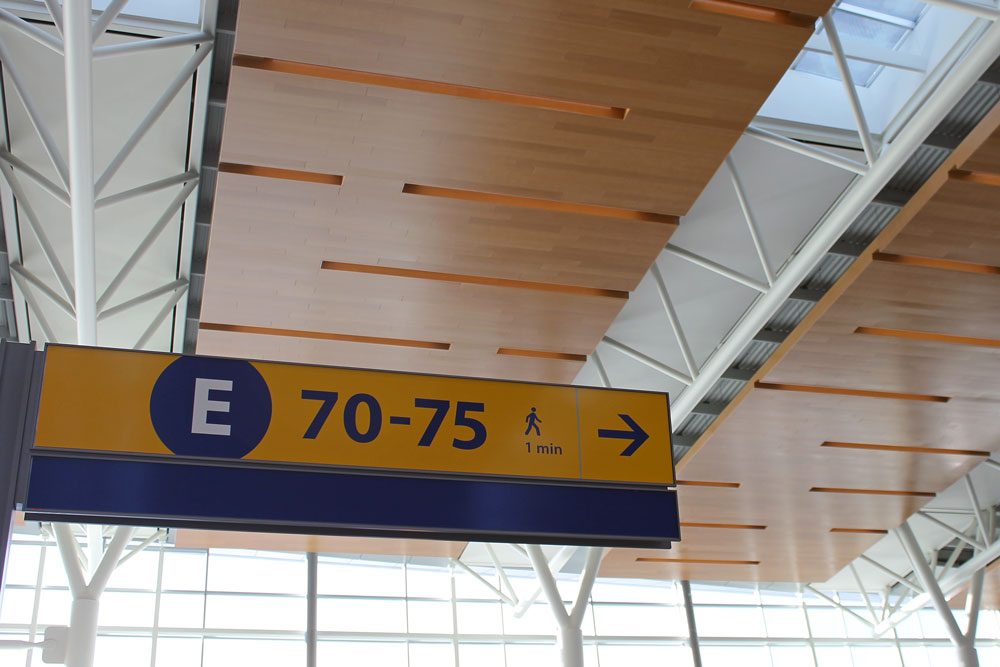 photograph by karin olafson
The departure halls are very well marked, so you'll know how long it will take you to get to your gate once you've been called.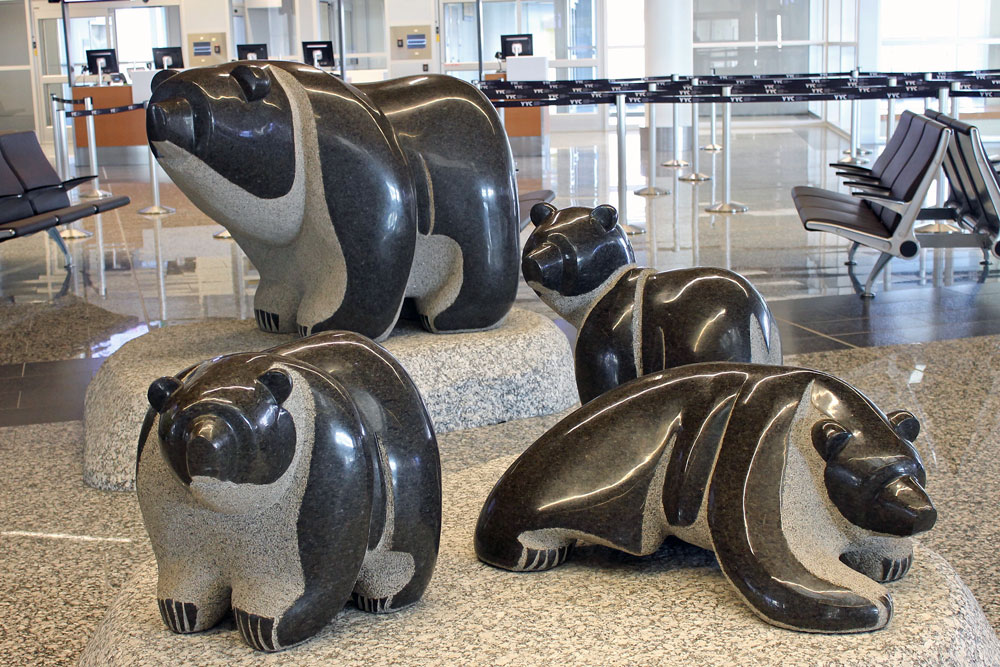 photograph by karin olafson
According to Garth Atkinson, the President and CEO of The Calgary Airport Authority, the goal of the new artwork was to bring Alberta into the new terminal. There's artwork by nine Canadian artists and 15 new pieces in total. There are three stone sculptures by Stewart Steinhauer, and above is one of those three sculptures.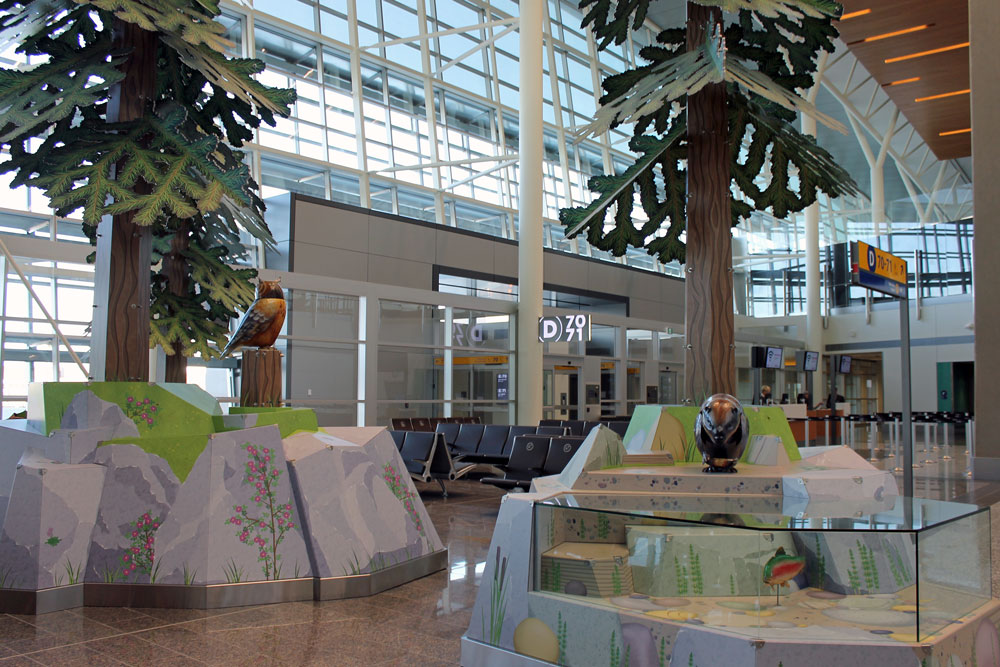 photograph by karin olafson
More art in the terminal. This is "Nature's Playground" by Jeff de Boer. (Spoiler: that beaver and that owl move.)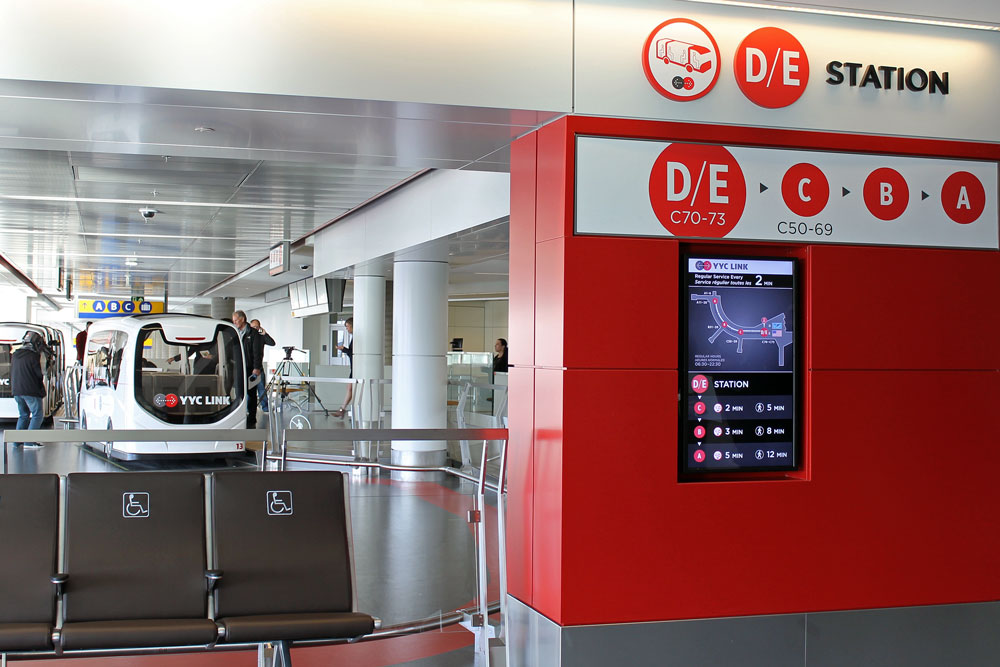 photograph by karin olafson
The YYC Link passenger shuttle connects travellers moving between the terminals. These are custom-built electric cars, driven by the Customer Care Ambassadors. They're free to ride and will quickly take passengers to where they need to be. There are 20 of these vehicles in total and each shuttle holds 10 passengers.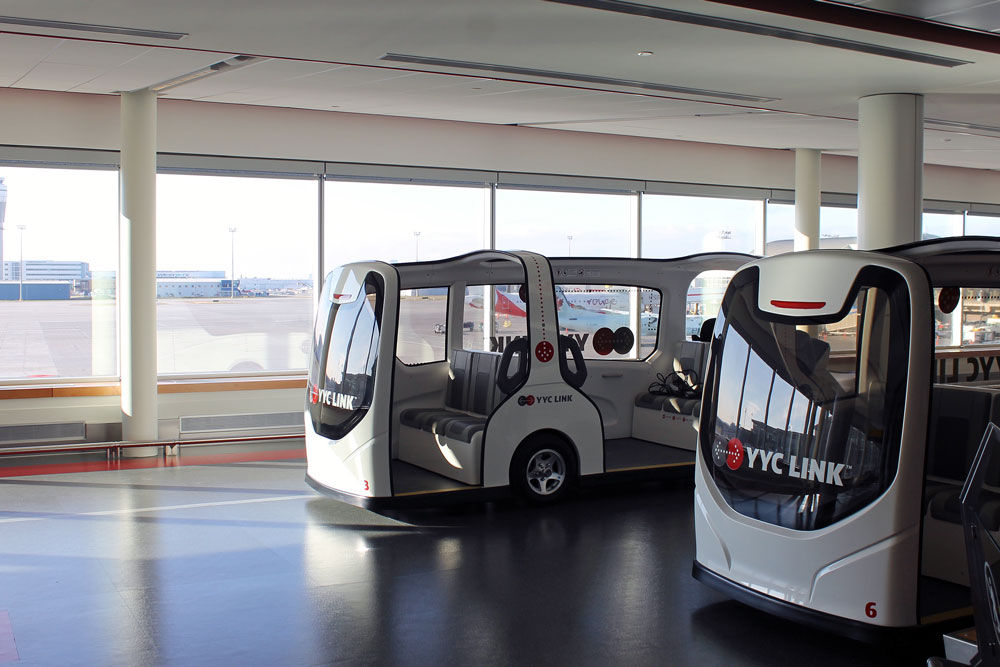 photograph by karin olafson
According to Debbie Stahl, the Director of Passenger Experience at The Calgary Airport Authority, these shuttles are an efficient and personal way to get around. The ambassadors will chat with passengers, and share details about the terminal and the city.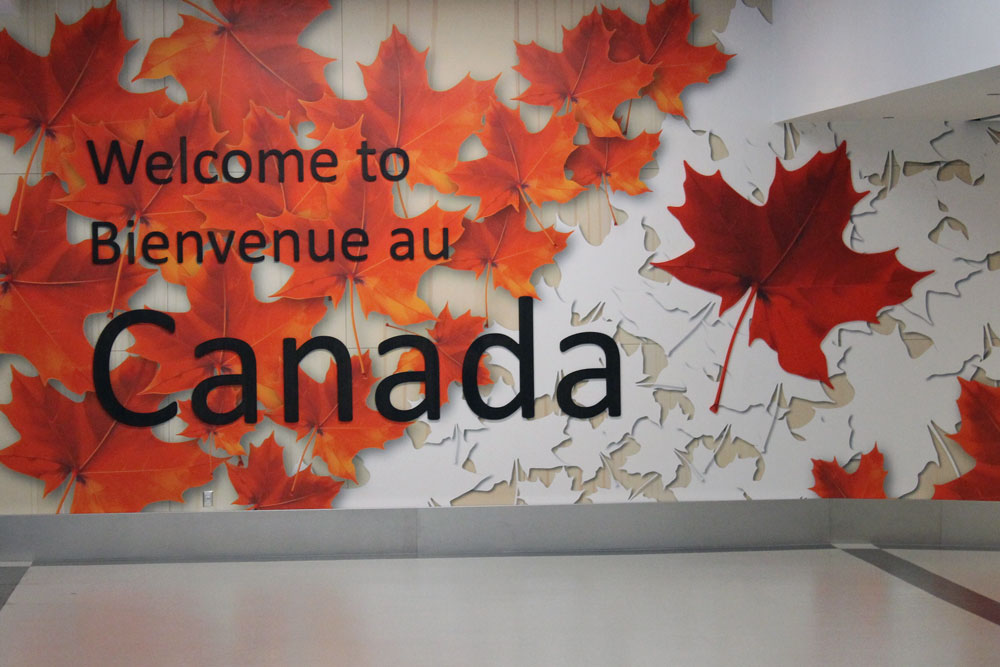 photograph by karin olafson
According to Garth Atkinson, 36 per cent of passengers use this airport as a connecting airport. It was really important to make sure Canadian customs was efficient and still provided a good experience for the travellers. Both Canadian and American citizens will be able to use electronic kiosks to get through customs – this is already being used at YVR airport.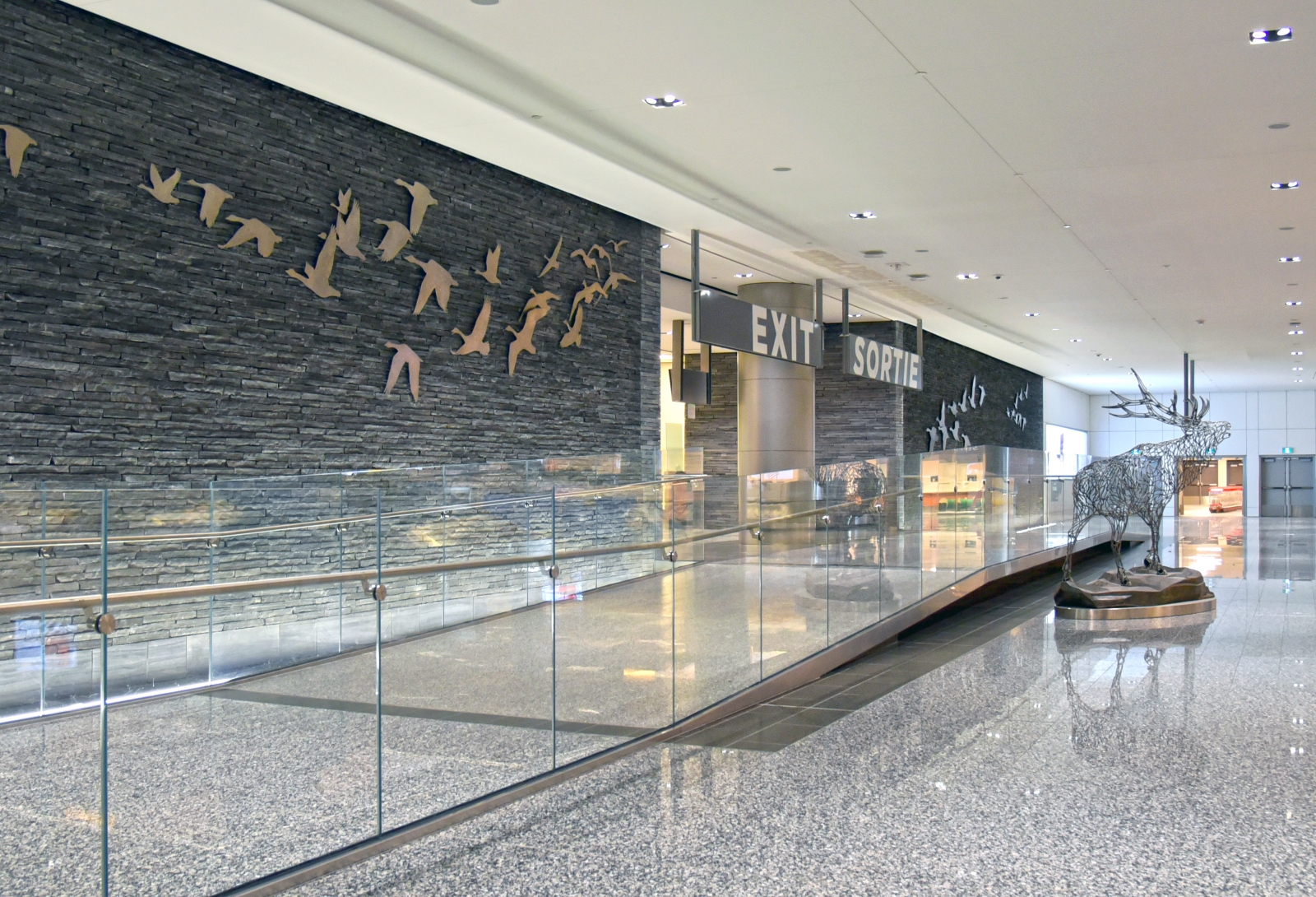 photograph courtesy of calgary airport authority
This is what travellers will see once they've collected their baggage and are on their way out into Calgary.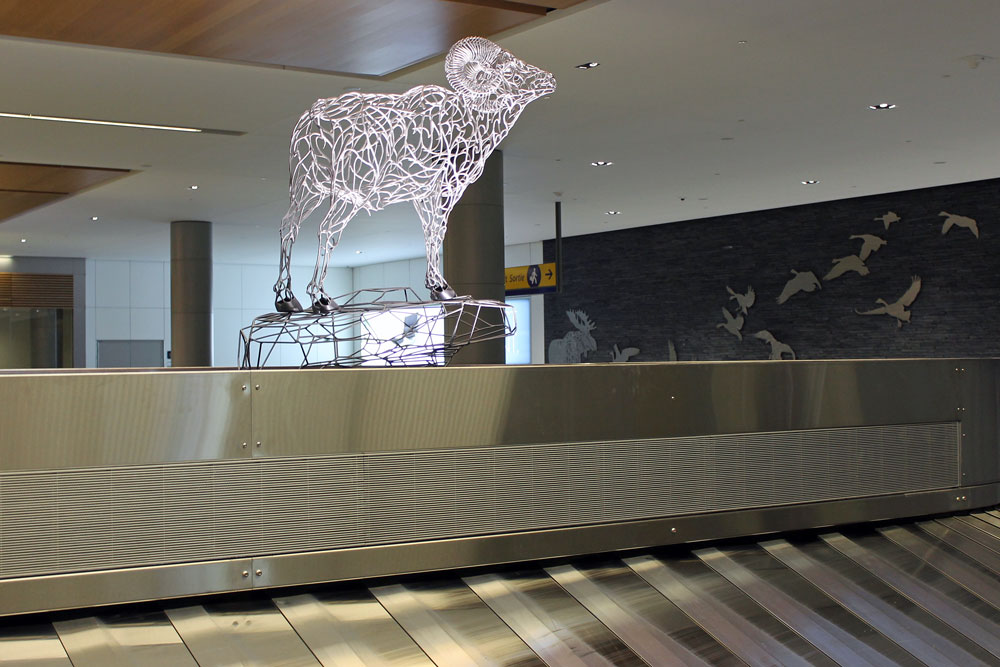 photograph by karin olafson
Like all the artwork in the new terminal, even the sculptures at baggage claim will remind you that you're in Alberta.