Where to Camp in Kananaskis, Banff and Waterton this Summer
So for those who like authentic camping in the middle of no where and for those who prefer to stay in a more luxurious oTENTik.
By Joanne Elves
Camping in Kananaskis
Photograph courtesy of Tourism Canmore Kananaskis
Why sleep under five stars when you can have the whole galaxy? There are five national parks, 75 provincial parks and 212 provincial recreation areas with more than 550 campgrounds in Alberta alone. Campsites vary from full-service RV sites to soft mossy spots in the backcountry.
If camping gear isn't in your arsenal, Parks Canada and the University of Calgary will come to your rescue. To entice people back to nature, Parks Canada now offers oTENTiks in select locations including Banff National Park. The oTENTik is a cross between a tent and a rustic cabin with wood floors and a canvas canopy set on the shores of scenic Two Jack Lake. The Outdoor Centre at the U of C will rent you everything from sleeping bags to pots and pans to complete the experience. Information and reservations for the oTENTiks can be found on the Parks Canada website. The Outdoor Centre at the U of C is a great resource for equipment.
With so many campgrounds, there is always somewhere to pitch a tent – unless it's a long weekend when reservations or having someone on-site early is a must. Here are our favourite places to give camping a try.
---
Kananaskis Country
Farther than the backyard, but not as far as the mountains, is Little Elbow Campground in Kananaskis Country, just west of Bragg Creek. With a mix of nearly 100 well-treed campsites for everything from tents to RVs located less than an hour from Calgary, it's a hit for weekenders looking for a getaway. Reserve your spot to avoid disappointment.
Teepees, trappers' tents and lots of unserviced campsites for tents and RVs are waiting at Sundance Lodges in Kananaskis. This family-friendly (and dog-friendly) campground near Nakiska Resort is the perfect hub for daily activities that include mountain biking, hiking, climbing, golfing and, ahhh, relaxing.
William Watson Lodge is open year-round and is designed specifically for seniors and disabled Albertans wanting to enjoy the mountains. There are 22 fully accessible cabins and 13 full-service campsites tucked into the trees above the shores of Lower Kananaskis Lake. Paved paths roll down to the lake and stretch 18 km into the wilderness.
---
Banff National Park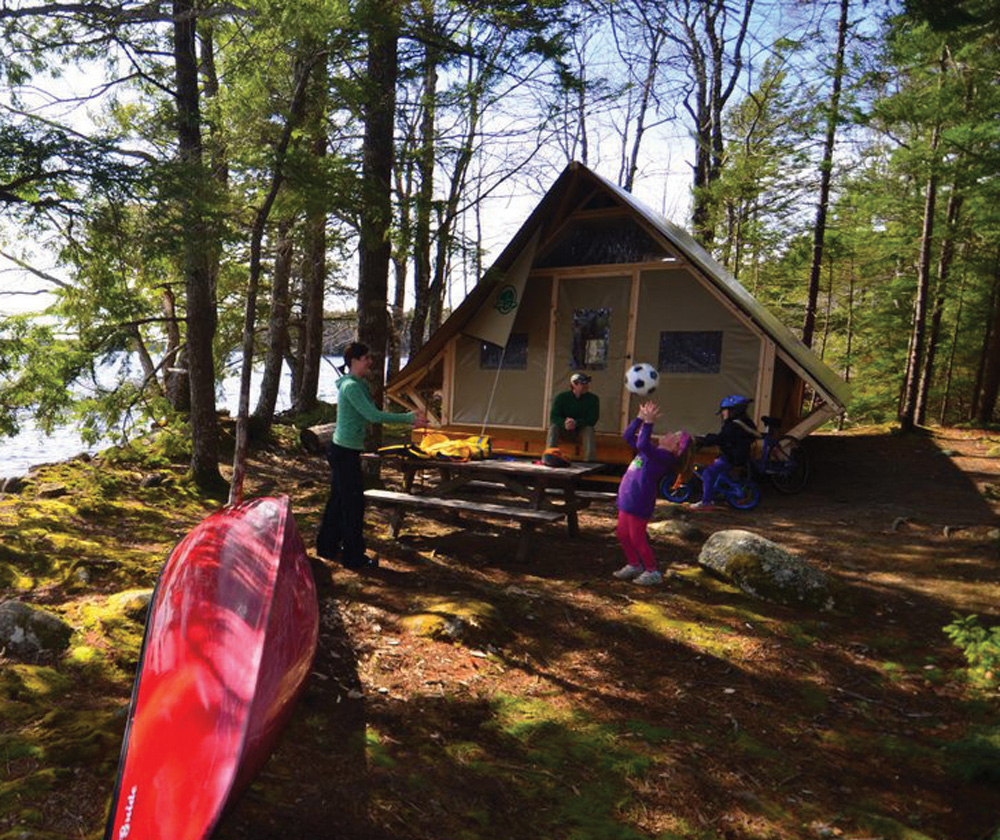 photograph courtesy of Parks canada, e. le bel
oTENTiks are a convenient cross between a tent and a rustic cabin.
Test your camping skills only an hour and a half from Calgary at Two Jack Lake on the Lake Minnewanka Loop in Banff National Park. Pitch a tent, use the oTENTik or pull in with an RV, but make reservations first. The location is a busy one due to its proximity to both Canmore and Banff.
Tunnel Mountain Village Campground is a popular spot on the ridge near the Banff townsite. What it lacks in remoteness it makes up for with breathtaking morning views. A town bus will take you into the heart of Banff. Make sure you plan a few hikes and a trip to the hot springs.
A little more remote is the Castle Mountain Campground on the Bow Valley Parkway. Yes, there are flush toilets, but forget about charging the electronics. The unserviced rustic camp spots are on a first-come, first-served basis. Being so close to Johnston Canyon, it's a popular retreat.
Step off the beaten path in Banff National Park. There are 50 designated campsites on 1,500 km of trails to pitch a tent. Be prepared for the unexpected and the unbelievable. Learn what is needed for wildlife protection. And learn how to take pictures of the most awesome night sky in the world. Permits to camp are mandatory but very inexpensive.
---
Waterton Lakes National Park
Waterton Lakes National Park south of Pincher Creek has excellent places to pitch a tent or level an RV. The campground in the heart of town is pretty much a big lawn kept trim by the roving mule deer and bighorn sheep, but it offers all the comforts for the newbie camper, including full-service lots, educational programs and an ice cream store within walking distance.
The campground at the base of Crandell Mountain is far more rustic offering cold water, kitchen shelters and flush toilets. The campground is an easy three-kilometre hike to Crandell Lake. The Belly River Campground is perfect for those campers with experience. There is no source of water and the facilities are primitive (i.e., outhouses). At these campgrounds, deer, bear and foxes are commonly seen. Reservations are not taken, so be there early to avoid disappointment.