Victoria came by its reputation as a sleepy island town for newlyweds and nearly deads honestly. Terms like "quaint" and "British-outpost" have been used aptly for many years, but Victoria has grown beyond that reputation and cast off its stick-in-the-mud ways while not abandoning its traditions.
While still quaint, Victoria has an increasing sophistication, much of it centred around local food. There is a growing cocktail scene, fuelled in part by local distilleries. Likewise, there are a number of top-quality local coffee roasters and a couple of groundbreaking local tea plantations. And there are many not-to-be-missed restaurants here. Fortunately there are plenty of outdoor pursuits to take part in thanks to Vancouver Island's temperate island climate – meaning you can easily work up an appetite in order to squeeze a few more places to eat into even a short trip.
Where to Eat
With almost two decades under its belt, Cafe Brio is one of the old guard among Victoria's foodie destinations. The restaurant has a focus on locally sourced ingredients and even cures and butchers its own meats. The Italian-influenced menu includes a family-style meal where the chef chooses six dishes to be shared by the table. Another delightful option is that all dishes can be ordered in halves for half the price – meaning you can easily create your own extended tasting menu.
Opened two years ago by the owners of Pescatores, 10 Acres offers a casual and lively West Coast experience. The restaurant gets its name from 10 Acres Farm run by the business in North Saanich. During the summer and fall, 80 per cent of the produce used in the restaurant is from the farm. In addition, 10 Acres also raises its own pigs, chickens, turkeys, rabbits and three varieties of ducks. Get a table near the fireplace in the heated courtyard or a booth indoors and enjoy something fresh and tasty. The bar offers the same modified menu during happy hour from 4 to 6 p.m. and from 10 p.m. to closing daily.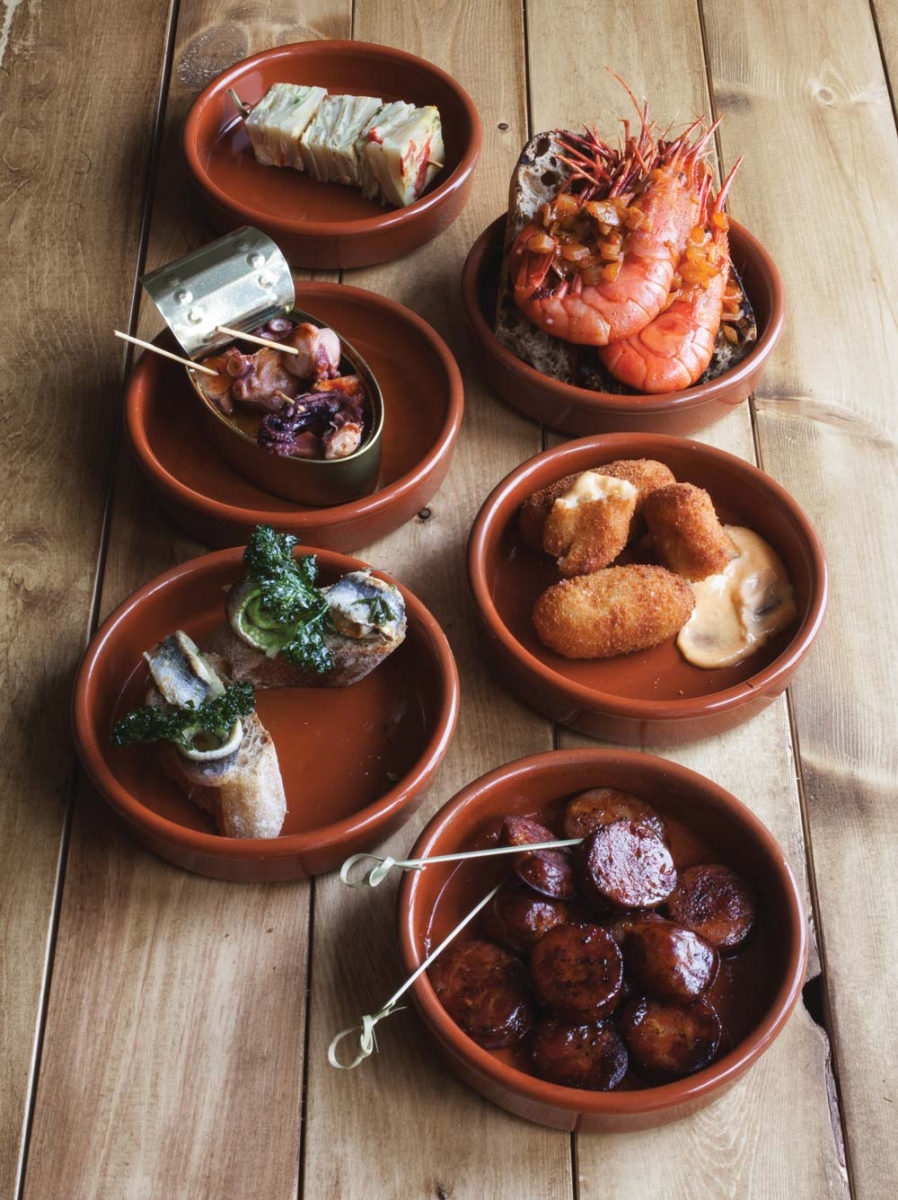 PHOTOGRAPH COURTESY OF CHORIZO & CO.
Chorizo & Co.
This casual Spanish deli-style restaurant offers amazing sandwiches (I recommend the calamares), and tortilla espaola in a small, bright space. There are also a variety of Spanish market items for sale.
---
More Great Spots to Eat
Healthy hearty food in a West Coast hippy atmosphere.
Moderne, modern French-inspired menu in the Fernwood neighbourhood.
A modern take on casual seafood. The tuna melt might change your life.
Classic Italian dishes in a friendly and noisy atmostphere – the garden is gorgeous.
Sally Bun
Like a gourmet pizza pocket, these golden buns stuffed with every imaginable sandwich topping are not to be missed.
---
What to Do
Shopping
A day strolling through Victoria's small and beautiful downtown will not only help fuel more dining experiences, the quaint shops have plenty of delights on offer. Ignore the major retailers and tourist traps and focus on the small local shops. No book lover should miss Munro's Books, which feels like a temple to literacy with its vaulted ceilings and gleaming wooden shelves.
Silk Road Tea has been in business for 23 years and takes Victoria's tea culture in a whole new direction with a focus on health properties. Stop in for a beautiful teapot, a tasting and a container of Berry Victoria, which Silk Road sources locally.
Bon Macaron Patisserie offers a wide variety of both sweet and savoury flavours of the classic French treat and is run by two French immigrants who fell in love with Victoria.
And be sure to take a browse through Trounce Alley, Market Square and Chinatown's Fan Tan Alley.
Bike Tour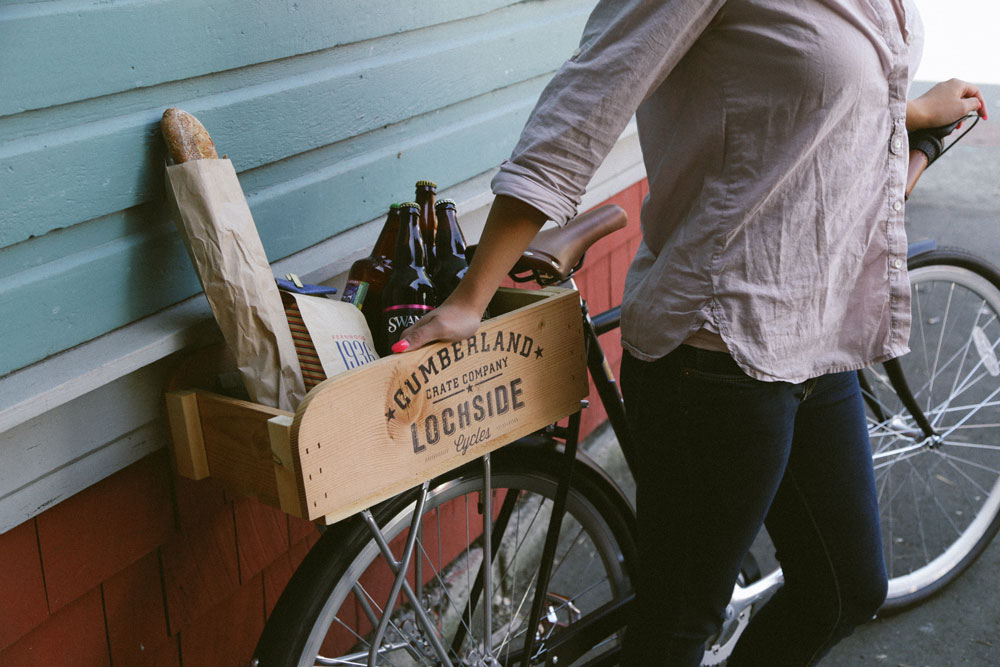 PHOTOGRAPH COURTESY OF THE PEDALER
The Pedaler.
The Pedaler offers both guided tours of Victoria by bike and bike rentals. Several of the tours focus on food, giving you the opportunity to see the city at a leisurely pace, learn a bit about Victoria's history and culture and eat, or drink, your way through a variety of offerings. The Beans & Bites tour focuses on coffee and pastries. On the Hoppy Hour tour you'll sample a variety of local microbrews, while the Spirits of Saanich tour goes out to the Saanich Peninsula for tastings of wine, cider and gin. There are also family-friendly tours available.
Spa
All this eating and touring may be calming enough, but if you want to have the ultimate de-stressing experience, head to one of Victoria's spas. The Spa Magnolia in the downtown boutique Magnolia Hotel offers a range of services from facials and aesthetics to massage. Add a Destress Express scalp and neck massage to any treatment for even more relaxation.
The Willow Stream Spa at the Fairmont Empress was recognized by Cond Nast Traveller as a top resort spa in Canada. Guests at the day spa also enjoy access to the Hungarian mineral pool, eucalyptus steam room and sauna.
---
Where to Stay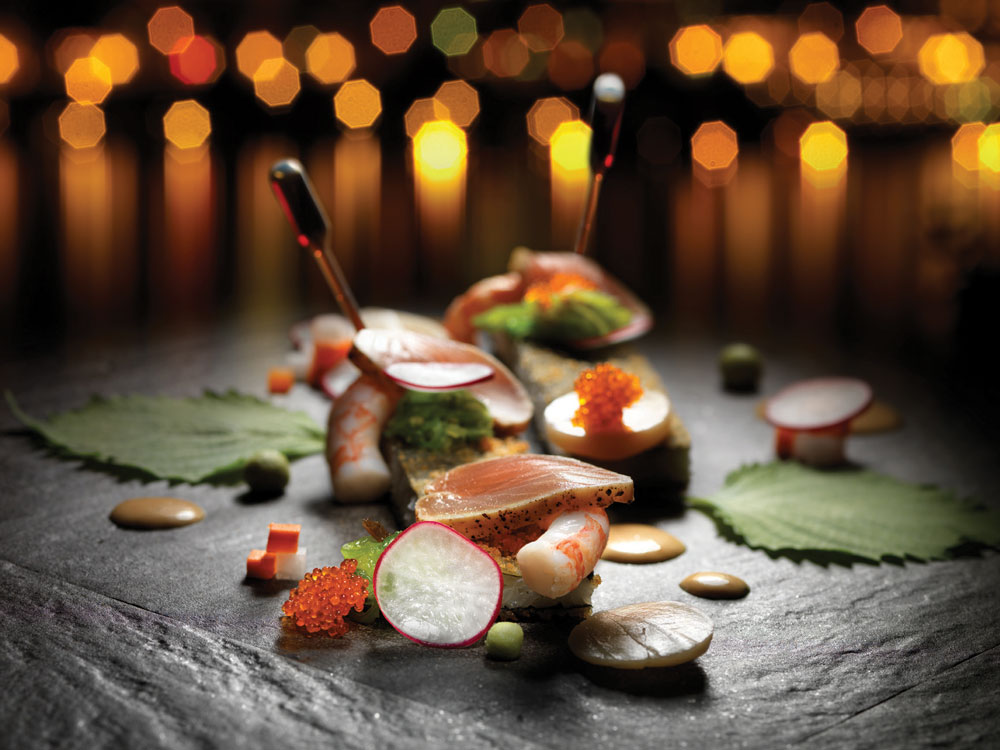 PHOTOGRAPH COURTESY OF THE INN AT LAUREL POINT
Food at Aura, at the Inn at Laurel Point.
The Inn at Laurel Point overlooks Victoria's Inner Harbour and is oriented so that all of the rooms have balconies that face the water. The Laurel wing of the hotel was built in the 1970s by the Delta Hotel chain, which sold the inn to local entrepreneur Paul Arsens in 1980. In 1989 Arsens commissioned Arthur Erickson to design the second – the aptly named Erickson wing.
The Inn at Laurel Point is now independently owned and run by a trust, which is obligated to give a portion of profits to acts of kindness in the community. It is also one of very few carbon-neutral hotels in North America, meaning you can feel virtuous about staying in luxury and style here. Also be sure to make reservations at the inn's impeccable Aura restaurant.
---
Travel tips from a Calgarian
Calgary photographer Mike Heywood visits Victoria at least once a year. "It's like paradise. It's this really cool place to visit but I often joke that I could never live there because it might spoil it. It's like going to a beautiful tropical place even in the winter."
For Heywood it is true of Victoria that the journey is as important as the destination. "One of the best things if you're driving is the ferry ride. The scenery is exceptional and that really sets the tone for the whole vacation. It's like a little cruise."
Although he has gone for years, Heywood says he still enjoys visiting Victoria's tourist attractions. "Craigdarroch Castle is a real treat. It's more of a mansion than a castle, and it's filled with all sorts of history of Victoria. It's part of that whole Victoria Englishness that makes the city so unique."
Heywood also recommends the ultimate Victoria English tradition. "One thing I can't wait to do again is high tea at the Empress. It felt like stepping back in time. You feel like you're part of the royal family for an afternoon," he says. "The Inner Harbour in general is quite beautiful – being around the Parliament buildings and the Empress Hotel, and the Royal BC Museum is a wonderful facility. [And] when we go with the kids we go to the Bug Zoo. It's really well run, lovely and educational. And the kids adore it."
Heywood recommends staying in the Inner Harbour either at the Hotel Grand Pacific or The Gatsby Mansion, part of the Huntingdon Manor facility. "If you're into history you should stay in this place. It feels like you're stepping back in time but you're still in a modern city," he says.