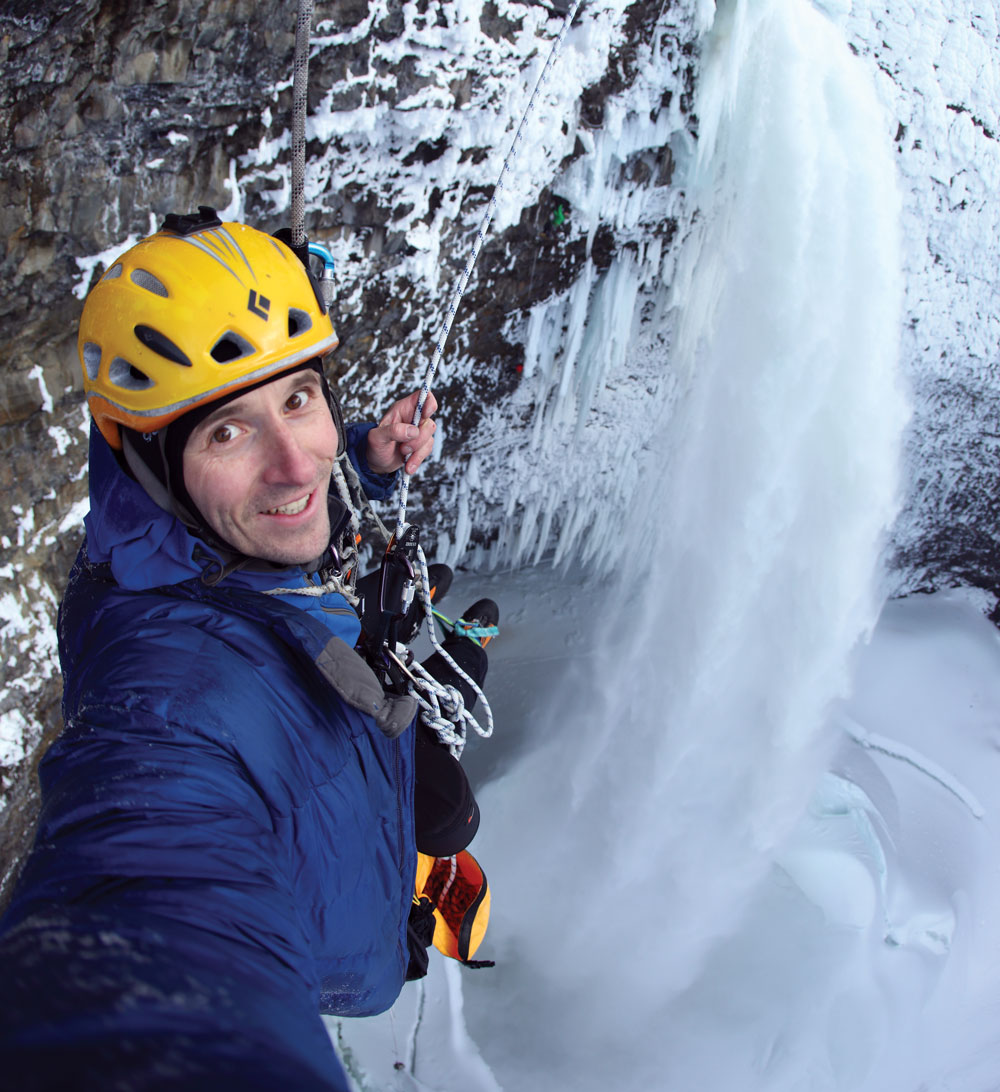 Photograph courtesy of Wiktor Skupinski
A selfie by Wiktor Skupinski taken while photographing climbers at Helmcken Falls, B.C.
This is Wiktor Skupinski's idea of a good day at the office: an icy climb to a windy, hanging-off-the-edge-of-the-earth spot, the kind of place that's a playground for elite ice climbers, and then a few hours hanging in the cold air, snapping photos for the rest of the world to see.
It's not the sort of workday Skupinski envisioned for himself when he graduated as an engineer, but he's yet to find an engineering job (or any job, for that matter) that can compete with his love of the mountains. "I didn't want to lay tiles as a day job. I didn't want to be an engineer," explains the 40-year-old adventure photographer. "I wanted a way to be in the mountains and pay my bills with my camera."
Skupinski does this by accompanying athletes on climbs, mostly on ice walls, and taking photos along the way. He sells the images to outdoor gear companies and magazines and his photos appear in ads for companies like Black Diamond Equipment and Mountain Hardwear. One of his images, of a British climber making his way up a pitch of icy feathers in a cave at the back of B.C.'s Helmcken Falls, was named one of Outside magazine's top photos of 2014.
It's an intense and exhausting experience to be both climber and photographer, Skupinski says. "Most of the time, you're on the same route as the climber, which is something you don't really see in the photos. The climber goes up, puts a rope up for you, you jug up [ascend] the line, and shoot," he says. "I'm right there. If [the climber] is not confident about his gear and the rock and protection, you're getting that tension as you're shooting."
Skupinski's father, a geologist who spent his free hours climbing and photographing in his native Poland, introduced him to climbing, though he didn't encourage Wiktor to pursue the activity due to the risks involved. Even so, by high school, the son was spending his weekends in the mountains and evenings at the climbing gym.
Skupinski attended the University of Calgary, where he completed his engineering degree. He took up photography while recovering from a broken ankle. "Shooting was a means of tagging along on ski and bike trips with friends," he says. After graduating, Skupinski worked as an engineer for several years but didn't enjoy sitting at a desk, so he quit and travelled the Pacific, taking photos and working on sailboats. He married a Canadian woman and together they opened a wedding photography business.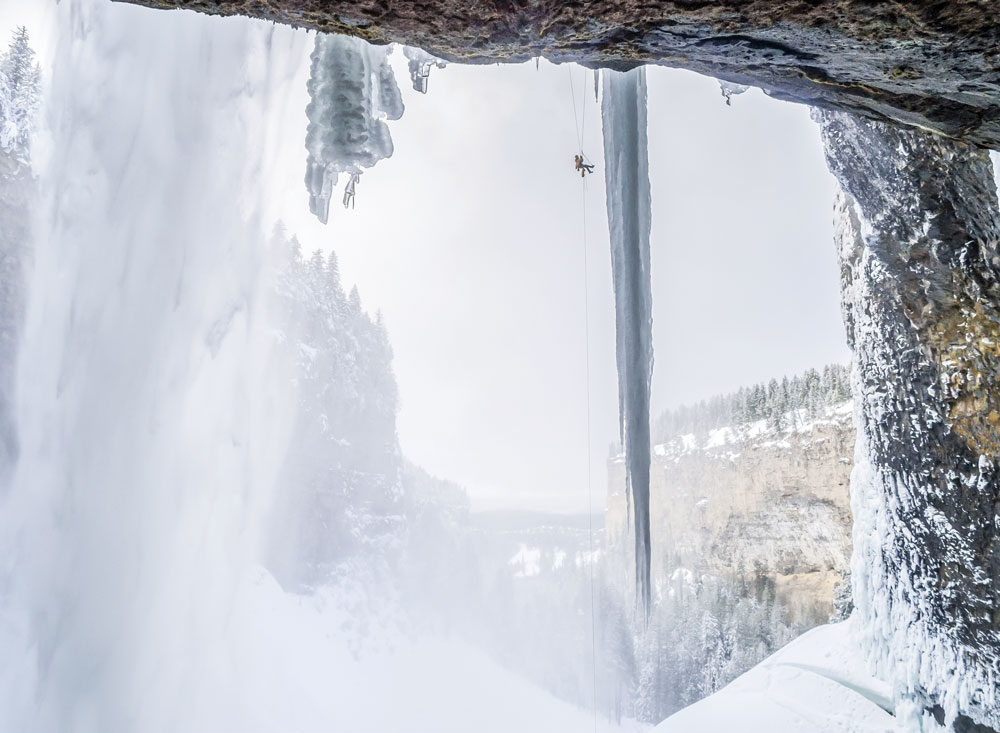 photograph by klemen premrl
Climber Klemen Premrl took this photo of Wiktor Skupinski dangling in position in front of Helmcken Falls (the reverse view of the selfie above).
His break into adventure photography came in 2008 when Skupinski joined his friend Raphael Slawinski, a physics professor at Mount Royal University and an internationally renowned ice climber, on a climb up the Stanley Headwall, a famed spot in Kootenay National Park. Slawinski forwarded the photos to his gear sponsor, Black Diamond, and Skupinski's dream career was launched.
"That July, I got an email from the Black Diamond photo editor, and she says, 'We'd like to license one of your photos for $3,000. I was like, 'Are you kidding me?' "And I was hooked."
Skupinski relies on a combination of climbing skills, careful planning and heavy lifting to get through a shoot. He generally carries one camera and three lenses, a belay seat, climbing gear and extra ropes that are heavily soaked by melted snow and ice by the day's end.
"It's 16-hour days with a lot of weight to carry. I carried a load out of the Stanley Headwall by headlamp in the dark, cursing. It was 53 pounds, Skupinski says. "I'm a light guy – I'm 145 pounds – so 50 pounds on my back was torture."
To stay fit, Skupinski trains in the climbing gym two or three times a week and spends as much time as he can biking, climbing or skiing in the mountains.
The key to his success, he says, is maintaining a balance between work and play. He generally sticks to shooting ice climbs in the winter, leaving his summers free to rock climb for fun. He also works as an industrial photographer for projects that rely on his engineering knowledge.
"I'm happy, but it's not 10 out of 10, either," Skupinski says. "That's the engineer in me. I always have to leave a margin to accommodate for something better. I hate getting up at 4 a.m. to go to work, but I also hate getting up at 4 a.m. to go skiing. But I love to ski and I love what I do for a living. I wouldn't do anything else."