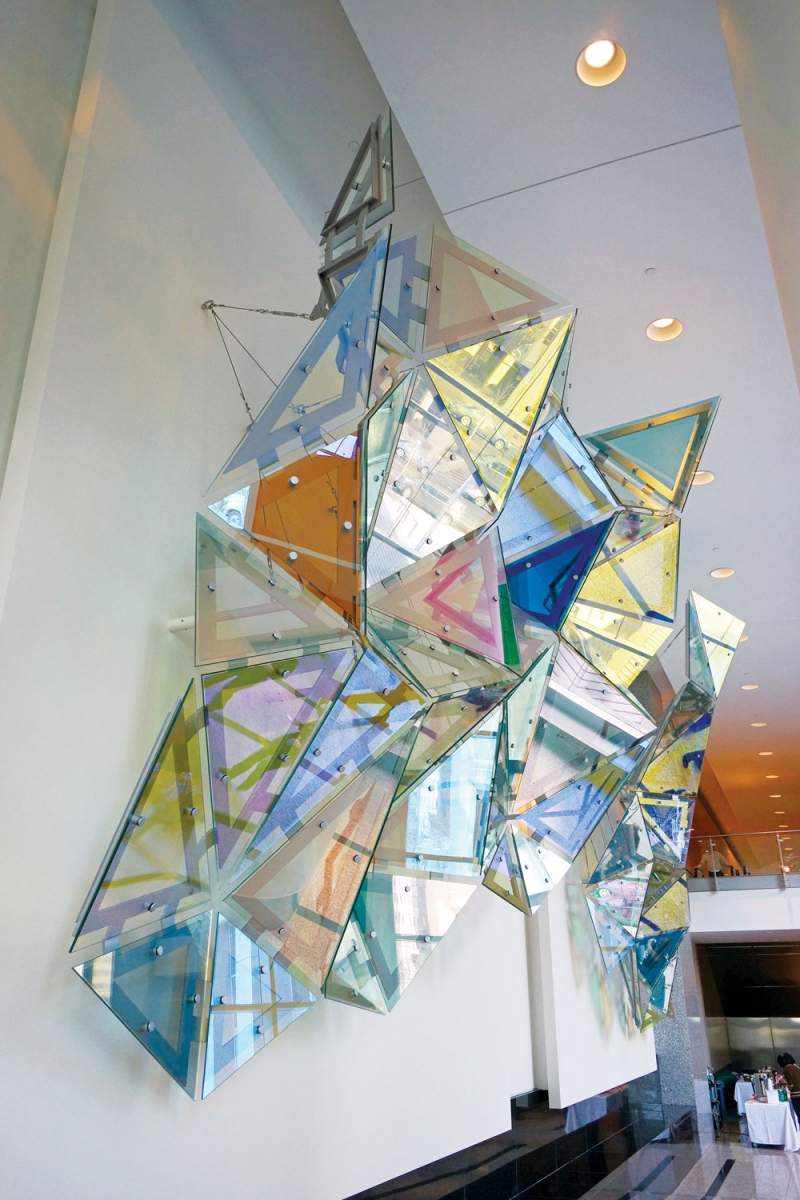 photograph by kevin baer
Dichroic Glass Hexagonal Perturbation Triptych – HAT Trick, 2010-13, laminated dichroic glass, aluminium brackets and frames, stainless steel aircraft cable and rods, 20′ (tall) x 80′ (long) x 10′ (deep), Centennial Place, 520 3 Ave. S.W., corridor between West and East Towers. Commissioned by Oxford Properties Group and fabricated by Soheil Mosun Limited, Toronto.
The artwork
Three kaleidoscopic crystalline structures fracture and reflect the space between the West and East Towers of Centennial Place. The viewer is struck first by the scale and perfect proportions of the artwork, and artist Christian Eckart's ability to harmonize surface and form. He enlists architectural dichroic glass (originally developed for NASA's satellite mirrors) to create mesmerizing hexagonal clusters; they punctuate space at various angles, each glass component a different size, coated with one of six colours, and changing throughout the day. Eckart handles aerospace materials with an innate grasp of Renaissance composition and affinity for the 19th-century philosophy of the Northern Romantic Sublime.
The artist
Christian Eckart grew up in Calgary, graduated from Alberta College of Art (1984) and Hunter College in New York (MFA,1986) and then moved to Brooklyn, where he earned an international reputation. He now lives in Houston, but stays connected to Calgary: Councillor Druh Farrell is a childhood friend, and he admires local artists Katie Ohe, Ron Moppett and Chris Cran, among others. See his earlier works at Teatro Ristorante and Ernst and Young Tower. Or fly to William P. Hobby Airport in Houston to see his latest airport installation.
Find this piece at Centennial Place, 520 3 Ave. S.W.