If you've been on the Bow River pathway between Edworthy Park and Parkdale at all between April 2014 and now, you've probably noticed that something was being constructed. On June 27, it was finally unveiled.
It's called Parkdale Plaza and it's a new public gathering space. Artists, architects and engineers have collaborated to create a space that's ideal for Calgarians to slow down, sit down and reflect. Parkdale Plaza is part of the City's Landscape of Memory project along Memorial Drive, intended to make the corridor a living memorial to the people of Calgary, events that shaped the city and the natural environment that has helped form Calgary. Poppy Plaza and the Calgary Soldiers' Memorial are both part of this same project.
The biggest feature of the plaza is the sculpture, created by highly acclaimed American artist Brian Tolle. It's called Outflow and it represents an inverted mountain. Specifically, it's Mount Peechee, a mountain north of Canmore in the Bow River watershed. Tolle created Outflow using a computer program to generate a 3D image of the mountain and then constructed the sculpture using high-performance Ductal concrete. The sculpture's purpose is to encourage Calgarians to think about the connection between the natural environment and the urban environment, where our water comes from and where it's going, and what we need to do to protect our water systems.
Outflow is an attractive addition to the pathway, but it has a function. It's an upgraded stormwater outfall. Stormwater from the Parkdale neighbourhood will flow off of sidewalks and driveways, into the streets, into the outfall and into the Bow River. It's a chance to connect with our water system and see how the natural interacts with our urban environment.
As well as the sculpture, the space has additional trees and vegetation, benches, low level lighting and bicycle racks.
Parkdale Plaza is located along the Bow River Pathway at the end of 34A St. N.W.
---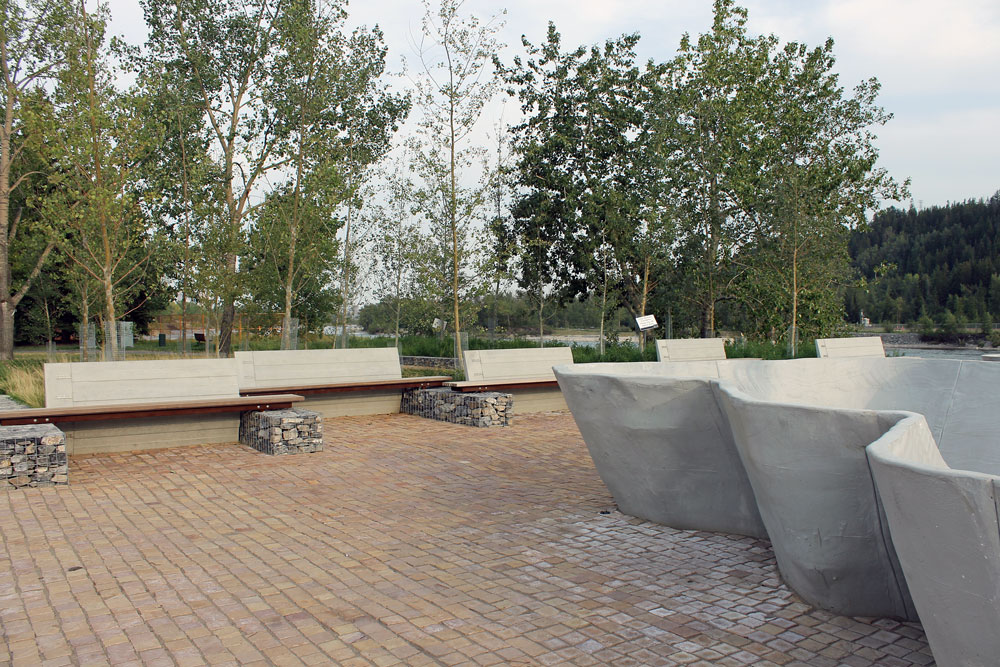 Parkdale Plaza is a new public space designed to encourage reflection. Vegetation has been added to the space as well as benches and a sculpture named Outflow.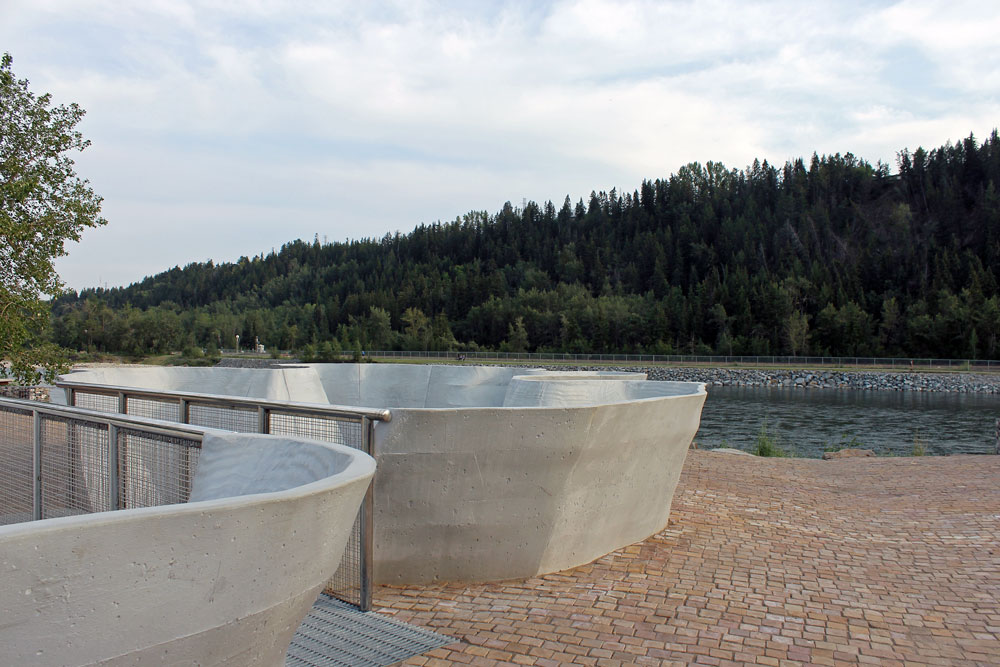 With the addition of the footpath, it's possible to walk right through the artwork. It's designed to look like an inverted mountain.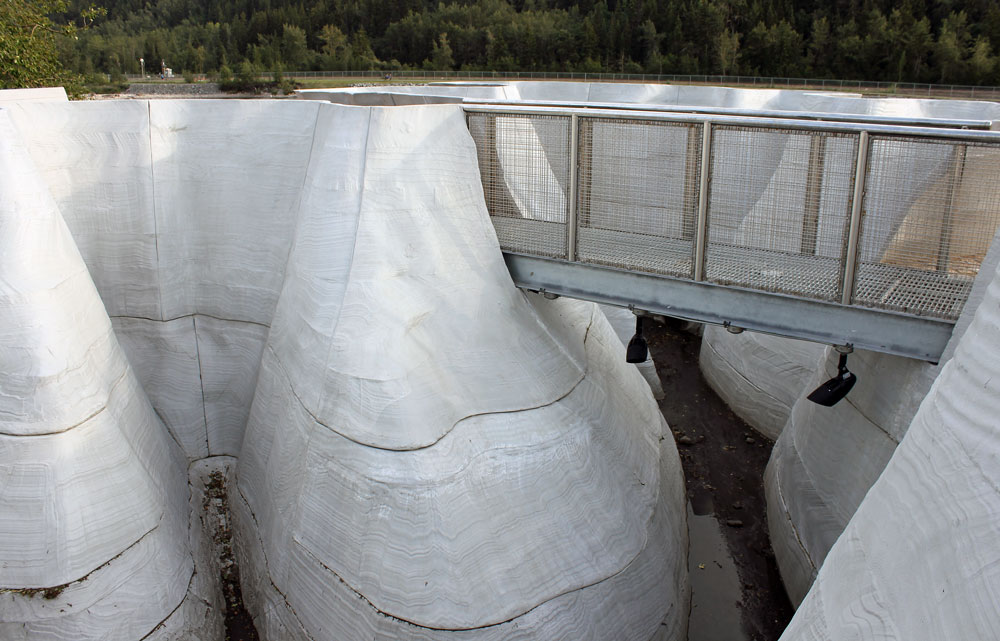 When it's rainy, Calgarians can look into Outflow and see stormwater from Parkdale running through the piece and into the Bow. As well as being a piece of artwork, it functions as an upgraded stormwater outfall.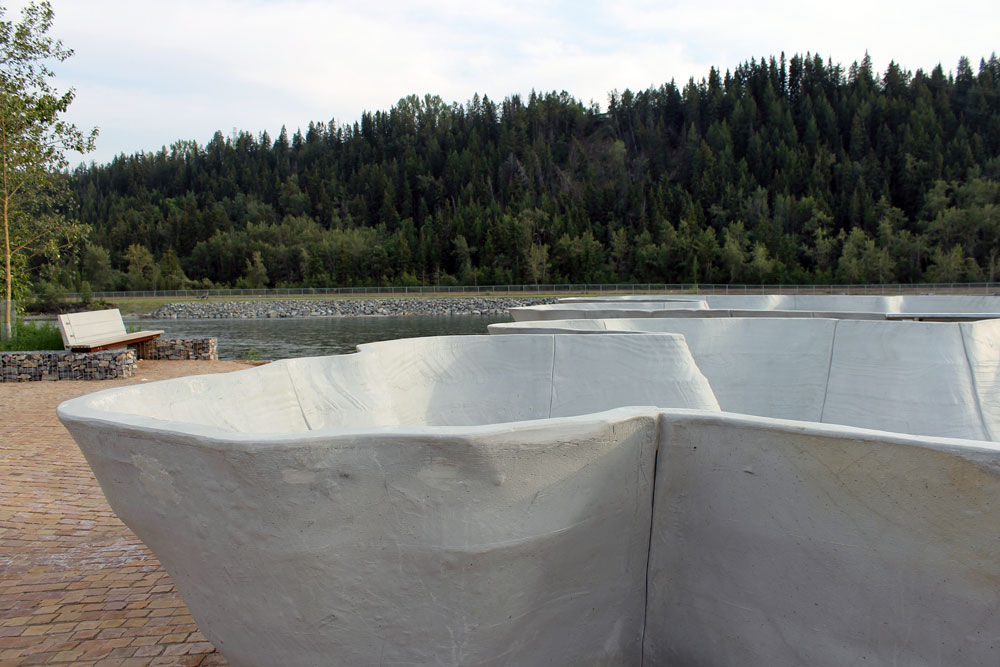 With views of the river and Edworthy Park, Parkdale Plaza is a quiet, low-key place to unwind.