10 Burgers to Try During Alberta Burger Fest
There are more than 35 burgers to try in Calgary over 10 days with prices ranging from $10 to $50.
By Karin Olafson
The Main Dish's salmon burger is in the $25 category.
You remember it as YYC Burger Week. It's undergone a name change, but ten days of special burgers are back. It's now known as Alberta Burger Fest and this year it runs from May 1 to 10.
This year restaurants from all over Alberta are participating, including restaurants in Nanton, Pincher Creek, Claresholm, Lethbridge and Black Diamond. At least 35 Calgary restaurants are participating, creating limited edition burgers and helping raise money for different charities.
Choose burgers in the $10 category, $15 category, $25 category and the feature $50 category. 10 per cent of the proceeds from each competition burger go toward Alberta Burger Fest's charity partners including Bullying Ends Here, Kids Cancer Care of Alberta, Kids Up Front, Missing Children Society of Canada, Ronald McDonald House of Southern Alberta and Claresholm and District Health Foundation.
Alberta Burger Fest has also paired with Spirit of the Wench. No matter which burger (or burgers) you try, there are suggested drink pairings.
It's also a competition. To help determine which burger should be crowned champion of each category vote by texting the name of the best burger to 587-317-7770. There's just one vote per person, so choose carefully.
Here are just a few of the delicious burgers to look forward to trying. To keep track of your eating, download and print your burger passport at home.
The $10 Category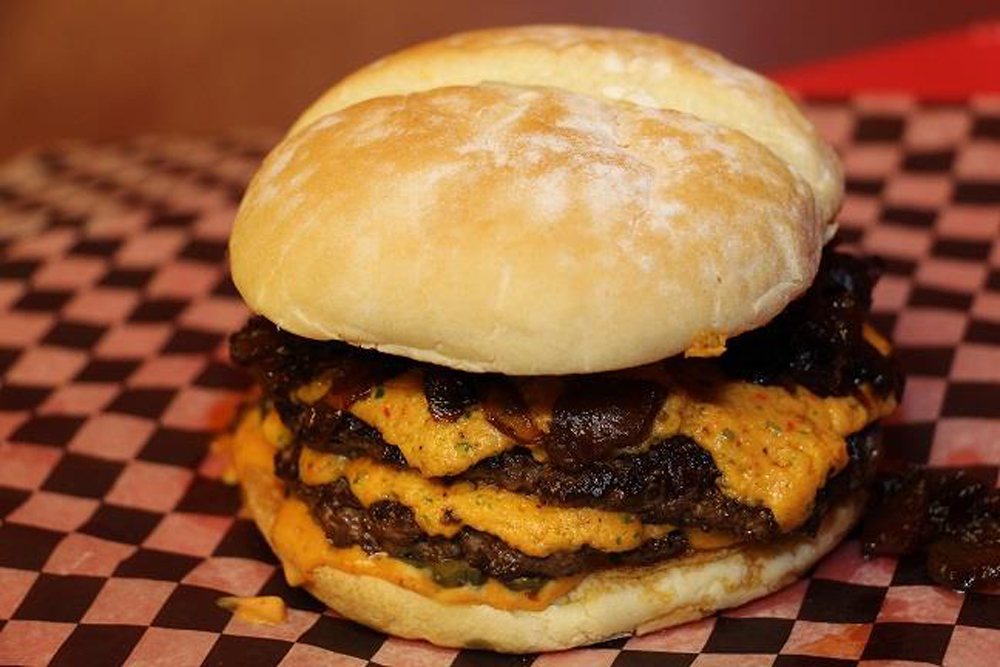 This burger has bite. The "Jammin' Dragon" is made up of two beef patties and is topped with jalapeno pimento cheddar cheese and caramelized onion bacon jam. The Italian bun has a healthy dose of ancho chipotle mayonnaise.
Wesbrook Mall, 1200 37 St. S.W.
Last year, Flipp'n Bugers was the winner of this category. This year they're back with their "What The Flipp," or "WTF" burger. It's a double burger with smoked cheddar, beef-bacon jam, crispy onions and a garlic aioli made in-house. It's served on a three-part Kaiser bun. The middle bun is fried.
103, 330 10 St. N.W., 403-474-9365, flippnburgers.ca
This burger has Italian influences. In addition to its beef patty, this burger has Spolumbo's sausage and strips of maple bacon.
1235 26 Ave. S.E., rockysburgers.com
The $15 category
This burger has a donair stuffed inside it.
8, 2808 Ogden Rd. S.E., nainaskitchen.com
This burger's patty is topped with red onions, thick strips of bacon, house-made barbeque sauce and old cheddar cheese. It is available for breakfast and lunch.
1101 8 St. S.E., 587-353-1188, redsdiner.com
You'll be hard-pressed to find a meatier burger than the "Butcher's Burger" at Wurst. The house-ground pork patty is topped with brie, pork knuckle sauerkraut and sliced German pickles, and is served on a pretzel bun. And there's a bratwurst on top, because why not?
2437 4 St. S.W., 403-245-2345, wurst.ca
The $25 category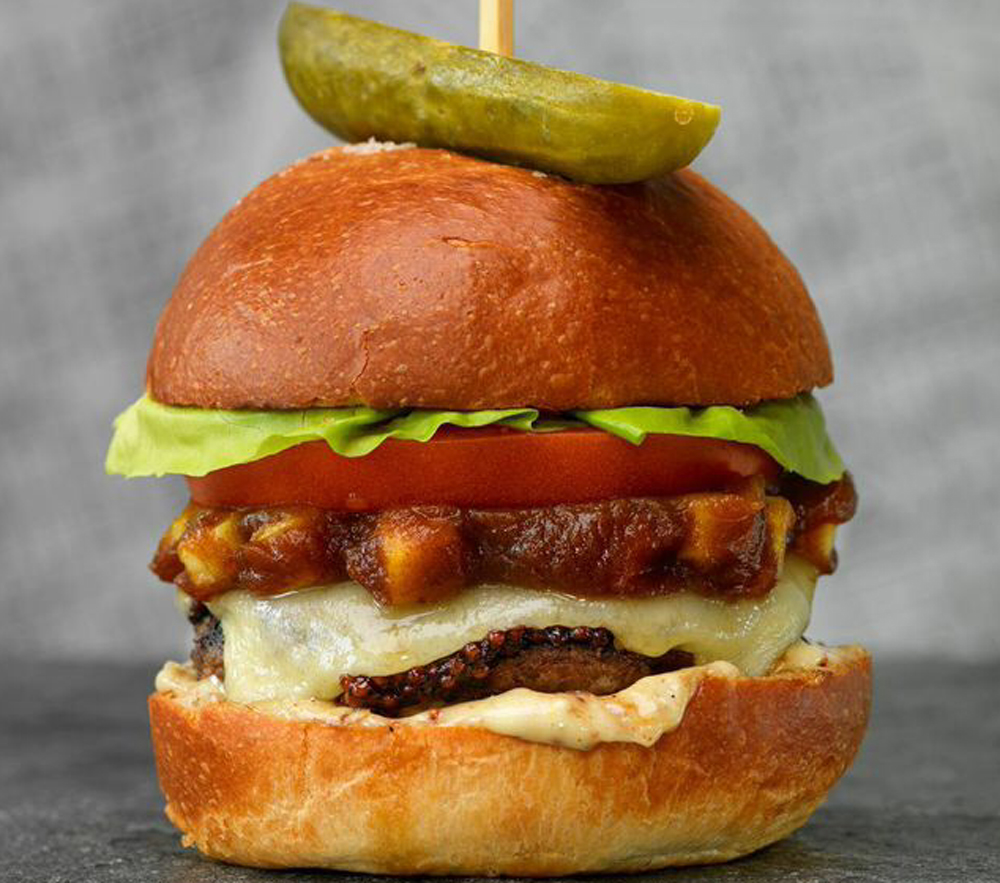 "The Nash Off Cuts" burger has pulled pork, foie gras, wild boar bacon brioche, house-made mustard and apple and date relish.
925 11 St. S.E., 403-984-3365, thenashyyc.com
You don't have to go down south to taste southern flavours. Midtown prepares a bayou burger this year. The patty is made up of house-smoked dry, creole-rubbed beef and pork belly with a Last Best Brewing and Distilling IPA and Bulleit bourbon glaze. This is topped off with a fried egg, sweet corn remoulade and garnished with a chicken wing.
302 10 St. N.W., 403-474-2555, midtownkitchen.ca
The $50 category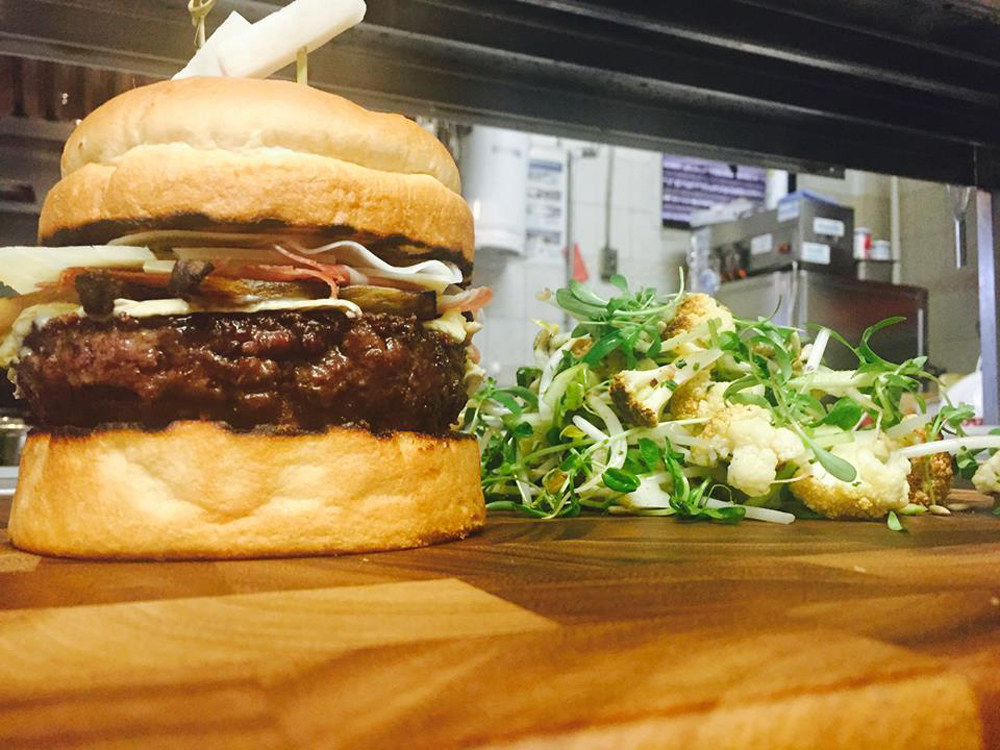 This burger is decadent and worth every penny. It's a dry-aged Wagyu burger with cambozola cheese, iberico ham, king oyster mushrooms and pickled turnip, all on a bone marrow buttered brioche bun.
514 17 Ave. S.W., 403-228-9830, livingroomrestaurant.com
The patty is made from four-week dry-aged Alberta beef and topped with shaved summer truffles, pancetta, cognac mustard and Modern Steak's special sauce.
107 10A St. N.W., 403-670-6873, modernsteak.ca
Alberta Burger Fest runs from May 1 to 10 at various restaurants across the city.