They say good things come in small packages, and the saying holds true for one of Calgary's newest bars.
Bar Annabelle, which opened this past December, is Blink restaurant's new sister eatery. Located next door to Blink on Stephen Avenue, the new bar only has 22 seats and is just over 700-square-feet. It's a tiny yet mighty addition to Calgary's dining scene.
This isn't the first time that Blink and Bar Annabelle owner Leslie Echino has considered opening an eatery in this space. In Blink's early years, Echino leased the space for a few months, imagining she would open a takeaway spot where you could get Blink's food to go. She gave up the lease to concentrate on Blink soon after, but last year, she took it on again to bring Bar Annabelle to life.
"I wanted something that was really fun and small," Echino says. "Like a little cubby that reminds you of being in New York or Europe."
Bar Annabelle captures that feeling of being transported to another city through both its food and design. The menu, created by Echino and Blink's executive chef Bryan Michaels, is partly inspired by Echino's travels to places like New York, San Francisco and Spain. A handful of the small, shareable plates, which include whipped ricotta and truffle honey with baguette and kalamata olives with cerignola, come in at $12 or less. There's also a selection of charcuterie served with housemade preserves, a selection of artisan cheeses and Sturgeon Caviar that's served with creme fraiche and potato crisps.
The drink menu largely focuses on wine and whiskies. Several sparkling, red and white wines are available by the glass, plus there are 10 reserve bottles. Spirit options include whiskies from Japan, Scotland and Oregon. Leather price tags made by Kat Marks hang around the bottles.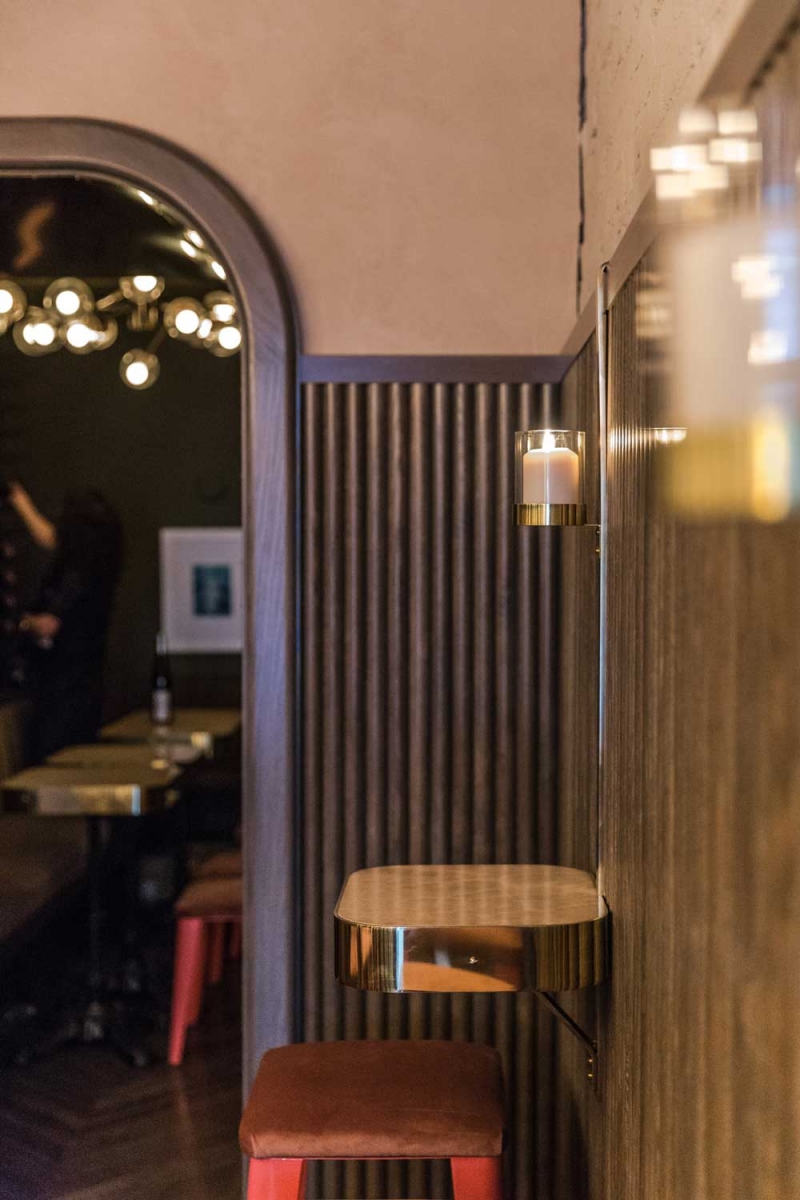 While there are certainly challenges to designing a small space like Bar Annabelle, local architecture and interior design firm McKinley Burkart managed to transform the former nail salon into a space that uses its size to its advantage. "There's a feminine, sort of intimate, warm quality to it," says Walker McKinley, founding partner and head of strategy and business development at McKinley Burkart.
Guests can grab a seat at the eight-inch-wide, pink onyx bar, or on a pink velvet stool at one of the handful of small tables attached to the wall. A brass-paneled archway leads into an even smaller back area with a banquette and a few more tables.
"I think to put onyx as a bar surface is a little interesting in the sense that most people won't do it because it's going to wear a little bit. But in Europe, you can have a beautiful piece of marble that's 300 years old and it still looks amazing," says Landon Anholt, McKinley Burkart interior designer and Bar Annabelle project lead. "That's the idea here – things will wear and it's going to build these stories."
The bar has a cozy feel thanks to flickering candles over each table and the bar's statement, bubble-like light fixture, which Anholt describes as "more of a sculpture than a light fixture." Meanwhile, a record player fills the room with music from artists like The Smiths, Sharon Jones & The Dap Kings or Tom Petty.
Ultimately, Bar Annabelle's size proves to be one of its greatest assets.
109A 8 Ave. S.W., 403-457-9884, barannabelle.com