A slew of new restaurants have opened just in time for the holidays. Whether you're craving southern barbecue, brunch or an entirely different dining experience where you eat in complete darkness, there's a new Calgary restaurant for you to try. Here's what you need to know about the latest food-related openings, news and events in Calgary.
It's been almost a year since Parc Brasserie in Mount Royal Village closed. Now, the space belongs to a new local smokehouse called Big Starr, which opened on October 6. With a focus on southern barbecue, there are plenty of meaty meal options here. The restaurant smokes its meat in-house and serves Nashville hot chicken sandwiches, smoked turkey legs, Alabama chicken wings, pork ribs and brisket that can be topped with sauces like peach vinegar, Carolina mustard, Texas pepper and Memphis bourbon. There are also sides and bar snacks like mac 'n' cheese, corn fritters, bacon corn dogs, baked beans, deep fried pickles and pretzel peanut butter pie for dessert.
818 16 Ave. S.W., 403-452-5925, bigstarr.ca
Dark Table restaurant, which already has a location in Vancouver, has brought an entirely new sensory dining experience to Calgary. At the newly opened eatery, diners eat in complete darkness (which heightens your sense of taste, hearing and smell) while being served by visually impaired servers. The multi-course menu, which you'll decide on before heading into the dark, includes a surprise starter and dessert, plus a main course of either AAA Canadian steak, chicken kafta, the fish of the day, mushroom and herb risotto, braised lamb ragu rigatoni, ratatouille provencal or a daily surprise.
731 6 Ave. S.W., 403-287-1427, darktable.ca
Escoba Bistro & Wine Bar was a staple in Calgary's dining scene for more than two decades before it closed in 2016. But it recently re-opened in its same downtown space. While some small changes have been made to the restaurant's decor and menu, the restaurant's general concept of a Mediterranean bistro and wine bar remains the same. Executive Brad O'Leary is still at the helm in the kitchen, which is serving a mix of old favourites and new dishes. Guests can still order dishes like the Escoba spring rolls and tiger rose pasta, or indulge in some new dishes like the grilled squid appetizer or AAA Alberta beef steak sandwich.
624 8 Ave. S.W., 403-474-4828, escoba.ca
The next time you visit Native Tongues Taqueria for lunch or dinner, consider trying one of the new dishes on its fall menu. The restaurant recently brought backs some old favourites (like the roasted carrots dish called zanahorias) and introduced some new ones like the pozole rojo soup with a five chilies sauce, the hongos al ajilio (grilled squash served with hongos, radish, herbs and serano crema) and camarones al chilmole (prawns, butter and herbs served on tortillas with a mole sauce). If you're craving tacos, there are also two new additions to the family-style tacos al carbon menu: beer battered trout fillet tacos and 12 oz. rib-eye con papas tacos.
235 12 Ave. S.W., 403-263-9444, nativetongues.ca
One of Calgary's favourite breakfast and brunch spots has expanded again. After opening a second location downtown last year, OEB now has a third location in Mission. It's located in the space that used to house the now-closed Bocce. While OEB retained some of Bocce's decor elements like the large, eye-catching light fixtures, it also added its own personality to the space with more colour and plenty of egg and chicken-themed decor. The Mission restaurants features the same egg-centric menu as OEB's other locations.
#110, 2207 4 St. S.W., eatoeb.com
Ever wish you could skip the line at your local coffee shop? Well, now you can at any of Phil & Sebastian's five coffee shop locations by using its new app. The local coffee roasting company lets you load money onto the app, which lets you order from anywhere, then swing in and grab your drink. You can also use the app to pay for a drink in person. You earn points whenever you make a purchase using the app, which earn you rewards like a free coffee, tea, bar drink, breakfast, lunch or guided roastery tour. Click here to learn more about the app.
Various locations, philsebastian.com
​Looking for a place to grab a drink on a Monday night? Shokunin just launched a new deal called Sake Mondays. The Japanese restaurant now offers bottles of wine and sake for half price on Mondays.
2016 4 St. S.W., 403-229-3444, shokuninyyc.ca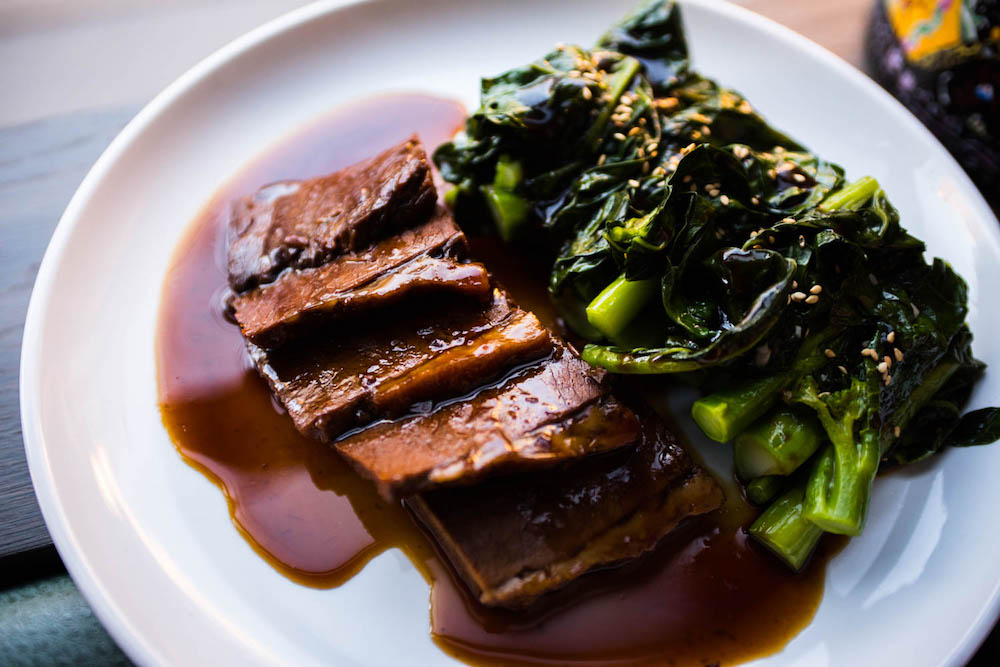 The eagerly anticipated Two Penny Chinese officially opened its doors in the Beltline on October 27. This is the latest restaurant from Thank You Hospitality Mangement, who are also behind Calgary's Native Tongues Taqueria and Calcutta Cricket Club. Two Penny's kitchen is led by chef Scott Beaton and serves a menu of family-style Chinese dishes including Sichuan cold chicken, Chinese cabbage potstickers, soup dumplings, cumin lamb ribs, beef and broccoli and roast half-duck served with milk buns. The inventive drink menu, created by beverage director Stephen Phipps, complements the food menu well (try the ginger soy sour cocktail at the large bar). The restaurant's decor, done by Sarah Ward Interiors, is just as notable as the food. Inspired by 1920s Shanghai, the space features a hand-built oak moongate at the entrance, art deco influences like the rose and teal colour scheme and eye-catching scrolls with Chinese opera mask images on the walls. Below the restaurant, there's also a downstairs bar called the Tea House. This space, which has a more vibe, offers a different drink and food menu than Two Penny, as well as dim sum cart service.
1213 1 St. S.W., 403-474-7766, twopenny.ca