Whether you're looking for a brand new restaurant to visit or plan on re-visiting an old favourite with a recently refreshed menu, there's lots going on in Calgary's dining scene right now. Here's what you need to know about the latest food-related openings, news and events in Calgary.
Craft Beer Market's long-awaited second Calgary location has opened at Southcentre Mall. Like its other locations, this new one offers an impressive selection of drinks — there are 132 taps, and more than 100 of them feature craft beers. Meanwhile, the menu is full of New North American cuisine such as Big Rock beer can chicken, grilled West Coast salmon, Baja fish tacos and more. During the summer months, you'll be able to enjoy them all on the restaurant's main level patio.
Southcentre Mall, 100 Anderson Rd. S.E., craftbeermarket.ca
Swing downtown to The Derrick Gin Mill & Kitchen to check out its new food and cocktail menu. New food dishes include a bone-in ribeye steak, mushrooms on toast with parmesan, fried egg and truffles, and escargot with bacon and wild mushrooms. There are also new cocktails like the Belafonte, which features tequila, green chartreuse, citrus, coconut milk, cinnamon and chai.
620 8 Ave. S.W., thederickyyc.com
This Inglewood restaurant location has seen its fair share of changes lately. Home to The Carmichael Dining Lounge for years, the owners revamped the space into a new restaurant called 1912 Inglewood in early 2017, which recently closed. The restaurant space is now under new ownership, and on October 6, it became the home of a new 1,400-square-foot bistro called The Eden. The restaurant, which labels itself as a "blue collar bistro," gets its name from owners (and husband and wife team) Rob and Nadine Eden. Chef Mukesh Painuli heads up the kitchen, which serves simple French fare such as croque madame, chicken cordon bleu, crab cakes, ratatouille, frites with garlic aioli and more.
1219 9 Ave. S.E., 403-266-1005, edenbistro.ca
Getting food delivered to your door has never been easier. At the beginning of October, online food delivery service Foodora officially launched in Calgary. There are currently around 40 Calgary eateries you can order from through Foodora, including Dirtbelly, Meat & Bread, Wurst, Shawarma Knight and more. But perhaps the best part of all is that Calgarians get free delivery until Dec. 31, 2017.
Calgarians have been visiting Grumans Catering and Delicatessen in Victoria Park for more than a decade. And as of September, they can now also visit the traditional deli's second location in Britannia. The new 1,600-square-foot eatery and deli offers breakfast and lunch for those looking to dine-in, as well as several takeaway meal/deli meat options. Stop by to try the Montreal smoked meat sandwich, chicken matzo ball soup and challah French toast, or pick up takeaway items like cabbage rolls, bagels, sausage, fish and other deli meats.
5103 Elbow Dr. S.W., grumans.ca​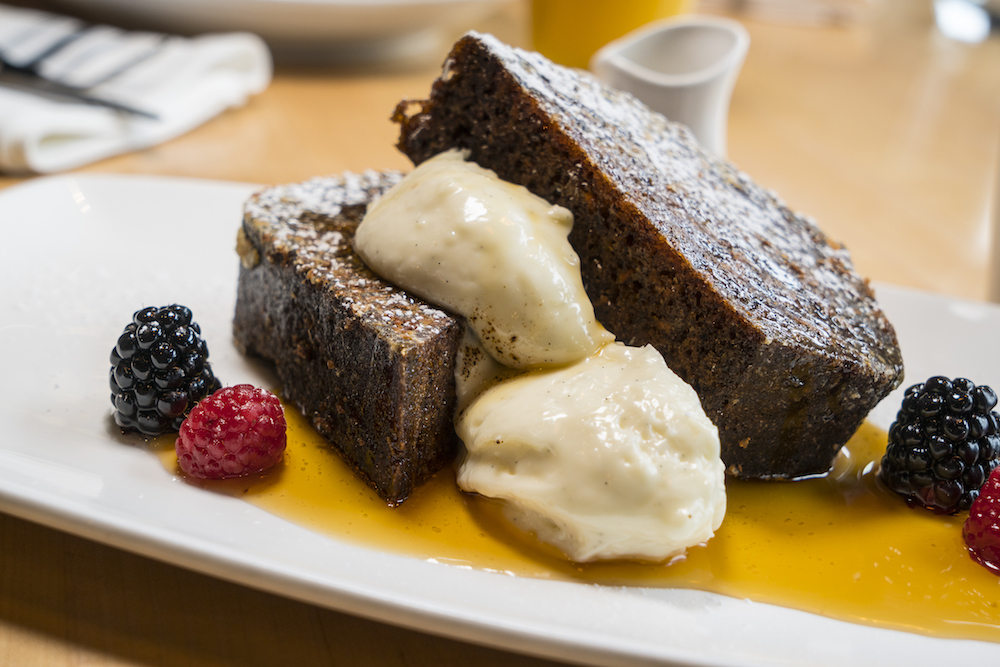 There have been a few exciting changes at Notable restaurant in Montgomery. First, there's the newly refreshed menu, which features a mixture of old and new favourites for brunch, lunch and dinner. Try new dishes such as maple charred salmon bellies, ahi tuna poke with grilled plum avocado and carrot cake French toast. Notable and sister restaurant The Nash are also making it even more tempting to order one of their popular happy chickens (whole chickens cooked on a wood-fired rotisserie) from the Gourmet 2 Go menu for home. Both restaurants now offer a Let's Go Home loyalty program, which comes with a loyalty card. Customers get a stamp whenever they purchase a happy chicken, and once you have five stamps, you get an additional free chicken.
4611 Bowness Rd. N.W., 403-288-4372, notabletherestaurant.ca
The poke trend continues to spread in Calgary with the recent opening of Ola Poke in the downtown area. At Ola Poke, you can create your own poke bowl or choose from one of the three bowl options on the menu: the Ola Special Bowl, Ola Super Bowl or Ola Green Bowl. The eatery also offers three kinds of poke burritos and a coffee menu.
120, 633 6 Ave. S.W., 587-480-8988, olapoke.ca
Trying to decide where to go for happy hour this week? Consider Proof, whose happy hour runs from 4 p.m. to 7 p.m. every day of the week. Thanks to some recent changes to its happy hour menu, you can now get eight different classic cocktails for $8. The happy hour cocktail menu includes Sidecars, Daiquiris, Martinis, Aviations, Negronis, Boulevardiers, Manhattans and Old Fashioneds. Plus, all of Proof's beers are $5 each and there are $7 glasses of the house wine.
1302 1 St. S.W., 403-246-2414, proofyyc.com
Make your next dinner date plans for October 18. That's when participating restaurants in 15 cities across Canada will be donating some (or all) of their dinner service sales to healthy food programs as part of the annual Restaurants for Change event. More than 75 restaurants are participating in this year's event, including 16 restaurants in Calgary. The participating restaurants in Calgary include Vendome Cafe, The Nash, Royale, Scopa Neighbourhood Italian, Alforno Bakery & Cafe, Cucina Bistro, Cibo, Deane House, Teatro, River Cafe, Posto Pizzeria & Bar, Notable, Mill Street Brew Pub, Bonterra Trattoria, Foreign Concept and Charcut Roast House.