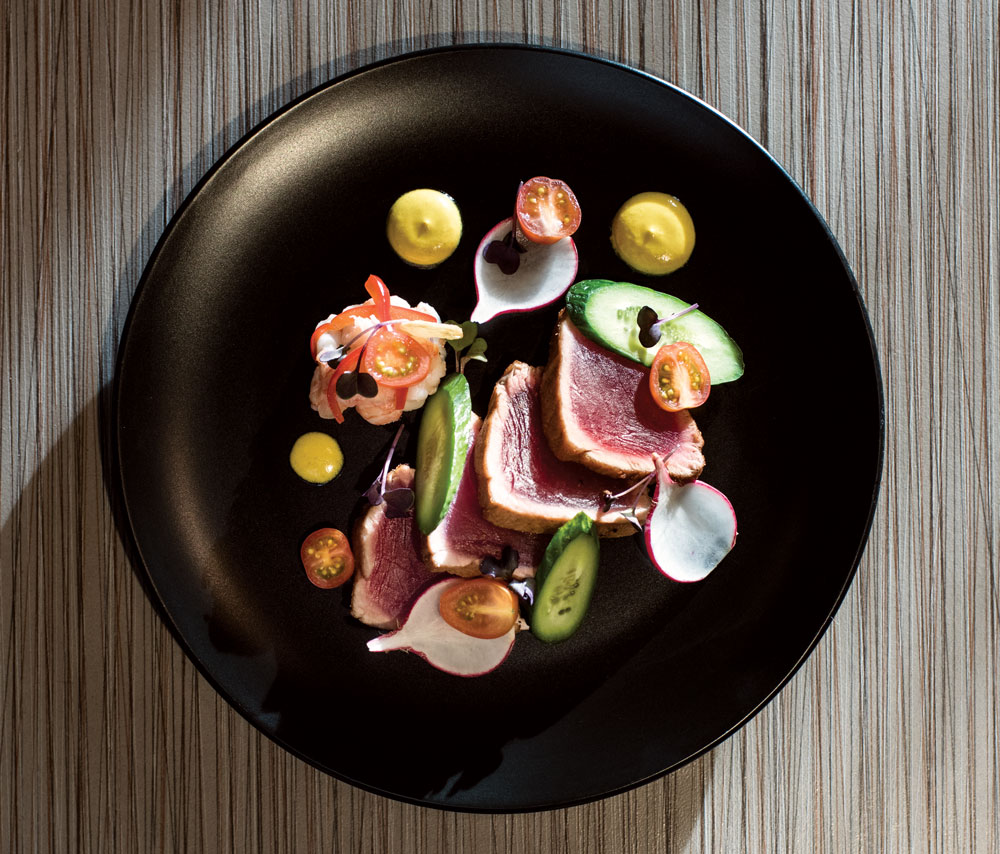 FOOD | Local ingredients with global influences, including Asian, Indian and Mediterranean flavours.
VIBE | Comfortable and intimate – you'll want to linger.
DECOR | Contemporary style that evokes 1960s Palm Springs bungalow glam.
DISH | Vanilla-braised beef short rib served with Parmesan cheese risotto and roasted vegetables.
BONUS | Free parking, great cocktails at the new Back Bar, open seven days a week.
---
An alloy is a metal forged by combining two or more elements with the goal of making something stronger than its parts. Apply that rationale to food and you get Alloy, a Calgary restaurant that's been mixing local ingredients with global flavours to create some of the city's best cuisine for nine years running.
To remain a culinary leader for nearly a decade, when so many forces have altered the city's food landscape – from the rise of small plates to the faltering economy to the clientele (patrons now Instagram nearly every dish) – has required, ironically, a certain resistance to the winds of change.
Not only has Alloy resisted installing free Wi-Fi (so guests will dine and converse rather than take pictures and text), the restaurant has stayed the course with its food: on-trend dishes that borrow from global genres with surprising and delicious results.
"It's the consistency of what we do," says owner Uri Heilik who, along with co-owner and chef Rogelio Herrera, surprised foodies by opening Alloy in southeast Calgary's Manchester industrial area in 2007. In spite of its at-the-time unusual location, Alloy became an instant success, and it still wins over newcomers who step into the mid-century-modern-inspired space for the first time and are swept away by its alchemy. "You could go to Alloy any different year over the past nine and know that it's Rogelio. You know what you're getting," says Heilik.
That's not to say the menu hasn't changed. While some well-loved dishes, such as the truffle gnocchi, have been on the menu for years, others, like the once-popular lobster tempura, stayed awhile and then faded away. Still more, such as the beef short rib, appear to be the same as ever but have actually evolved thanks to slight modifications (a vanilla braise, for example).
Herrera adjusts flavours and experiments with new offerings on a weekly tasting menu, but his trademark mix of globally influenced dishes remains constant. "There is familiarity on the menu, but there is excitement as well," he says.
Another constant is Alloy's commitment to excellent service. Staff are on their game seven days a week, whether that means making a dish gluten-free or putting in extra effort for a birthday or anniversary.
Perhaps most importantly, Heilik and Herrera still love what they do, and they understand the balance of elements that makes Alloy a pillar of Calgary's dining scene.
220 42 Ave. S.E., 403-287-9255, alloydining.com