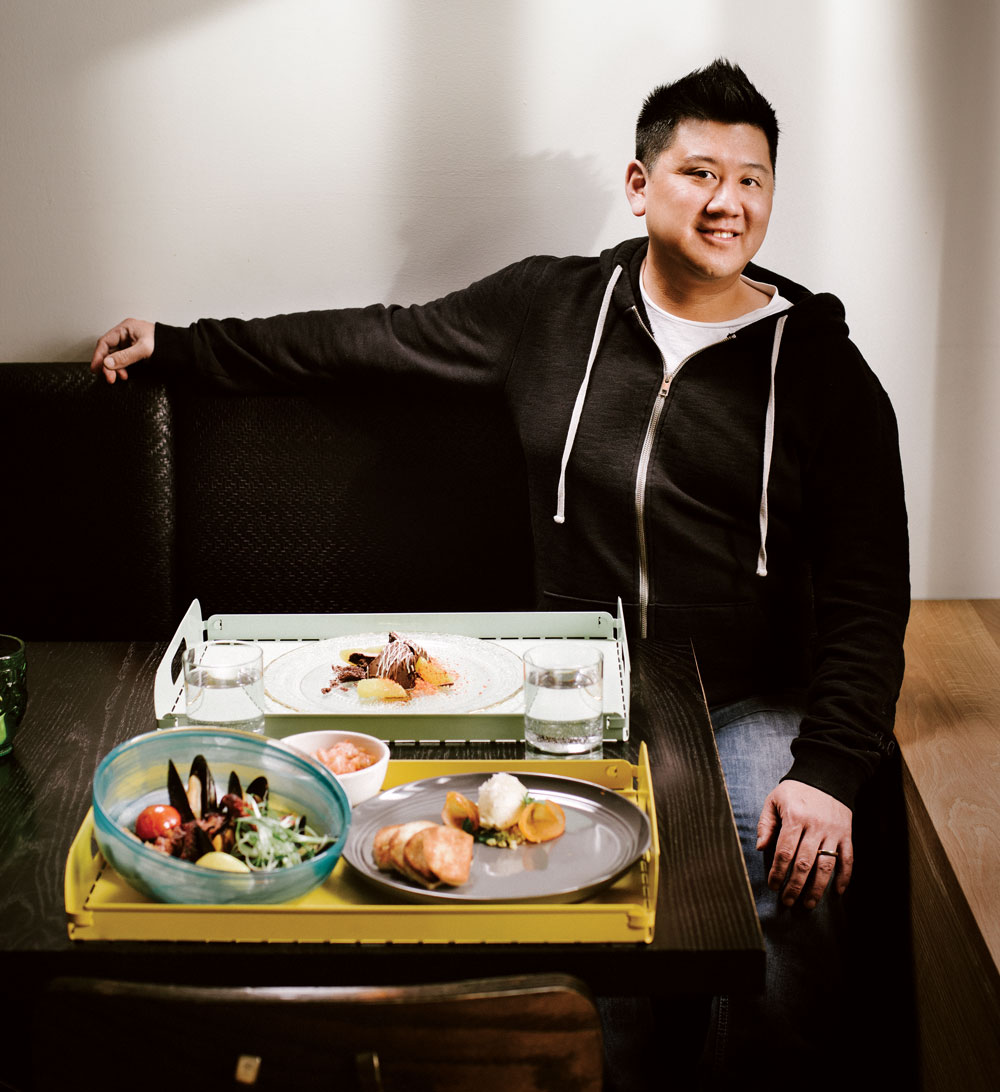 FOOD | Modern Korean.
VIBE | Chill, urban-casual.
DISH | Gochujang wings.
DRINK | Lock, Stock and Two Smoking Barrels.
BONUS | Happy hour nightly from 11 p.m. to 1 a.m. with $5 wine and beer and special snacks on feature.
---
Those crispy wings with the craggy coating catching all the spicy gochujang sauce. That fried tofu with the sauted kimchi and drizzle of citrus aioli. The rich oxtail tortellini perfumed with truffle oil. These are the dishes that put Anju on the map. These are the dishes we can't get enough of. Chef Roy Oh's specialty may be modern Korean with a hint of fusion, dished up in small plates designed to be shared, but really, what he creates in his kitchen are cravings.
Oh, a graphic designer by trade with no formal cooking training, has taken the traditional Korean dishes his mother would make and put his own stamp on them. (His approach to hospitality – that guests should be enjoying themselves, and that there should always be enough food to go around – also comes from his mother and watching her entertain house guests.)
The fundamentals are the same as in the dishes he grew up eating. Soy, sesame oil, sugar, garlic and gochujang or gochugaru (spicy Korean chili paste or ground chili peppers) are put together in varying combinations to make different dishes. But then Oh adds his own twist, influenced by the cuisines of Italy, the American deep south and Japan, among others.
Loyal customers who followed Oh from his first location, hidden away at the western edge of downtown, to the current one on what has become the dining mile of 17th Avenue S.W., have been rewarded with dishes that bring them back time and again. Those trying Anju for the first time are hooked by the creative combinations of cuisines and flavours, the hits of spice and seasonings.
Fuelled by a need to keep creating, Oh's menu continues to evolve. New dishes appear often, while old favourites are often revamped, like Oh's nod to Momofuku's Brussels sprouts recipe, which has gone through several iterations.
With the addition of a weekend brunch, where Oh infuses traditional offerings with Korean flavours (Asian pear pancakes and eggs benny with pork belly and kimchi), your Anju cravings can now be covered from morning to late night, at least on weekends.
By definition, Anju means "food that you eat with alcohol," so don't overlook the clever wine and beer list and creative cocktails. And do remember to share those crave-worthy dishes.
344 17 Ave. S.W., 403-460-3341, anju.ca