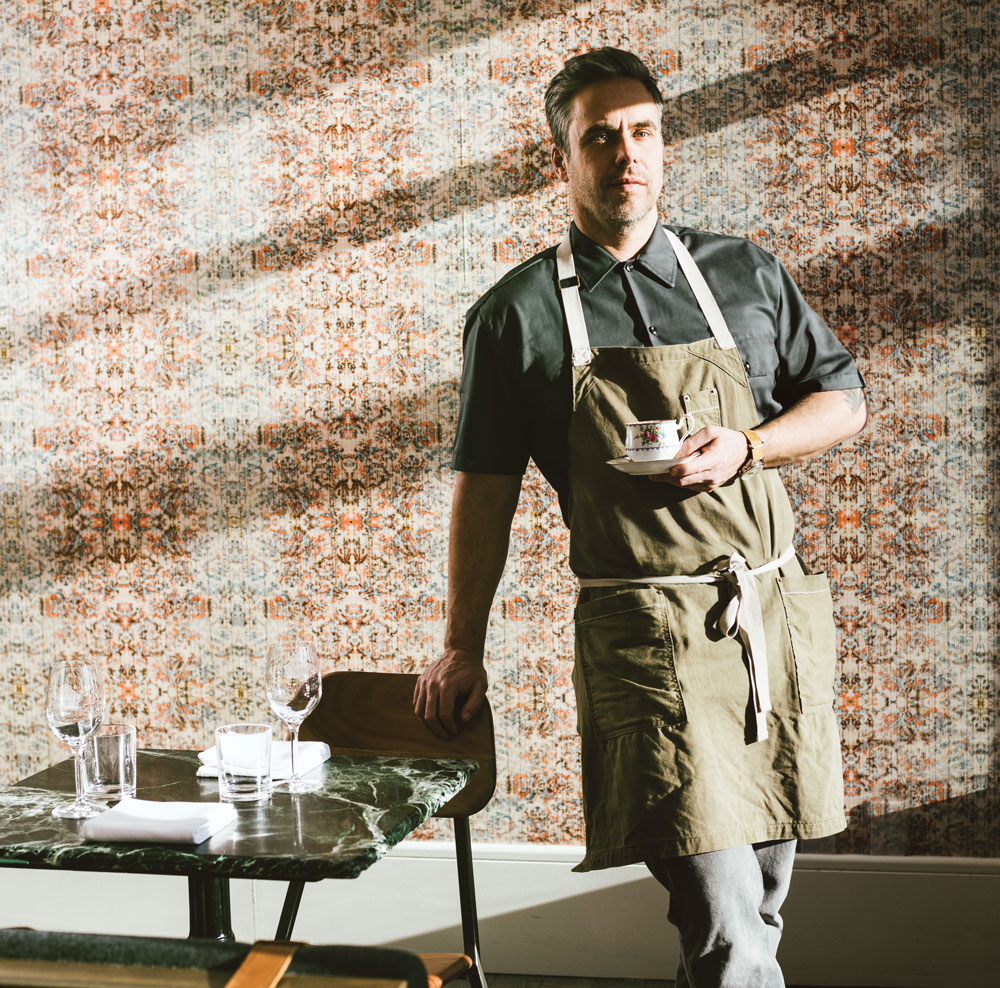 PIGEONHOLE
FOOD | Postmodern sharing plates served on Victorian china.
DISH | Charred cabbage with jalapeno salad cream and shaved Mimolette cheese.
VIBE | Casual, intimate European.
BONUS | Caviar service plus a bottle of bubbles for $100 on Mondays with proceeds going to charity.
MODEL MILK
FOOD | Twist on Southern comfort food. It's diner-meets-fine-dining.
DISH | The Model Milk Burger (ham hock, cheese curd).
DECOR | Vintage-industrial cozy.
BONUS | Weekly Sunday Supper's three-course "feast of wholesome goodness" served family-style for
$40 per person.
---
No pressure, but Justin Leboe is watching you eat. Not in the way of a fretting parent; more a veteran film director noting the timing and tenor of his audience's reactions: did they laugh? Did they cry? More to the point, did they dig into their ember-roasted sweet potato with gusto? Rather than observing from the equivalent of a back row in a dark theatre, however, Leboe is front and centre on the restaurant floor – judging his own performance, not yours – expediting dishes and hollering orders to a row of young cooks toiling at a long counter at the back of the room: "Eggplant, a trout, an octopus and a duck!" He has been mistaken more than once for a mature busboy.
Leboe is the lauded chef-owner at Model Milk, which opened in 2011 and, since 2015, at Pigeonhole. The former was named Canada's second Best New Restaurant by enRoute magazine, and the latter took first place in the same category almost the minute it opened. Pigeonhole's now-iconic charred cabbage dish promptly went bonkers on social media.
The restaurants are physically attached, and conceptually related in the broadest sense. That is, that comfort food need not be familiar food, but that food is at its most comforting when raised, grown or caught close to home. The divvying up of a whole Broek Acres pig between the two kitchens illustrates their differences: pork ribeye at Model Milk versus a small-plated cured loin at Pigeonhole.
Both rooms reflect their chef-owner's idiosyncratic idea of what gourmet dining is. They are bright lights in a city where the term "chef-driven" has recently come to define the restaurant culture.
Indeed, over the past five years, chef-driven restaurants including Charcut, Notable and, certainly, Model Milk and Pigeonhole have contributed a wealth of iconic delicacies to Western Canadian cuisine that make Calgary one of the most illuminating and necessary stops on a national culinary tour.
photograph by jared sych
Dry-aged beef tartare with crispy sunchoke, celery root and smoked oyster at Model Milk.
Leboe is widely regarded as one of this city's boldest drivers of not only his own unique brand, but of a new era in restaurant culture. His devotion to creating culturally disparate, often vegetarian dishes rooted in regional ingredients has helped re-shape the city's culinary landscape. Leboe, conversely, credits Calgary's exuberant and permissive food and wine culture with unleashing his culinary ambitions and imagination. He admits it's not what he expected to find here.
In 2007, Leboe was working as a chef in Bermuda, when he was tapped by the Vintage Group, who sought to shake up Calgary's food scene with the opening of Rush. Leboe, who found his voice in acclaimed kitchens around the world including at Daniel and French Laundry, took the gig with the idea that a brief stop in Calgary would take him a little closer, geographically at least, to his vision of a chefdom in his hometown of Vancouver.
As it went, Leboe definitely challenged conventional dining in Calgary during his playful and extravagant three-year tenure at Rush. He also found himself beguiled by the city's energetic and inventive dining scene. "There's so much more risk-taking here than anywhere else in the country," says Leboe. "It's certainly not just me – it's that one can do this here.
It's that it's possible to do things here that you can't do anywhere else." Admittedly, no matter how intense his drive, Leboe can't do it alone. His staff of 75 includes executive chef Eric Hendry at Model Milk and, at Pigeonhole, chef Doug King who took the reins in November. "I realized a couple of years ago that I lose valuable staff if I don't give them roles to grow into," says Leboe. "And I can't be in two places at once."
The loosening of Leboe's grip on executive chef duties begs the question: Can such a winning chef-driven restaurant maintain its personality – its "Leboe-ness" – with its visionary chef no longer in the driver's seat?
With precise, if unintentional, comic timing, Leboe answers only after taking a spoon out of his apron pocket to taste a bit of broth simmering on a Pigeonhole burner. "More salt," he says flatly, to whichever of his five young cooks are listening (they all are). "It's a collaboration," he finally says. "I'm the senior person now – working with these chefs is like looking in a mirror at myself 20 years ago."
Chef King, an Edmontonian who made the move to Calgary after stints at Lumire, Hawksworth and, most recently, Kissa Tanto in Vancouver, confirms that Leboe has stayed true to his promise that the young chef would never be under his thumb. "Justin is never overbearing, but he's constantly guiding me," King says.
After working with some high-profile chefs who "seemed content just doing promotional work," King is inspired to work with Leboe. "He gets his hands dirty here six days a week – he just wants to be part of this thing he built from the bottom up."
You'll forgive Leboe for watching you smile when your charred cabbage arrives. It's a pleasure he's earned.
Model Milk, 308 17 Ave. S.W., 403-265-7343, modelmilk.ca; Pigeonhole, 306 17 Ave. S.W., 403-452-4694, pigeonholeyyc.ca