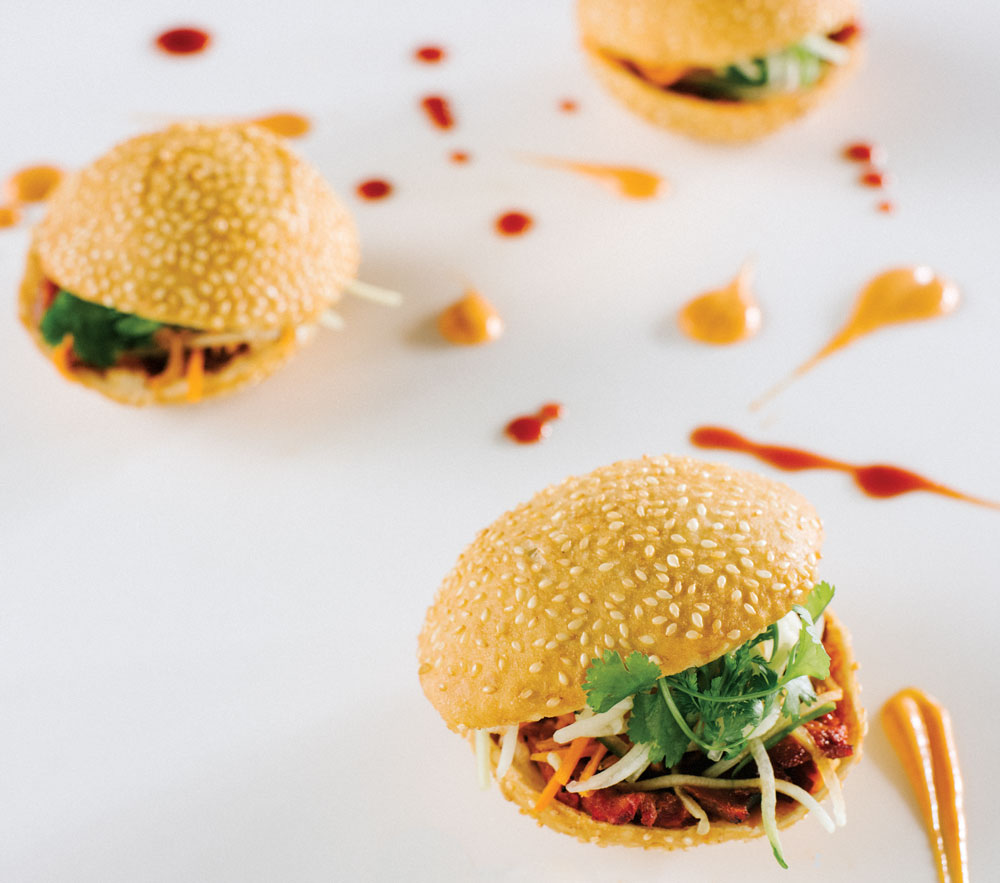 photograph by jared sych
Char siu sesame doughnut at Pure Contemporary Vietnamese Kitchen & Bar.
 Pure Contemporary Vietnamese Kitchen & Bar
Street-side hawkers and vendors have long enticed hungry passers-by with fast and delicious dishes that are easy to eat standing around or sitting down on whatever horizontal surface is nearby. Cuisines from around the world have their own versions of street-side nibbles to enjoy, from takoyaki in Japan to tacos in Mexico and crepes in France. Thailand, Malaysia and Vietnam have some of the most recognizable street food dishes and travellers there often find themselves stopping for a bite next to busy roads.
The cuisines of southeast Asia, with their combinations of salty, sour, sweet and spicy flavours and fast-paced cooking techniques, lend themselves well to these quick bites. They also translate very well into upscale versions to be eaten at a table with utensils and a cloth napkin.
Street food has long inspired chefs of all stripes who have translated these dishes into restaurant-worthy versions. Among them is Lam Pham, a young chef who has created an entire menu out of that concept. At his restaurant, Pure Contemporary Vietnamese Kitchen & Bar, the dishes coming out of the kitchen speak to Vietnamese street food – and those from other cuisines – but with a refinement that elevates them far past hawker status.
Pham's standards such as won tons and salad rolls meld cuisines to create original flavour combinations. Those won tons? Stuffed with meaty and tender char siu and then topped with matchsticks of Granny Smith apple for tartness. His fried rice comes by way of Korea, flavoured with spicy gochujang and kimchi.
Don't miss Pham's so-called char siu sesame doughnut, which is a cross between a slider and a steamed, filled bun (known as a bao). The golden and light bunwich is stuffed with sous-vide pork shoulder, cucumber and pickled vegetables to offset that rich meat.
Pho, vermicelli and banh mi all make an appearance on the menu but don't overlook the less street-food like options. The tamarind-glazed cod with pomelo salad and coconut milk sauce should not be skipped. The fish is expertly cooked – still tender and flaking perfectly – while the citrus and herb salad plays nicely against the creamy sauce. Although there are many main dishes to choose from, it's just as easy to build a meal from the appetizers, which are also perfect for sharing.
Eating street side is its own unique experience, not just because of the food but from the yells of vendors and rush of cars and scooters zooming past. Restaurants that have embraced street food don't share that exact experience, of course, but the ability to lounge and order more as desired more than makes up for it.
815 8 Ave. S.W., 403-475-1899

Eat | Homemade ramen.
1235 26 Ave. S.E., 403-801-9453, facebook.com/eatsofasia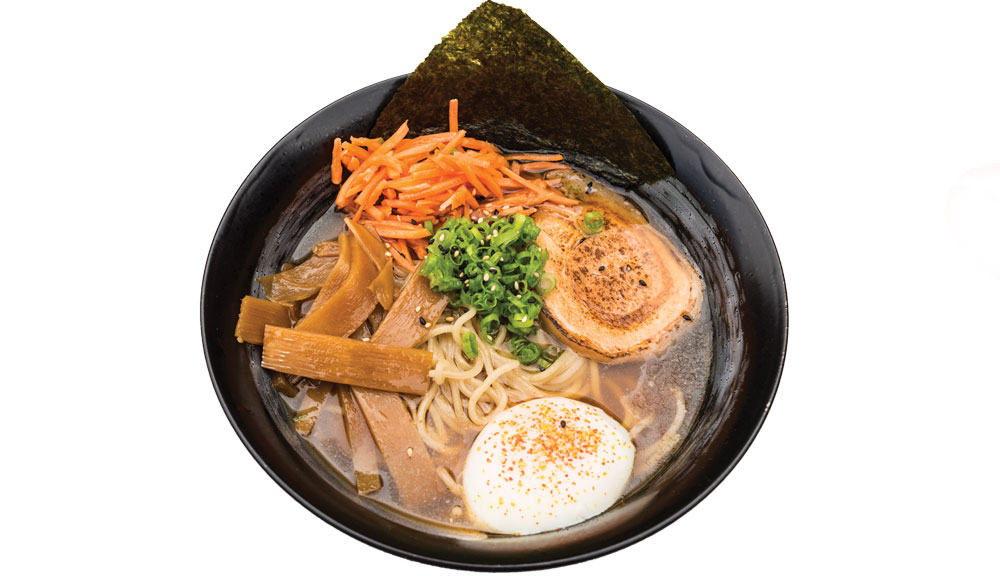 PHOTOGRAPH By jared sych
Eat | Cashew chicken.
636 17 Ave. S.W., 403-455-0999, tuktukthai.com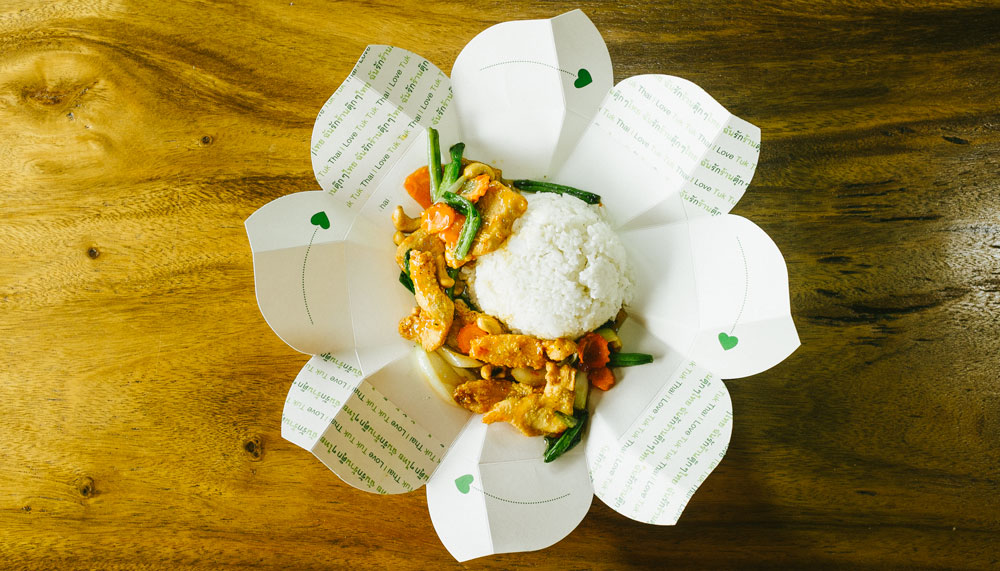 PHOTOGRAPH By jared SYCH
Eat | Crispy tofu salad rolls.
17 Ave. S.W., 403-455-6222, watercressexpress.ca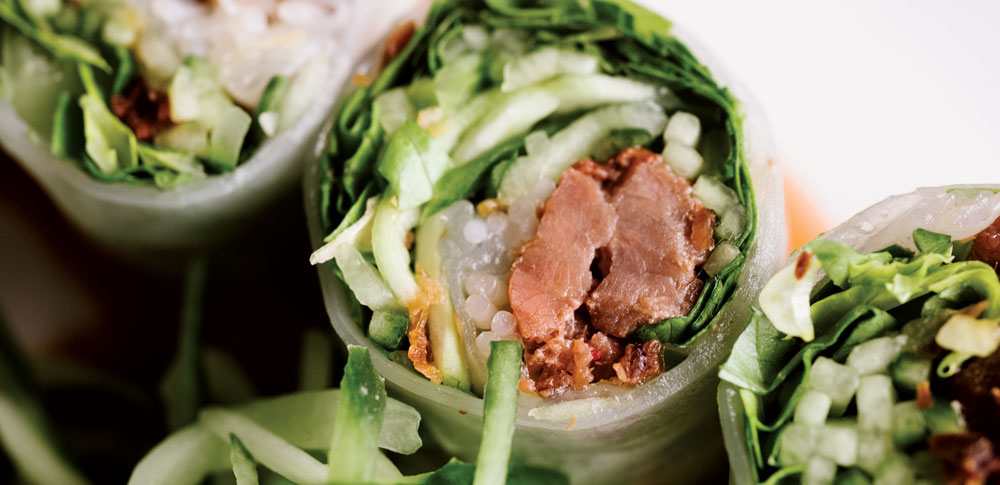 PHOTOGRAPH By jared sych