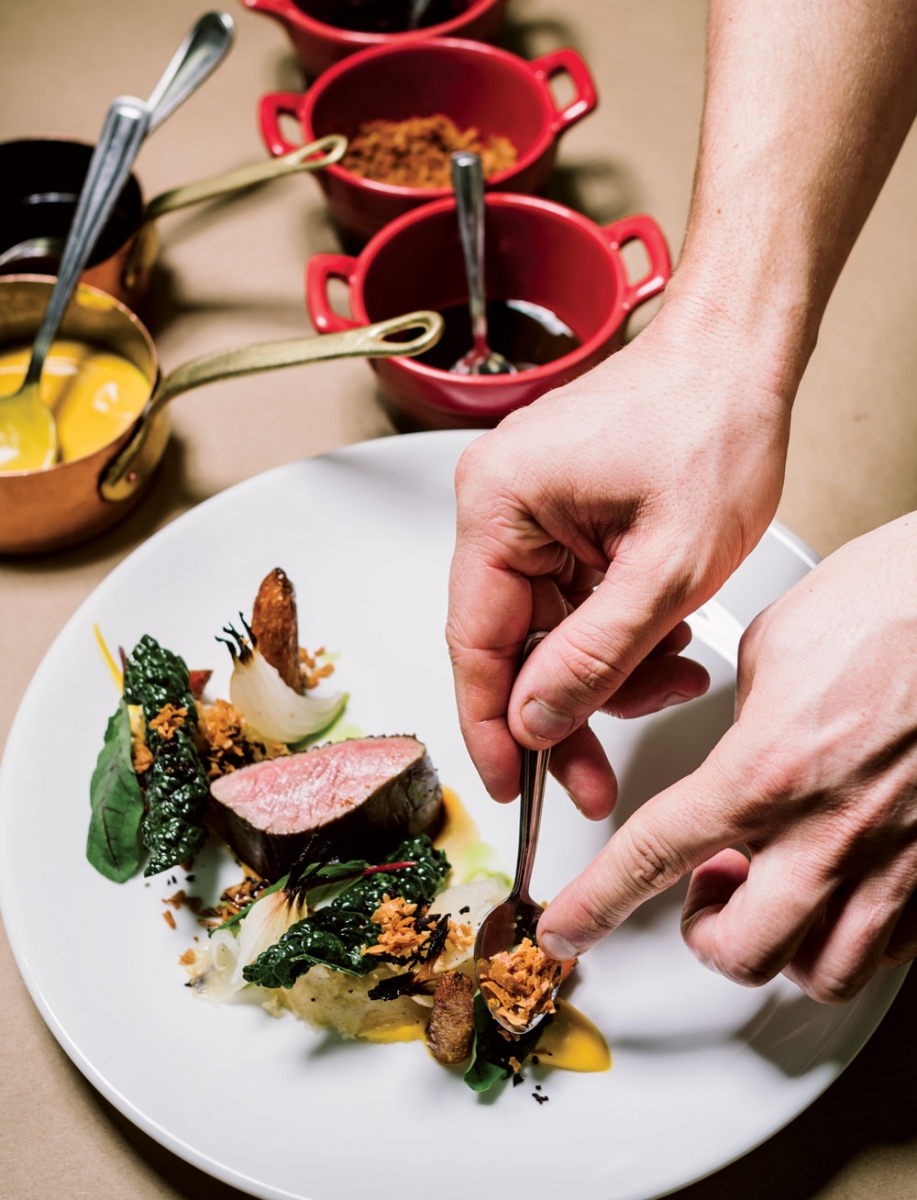 Photograph by jared sych
At Anew Table, the three- and five-course prix-fixe menus change daily.
Anew Table has a simple approach. Would you prefer three courses ($48) or five ($70)? A couple of choices on each course and you're set. Or just one course if you prefer. Add on a wine pairing or choose your own. Simple. Even for those who have a hard time deciding, Anew is a breath of fresh air.
The menu is the simplest thing about Anew. The selection of ingredients hews to local and seasonal, each selected weekly to provide the freshest, highest quality possible. The culinary technique is French, with elaborate combinations, complex preparations and well-constructed dishes.
For example, you might lead off with a starter of squash, coconut, cardamom, coriander and lime, and go on to a sunchoke terrine with salt cod or a butterball potato with country ham and cabbage. The next course might be a Japanese-inspired trout dish with onion dashi and bonito, followed by your choice of pork with apple, celeriac and purple cabbage or lamb with turnip, purple barley and granola. And finish with a choice of pear with frangipane and rum, or a selection of cheeses.
Chef and owner Chris Barton takes his food seriously, changing the menu weekly to adapt to changing seasons and keep the kitchen staff from falling into a rut. Calgary-born Barton fell in love with the concept of prix-fixe menus and has successfully brought this style to this lovely neighbourhood restaurant in Marda Loop. Anew is a warm, comfortable room with well-spaced tables and a tone that would fit just as well downtown as it does in this neighbourhood.
Sure, many restaurants around town have chef's tasting menus. But no other place does them without any la carte alternatives. Barton's team works with what they have, a new pile of ingredients each week that is refined daily. Menu listings are deliberately vague. Order the lamb and you may get a loin, a shoulder or a leg, all cut from a whole lamb that arrived on Monday. There will be turnip and barley with the lamb but even those may be altered daily to best match the meat. (This menu was used last fall so don't fantasize over the lamb – it's long gone.)
It's a bold concept for the young chef, one that requires great kitchen intelligence and skill. It's a concept that makes Barton and Anew Table trend leaders in the city.
3574 Garrison Gate S.W., 403-727-1277, anewtable.ca

Concept | Value-oriented wine bar.
Eat | Brant Lake Wagyu tartare with hazelnut, celeriac, crabapple and Mahon cheese.
1005A 1 St. S.W., 587-349-2656, barvonderfels.com
Concept | Located in a Kensington alley and made from a repurposed shipping container.
Eat | Shredded duck confit poutine with cheese curds and duck gravy.
1131 Kensington Rd. N.W., 403-457-4148, containerbaryyc.com
(lower level of National on 10th)
Concept | Bowling alley/taqueria.
Eat | Fish tacos.
341 10 Ave. S.W., 403-474-2739, ntnl.ca