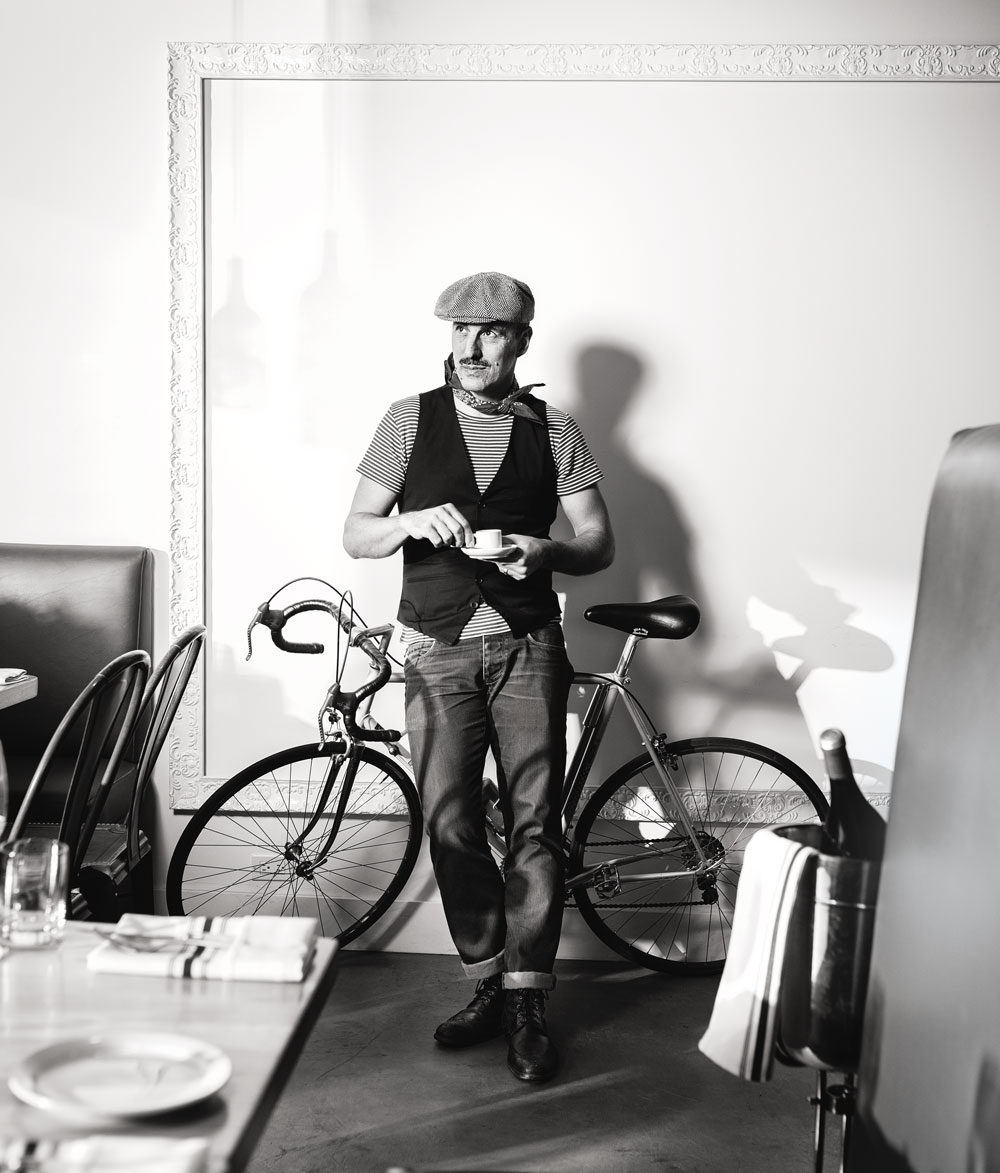 photograph by jared sych
Cassis Bistro owner Gilles Brassart.
From restaurants to cooking schools, French food, and the study of how to make it, has formed the backbone of the culinary arts for decades. It is by turns complex and refined, having formed what is now known as modern haute cuisine – disciplined yet laissez-faire, simple and comforting. At its heart, it takes simple ingredients and prepares them exquisitely. With their embrace of butter, wine, cheese and charcuterie, it is no wonder French restaurants continue to find a solid place in this city's dining scene. And the appetite for French continues to grow.
Feeding that hunger are sibling bistros Suzette and Cassis, owned by Gilles Brassart and Dominique Moussu, where heritage and passion are evident not just on the plates coming from the kitchen but in the ambiance, design and feel of the restaurants.
While the sister restaurants share that certain French je ne sais quoi, the similarities end there.
Wee bistro Cassis feels like a small slice of the south of France has been dropped into a corner of the Casel March building on 17th Avenue S.W., just west of Crowchild Trail. Here, the menu focuses on simple and classic dishes – the stamp of French cuisine – from standards such as steak frites and a share-worthy charcuterie board to daily fish and meat specials that reflect the season.
Suzette, on the other hand, echoes of Brittany, the province on the northwestern edge of France known for its cider (which Suzette serves in the traditional bowl-like cup) and galettes and crepes.
The menu is populated with several versions of the savoury buckwheat galettes, filled with all manner of good things, from sauted leeks and smoked salmon to the signature Complte, a combination of Gruyre, ham and egg. Sweet crepes doused with lemon and sugar, topped with salted caramel or simply butter and sugar are the perfect way to round out a quintessentially Breton meal. Unsurprisingly, namesake crepes Suzette (those flambed with Grand Marnier) are also on the menu.
Between the dash of French conversation that can often be overheard, a glass of red, ros or Brittany cider and a plate of something delicious, Suzette and Cassis serve as small escapes.
Cassis Bistro, 2505 17 Ave. S.W., 403-262-0036, thecassisbistro.ca; Suzette Bistro, 2210 4 St. S.W., 403-802-0036, bistrosuzette.ca

Avec Bistro
Eat | Bison tartare.
(Now closed)
Eat | Moules frites.
2015 4 St. S.W., 403-228-9764, fleurdeselbrasserie.com
Eat | Dor la grenobloise
730 17 Ave. S.W., 403-475-9457, royaleyyc.ca