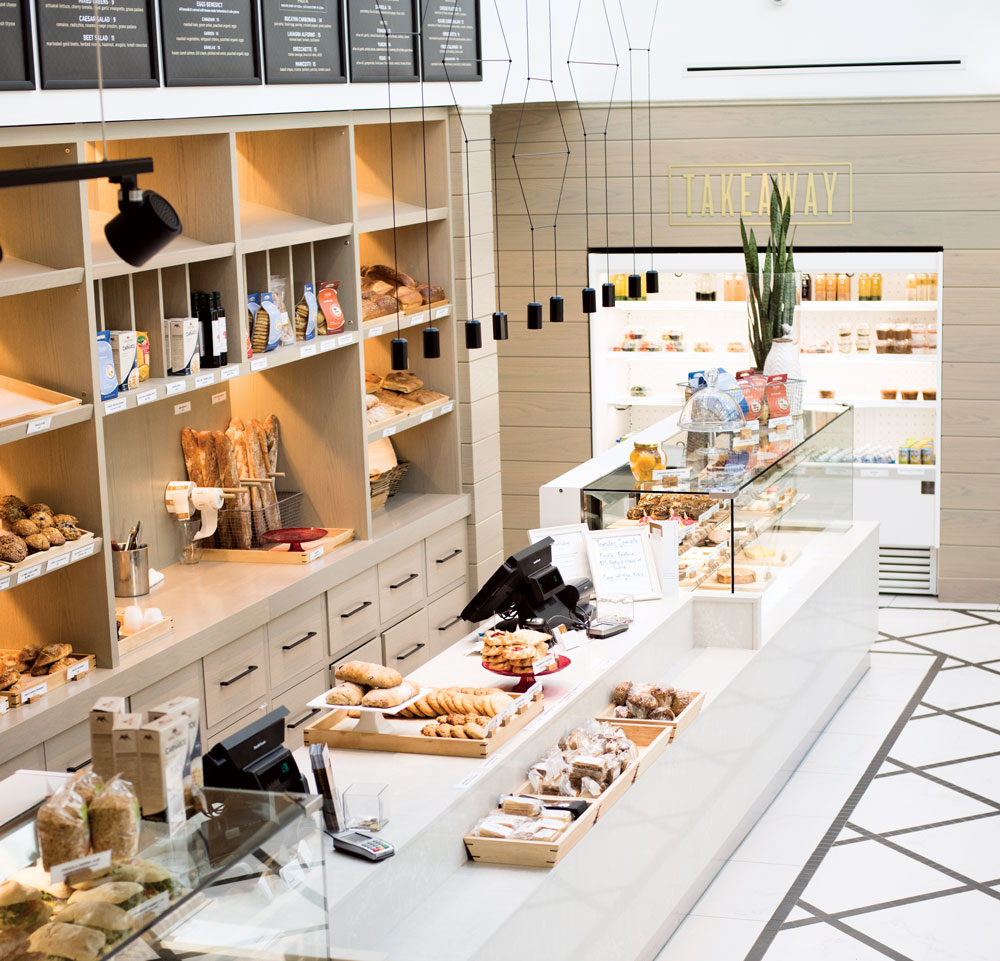 photograph by jared sych
Alforno Caf and Bakery.
The saying goes that two is company and three is a crowd, but that's not necessarily the case when it comes to Calgary restaurant groups and their continuing expansions into the city's culinary scene.
In 2016, Teatro Group breathed new life into the space formerly occupied by Corbeaux Bakehouse by renovating and redesigning the restaurant into a French brasserie, Royale, only months after bringing Alforno Caf and Bakery to life.
After all, why be limited to Teatro when you can grab coffee and a pastry at Alforno or sit down to an exquisite charcuterie platter or traditional moules frites at Royale?
The new ventures have proven popular so far. Alforno is packed during weekday lunches with the downtown business crowd. In the quiet of the afternoon, tables are still filled with people chatting or working away on laptops with a nice cappuccino and pastry within arm's reach.
Teatro, the original restaurant, hasn't been without its own changes. Dominque Moussu, executive chef at Cassis and Suzette, was brought in as corporate executive chef last year to revamp menus at all of the group's restaurants, adding more French flair to each concept and then leading the charge with the creation of Royale. (Moussu remains a co-owner of Cassis and Suzette.)
Royale meets the true definition of a brasserie – a relaxed restaurant known for simple, hearty fare. The space evokes Paris with its zinc-topped bar lined with dark red stools and blue banquettes that encourage one to sit and have just one more glass of wine with your escargots, chicken liver pt or rib-eye steak topped with peppercorn or Barnaise sauce.

The largest of the local, independent restaurant groups.
Old Favourites:
Anju
Bourbon Room
Clive Burger
Double Zero 
The Palace Theatre (formerly Flames Central)
Goro + Gun 
Local 510 & 522 
National (four locations)
Palomino Smokehouse
Sky 360 
Wildhorse
Recent Additions:
Bridgette Bar 
Ricardo's Hideaway
Known for its rustic, contemporary Italian restaurants, this group has been growing steadily.
Old Favourites:
Bonterra 
Cibo 
Posto 
Scopa 
Loco Lou's 
Rose & Crown 
Richmond Station (in Toronto)
4th Spot Kitchen & Bar 
Recent Addition:
Mill Street Brew Pub (in partnership with Mill Street Brewery)
Cuisine Concepts
Owners Dwayne and Alberta Ennest have been involved Calgary's culinary scene for more than 20 years.
Old Favourites:
Recent Additions:
Coal Shed (closed)
White Rose (closed)