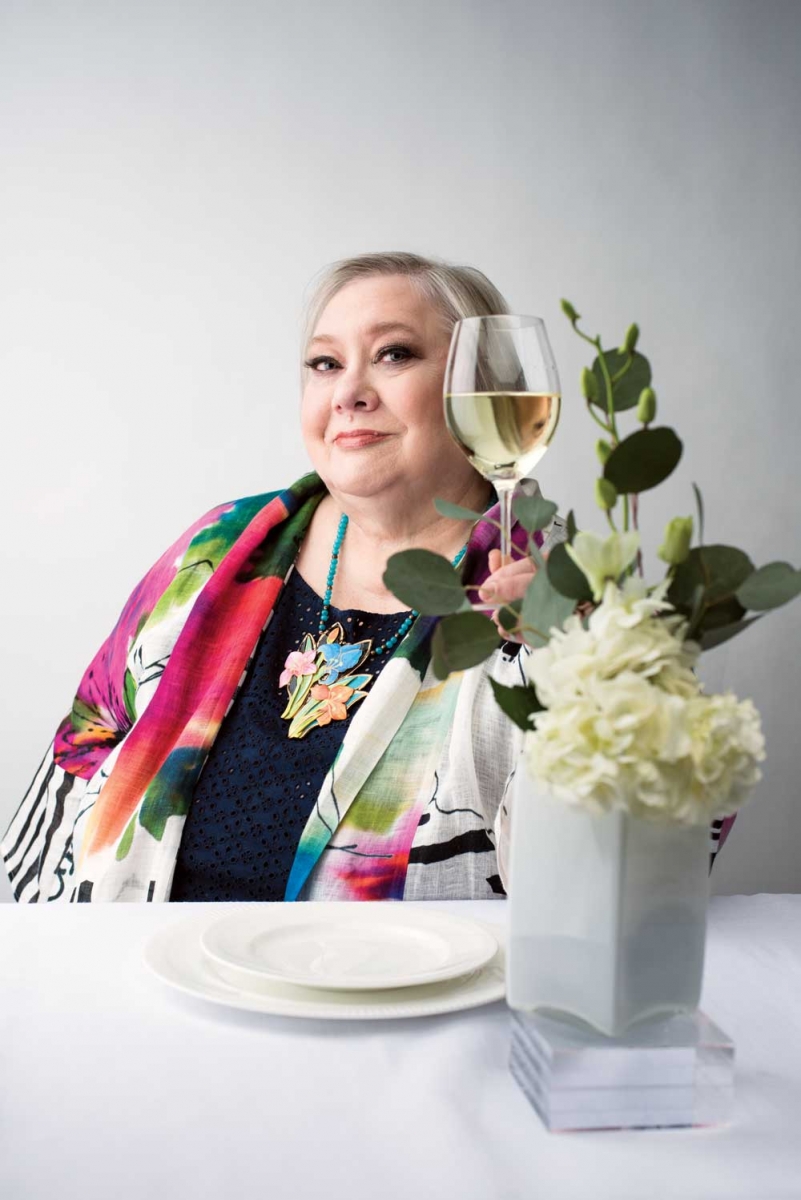 photograph by jared sych
Rosemary Bacovsky.
On a culinary tour of northern Canada last June, Rosemary Bacovsky found herself seated in an Iqaluit park for an outdoor meal – one of two such meals planned over the course of the week-long tour. She and her husband Bill had only been notified there would be arctic al fresco dining after they'd already left Calgary, so they didn't pack accordingly. The chill from a nearby arctic river meant that Bacovsky had already swaddled herself with the provided blankets. Though she was able to finish the starter soups, by the time the main course came, her fingers were too cold to handle utensils, so she picked up her meal and left the group to eat in the relative warmth of their tour bus. "Soon enough, the whole bus was full," says Bacovsky. Asked if this was strictly allowed, she says: "I don't care. I just do things."
This arctic-dining anecdote exemplifies Bacovsky's willingness to do what she thinks best, as well as her knack for spearheading change, traits that have led her to successes in multiple domains. Her work as a licensed pharmacist has resulted in important changes to provincial law governing the scope of her profession in Alberta, while her passion for food has gained her a reputation as a knowledgeable gourmet in both Calgary and on the international dining scene, leading to judging positions with a number of renowned institutions both at home and abroad.
Bacovsky's path to gourmet gravitas wasn't straightforward. Initially, when it came to travel, she and her husband were more inclined toward "eco-adventures" around the world, from African safaris and exploring the Amazon to seeing elephants in Thailand and orangutans in Borneo. Unfortunately, a car accident in 2001 left her with mobility issues, putting an end to these adventures. "Now I can't do anything physically demanding," she says. "I can't even go on gravel roads most of the time without it impacting my neck."
Still looking for ways to indulge her wanderlust, in 2002 Bacovsky chanced upon an ad for a high-end food-and-wine tour of Italy guided by Peter Blattman, the former food and beverage director at the Fairmont Banff Springs. This tour, she says, allowed her to appreciate Italian cuisine in ways she hadn't before, and opened the door to a wider world of food.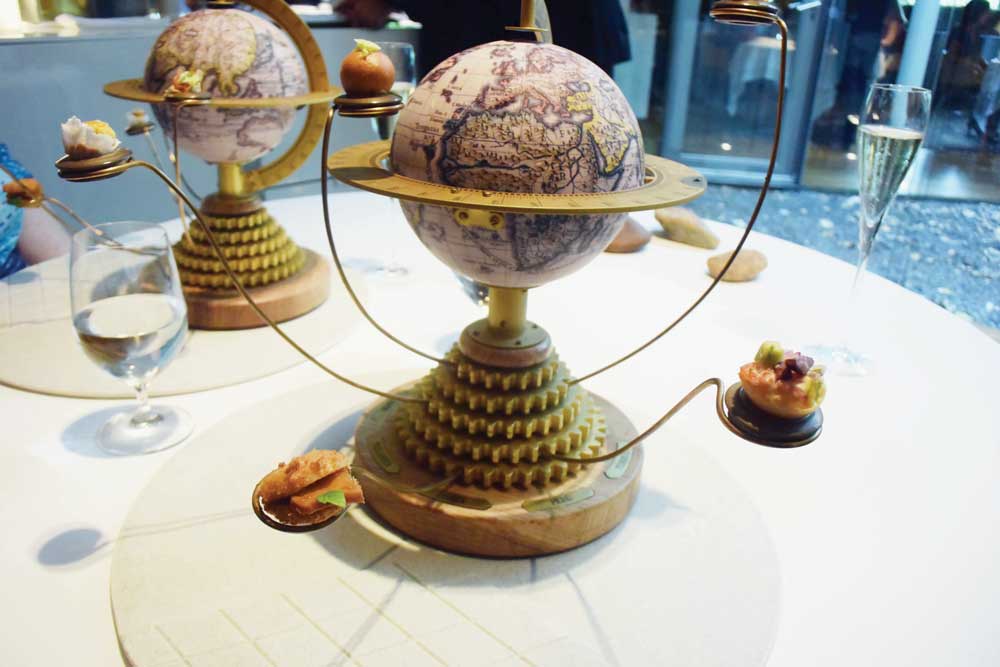 Photograph by Bill Trefanenko
Photographed on one of Bacovsky's many world travels, this globe, from El Celler de can Roca in Girona, Spain, presents appetizers representative of tastes from different countries.
More than a decade later, Bacovsky has visited thousands of restaurants around the world including ones in Spain, India, Japan, Sri Lanka and Denmark. Her far-ranging culinary travels have led to friendships with industry insiders – both at home and abroad – which in turn has led to opportunities to officially weigh in on the food scene. Bacovsky recalls that her position as a judge with Canada's 100 Best came about because of such a connection. The setting in this case was a long-table dinner that involved Calgary chefs Connie DeSousa, Darren MacLean and Duncan Ly, among others. "Connie introduced me to Jacob Richler [who coordinates Canada's 100 Best] and explained that I eat all over the place. When he was looking for people to be judges, he knew that I travelled a lot, including in Canada, and asked me to participate." Bacovsky also ranks as the 18th most influential reviewer (and the most highly ranked Canadian) on Steve Plotnicki's Opinionated About Dining, a food-review website with an international fan base. Here in Calgary, she has also been a judge for numerous editions of Avenue's annual Best Restaurants issue.
What makes Bacovsky unique among the culinary cognoscenti who tend to influence such lists is her status as a self-described outsider – that is, someone from outside the hospitality industry. This outsider status allows for a different perspective from the chefs, restaurateurs, writers and others who make their living in the food world and are often given complimentary meals and other perks. Bacovsky believes such industry insiders are also apt to receive a level of service and attention that is different than what the paying customer experiences.  "Paying for my own things, I wouldn't get that same level of service, so that's why I think people who are gourmands or serious foodies should be included in [making] those lists, to provide the client perspective."
Though she often eats abroad, Bacovsky has a fondness for Calgary's food scene and thinks it has more quality to offer than locals realize. "What they're producing here in terms of fine dining and casual dining takeout can be exceptional," she says. "We were in Paris earlier this year, we went to this place called Chez L'Ami Louis. It is a bistro known to have the best roast chicken in Paris, so we ordered it, and I thought, poor Parisians, they haven't tasted Nicole's rotisserie chicken!" ("Nicole" being Cluck N Cleaver co-founder and Top Chef Canada: All Stars winner Nicole Gomes). Bacovsky believes Calgary's dining scene's greatest strength is its variety. "When you look at other countries, they don't have that diversity. When you're travelling in places like India, all you're eating is Indian food," she says. "People who are used to the diversity here just take it for granted."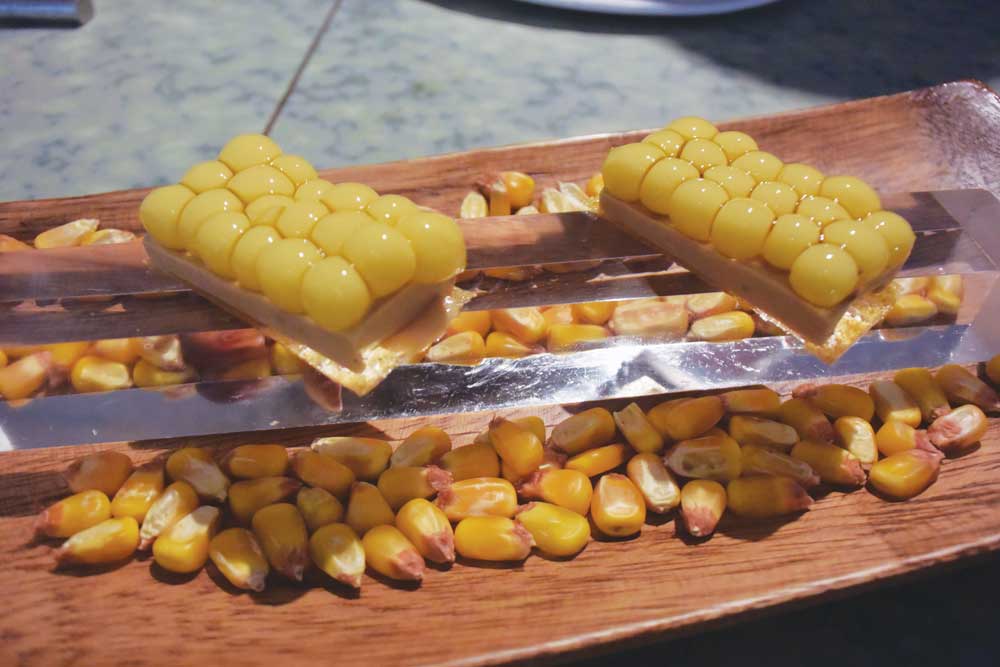 Photograph by Bill Trefanenko
Corn tart with foie gras from Disfrutar in Barcelona, Spain.
Bacovsky's Calgary home is filled with objects that attest to her and her husband's interests: a shelf with signed serving dishes and cutlery from Ferran Adri's elBulli restaurant, a floor-to-ceiling library of cookbooks, many of them signed, and cabinets filled with her collection of mortars and pestles of varying sizes and materials, collected from at least 40 countries. This collection is but a remnant of a much larger one, which Bacovsky donated to the faculty of pharmacy's dean's office at the University of Alberta, where she obtained her degree in 1977.
Her work in the pharmaceutical industry mirrors her foodie authority, in that she's successful at wielding her influence in both. She played an integral role in changing provincial health regulations in 2007, which allowed pharmacists to prescribe drugs (excluding narcotics or controlled substances). This change made Alberta pharmacists the first in the country able to do so. In working with the Alberta College of Pharmacists, government officials and her peers, Bacovsky helped develop the framework and standards that provided pharmacists with a greater scope of practice, while streamlining care for patients.  "I worked hard, I had to do a lot of advocating with the prescribing aspect, because a lot of people in the profession didn't want to rock the boat," she says.
Her current work as a pharmaceutical consultant sees her preparing policy reports and serving as an expert witness in federal court cases regarding drug patents and practices. This puts her on the stand, where she must defend her work from intense scrutiny. "The cross-examination lawyers are essentially trying to discredit you. They're trying to make you waver on what your report has said, or discredit your expertise," she says. "It's stressful, because you've always got to think 'where are they going to try and trip me up?'" In these situations, much like the rest of her life, Bacovsky's tenacity and resolve see her through, as she shows up prepared, with her facts memorized and the confidence of someone who knows her own mind.
If asked how she's managed to do so well for herself, these are the things she would point to, though her actual answer is much simpler. "I go after things. I find ways of getting what I want," she says. "Hey, why not? If you don't ask, if you don't go after it, you'll never get it."