Sommelier Profile: Jesse Willis
Jesse Willis became the proprietor of his own wine and spirits shop, Vine Arts Wine and Spirits, at the age of 28.
By Andrew Guilbert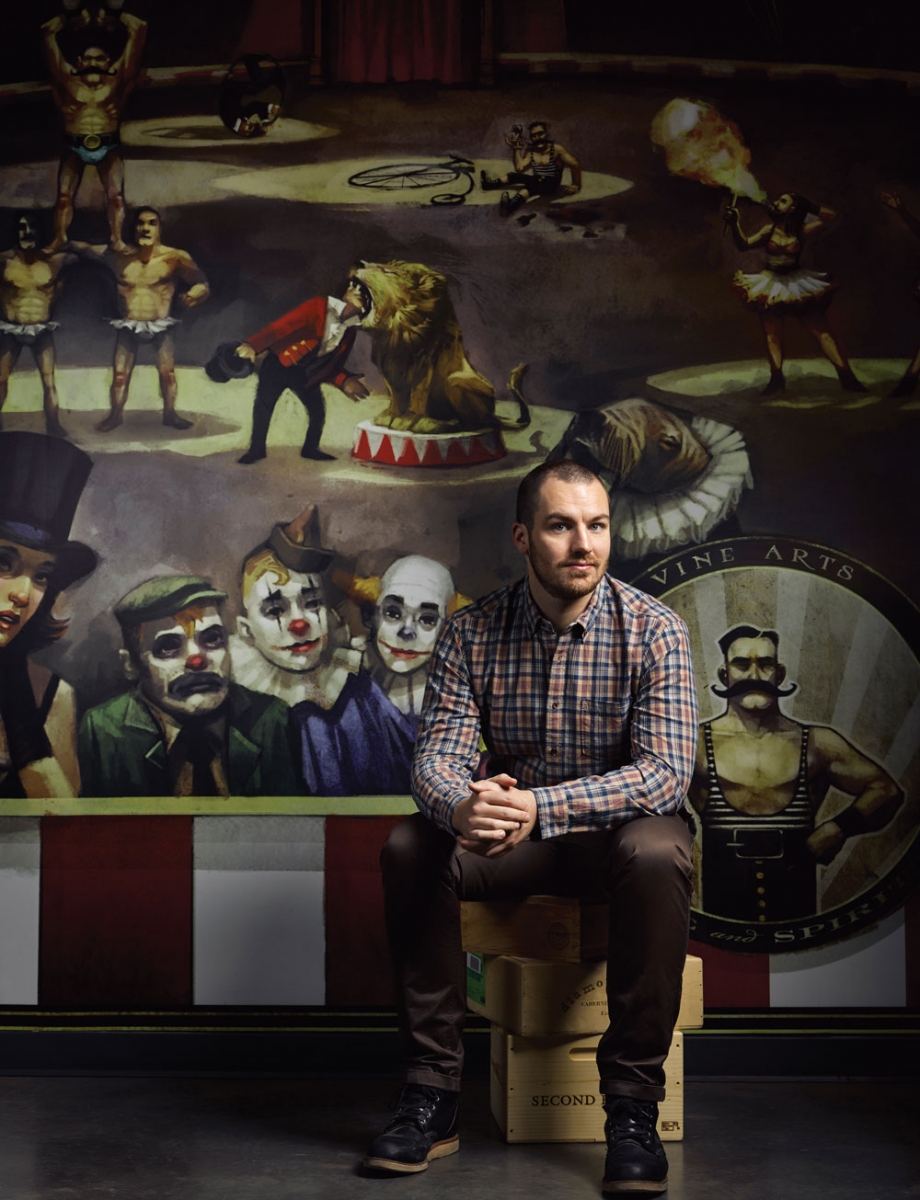 photograph by fritz tolentino
Jesse Willis.
"People are looking for things with a story," says Jesse Willis, proprietor and co-founder of Vine Arts Wine and Spirits. "If you can convey a cool, interesting story about the people who make something or the process they use, people love that."
This belief clearly applies to more than just tastings. Bears balancing on balls, strongmen on penny farthings and other hip, turn-of-the-century circus scenes adorn the walls of his 1st Street S.W. store, a clear indicator that this is not your typical wine store.
Fitting, as Willis is not your typical wine guy. Young, athletic and unpretentious, he found his calling in the wine world in an appropriately atypical way.
Willis's love affair with wine began while trying to make some extra money in university working for Sally's Spirit, Wine and Beer shop near Aspen Woods. The store owners often gave employees passes to tastings and events, where he eventually acquired an affinity for wines. Soon, he and fellow Sally's co-worker Al Drinkle (now a manager at Metrovino) enrolled in classes at SAIT Polytechnic to learn more.
After starting his own fitness training company in 2006, Willis thought his oenophilia would remain a hobby, but a shoulder surgery that left his arm in a sling for three months meant he had to find a less intensive line of work while he healed.
"Al [Drinkle] was working for a wine agency at the time and said, 'Why don't you get a wine rep job?'" says Willis. Drinkle then directed him to an agency looking to hire, and Willis found himself drawn into a more vinous vocation. "Sure enough, took the job, went full time and fell in love with wine again," he says.
From there, Willis went on to graduate from the International Sommelier Guild's diploma program in 2008, becoming an ISG instructor and teaching wine classes at SAIT. Not satisfied with this, Willis and friend Jeff Jamieson decided to start a wine consultant agency, only to eventually revamp the idea into a retail space. After three years of planning, Willis found himself the proprietor of his very own wine and spirits shop at the age of 28.
Of all the unique items at his store, Willis says he has a soft spot for the old whiskey barrel staves and 100-year-old snooker table base that form the meeting table in front of the shop. "It's my favourite piece because of the story, and because this is what it's all about," he says. "Getting people together, sharing wine and learning."
---
Jesse Willis' favourites
Vacation spot
"For relaxing: Roatn, Honduras. For gluttonous food, wine and beer: Portland, Oregon."
Local restaurant
"It would currently be a toss-up between Anju and Model Milk … although once my brother's restaurant [Native Tongues] opens I will be obligated by blood to name it number one."
Wine
"If you had to twist my arm on a favourite grape/region I would have to say syrah from the Northern Rhone Valley."
Food and wine pairing
"There are too many to name. At the moment I could go for a platter of Southern hot chicken and a Mosel riesling."
Trend
"Bourbon."
Guilty pleasure
"Cheap white birthday cake, the kind from the grocery store with sprinkles and disgustingly large icing flowers. The shame."
Thing about Calgary
"The fact that a city of over a million people can still feel like a small town. I love the sense of community in Calgary."