The Wine School Dropout Behind Calgary's First Wine Bar
Vin Room owner Phoebe Fung proves that when life leads you to grapes, you should open a wine bar.
By Lisa Kadane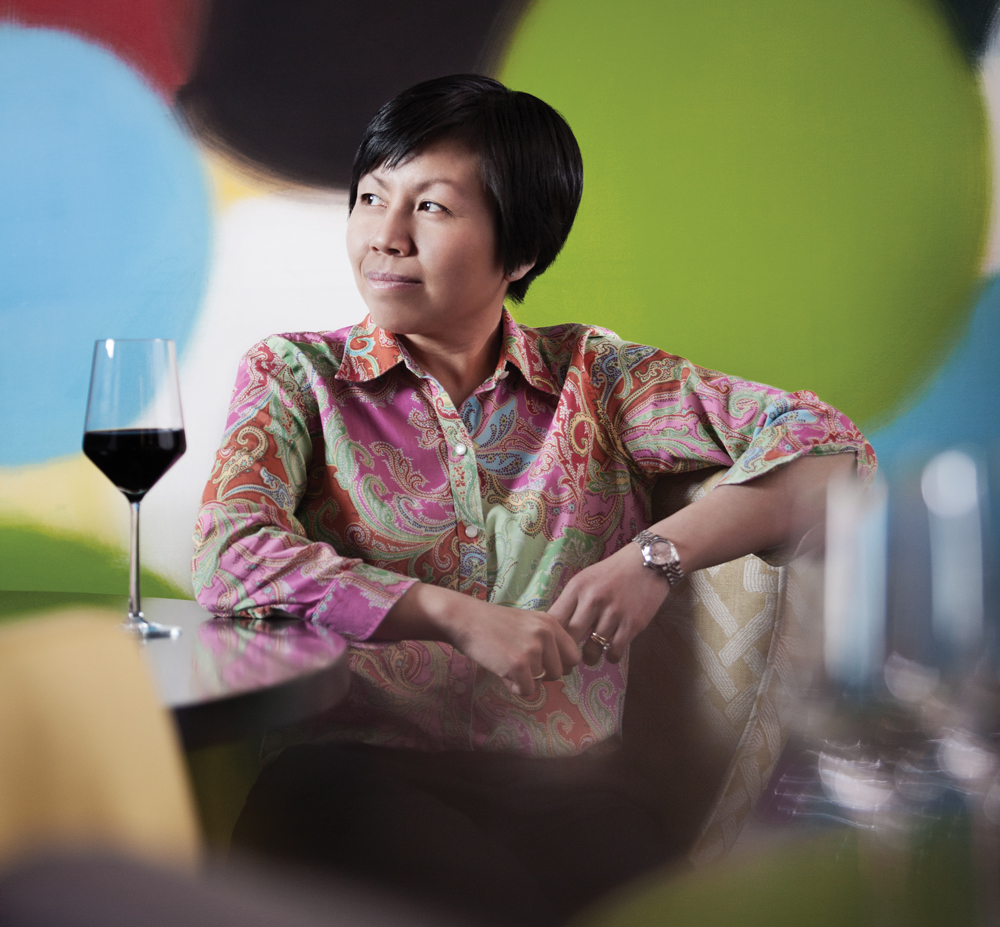 photograph by jager & Kokemor photography
Seven years ago, Phoebe Fung was a project manager for a major oil and gas company. Today, she's at the forefront of Calgary's wine scene. Not bad for a self-proclaimed "wine school drop out."
"I was never very good at the wine courses because you have to learn how to spit. I never wanted to spit," Fung explains over a glass of Cakebread cabernet sauvignon, the Napa wine she was sipping when she decided to open Vin Room, the city's first wine bar, in 2009.
The idea for Vin Room began to germinate in 2008, when Fung took a year off work to travel through the Napa Valley (wine touring) and around the Mediterranean (more wine). Calgary desperately needed a wine bar, and Fung decided she would make it happen. With a love of grapes and an MBA behind her name, Fung had both the wine wherewithal and business acumen to make her Mission venture a success. Three years later, in 2012, Fung opened Vin Room West and boutique wine store VR Wine in Aspen Landing.
Both Vin Room and Vin Room West serve 106 wines by the glass – the most in Canada. The comprehensive list represents wines from around the world but is weighted toward new-world wines and reds because that's what Calgarians like to drink. If Fung had one wish, it would be to make us more adventurous when it comes to ordering. She wants us to try unfamiliar grapes, or even champers.
"We save Champagne for special occasions. In Europe, they drink it frequently," says Fung. To entice Calgarians to get on board with bubbles, Fung has started offering select Champagnes by the glass, so customers can try Dom Perignon for $25, or her favourite, Krug Rose, for $55 for a four-ounce pour. These Champagne specials have been a huge hit.
"Phoebe has a real knack for figuring out trends," says Shelley Boettcher, a local wine writer. She points out that Vin Room was one of the first restaurants to introduce an Enomatic wine system that keeps wine fresh longer, which is what allows the restaurant to offer so many wines by the glass. Likewise, opening Vin Room West was a brilliant move, and word is Fung will soon be opening a third restaurant in a prominent but yet-to-be-announced location.
Fung attributes her success in part to the great team she employs, one that helped her get the Mission location back up and running after the 2013 flood. What's more, in a city where oil price drops lead to panic and talk of the R-word, Fung picked a business that is seemingly immune to these fluctuations.
"Wine is pretty much recession-proof. You're either commiserating or you're celebrating," she says.
Yep, that pretty much sums up Calgarians: come hell or high water, we'll keep drinking wine, whether at home or at Vin Room.
---
Phoebe Fung's favourites
Restaurant
River Caf for the setting, Anju for the vibe and Carino for the ramen
Vacation spot
San Francisco
Pairing
East Coast oysters with Krug Champagne
Neighbourhood
Mission
Bar tool
Corkscrew
Pastime
Hanging out with Dom, her Pomeranian pooch
Wine
Cakebread cabernet sauvignon