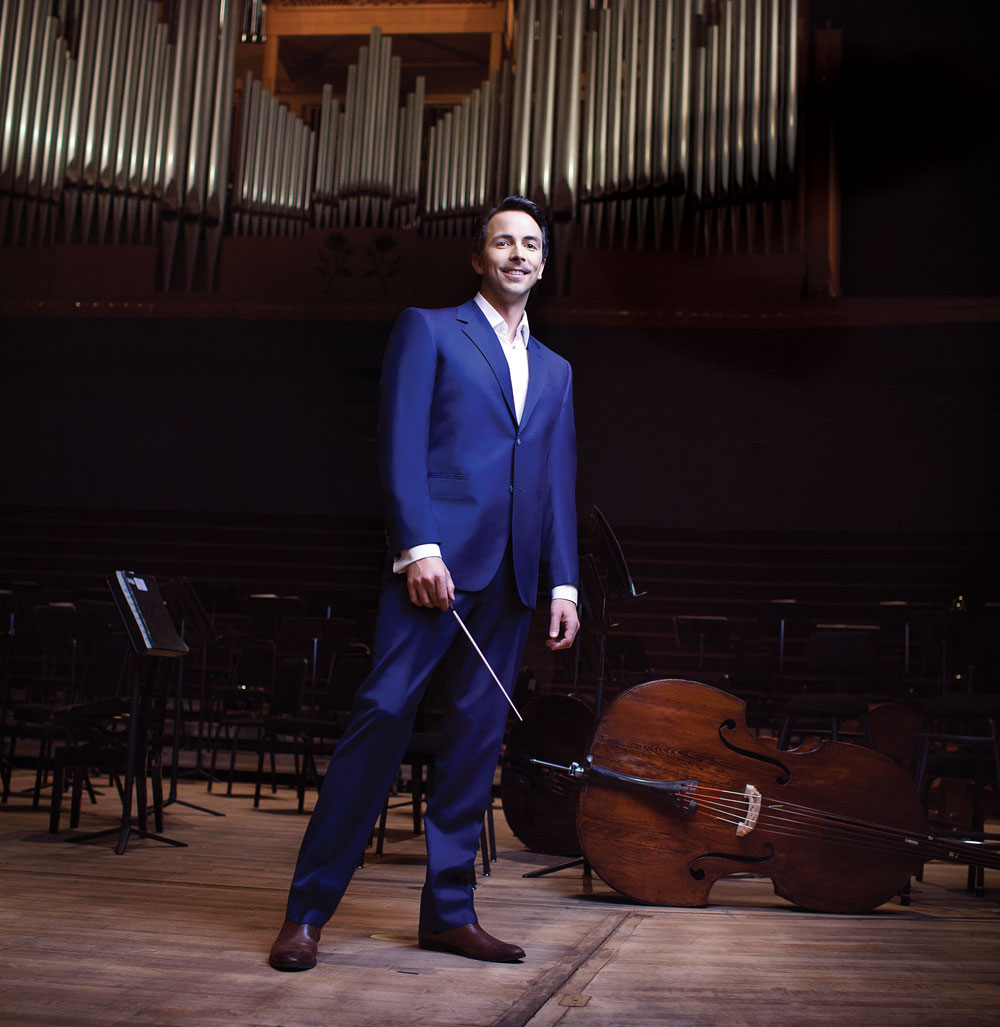 photography by David Dean; styling by Leah Van Loon; hair and makeup by Karen Malcolm
Custom suit from Umberto's Custom Tailoring Ltd.; Hugo Boss shirt from Harry Rosen; belt from RW&Co.; boots from Aldo.
When people think of orchestra conductors, Adam Johnson is typically not what they envision. The Calgary Philharmonic Orchestra's associate conductor is young, well-dressed, loves house and electronic music and believes the image of a conductor isn't the only thing people get wrong.
"There's a stereotype that [classical music] is people in white wigs doing dainty aristocratic things," he says. "There's one era, one time period, one style within the overall field of classical music that could be classified as that, but that's just one sliver of it."
Though he foregoes the white wigs, he is as comfortable in jeans and a T-shirt as he is in the European-style outfits he came to appreciate during his time as a student in Montreal. And, while Johnson does wear a classic tailcoat when he conducts from time to time, he's not afraid to change it up.
What is the best part of your job?
The best part is being able to live a beautiful experience as a group. I spent a lot of years as a pianist, which meant a lot of solitary years practicing, and, when you're on stage, you're by yourself. What has drawn me to being a conductor is that I'm on stage with 70 or 80 people and we share in that experience, and then there's 1,800 people in the hall and there's a lot of energy there.
Do you have a favourite composer or piece of music?
There are two sides to that. One answer is whatever I'm working on at the time – it has to become my favourite piece. The other is that Schubert has always been one of my favourite composers.
What do you wear to work?
The traditional concert wear for performers is the classic formal tails, but, as the conductor, I have a little bit more freedom for what I wear. I have worn tails, but I've switched it up, partly through the suggestions of Umberto's Custom Tailors, the couturier that sponsors me through the orchestra. For example, a few years ago, they made a couple of suits for me – one red, the other blue – and I thought they were really out there, but they said this is where things are going, and, sure enough, now you see a lot of celebrities wearing blue suits on TV and at the Oscars.
What's the most "out-there" thing you've worn to a show?
Umberto's made a suit for the Carmina Burana performance that was a silver tuxedo with a floral pattern in it. The first time I saw it, my eyes were the size of dinner plates. As it turned out, in a hall, you have to wear something strong if you want there to be any sort of notice at all on the audience's part.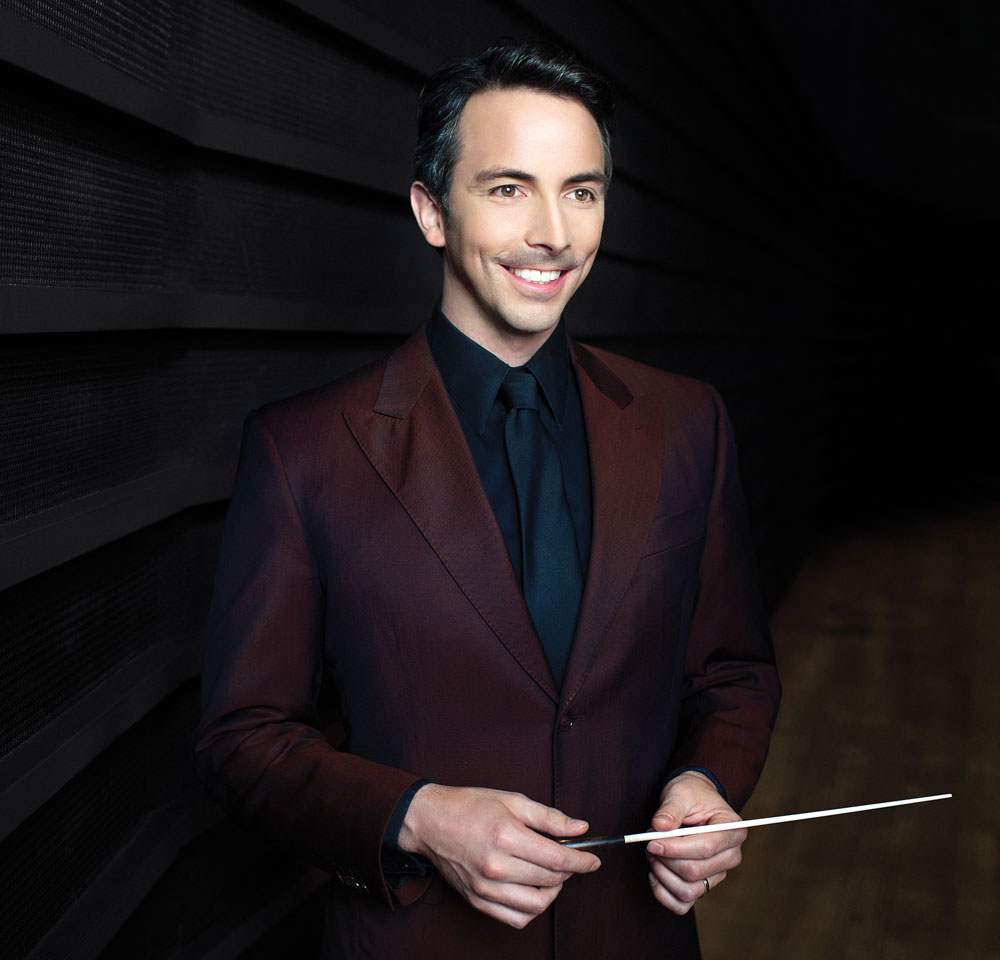 Custom jacket from Umberto's Custom Tailoring Ltd.; shirt from Maxwell's Clothiers, tie from Tip Top Tailors.
What do you wear when you're not working?
I like fitted clothes and dress shirts. I have to get all of my shirts tailored now, because I can't stand it when the waist is too big, or when the chest is too tight. I'm definitely influenced by Montreal [where I studied piano and orchestral conducting]. Something that struck me when I moved out there, and still strikes me every time I go back, is how fashion-conscious the city is.
What does your weekend wardrobe consist of?
I enjoy the mountains, so I'll wear stuff from Mountain Equipment Co-op, because it has to be functional, warm and keep me dry. I'll wear sweatpants around the house, just to stay comfortable.
Where do you like to go to relax?
There's a Mexican restaurant, La Vida Loca, around the corner from where I live, and my wife and I like to go salsa dancing there on the weekends.
Who are your style icons?
I like what Johnny Depp does. I couldn't necessarily wear everything he wears, but he's somebody that I find pushes the envelope; he's not afraid of combining masculine and feminine aspects of style.
Do you have any specific fashion dilemmas?
If something is in style, I question myself on whether I like it because it's what everybody's wearing and I need to conform, or do I like it because, according to my taste, it looks great? Right now, everyone's wearing Ray-Bans. I don't want to jump on the bandwagon because that's what people are doing, but, I have to admit, they look really great.
What's your wardrobe's MVP?
I have a few shirts that I got when I was in Ibiza. The shirts I get while travelling remind me of good times. I like to put them on because they're different than my everyday dress shirts.
What was the last thing you purchased?
Chelsea-style ankle boots from Aldo. I have them in black and in brown – they work great in the winter as a boot and they work great in the summer as a shoe, so I wear them all the time.
Where in Calgary do you love to shop?
Holt Renfrew and RW&Co. can be great. Another store that I like is Tristan. I've found they have some really nice shirts with a bit of a taller collar. I'm tall and have a long neck, so I find that a little longer collar looks better than a shorter one for me. I also got a nice, unpleated tuxedo shirt from Hugo Boss. The cotton is amazing, the quality of the shirt is great, and it's custom-fitted and buttonless, so it's a contemporary take on a classic look.
What's in your bag? Be specific.
I have a lot of music scores that I carry around. They can be two feet by a foot and a half, and one symphony can easily be 200 pages, so I take whatever bag I can fit things in. If I'm going to or from a concert, it's stuffed to overflowing. That's usually the problem – I have too much in it, so the zippers or straps break. I go through two bags a season.
---
10 rapid-fire questions with Adam Johnson
Where are you from? 
Hinton, Alta.
What did you think you'd do when you were growing up?
I wanted to be a fighter pilot, but then my eyesight went in my teens.
What would you do if you didn't have to make a living at it? 
I would still want to be a conductor.
What would currently be playing if we were to turn on your iPod? 
Waste and Tragedy by The Smalls
What book are you reading? 
The Five Secrets You Must Discover Before You Die [by John Izzo]. It's a collection of interviews of more than 200 people over the age of 60 to distil what matters to them.
Favourite breakfast food? 
Eggs with toast and cheese.
Dream vacation? 
I would love to go to Switzerland to take in one of the big classical music festivals and go hiking.
Pet peeve? 
"You're" and "your." Every time I read a Facebook post, the two are getting confused, and I don't think it's that difficult to fix.
Favourite locally made edible treat? 
I love sourdough bread from Sidewalk Citizen. My wife and I will drive to go get that bread specifically.
If you could be reborn in any era, which would you choose? 
I would like to have lived in the pre-industrial era when nature sounds would have been the dominant sound.