Last week we toured Alison Andersen's Beltline apartment. This week we take you through her best friend and next door neighbour Kate Husted's space. Having just returned in Calgary under a year ago from Montreal, Husted initially lived with Alison in her suite for several months. When the apartment next door came up for rent, they both knew they couldn't hesitate – Kate had to move in next door.
Since moving in, Husted has sacrificed her bedroom for a shared art studio with Andersen, where the pals collaborate on various photography and ceramic projects. Husted created a warm and cozy (and very pink) tiny bedroom in her walk-in closet, claiming that she'd "rather be conscious in the studio space than unconscious [sleeping]!"
What is your design philosophy?
That is a tricky question. I have a hard time thinking of myself having a design philosophy. I am a pretty sentimental person so most of the things in my home have sentimental value. Most of my large pieces of furniture were all inherited from my grandparents. Same thing with the art and objects I own – I love them all and they were mostly all given to me. I went to school in Montreal and most of these pieces came with me and back again to Calgary. I guess I get pretty attached to things.
What is your favourite space in your home?
I really love the dining room just off of the kitchen. I feel like it came together really well. Sometimes it borders on cluttered but I feel like I have found a nice balance of things in there. It is bright and cozy.
What is your most treasured item and where is it from?
I really love my sofa – quite attached to it. It is something I got from my grandparents. They brought it with them from Denmark when they came to Canada. I also have a couple small ceramic bud vases that I bought in Denmark. I just really love them; the simplicity, the texture, their beauty.
What is your favourite decor find?
The framed poster in my dining room. My Dad bought it when he was travelling through Europe when he was 19. When I grew up it was always going back and forth between hanging on the wall above my parents bed to be stored under the bed. It found its final resting place under the bed so I ended up taking it with me to Montreal when I moved there.
Where do you find inspiration for your home?
I get a lot of inspiration from Alison living so close. Even though we do have very different tastes, I'd say there is a similar underlying theme.
What is your favourite thing about living in your home?
I love the location and I love being in the thick of the city.
Where is your favourite place to shop for decor locally?
I thrift regularly but since I am so new to the city right now I don't have a favourite shop yet.
Did you encounter a decor challenge when you moved in the space?
For the most part, it has been pretty seamless. The only compromise I have made is turning the bedroom into a studio but I feel that it was totally worthy it. I'd rather be conscious in that room rather than unconscious.
What is your favourite view from your home?
People watching from the alcove window.
What would you like your next home to be?
I am really content with where I am right now. The only thing I would add is some green space and maybe some south facing windows so I could have more plants in my home.
Any tips for our readers in terms of finding great vintage pieces for their homes?
You have to listen to your gut reaction when you are shopping for vintage pieces. If you love it, you should buy it Don't second guess yourself based on what is trendy in the design world. Go with what you like.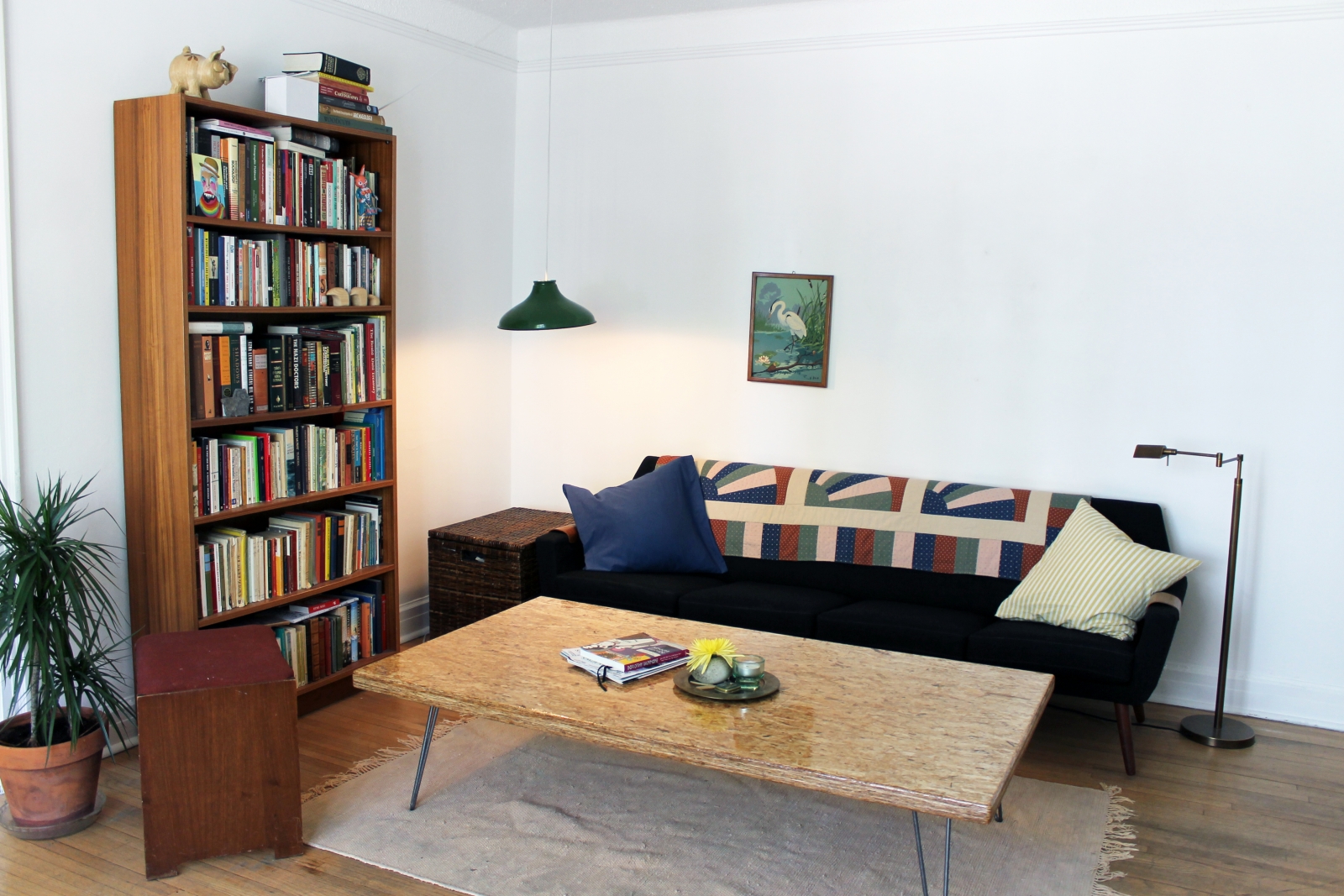 photo by Kait kucy
As a self-described nostalgic and sentimental person, it's no wonder everything in Husted's home has meaning and purpose. Her beautiful (and mint condition) Danish modern sofa once belonged to her grandparents.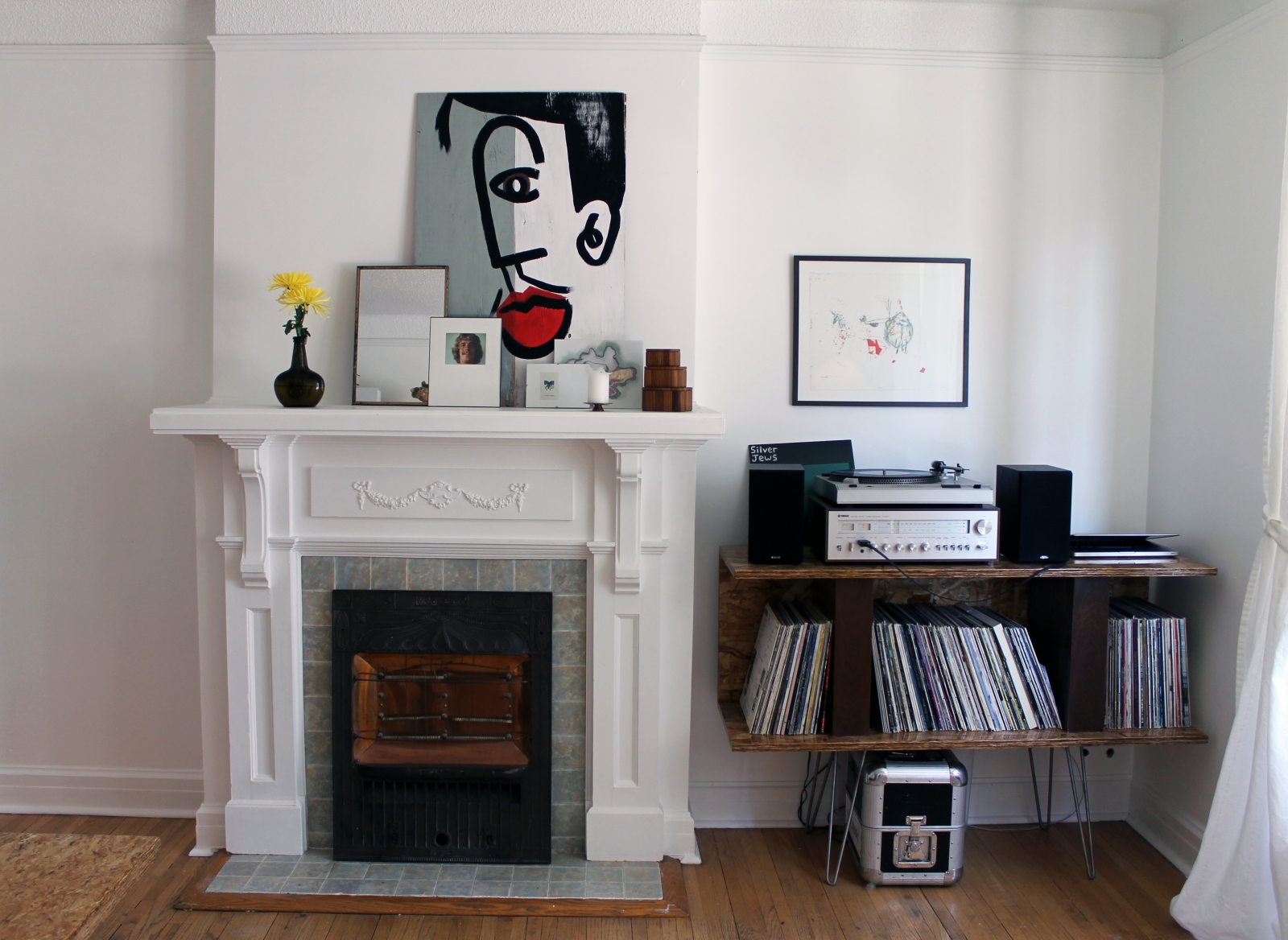 PHOTO BY KAIT KUCY
Husted's eclectic mantel includes art made by friends and is flanked by her record player and vinyl collection.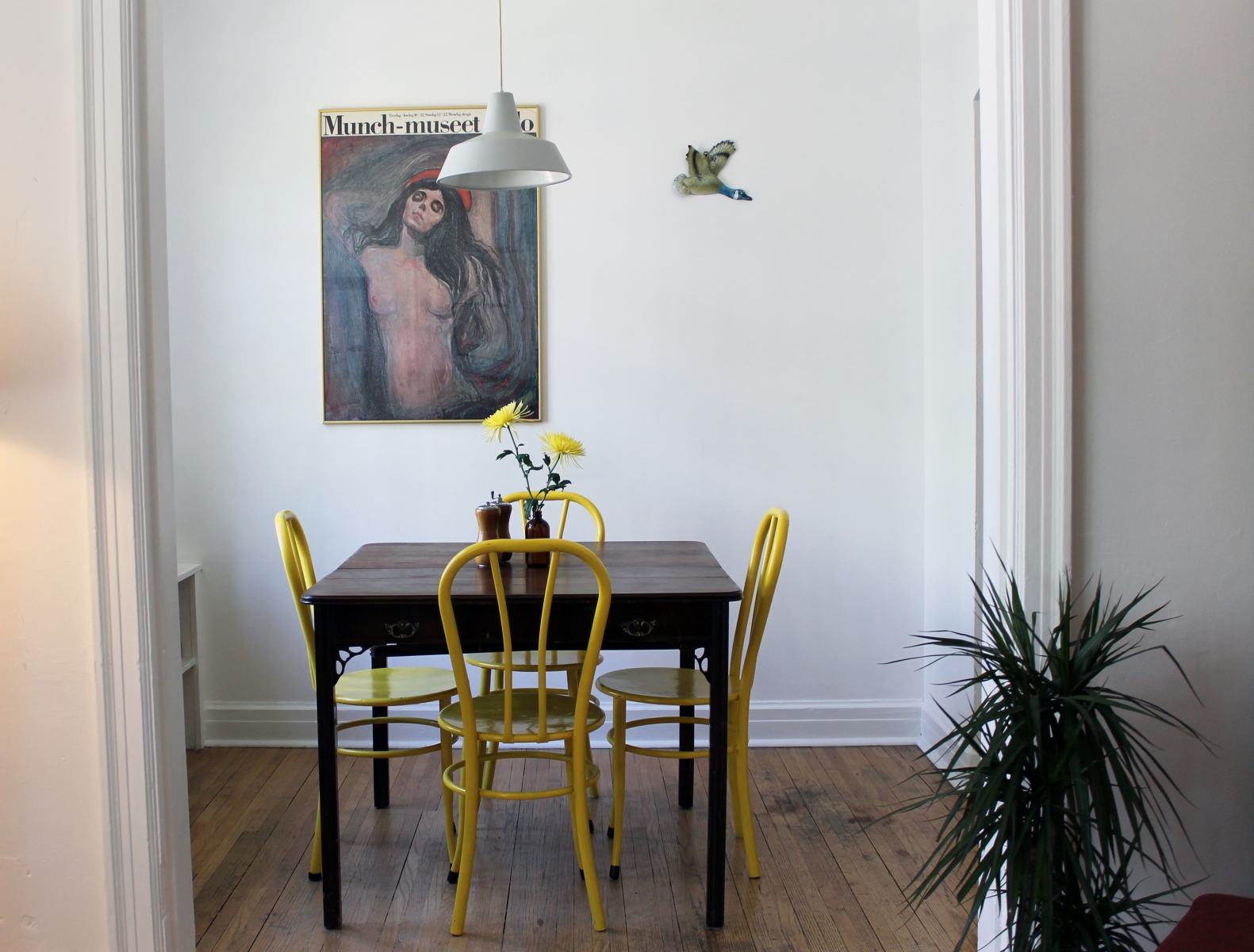 PHOTO BY KAIT KUCY
Husted keeps her dining room simple, but that doesn't mean it lacks character. The print on the wall was originally purchased by her father during his travels around Europe in the 1970s and the yellow chairs are from her grandparents' house.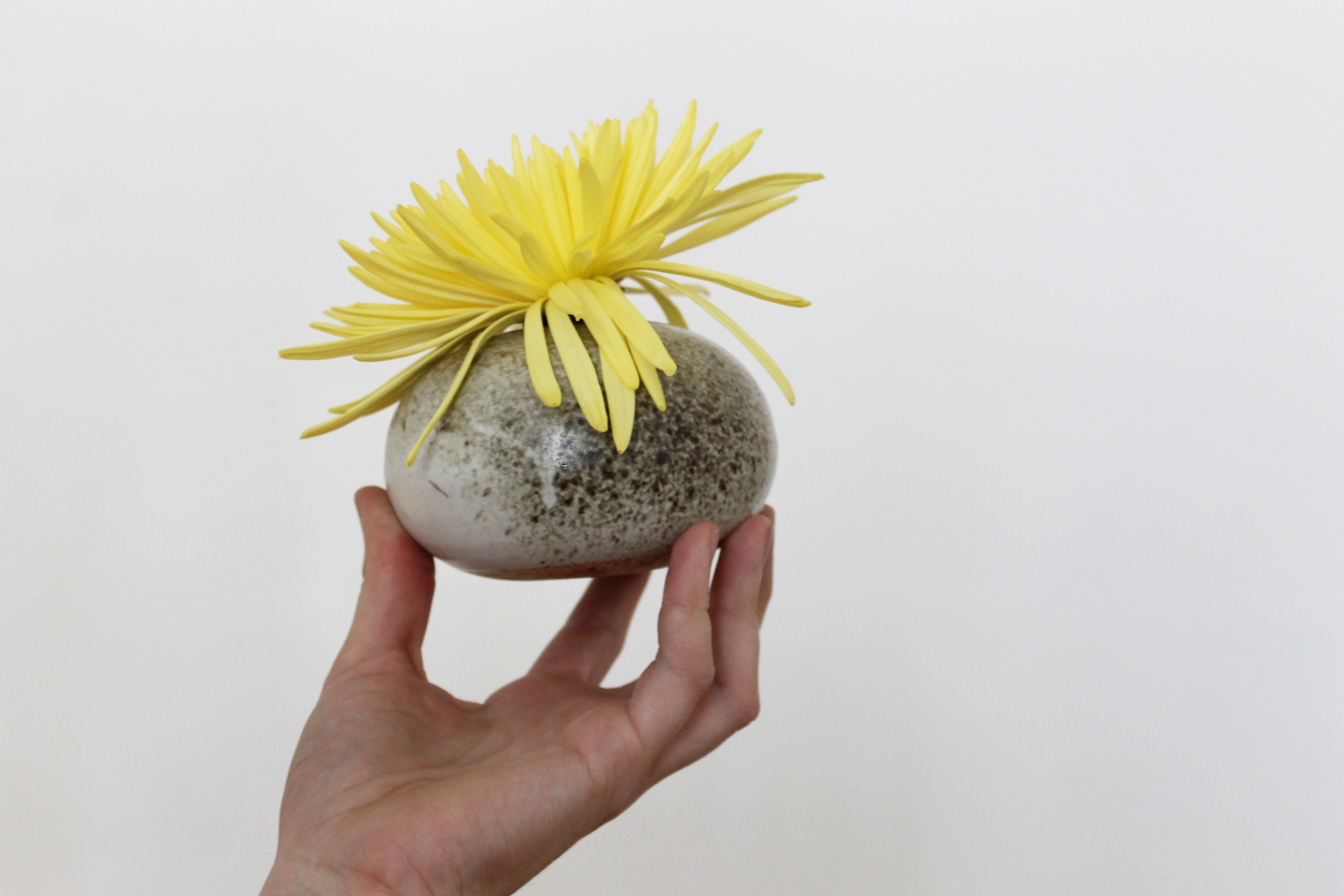 PHOTO BY KAIT KUCY
This bud case from Denmark is one of Husted's most treasured items.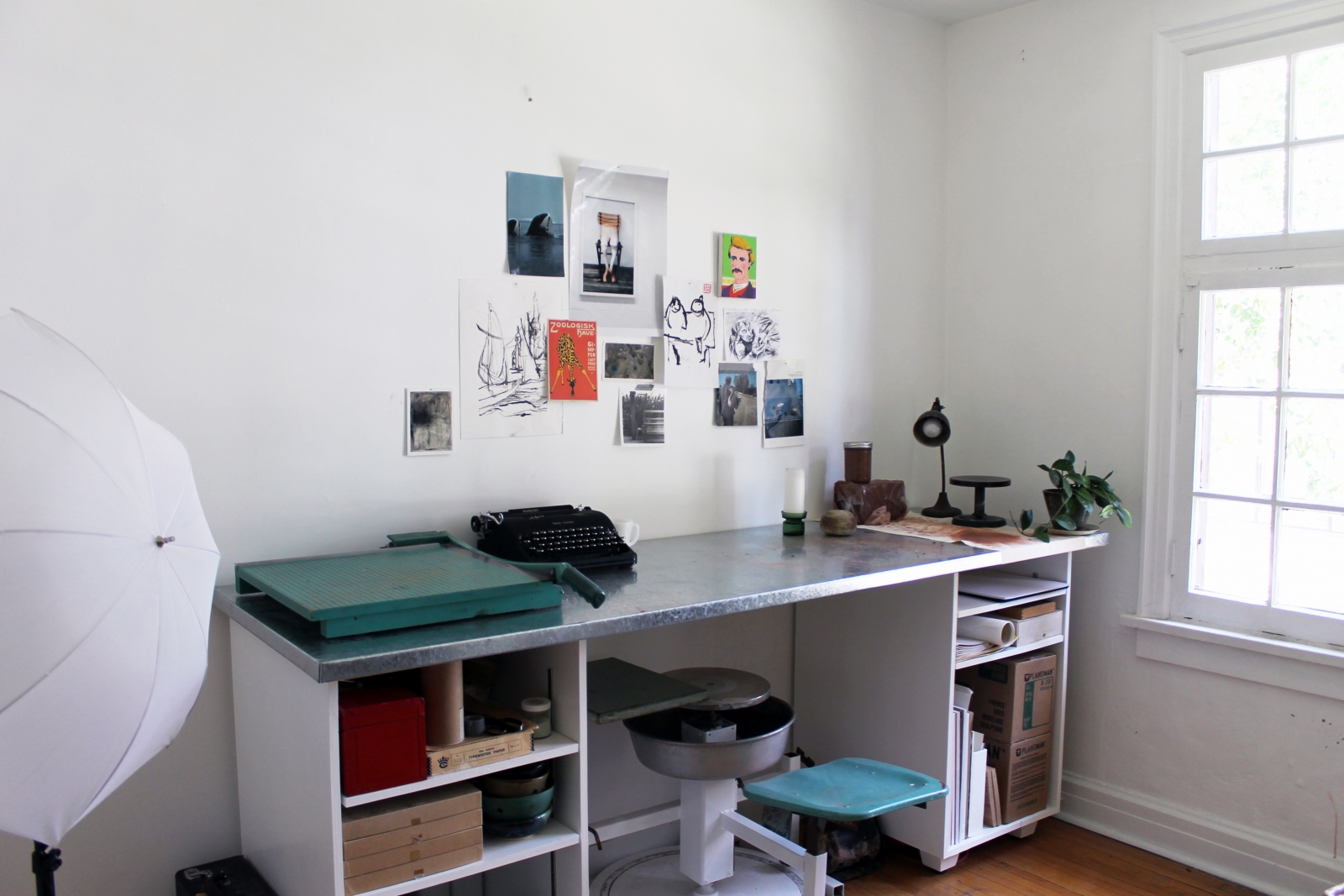 PHOTO BY KAIT KUCY
The sun-filled studio – a converted bedroom – is the perfect place for the two best friends to work and collaborate.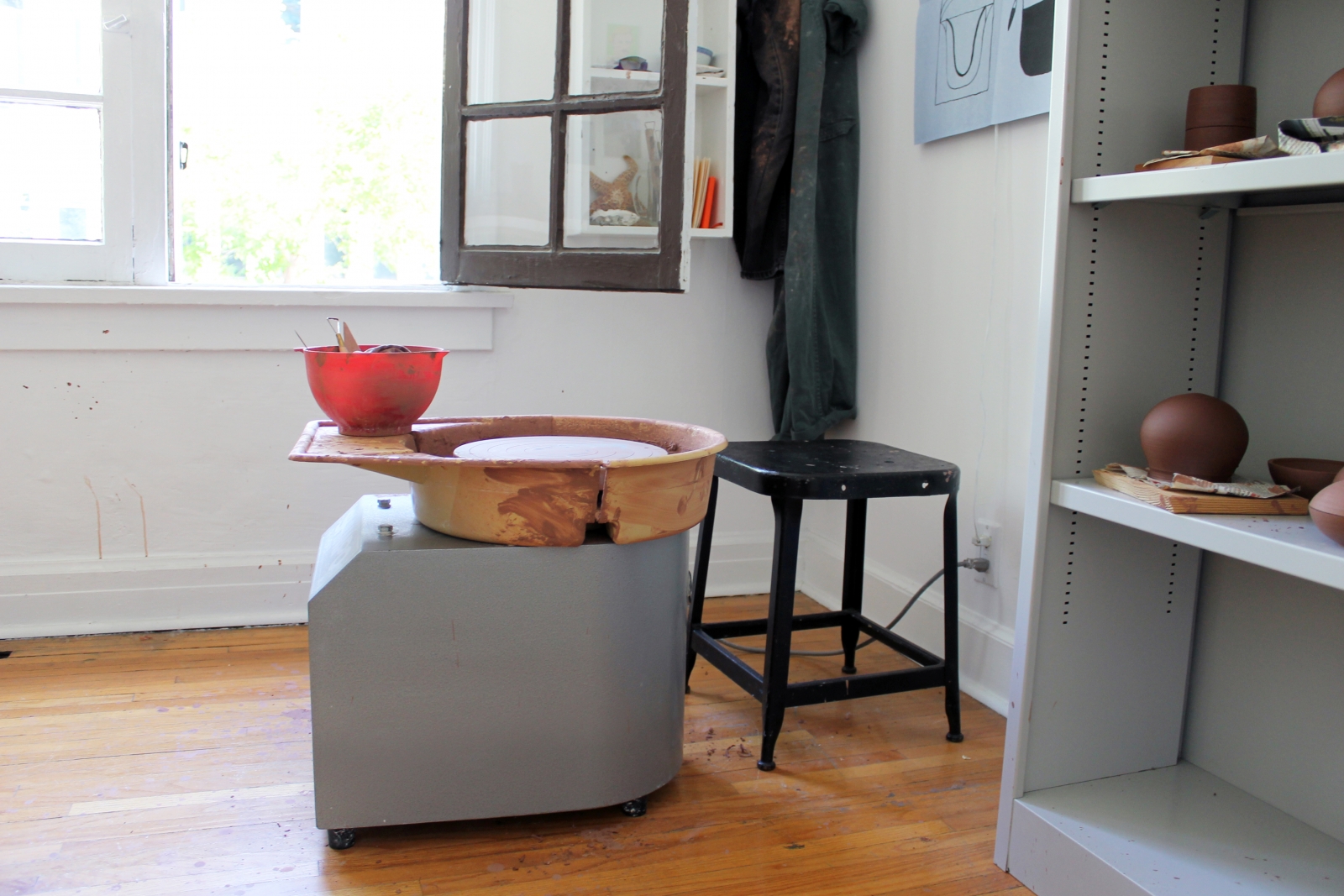 PHOTO BY KAIT KUCY
Having an in-house studio has changed Husted's ceramics practice into something easily accessible and endlessly inspiring. She is so dedicated to the practice that she gave up her bedroom to create the space.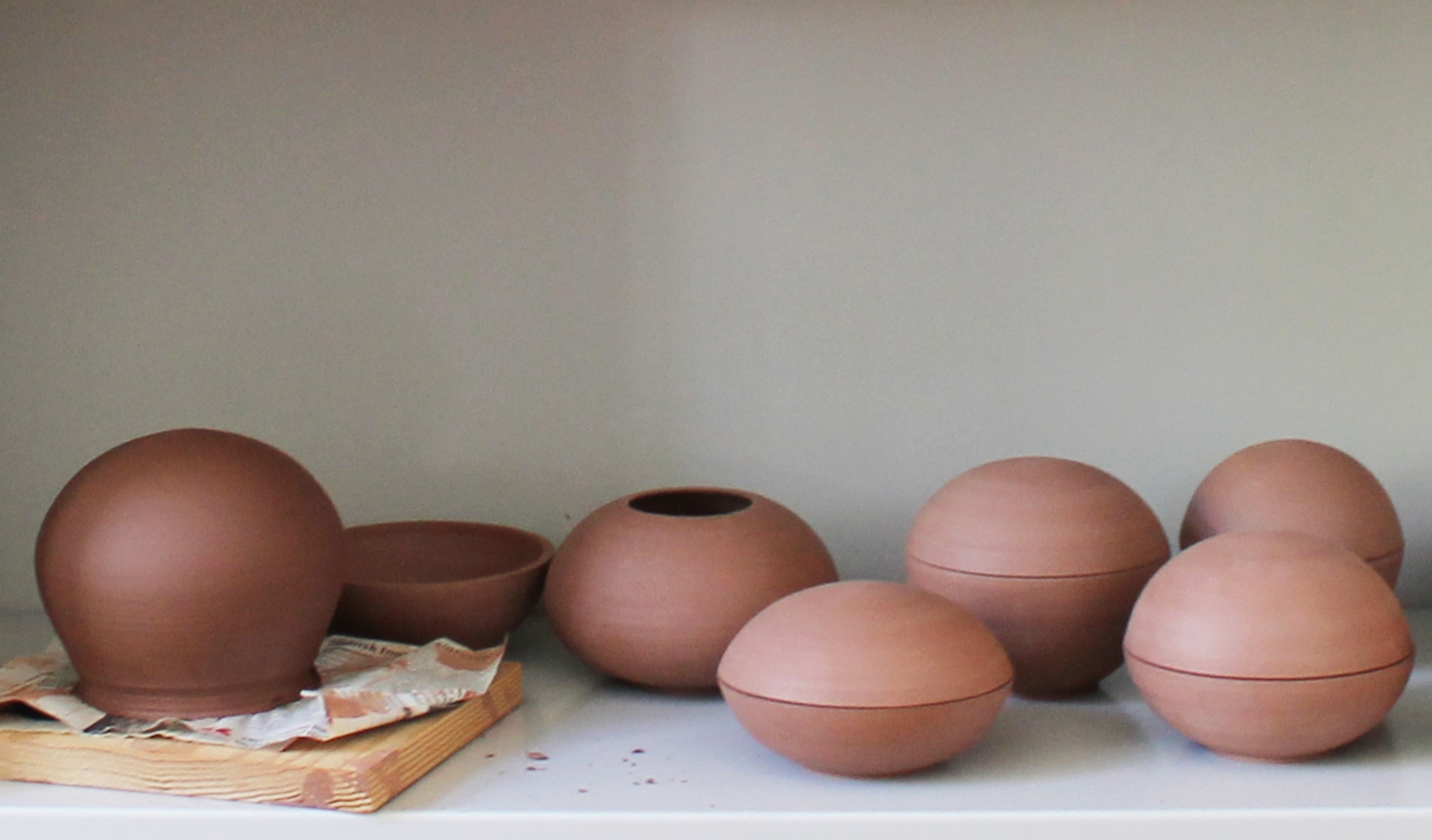 PHOTO BY KAIT KUCY
Some of Husted's in-progress ceramics drying in the studio.