As general manager of Vine Arts' 17th Avenue S.W. location, Aaron Prasad is right at home in the Calgary spirits scene, which he says is populated with passionate people who are always looking to experience new things. "I love cognac, and in a lot of the world cognac has a stigma attached to it that's it only for old men, but out here people are open to learning and finding out what it has to offer," Prasad says.
While he's obviously well versed in all things alcohol, Prasad also has a background in fashion, having worked as a stylist with Forman's Fashion Group, as well as a manager at Tristan and Aldo. A love of hunting, Italian leatherwork, video games and other eclectic passions combine to make him as complex as any well-crafted cocktail.
How much do you have to drink for work?
I'd say a beer a day in order to cleanse the palate and either a glass of wine or an ounce and a half of spirits per day. To be fair, a lot of it is just tasting. We spit a lot of booze so we're not wasted all the time, otherwise days at the shop would be a real mess.
Before you got into the spirits industry, you worked in fashion. How did that come about?
I stumbled into fashion by accident. I was walking by Forman's Fashion Group when they first opened 12 years ago, saw a "now hiring" sign, got the job, and was like, "Oh s**t, what does this mean?" I always had a thing for how I presented myself, but didn't really know how that fit into fashion.
How has your style evolved?
I went from wearing things that were super loud – black suits with teal pinstripes and big- floral-print shirts – and it slowly evolved into something that is a little more country fashion. I have a ton of cowboy boots and big belt buckles and that kind of stuff.
What attracts you to country fashion?
Even when I was living and growing up in Vancouver, we went to the Chilliwack rodeo. I love doing that stuff. I love being around horses and being out in the country. I do hunt, so having the guns out in the country is a big part of who I am. So I think I want my style and fashion to represent that a bit.
What is Calgary fashion to you?
The typical fashion downtown is maybe not the best for fit, but at least people are trying to be dressy-casual. I think one of the greatest things about this city is the cowboy culture. I think it grounds the city.
How does cowboy culture ground the city?
Every time you put on a pair of cowboy boots or a big belt buckle you're kind of forced to remember where that comes from, so you end up with this great small-town feel.
What's your work wardrobe like?
It depends on the day. My office and stock days tend to be jeans and a T-shirt with comfortable shoes. My sales days on the floor, I wear my nicer jeans and something over top of a T-shirt. I love wearing brand swag because some of it is legit cool.
What events do you dress up for?
The big one for me is Carnival Cocktails, [Vine Arts owner] Jesse Willis' charity event in May. I love taking that kind of circus theme and going all out. It's one of the only times I can wear my really nice San Fran top hat.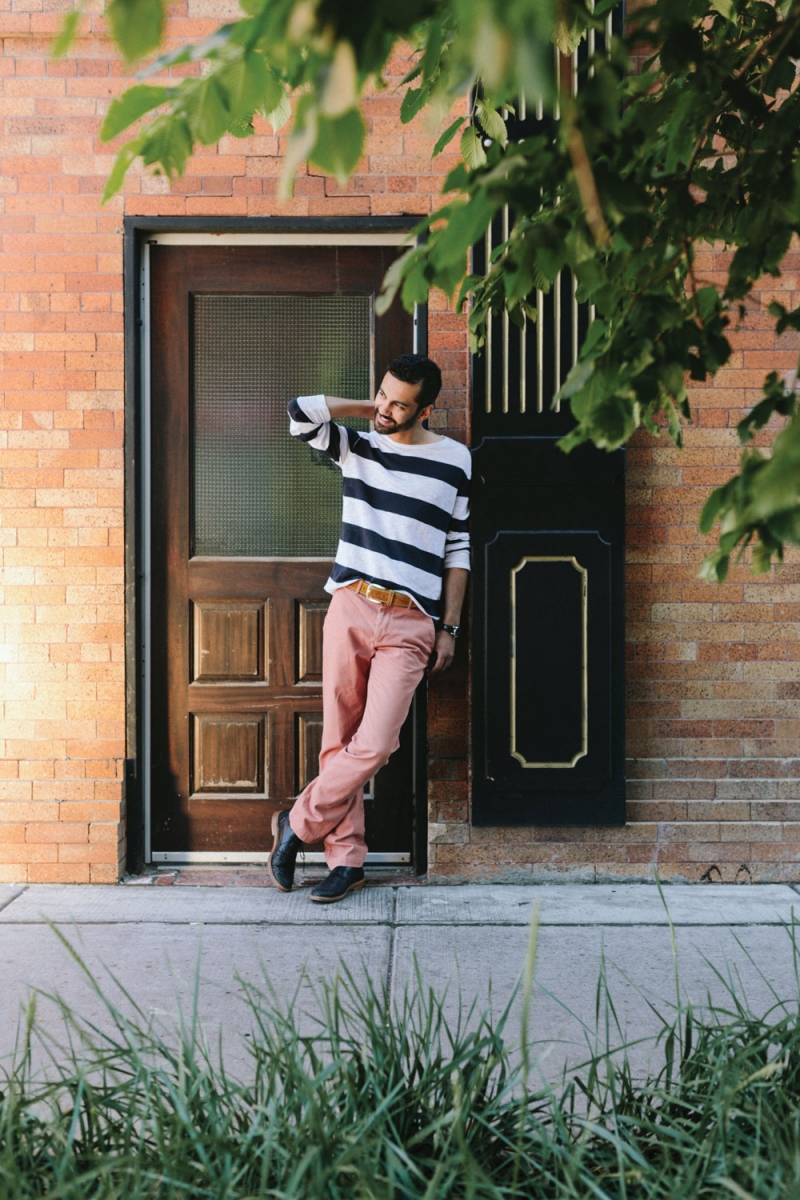 What are your favourite hot spots around Calgary?
I love eating at Ten Foot Henry. Native Tongues for the food and the crowd scene. Pigeonhole is really great. Royale has half-priced magnums on Sunday – you can't go wrong with that.
Where do you like to go for drinks?
There are quite a few places where I love to drink – Proof, Milk Tiger, Ricardo's, Bourbon Room is pretty solid, Royale is really good.
Any tips on how to order?
I love sitting at the wood and telling the bartenders to go nuts. Getting bartenders to make you what they're interested in is a great way to get the best drinks possible.
Where do you like to shop in Calgary?
If you shop at stores like Understudy and LESS17 then you're going to get stuff that isn't anywhere else. They only bring in a few of each item and when they're gone, they're gone.
What's the MVP of your wardrobe?
I have a pair of shoes by Swear with Keith Haring's iconic band outline on them. That is my one thing that I love wearing as much as I can.
What was the last thing that you bought?
A pair of New Balance runners from Understudy. No tongue, pink up the middle, black and grey.
Is there a specific piece that you pine for?
A one-button, shawl-collar Tom Ford tuxedo. Price is a big part of it, but I also have two other tuxes in my wardrobe so having a third – do I really need it?
What was your favourite outfit growing up?
From the time that I was about 10 until I was 19, I almost exclusively wore tracksuits. I didn't even own a pair of jeans.
If you were a cocktail, what would you be?
I would be a boulevardier. It's equal parts bourbon, Campari and sweet vermouth. Bourbon is big, brash, bold and sweet and really simple. Campari is exactly the opposite. It's fiery and red, really bitter, high acid, an unbelievable complexity of herbal components, but it's a bitterness that balances the sweet brash of the bourbon. Sweet vermouth, which is a beautiful aromatization of red wine, brings in another area of my life that I love, which is drinking wonderfully complex wines and things that have more subtlety to them.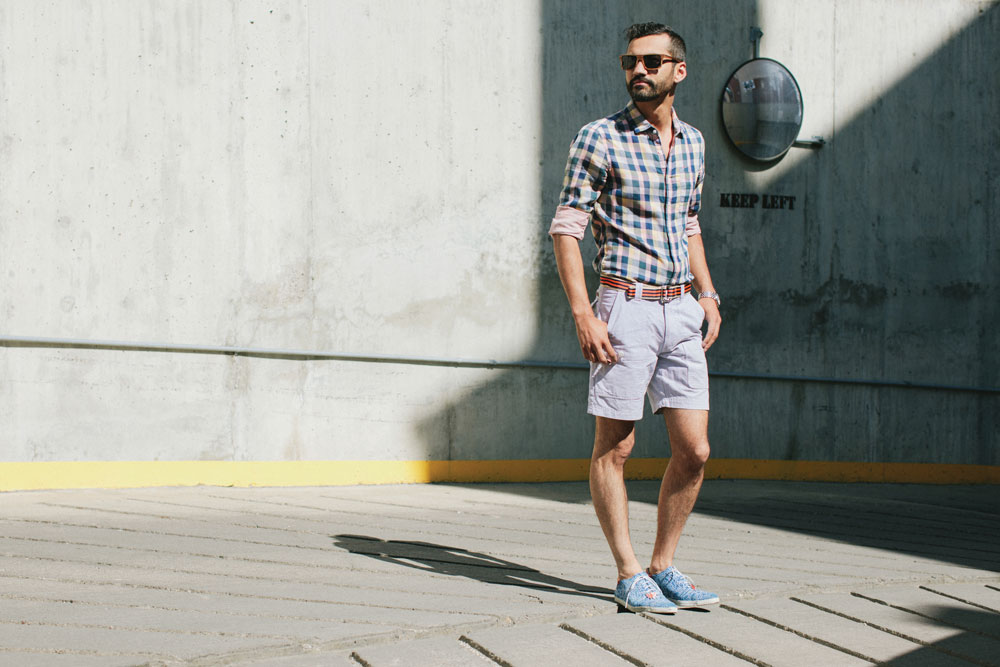 Lightning round with Aaron Prasad
What do you do?
I am a spirits pro at Vine Arts Wine and Spirits.
What did you think you'd do growing up?
I thought I was going to be an engineer.
What would you do if you didn't have to make a living at it?
Probably what I'm doing right now, just playing with booze and drinking it.
Radio station?
Currently playing?
Darius Rucker.
Favourite book growing up?
Lord of the Rings. The Two Towers was my favourite.
Red or white?
Red.
Denim or leather?
Denim.
Favourite breakfast?
Sausage and eggs.
Favourite fictional hero?
Jaina Proudmore.
Dream vacation?
A two-month drive around the Iberian Peninsula.
Pet peeve?
People pretending to know more than they do in any situation. It comes up a lot in wine, but it happens everywhere.
Favourite locally made edible treat?
Native Tongues' doughnuts or Village Ice Cream's coconut ice cream.
Guilty pleasure.
Cruising Highway 2 in my car listening to Usher.