As president and CEO of Canada's largest living-history museum, Alida Visbach's style is anything but dated. Visbach, who in 2005 moved from New Brunswick to Calgary to take on the challenge of revitalizing Heritage Park, balances an extensive collection of vintage and contemporary pieces to create a chic business wardrobe that aims to surprise.
In the decade or so that Visbach has been at the helm, she and her team have doubled the park's footprint and turned it into a year-round operation. And her hard work hasn't gone unnoticed. Visbach was honoured with the 2015 Alto Ambassador Award from Travel Alberta, and she also has a new piece to add to her already impressive wardrobe – the iconic Calgary White Hat Award from Tourism Calgary.
How would you describe your personal style?
I like the quality and durability of vintage clothing, which sort of suits my career choice because I've been in the museum business for the last 30 years or so. So I guess my style would be eclectic. I know a lot of people say that, but I can't say that I emulate anyone in particular. I just have my own whims and my own moods, and that's what I react to.
How much of your wardrobe is vintage?
I'd say, if I include jewellery and other pieces and accessories, probably up to 30 per cent of my wardrobe is vintage.
Are there any particular accessories that you're drawn to?
I'm particularly fond of jewellery. I have a fairly interesting collection of vintage pieces I inherited from family members. I'm Dutch by background, so a fair amount of the pieces I have are Dutch. From a personal perspective, I like a lot of custom-made jewellery. There's a local designer here at The Goldsmiths by the name of Tina, and she makes the most amazing stuff.
What do you wear to work?
I have a fairly extensive business wardrobe, but I like to throw in a few odd pieces with that. I don't think you'd call me a button-down-suit kind of gal. I do notice the occasional raised eyebrow when I walk into the office. But I kind of like that. I like to have that surprise element. In my role I attend a lot of fundraisers, donor events, corporate events and oftentimes they're black-tie, so I have a pretty extensive evening gown collection, too.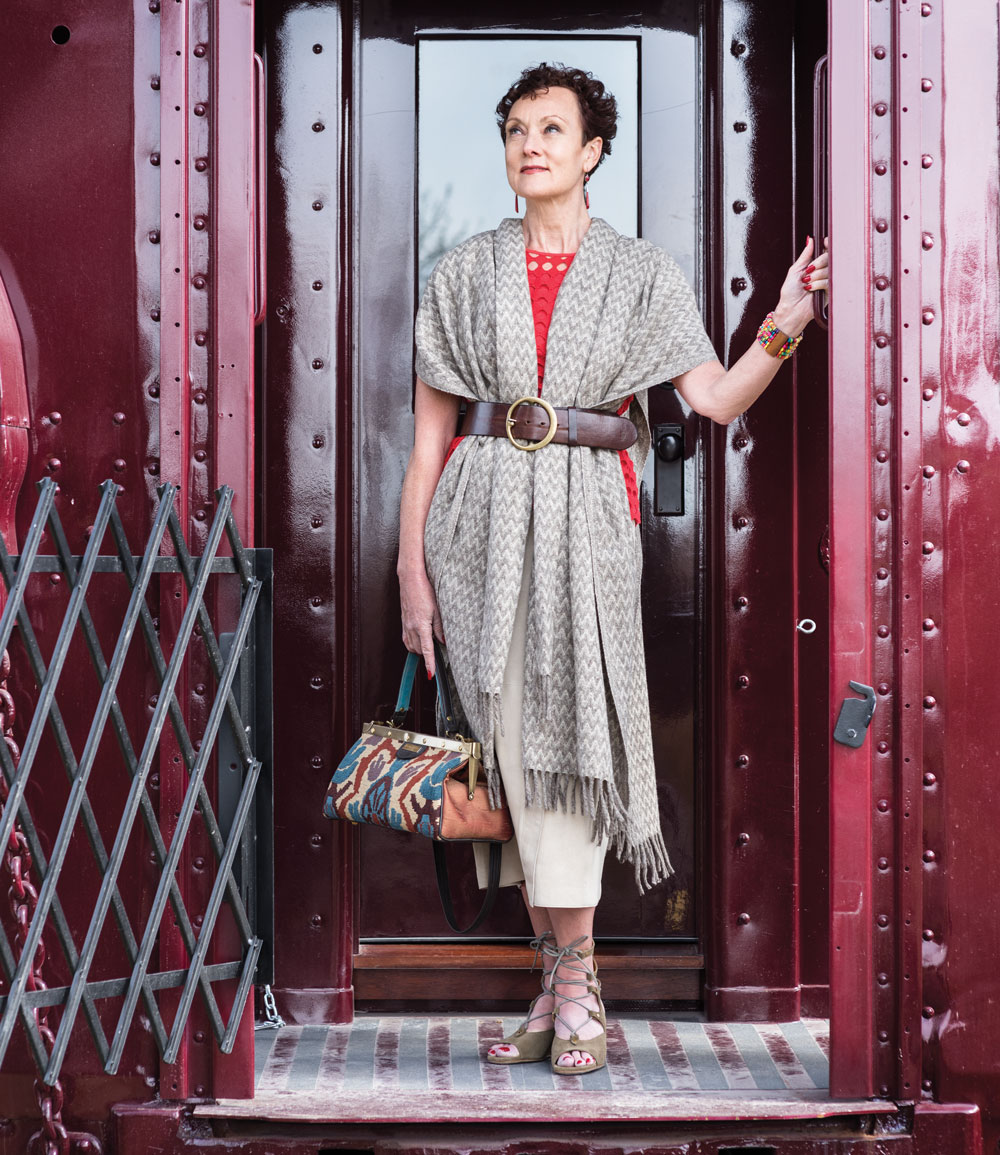 Poncho was purchased in Cabo, Mexico; Tory Burch blouse and Chlo shoes, both from Nordstrom; Ralph Lauren belt; Karen Wilson Hand Bags purse from Corner Emporium at Heritage Park; earrings were purchased in Thailand.
What Calgary events are you looking forward to attending?
One of our biggest events, which happens in mid-September, is Shindig, our signature fundraiser. It's a Western event, but it is Sunday-best Western.
Do you have a specific outfit planned for Shindig?
This is one of my challenges, because I've been here for 10 years, and you don't want to be seen in the same thing. I try to change things up. I like to buy some new pieces that I add to an existing piece.
You were recently given the Calgary White Hat Award. Will you be wearing that to Shindig?
I might be. That's probably a good suggestion.
What's your wardrobe MVP?
I just recently bought a piece that is not terribly valuable, but it's really unique. I bought it in Cabo over Christmas. It's an alpaca and wool poncho. I oftentimes set myself on shopping quests. It drives my husband absolutely nuts, but, when we go away somewhere, I will have something in my mind that I really want to get, and it usually doesn't make any sense in the place that I'm going – like a wool poncho in Cabo – but I need a quest. So I found it, and it's absolutely fabulous and I'm really excited about it.
Is there a piece you pine for?
I don't usually pine for anything unless I see it, and then I usually buy it.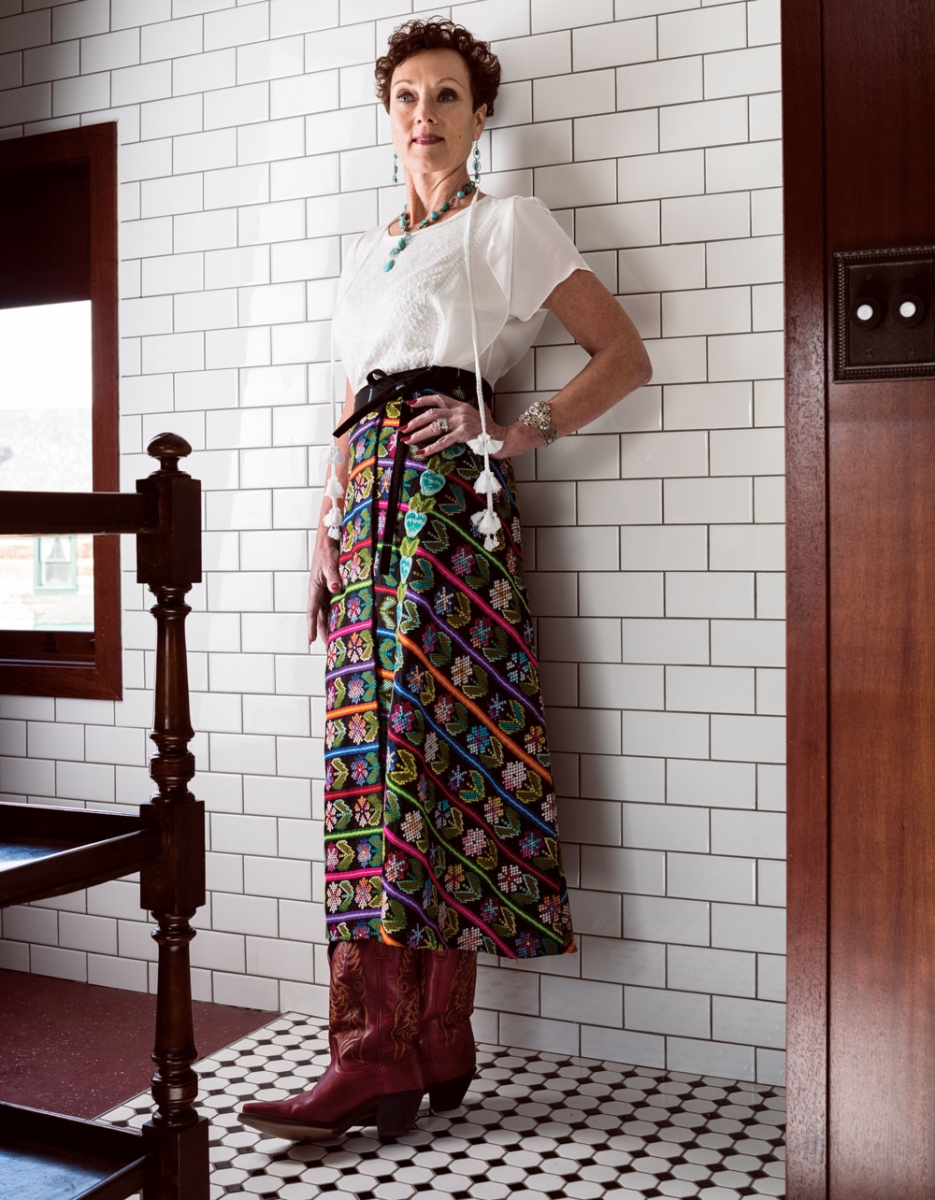 Alice and Olivia blouse from Nordstrom; artisan Guatemalan skirt was purchased at Lake Atitlan, Guatemala; boots from Lammle's; turquoise necklace, private collection; turquoise earrings from Montana Silversmiths; Arcane Angel by Marina Smith from Corner Emporium at Heritage Park.
If you had to hazard a guess, how many pieces of clothing do you own?
Pieces of clothing would be impossible. But shoes and boots? I've purged recently, so I probably have about 100 pairs.
What are your favourite shoes?
My collection of Donald Pliner boots and booties. I'm up to six pairs now. They're very distinctive with that little silver patch on the back of the heel.
Do you have a separate closet for your shoes?
I have several. They're [arranged] by season and they're in clear plastic boxes so I can see them all, and they're colour-coded. My husband doesn't have any closets. We have a four-bedroom house and all the closets are mine and he uses the doorknobs – which is not quite true, but it's almost true.
How does your husband find your clothing obsession?
He's getting used to it. Except for when the new closet he built collapsed because I was using it for my summer wardrobe. I was away when it collapsed and he was not pleased because he had to deal with it afterwards. And when he started sorting through it all, he found clothing that still had all the tags on it. I was busted. Big-time.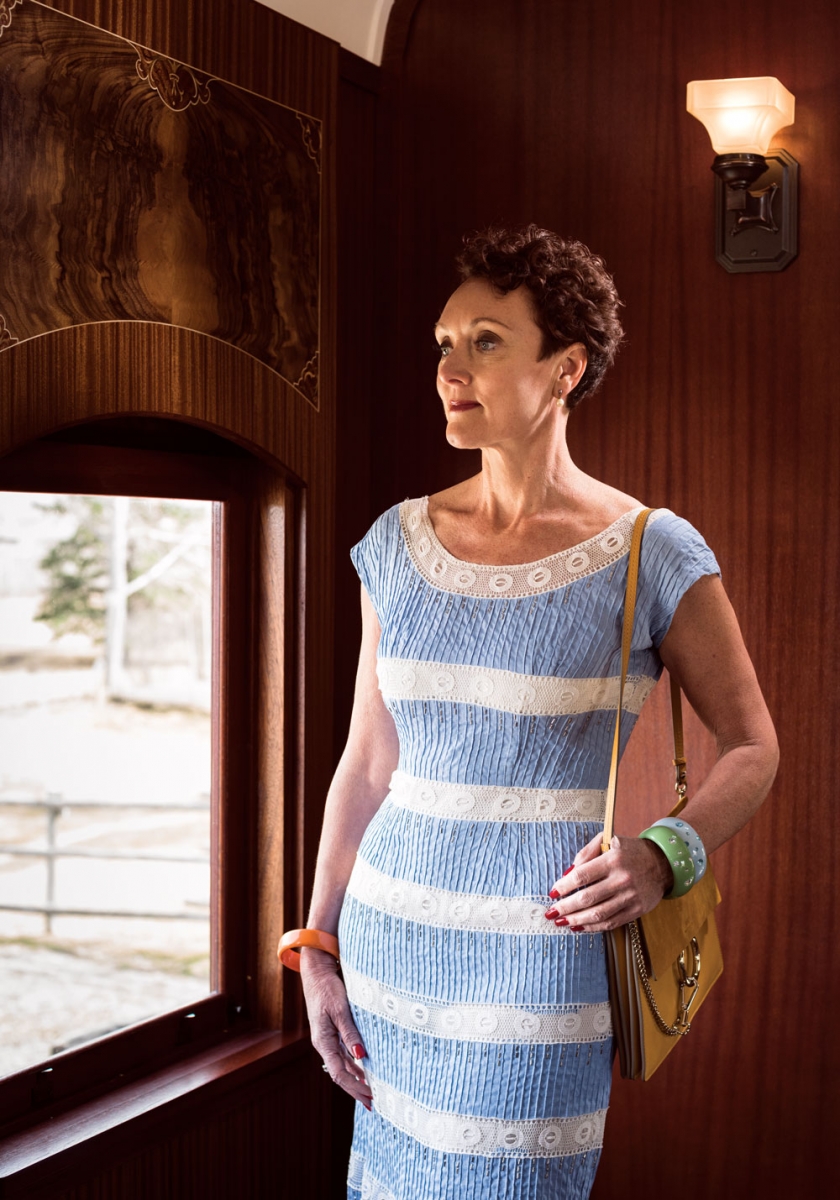 Vintage dress and Bakelite bangles; Chlo purse from Nordstrom; earrings by Halifax-based jeweller Nadia Moore.
---
Lightning Round
What did you think you'd do when you were growing up?
I actually went to university to be a schoolteacher, majoring in fine arts. Ultimately, I wanted to teach elementary school kids how to fingerpaint – but when I did my practicum, it cured me of that goal.
What would you do if you didn't have to make a living at it?
I'd travel around the world.
Where is your dream vacation?
Bora Bora, to start.
What is your pet peeve?
I hate people that don't pull up to a stop light. They leave several car lengths, and you feel like you're hanging out in the wind.
Favourite cocktail?
Kir royale.
What is your favourite locally made edible treat?
I like Simple Simon pies – the savoury ones.
What is your go-to midnight snack?
I don't stay up until midnight unless I'm at a major event, and then it's probably chocolate.
What book are you reading?
I am slogging through Barney's Version by Mordecai Richler, just because I feel like I should be reading it. But I like to intersperse that with fluff every once in a while. And I always have a business book on the go.
What was your favourite childhood book?
The Christmas Pony by Dorothy McRae, a writer from Nova Scotia. I still read it every year at Christmas.
Booth or table?
If I'm with my husband, a booth. If I'm with a client, a table.
If you could be born in any era, which one would you choose?
I like where I am right now.