The men's-style-meets-custom-motorcycle shop Ill-Fated Kustoms + Tank is as distinctive as its owners, Peter Feenstra and Kenny Kwan. Vintage jewellery and antique collectibles share shelves with Italian motorbike helmets and imported men's fashion magazines. Panelled windows separate the retail space from the garage, where lifts support custom bikes awaiting repair and completion.
The shop represents the coming together of like-minded individuals. When Feenstra was looking for a storefront for his company, Tank Designs, the complementary nature of Kwan's Ill-Fated Kustoms made it a natural fit with which to share space, and Ill-Fated Kustoms + Tank (IFK-Tank) came to be.
Feenstra and Kwan are both bikers, a fact they wear on their fingers. The pair sport California-made Repop-MFG rings, a brand that recreates the large knuckle-dusters popular with bikers in the 1940s. "The rings are vintage-biker influenced, made in the same way, with peso silver or brass," says Feenstra. "You used to buy them for five dollars in Mexico. Now, an authentic one is three- or four-hundred dollars."
Though they each pay homage to biking's past, their personal styles draw inspiration from a variety of eras. "We're kind of like the bikes we build," says Kwan. "We see something in our heads that will look good, we pick our parts and we fabricate the way we want it to look. We kind of build our outfits; you could say it's a custom look."
How would you describe your personal style?
Kenny Kwan: The look of the '50s really caught my eye, so I take styling cues from that. Greaser style, some punk-rock influence and some Western dictates my style.
Peter Feenstra: I like stuff that's just a little off. That's why I like Vivienne Westwood. Two of my favourite shirts are high-collared with three buttons on the collar. Even my boots – I'm a Chelsea boot kind of guy, but I'll go for something longer, narrower or something that's just a little different.
How would you describe each other's style?
KK: Pete wears a lot of stuff that I've never seen, some higher-end stuff, too. He's got more of a Western touch. It's not a hipster look, but he's got his look for sure.
PF: I think [Kenny's] style is similar to my style. We like our tailored jeans and shirts. We both like the same stuff, we're all about the jewellery. I'd say Kenny has a similar style to mine, only younger.
How would you describe the aesthetic of your store?
KK: When customers walk in, they go, "Oh, we didn't expect this." Your average bike shop doesn't look like this. Now that we've joined forces, we've got a lot of joint inventory, so we fill the store up with different stuff.
PF: I collect a lot of this stuff. I'm a Sunday-morning flea marketer. I buy every Sunday morning and add it to the collection. I guess that's why the shop is the way it is. Even the security bars: we wanted an old look, handcrafted in our style, so Kenny made them and I made the door.
What is your favourite item in the store?
PF: The Woolrich utility vest – love that thing. It's kind of like a girdle; keeps me all tucked in.
KK: Our Ill-Fated hoodies, for sure. I wear [mine] on a daily basis.
Who are your style icons?
PF: I take styling and life cues from Jeff Bridges because he's been married since 1979, same wife, three kids. Maybe Jeff's not [stylish] everyday, but when he's wearing a suit on the red carpet he's pretty hot, and I'm thinking, "Wow, I want to look like that when I'm 60-something years old."
KK: I can't say anyone in particular, but maybe a-few-years-back Johnny Cash, with his full-on Western suits and style. He was pretty sharp.
What's your wardrobe's MVP?
KK: I'd say my Levi's 510s for sure, and Levi's brand in general, their denim shirts and jackets. I wear my black one pretty often, even when it's minus 30C.
PF: My Dsquared2 denim shirt, Western style with the snaps. Love that thing, wear it to death.
Where do you like to shop around Calgary?
PF: Holt Renfrew and Understudy; they're on my walk route. [My wife Sally and I] will go from our house in Mount Royal, walk to the coffee shop, walk over to Understudy, then to Holt Renfrew. It's occasionally an expensive walk.
KK: North American Quality Purveyors. I mainly go there for shirts, but they have a lot of stuff that suits me. And Gravitypope for footwear.
How can people get involved in Calgary motorcycle culture?
PF: They can come to bike nights on Wednesdays, even if they don't have a bike. We hang out here for a bit, talk shop and usually go for a short ride somewhere, to a bar or a restaurant.
KK: It's a great experience of bike culture and community.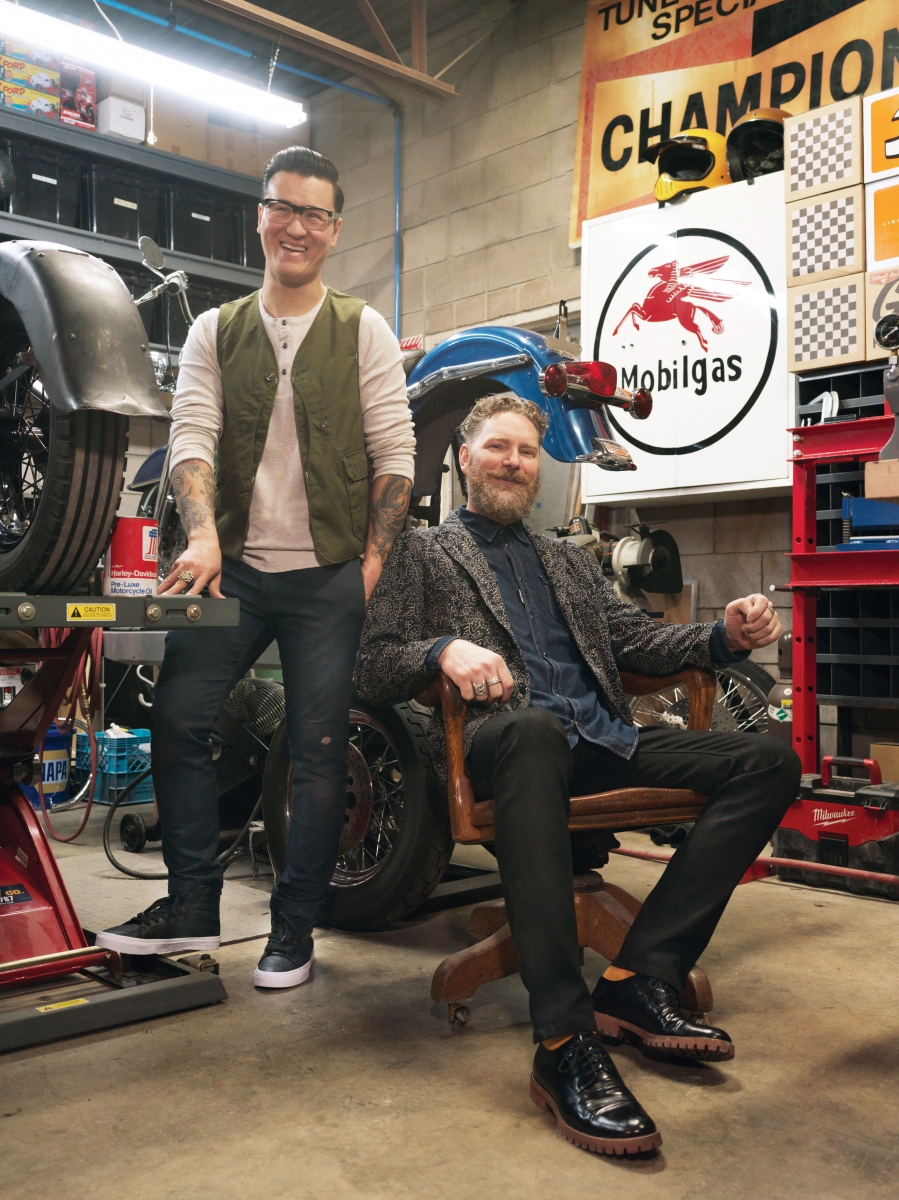 (On Kenny, left) Wings + Horns shirt from LESS17; Engineered Garments vest from Understudy; slim-fit pants from Dickies; boots from G-Star.
(On Peter) Engineered Garments jacket from Understudy; shirt from DSquared2 in London; jeans from Double RL in Paris; Dries Van Noten shoes from Gravitypope.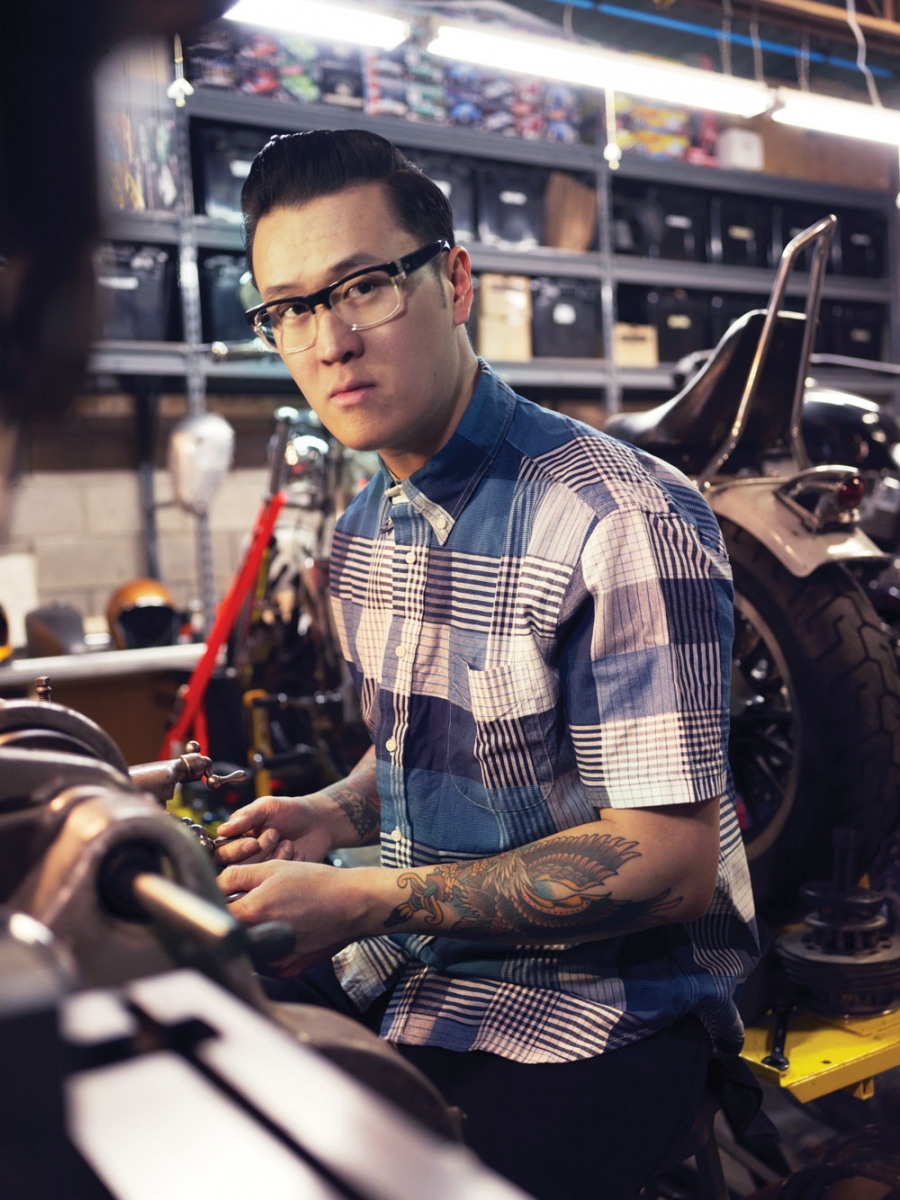 Vintage Gitman shirt from LESS17; 511 jeans from Levi's.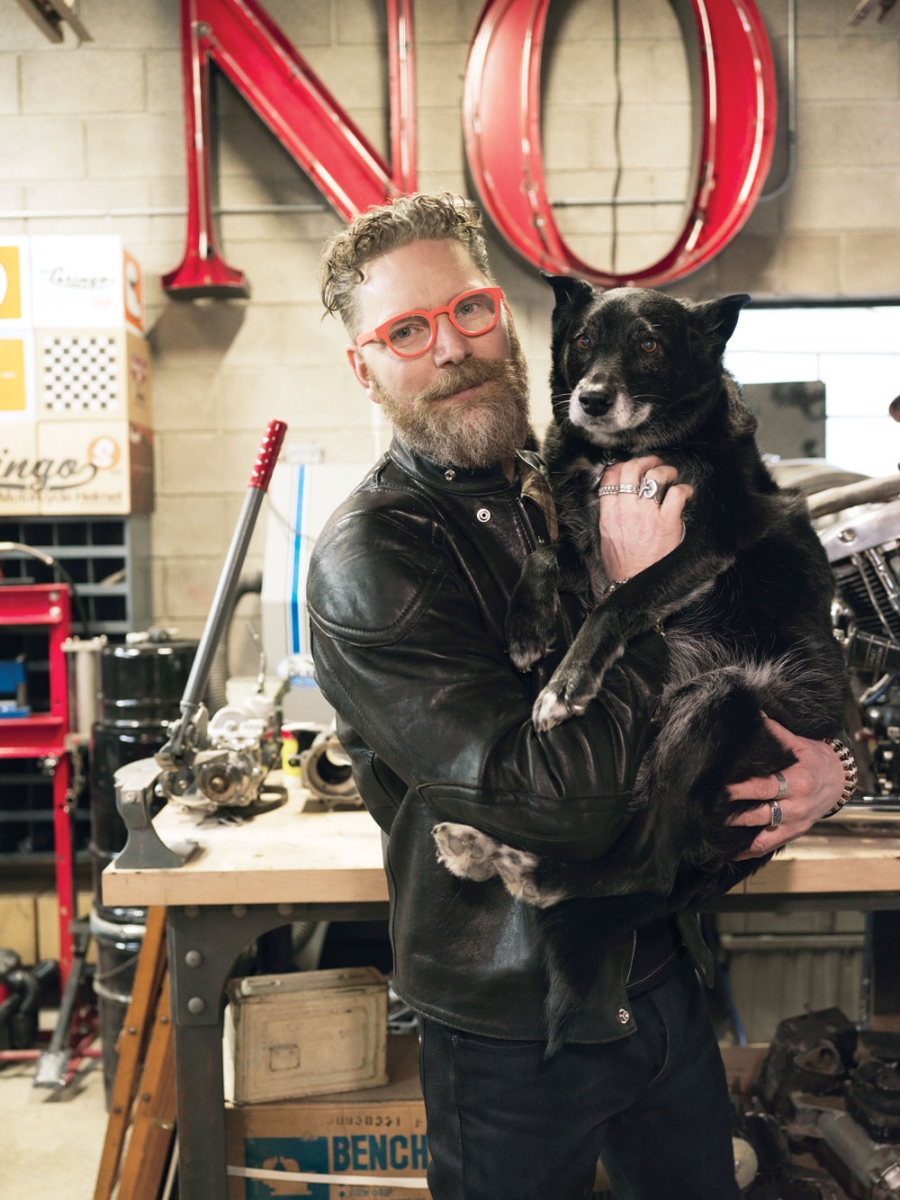 Leather jacket from Lewis Leathers London; Belstaff jeans from Holt Renfrew. Feenstra is with Peter the dog.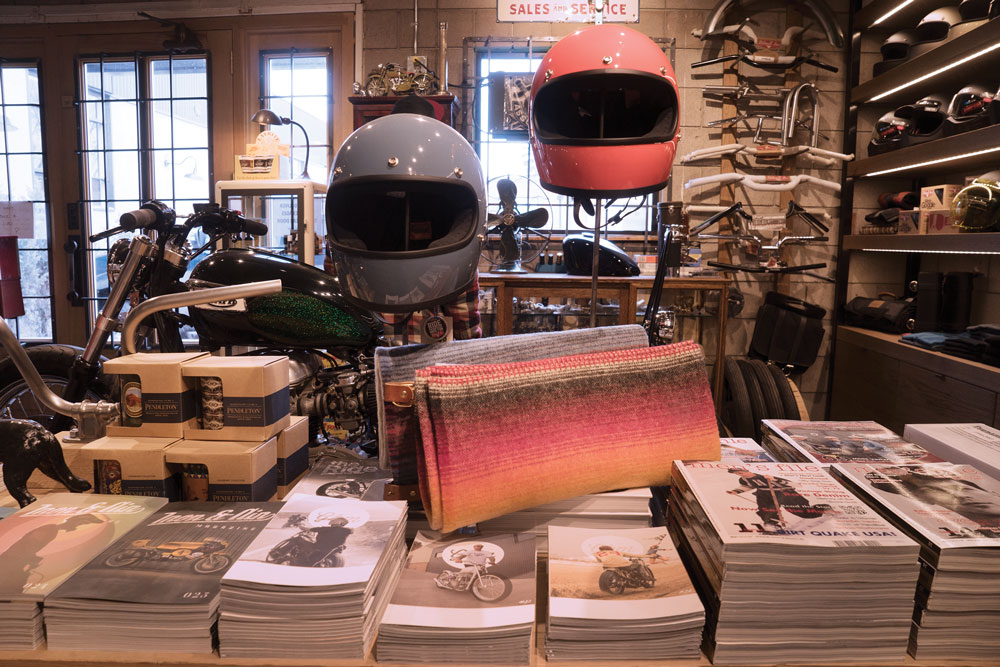 The eclectic interior of IFK-Tank.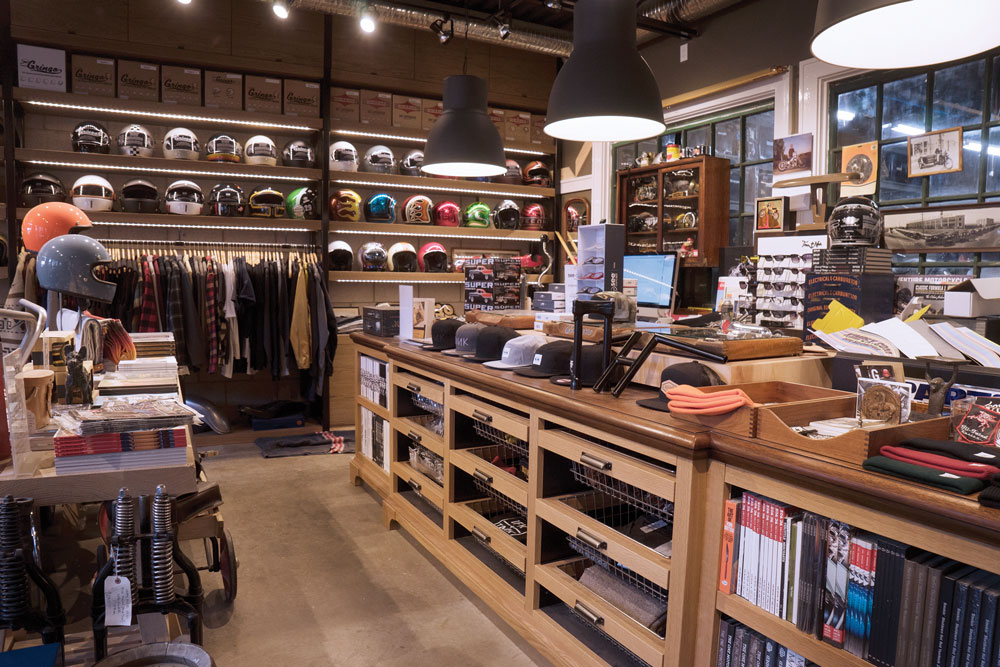 The eclectic interior of IFK-Tank.
---
The lightning round with Peter Feenstra and Kenny Kwan
What do you do?
KK: I was an engineer until 2015, but I'm fully committed now to using that skillset for what we do at Ill-Fated Kustoms + Tank.
PF: I'm a furniture maker who comes into the shop when I can.
What did you want to do growing up?
KK: I was going to follow in my dad's footsteps and be a carpenter. If I could have any job, it would be a Formula One driver.
PF: I was going to be a truck driver. My father was a truck driver, my uncles were truck drivers and my best friend in high school's dad owned a trucking company.
What are you listening to these days?
KK: Right now, I'm really into Shakey Graves.
PF: And I'm really into Alabama Shakes.
What radio station is your car set to?
KK: Auxiliary, so that I can listen to Shakey Graves.
PF: CKUA or CJSW, depends on the program.
What are you reading now?
KK: Probably a motorcycle manual. That's the only book I've opened in ages. I haven't had much time to read.
PF: I'm reading the Bible – I'm in Old Testament right now.
What was your favourite read growing up?
KK: The Goosebumps books. I liked the covers mostly, because they were textured and it looked cool, but I'd get into the stories.
PF: CARtoons magazine. It was a comic book on cars that was all about hot rods, drag racing and motorcycles.
What's your guilty pleasure?
KK: 7-Eleven hot dogs. 7-Eleven in particular because they have the chili and nacho cheese. It's a great idea at first, but 20 minutes later …
PF: Bread and cheese – two things I'm trying to cut down on – but I can't stay away from Sidewalk Citizen.
What's your favourite locally made edible treat?
PF: Village Ice Cream; the Phil & Sebastian coffee flavour.
KK: Mine's the Two Hills Earl Grey [from Village Ice Cream]. It's subtle, but it has that distinct flavour of the tea and just the right amount of sweetness.
Biggest pet peeves?
KK: Inconsiderate people. Ignorant, arrogant people really dig at me.
PF: People paying debit at a coffee shop. This morning, I'm behind three girls that are together, and each one pays individually for her coffee. It's like, "Really?"
What's your drink of choice?
PF: Bourbon sour or a nice IPA.
KK: The barreled Manhattan from Highwood Distillers in High River.
What's your greatest extravagance?
PF: Travel.
KK: Completing custom bike builds. Fabricating everything, seeing the final product, and riding it. That's the greatest part.