Building a Highly Edited Capsule Wardrobe
Read how Chelsea Watson edited her wardrobe to just 40 perfect items.
By Christina Frangou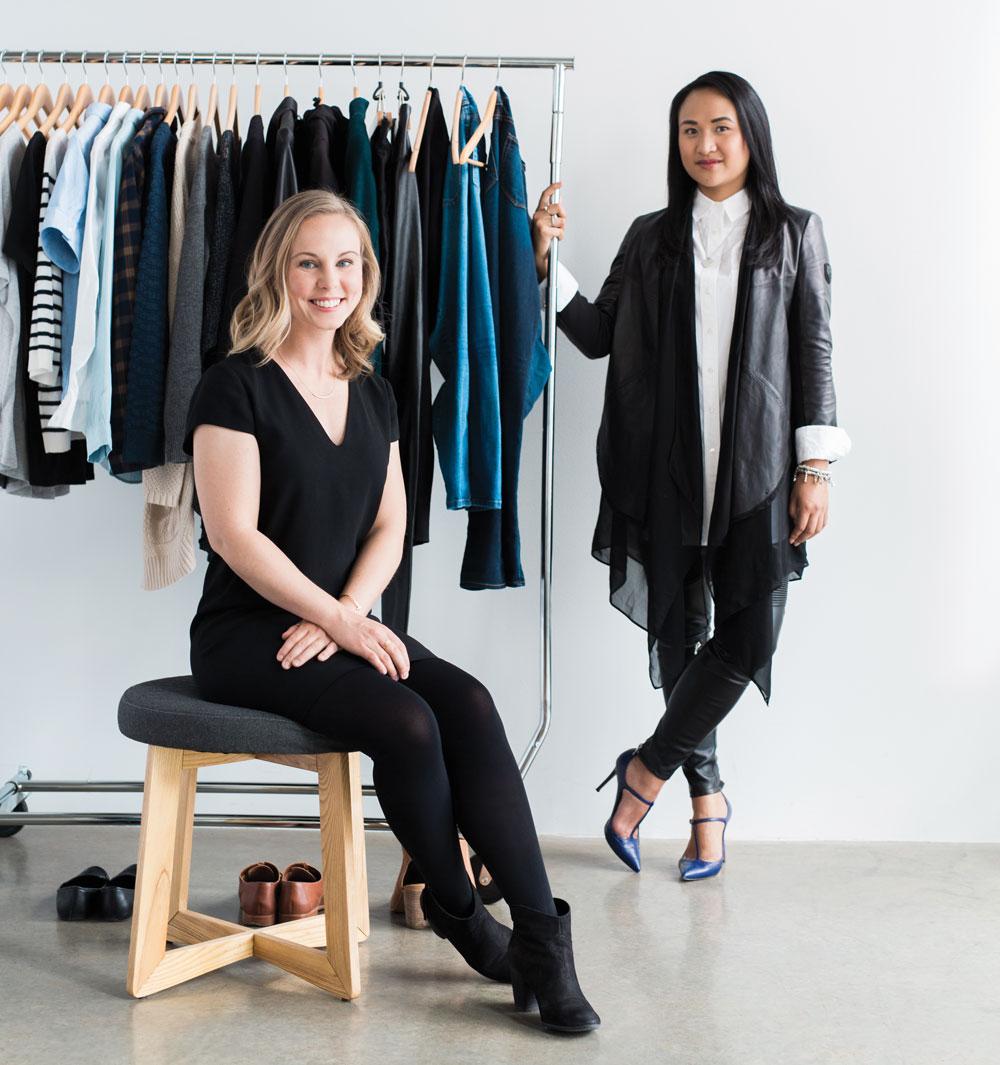 Photography BY Tyler Stalman ; Makeup BY Teslin Ward
Minimal wardrobe enthusiast Chelsea Watson (left) and Calgary-based stylist Hazel Anderson.
Let's have a peek into Chelsea Watson's closet.
Behind the mirrored doors, on evenly spaced wooden hangers, hang most of the 40-odd pieces of her carefully curated capsule wardrobe – a collection predominated by understated pieces like unstructured T-shirts, grey sweaters, skinny jeans and a requisite LBD (little black dress).
"It did not look like this a few months ago," admits the 31-year-old local UX (user experience) designer at Critical Mass as she adjusts the hangers.
"I went out and bought wooden hangers only. This is it. I used to have white plastic hangers and you couldn't fit another one into the closet. It was so packed full that I was doubling up things on them."
Last spring, after she carted an overstuffed suitcase of clothes to a friend's place to get through five days of house-sitting, Watson decided she'd had enough of her ever-expanding wardrobe. She wanted a style that was effortless, yet elegant, one that would end her guilt-inducing splurges at the mall and her morning angst over what to wear.
"I went to Pinterest, typed 'minimalist fashion' and there it was, a capsule wardrobe," she says.
The capsule wardrobe is a growing trend in fashion circles that puts the emphasis on owning less rather than more, and on quality above quantity. Of course, minimalism in fashion is nothing new. It has emerged in various incarnations over the past century, beginning with Coco Chanel and her revolutionary take on women's clothing that renounced corsets in favour of sleek, sophisticated dresses and suits. Later came Halston's sexy backless gowns of the disco era, the androgynous aesthetic of Japanese designers in the 1980s and Calvin Klein's famously streamlined, achromatic silhouettes of the 1990s.
But previous iterations of minimalism were largely aesthetic. New minimalism combines visual and philosophical elements. Born out of the economic crisis of late 2008, this movement formed as a kind of backlash to the "person with the most toys wins" ethos – toys, in this case, being Louboutins and embellished handbags. A new minimalism was born, celebrating a new subdued sartorial approach.
New minimalism is not simply about owning a pair of great-fitting jeans and a white button-up. Environmental and ethical concerns gave further credence to the philosophy that quality ought to trump quantity, particularly after the 2013 collapse of the Rana Plaza in Bangladesh killed more than 1,100 people working in the garment industry. The tragedy raised awareness of the humanitarian cost of fast fashion. The next year, the Wall Street Journal, in its coverage of New York Fashion Week, wrote that a "buy less, but better" movement was afoot, with retailers like Cuyana and Everlane promoting well-edited collections, with more transparency about issues like sourcing and manufacturing.
Which brings us back to Watson and the cleaned-out closet in her Beltline apartment. 
Donna Karan popularized the term "capsule wardrobe" in 1985 when she launched her "Seven Easy Pieces" collection, consisting of interchangeable items in a neutral palette that could work in the day or evening. Today, the number of items in a capsule wardrobe varies – some advocates say the magic number is 33, or 37, or 40 – and the guidelines differ (should you include lingerie? Accessories? Workout clothes? Do you switch everything out seasonally?). But the end point is always the same: a closet restricted to a tightly edited collection of classic, versatile pieces.
Local stylist Hazel Anderson, who Avenue connected with Watson to put together her capsule wardrobe, says fashion designers have been dressing this way for years. "They create a whole bunch of amazing things," she says. "But, if you look at them in all the photos that are taken of designers, they are in the same thing – white T-shirt, black jeans. Black dress. White jeans, black blazer. Really, they look the same, all the time."
At 40 pieces, Watson's capsule wardrobe cut-off is "aggressive," says Anderson, but "not impossible."
"The challenge is to find pieces in the right fit that represents your style, and are as comfortable as you need them to be," she says.
When Anderson and Watson met to begin curating Watson's wardrobe, the stylist started with a series of questions about Watson's daily life and long-term goals: What do you do for a living? (UX designer.) Who are your style inspirations? (Emma Stone, Diane Kruger, Emma Watson.) How do you get to work? (Walk or bike.) Are you single? (Yes.) What is your budget? ($500, give or take.)
Watson explains she's motivated by a number of factors – aesthetic, practical, financial and ethical. "I turned 30 last year, and I wanted to move away from dressing like a student. I know what I feel good in and I would like everything to be like that," she says.
"I certainly am on a budget. Where I'm at professionally and financially doesn't necessarily reflect the pieces I'd like to be buying. I am trying to be more aware of where I'm shopping and where my clothes come from. Unfortunately, I'm not there yet. I'm hoping this capsule wardrobe will also help me with not buying throwaway fashion."
More and more, Anderson's clients say they want to trim down their closets. And they decide to keep pieces that are timeless, adaptable and high quality. For many, she points out, it's a decision motivated as much by stress as by style.
"If you look at the most successful people in the world, they wear the same thing," says Anderson. "Steve Jobs wore the same thing every day. Barack Obama wears the same thing every day. It takes the decision out of it."
It's not just men limiting themselves to a standard work outfit. In April, Matilda Kahl, art director at one of the leading creative agencies in New York, wrote an online essay for Harper's Bazaar in which she explained her decision to adopt a work uniform, a rotation of 15 white silk shirts and a few black trousers.
"The simple choice of wearing a work uniform has saved me countless wasted hours thinking, 'What the hell am I going to wear today?'" Kahl writes. "And in fact, these black trousers and white blouses have become an important daily reminder that, frankly, I'm in control."
Fashion has always reflected broader socioeconomic trends. The flirty, flapper dresses of the 1920s were inspired by the decadence and joviality of the postwar period; shapeless maxi dresses and ethnic prints matched the anti-establishment attitude driving the counterculture of the 1960s. So, too, the new minimalism in fashion speaks to broader value changes taking place in Calgary and other cities, says Lara Presber, a local architect and fashion designer.
"There's a different mentality in Calgary now," says Presber. "Even in office design, we're taking a whole bunch of closed office designs and moving them toward an open office plan. People place less priority on real estate than they used to."
More Calgarians are trading the suburbs for the inner city. In exchange, they're giving up square footage and walk-in closets for shorter commutes and smarter design. Local developers in Kensington and East Village are building condos marketed to young, urban professionals that start in size at 350 square feet, leaving very little space for extraneous clutter.
"If people have smaller closets in their homes, that certainly affects what they buy," says Presber.
In her own circles, she's noticed people are more conscientious about what they are buying, where it comes from, and how long it will last. People are increasingly interested in things like experiences rather than accruing more belongings, Presber says. That plays out in architecture, urban design and fashion.
"With the built environment, I always make the joke that you don't design your kitchen for a dinner party. You design your kitchen for what you want to do in this space every single day of your life," Presber says. "I think that we're seeing that in fashion, too. Even if you buy something that's not entirely minimalist, you're buying it not just to go dancing for one night in it. Sure, you'll wear it dancing, but then it also works for the office. That's been a real change."
Back in her condo, Watson's capsule wardrobe is still taking shape. After a busy day at a Nordstrom sale with Anderson (who'd done an advance scout of the sales racks), Watson came home with "beautiful staples" that she hopes to own for years: a leather jacket, a white button-up and a cashmere sweater. Together, they're working on filling the last few gaps in Watson's closet.
Watson says she wastes less time planning her outfits and deciding what to wear in the morning. She no longer finds shopping stressful, because she's not willing to buy pieces that aren't on her list. "I just feel really good in what I'm wearing," she says. "I feel like I'm projecting myself the way I want to be perceived. I feel like a much more honest version of myself."
And so, if you see Chelsea Watson cycling to work on Monday morning, there's a good chance she'll be wearing some of the same things she wore when she was out with friends Saturday night – and that's exactly how she wants it.
---
Designing a capsule wardrobe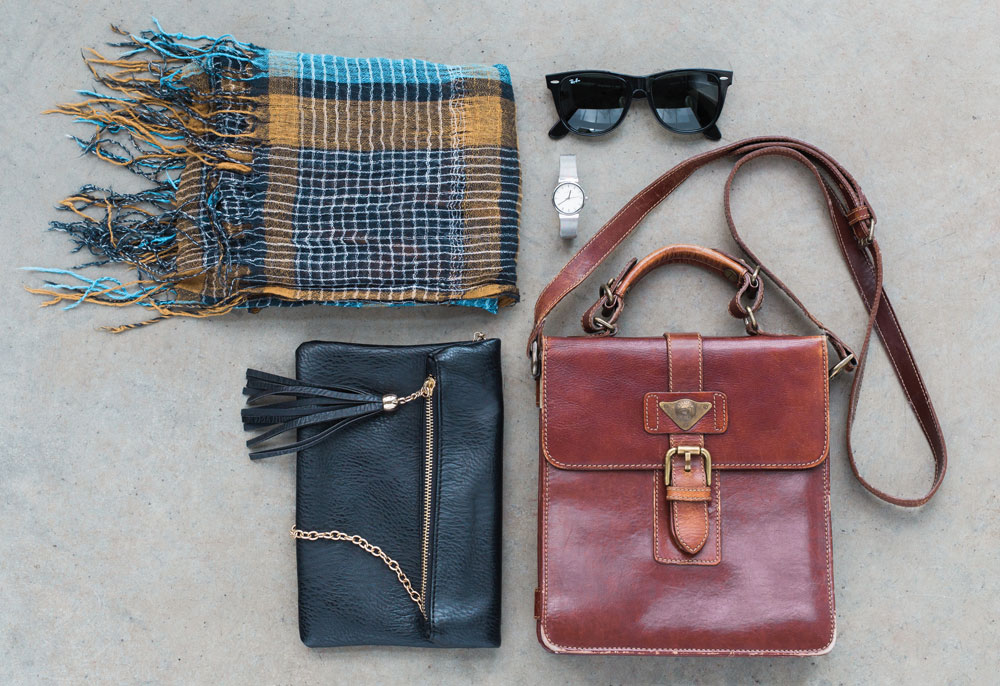 A sampling from Watson's capsule wardrobe.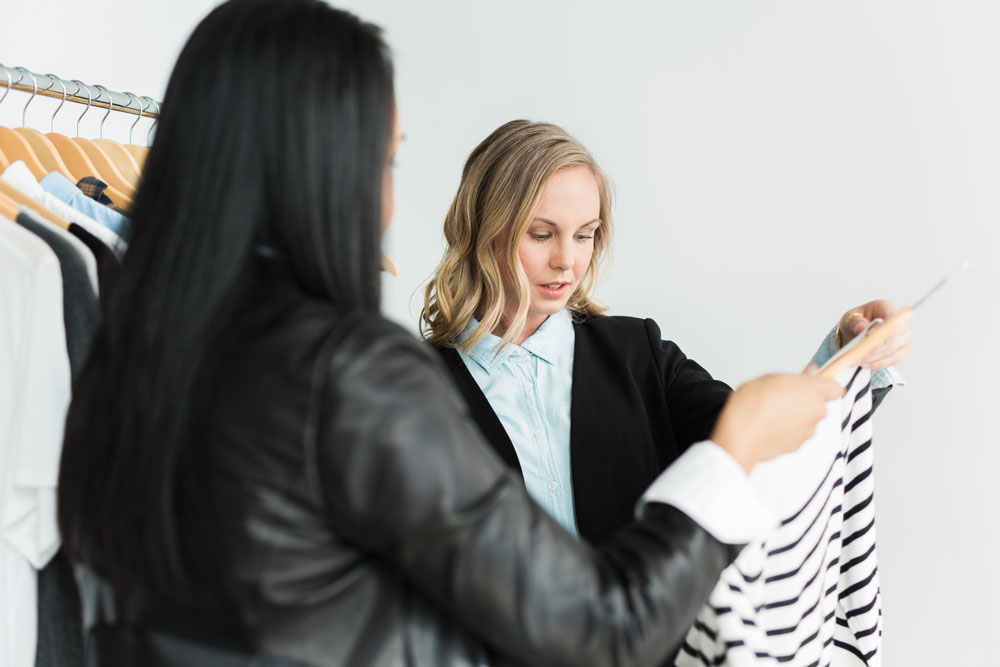 "I turned 30 last year, and I wanted to move away from dressing like a student. I know what I feel good in and I would like everything to be like that."  – Chelsea Watson.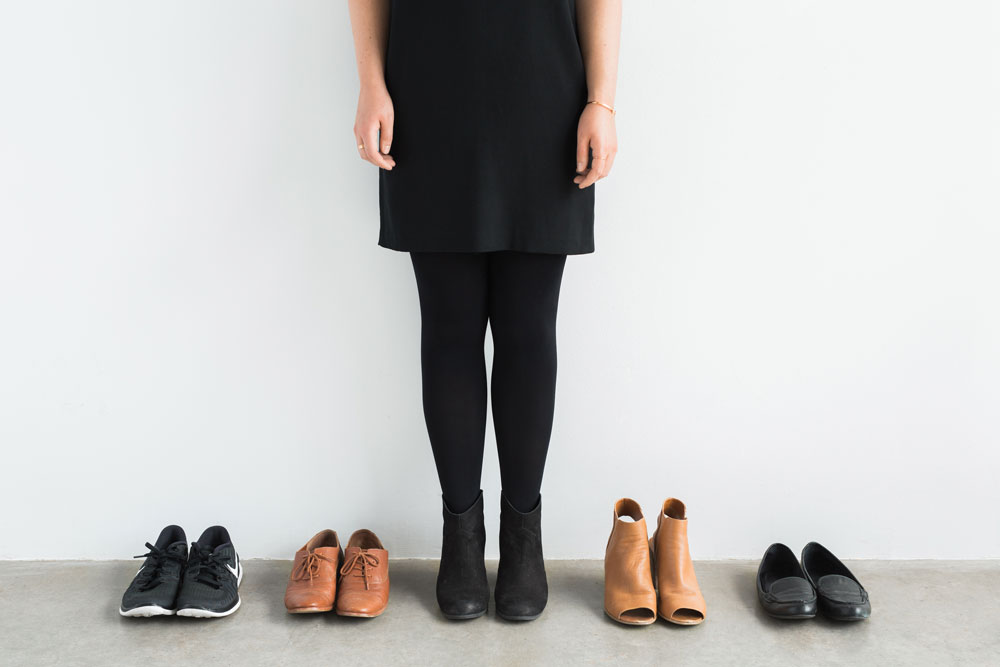 Sticking to a capsule collection plan has taken the stress out of shopping for Chelsea Watson. If it's not on the list, she doesn't buy it.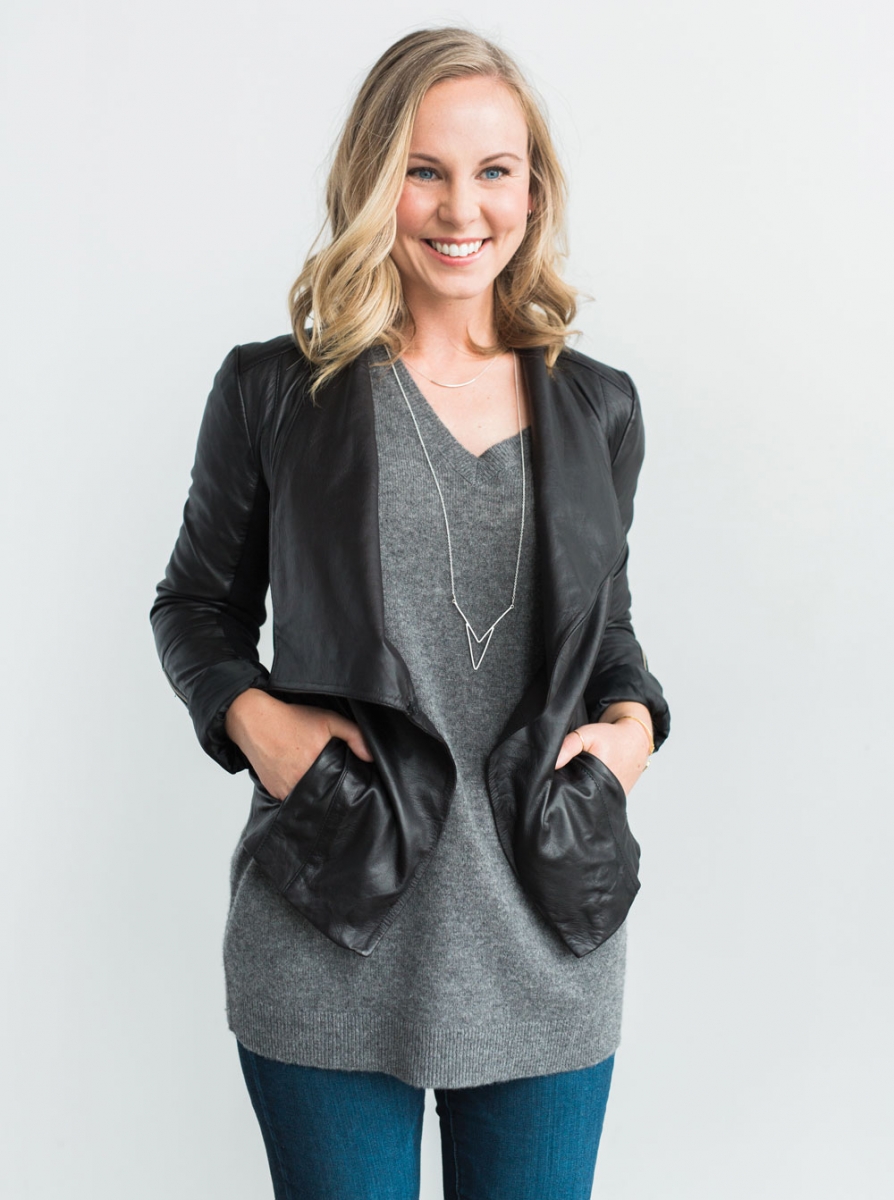 A leather jacket is one must-have item in a capsule collection, according to stylist Hazel Anderson.
---
Chelsea Watson's ideal capsule wardrobe
While the contents of a capsule collection might vary from person to person, here is stylist Hazel Anderson's list of must-haves for Chelsea Watson's capsule collection.
3 T-shirts (white, gray, black)
3 tanks (can be lone pieces for warmer months, layering pieces in winter)
1 LBD (little black dress)
1 blazer
1 pullover sweater (solid color or stripes)
2 white button-ups (one classic non-wrinkle, one variation)
1 black or blue button-up
1 pair of trousers (black, grey or taupe)
2 pairs of skinny jeans
1 pair of boyfriend jeans
1 pair of leather or faux leather pants
1 skirt
1 leather jacket
1 trench coat
1 pair of heels
1 pair of ballet flats
1 pair of strappy sandals
1 pair of knee-length boots
1 pair of ankle boots
---