Dan and Diane Tsubouchi have always enjoyed their contemporary home on Sifton Boulevard near Elbow Drive S.W., where they have lived for 12 years. But, after the couple enlisted Calgary designer Paul Lavoie to help design their recreational property in Canmore, something didn't feel right about returning to their Calgary home at the end of the weekend.
"Calgary by comparison seemed kind of dated, and not as exciting as our Canmore place," Diane recalls, adding that she and Dan felt their Elbow Park home was missing a "wow" factor.
The couple's original intention was to swap out some of their furniture, drapery and accessories to update the clean lines and simple design of their home. But, before they knew it, the Tsubouchis' small-scale decorating plan turned into a much larger interior-design project that took nearly two years to complete.
Luckily, Diane is a trained interior designer, and, with Lavoie's expertise and connections, they were able to create a stunning, fresh space, with a special focus on lighting. Diane says she loves "funky" lights – a passion which is evident in the oversized custom light feature in the formal dining room. Inspired by a unique Italian light she found while browsing online, she ordered four individual fixtures that were mounted on the ceiling to create a singular feature.
The south-facing floor-to-ceiling windows provide plenty of natural light to the kitchen and living room, and Lavoie's use of mirrors in both rooms makes the space seem even more expansive. "Lighting is your friend," emphasizes Lavoie. "Lighting will make something that is average extraordinary."
Creating the Wow Factor
For the Tsubouchis, the most important goal of their renovation project was to create a "wow" factor throughout their home. Fortunately, with Lavoie's help, visitors are impressed the moment they step through the door.
"We didn't want to forget the way the house looked," Lavoie says. Instead, his goal was to work with the couple to elevate the Tsubouchi home "from great to fabulous."
To the left of the entryway, a striking wall crafted from split-face limestone – one of Dan's favourite features – extends two floors up and acts as a divider between the foyer and a spacious formal dining room. Another priority for Dan was to replace the original staircase with something much more dramatic. "We had a sketch-off," says Lavoie. "Who can think of the best staircase?"
Eventually, the couple opted for custom glass stairs that can be illuminated with colour-changing LED strip lights to create a show-stopping effect. The Tsubouchis both say the new staircase is the highlight of their renovated home.
"It's modern," says Lavoie. "We just made it better."
A Functional and Funky Space
The Tsubouchis have a passion for entertaining, so the changes they made to their space needed to be stylish and functional. Fortunately, their home exudes style in spades, thanks in large part to their collaboration with Lavoie.
Collecting wine is one of Dan's passions, and when the original cellar was badly damaged during the June 2013 floods, the couple decided to make some major changes to the space. The Tsubouchis were luckier than many Calgarians living on the banks of the Elbow River, as only their basement was damaged by the flood.
Working with Lavoie – who came to assist the couple with clean-up efforts in the days following the flood – Dan and Diane decided to repurpose some of the original basement rooms. A storage room was swapped for a much larger home gym, and the couple's showpiece wine cellar was given a considerable makeover.
"We made it a bit more fun," says Diane, adding her husband frequently uses the space to host wine-tasting events with his clients from work.
In addition to a climate-controlled room that houses more than 800 bottles of wine, the Tsubouchis' wine cellar also features a spacious eight-seat table and a custom-made restaurant-style wine dispenser that can hold up to 14 bottles at a time.
Since the Tsubouchis love to entertain, they were keen to embrace features and furnishings that provide a talking point for their guests and make hosting parties even more enjoyable. "I try to find ways to create scale and texture and interesting lighting," says Lavoie. "It still has to be a personable place to live in."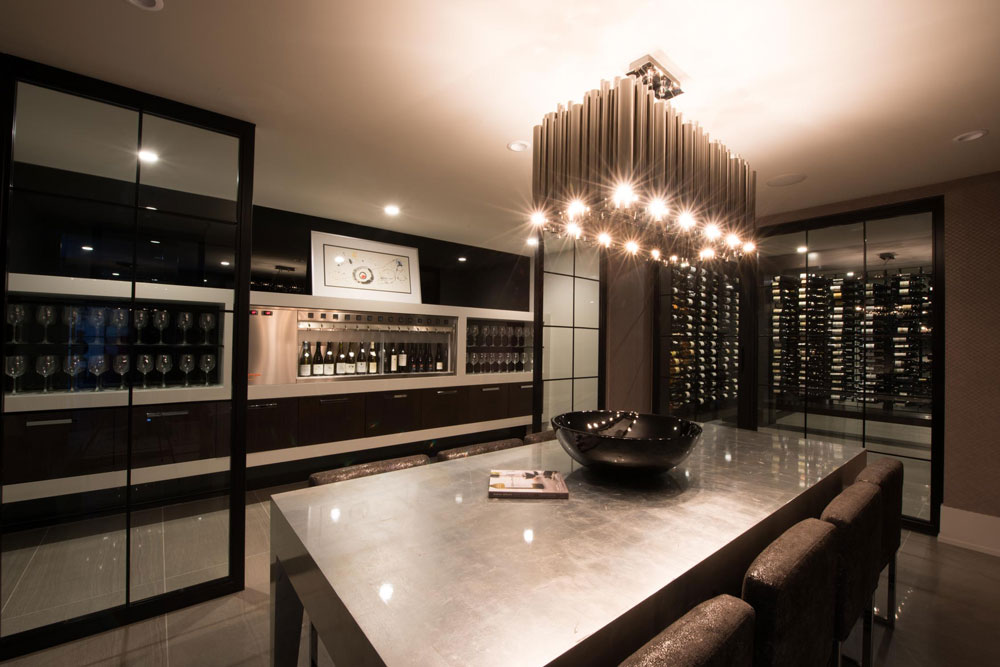 photograph by jared sych
Some 800 bottles of wine were rescued from the Tsubouchis' original wine cellar after the 2013 flood. The updated space features a climate-controlled storage room and a customized 14-bottle wine dispenser, which is put to good use when the couple entertains friends or business clients.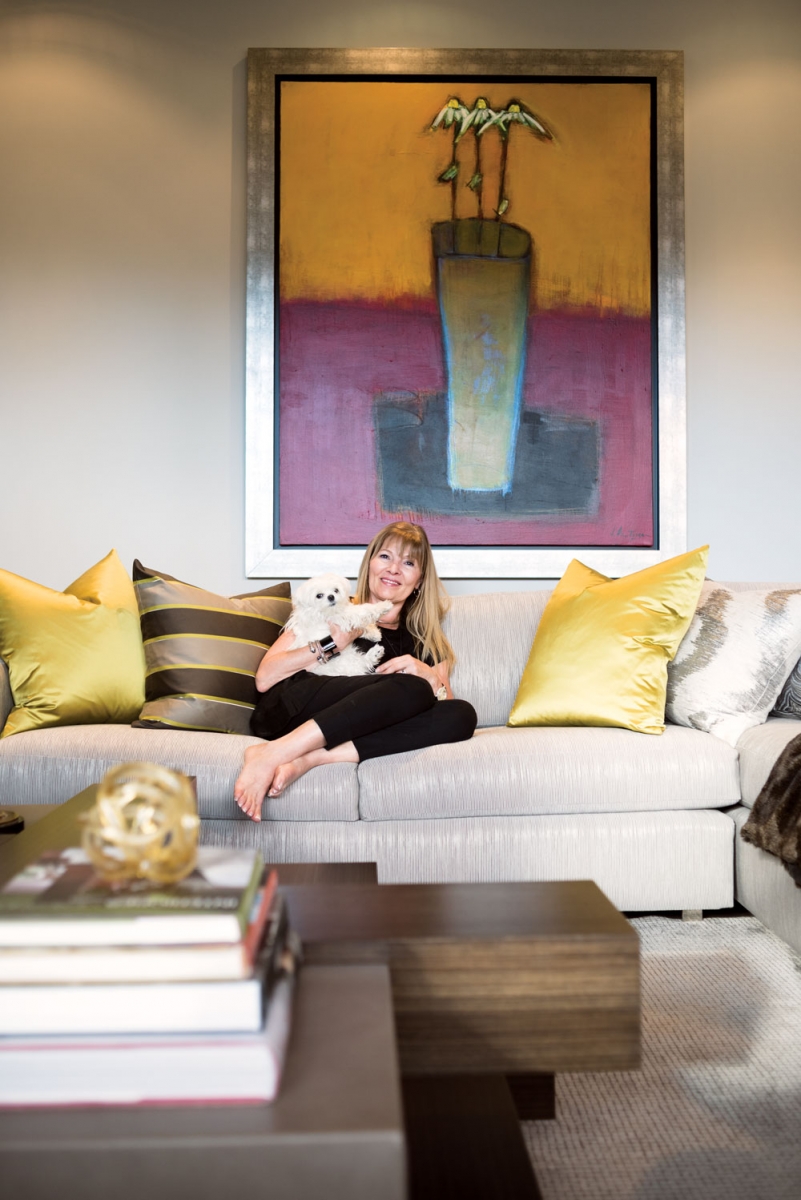 photograph by jared sych
After 12 years, Diane Tsubouchi was keen to update her all-white living room furniture. Colours and textures add warmth and dimension to the renovated space.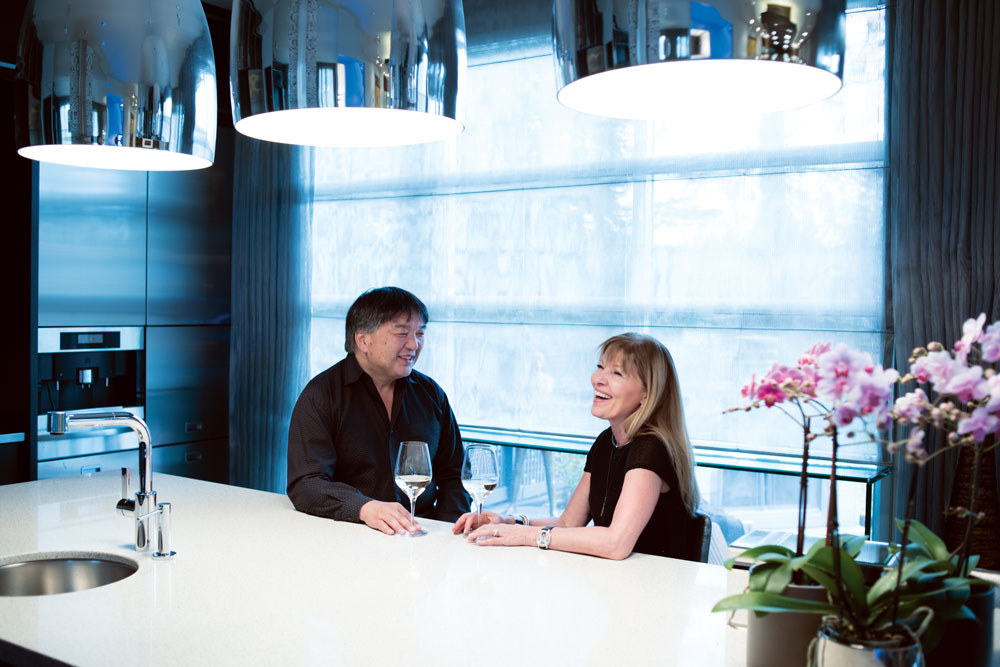 photograph by jared sych
Oversized south-facing windows, extra-large lights and mirrors create an open, spacious atmosphere in the kitchen, where the Tsubouchis spend most of their mealtimes.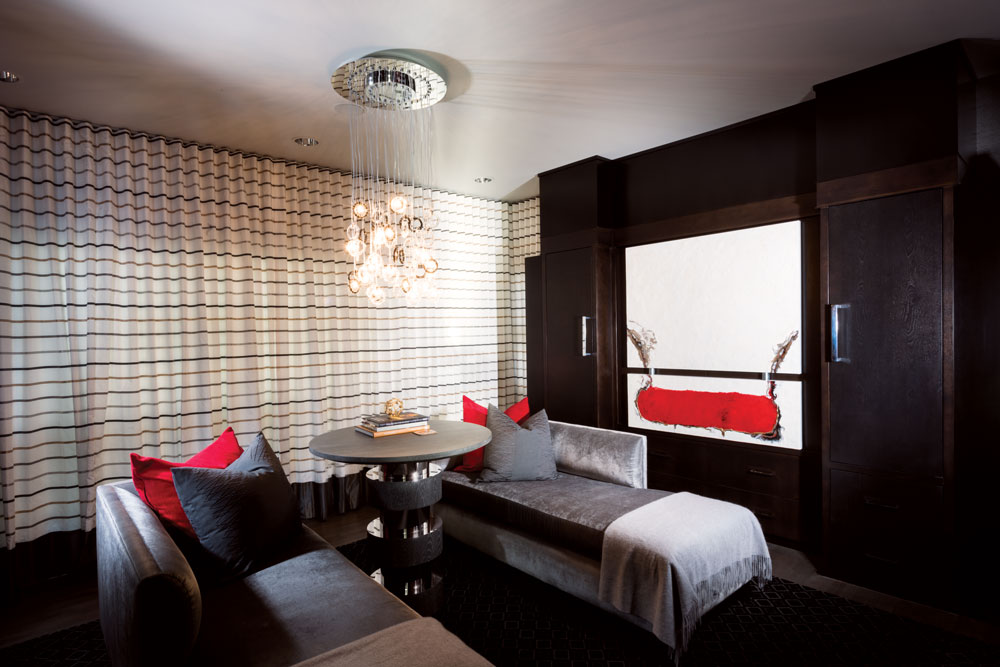 photograph by jared sych
Diane Tsubouchi and designer Paul Lavoie are both drawn to "funky" lighting, which adds texture to any space.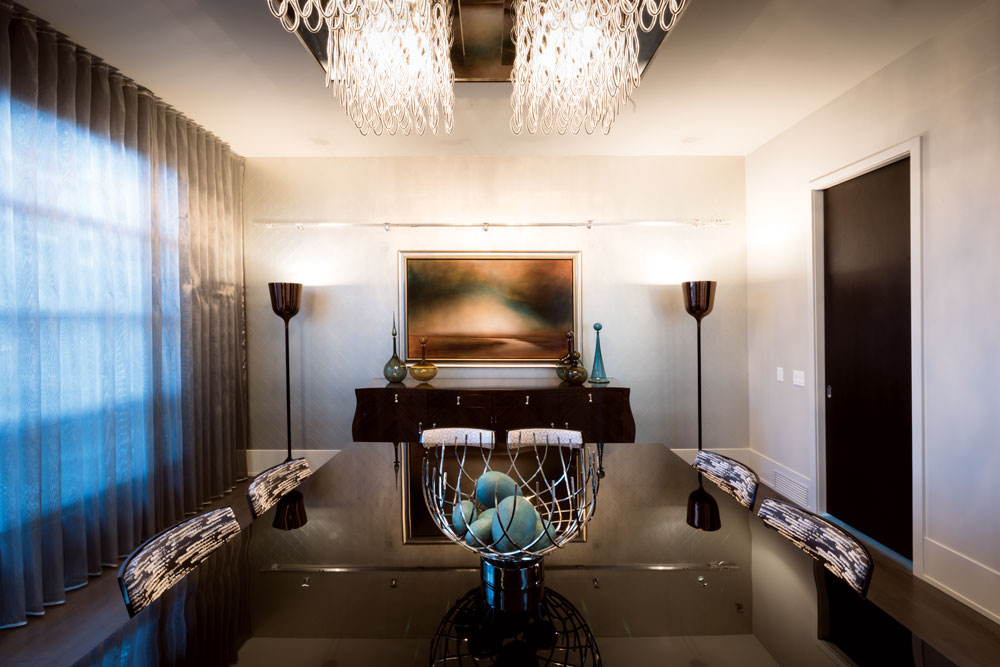 photograph by jared sych
The custom lighting fixture in Dan and Diane Tsubouchi's dining room is crafted from four individual lights, which were imported from Italy.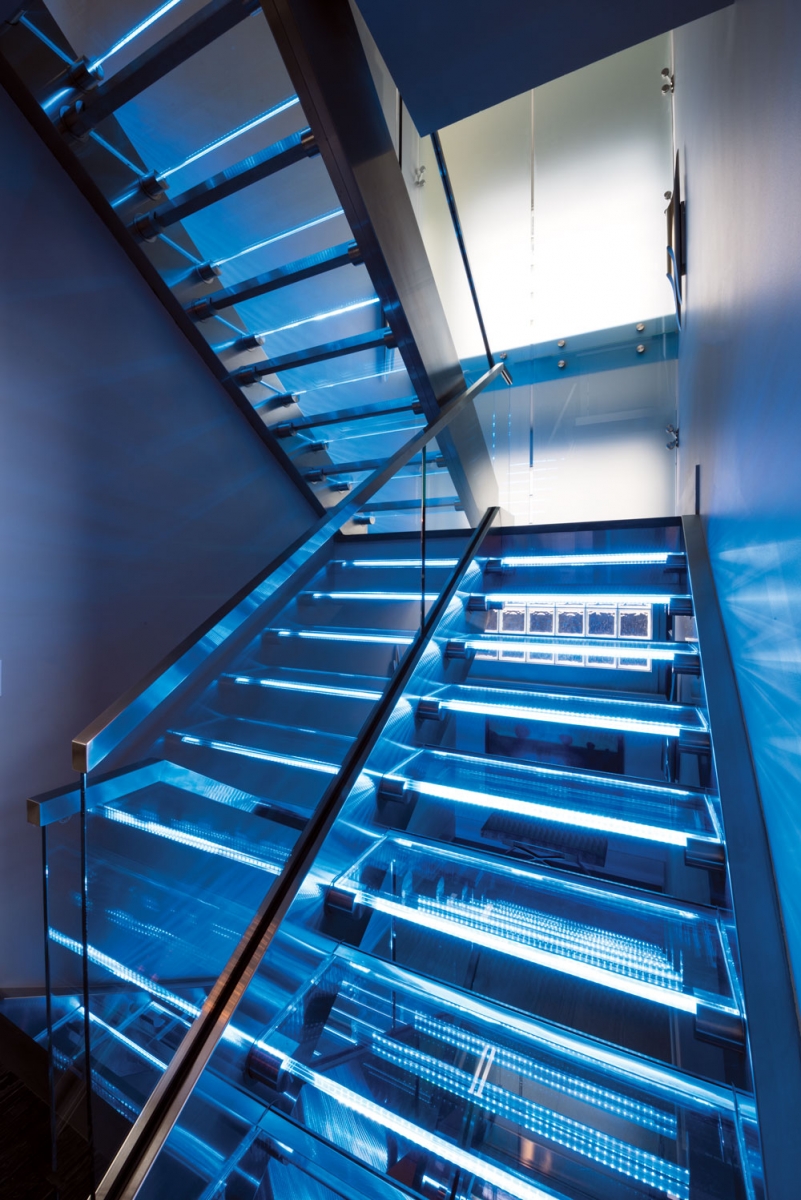 photograph by jared sych
The Tsubouchis wanted a "wow" factor in their riverside home, and that's what they got with this dramatic staircase outfitted with LED lights that can change colour.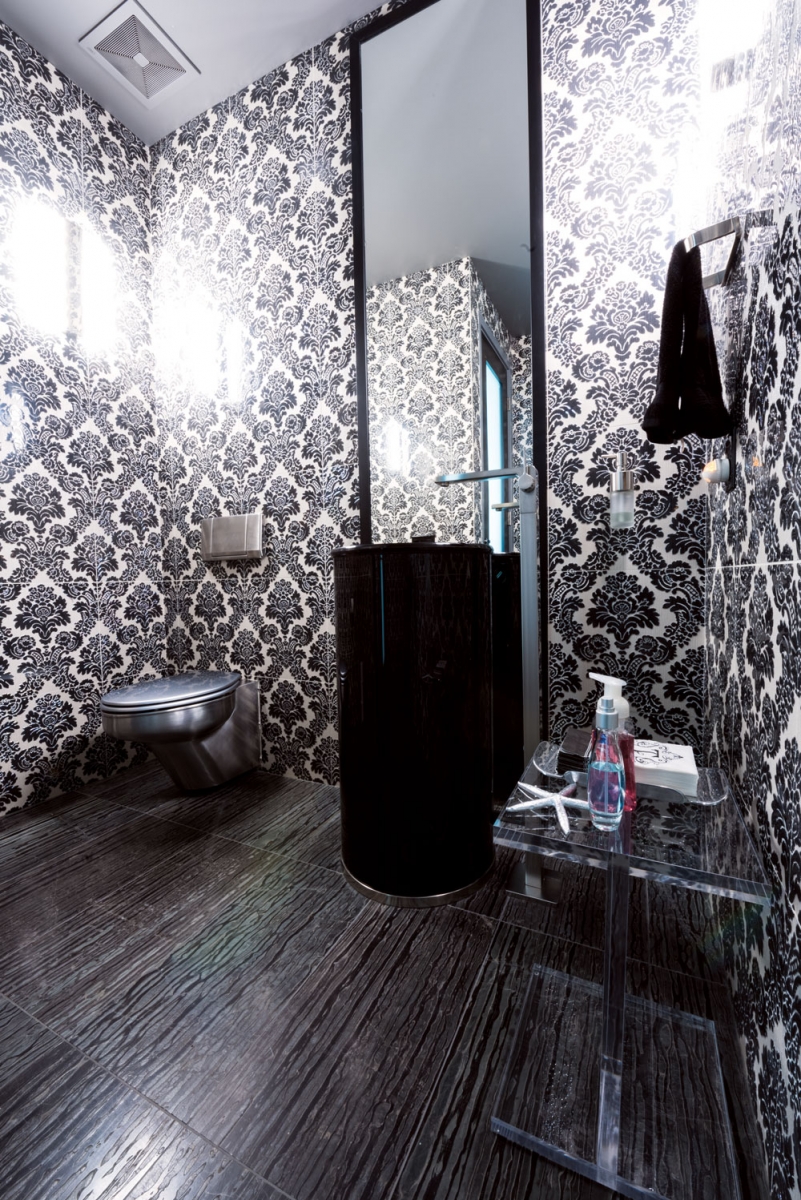 photograph by jared sych
Designer Paul Lavoie advises his clients to "boutique" certain areas of their homes to make them stand out. Here, floor-to-ceiling black and white wallpaper and wall-mounted lighting fixtures add drama to a bathroom.
Diane Tsubouchi's Renovation Tips
Prepare to Go Over Budget
Renovations are always going to be more expensive than you think, says homeowner Diane Tsubouchi. "You always see something that you fall in love with, and you have to have it."
Take Advantage of the Opportunity
Think about your renovation as an opportunity to change how you use the rooms in your home. One of Diane and Dan Tsubouchi's favourite features in their basement is their new (and much larger) home gym, which was created in a former storage area.
Don't Give in to Stress
While Diane acknowledges that having a parade of contractors and builders going through your house can wear thin, it's essential to focus on the end goal. "You just have to be laid-back about it, because, if you want the changes, they have to make them," she says.
Develop Strong Relationships
It is key to maintain good working relationships with your designer and contractor through every stage of the process, says Diane, who loves collaborating with Calgary designer Paul Lavoie. "They're working hard to bring your vision into reality," she says.