When Ania Boniecka and Tyler Stalman met on Venice Beach in Los Angeles, it was a match made in fashion heaven. With Boniecka's fashion blog reaching critical mass and Stalman's photography and design career taking off with iStock photo, they quickly bonded over their camera gear – each carries a Canon 5D Mark III.
Boniecka's striking features can be seen in various media and on the couple's fashion blog, aniab.net, often in portraits captured through Stalman's lens. The two married in 2013, more than a year after they met on the beach, and they have been taking the fashion world by storm ever since.
What do you typically wear to work?
Ania Boniecka: Tyler basically has a uniform.
Tyler Stalman: I usually wear jeans and a white or denim button-down shirt. Most of the things I put on every day are exactly the same, and then I add variety in boots and jackets.
AB: Tyler's a lot more classic and I'm a lot more trendy. I really like to dress in all black with a longer top. I'm a lot more casual when I'm behind the camera, because, when I'm in front of the camera, it's all very planned and I want to think about everything that I'm wearing.
What do you wear when you're not working?
AB: A pair of jeans, a T-shirt and sneakers. I like wearing ripped denim a lot, because it adds another dimension and makes a boring outfit more exciting. And I really love hats. I would wear a hat every day and for every outfit if I could. It's sort of like a Brit-pop-punk look: skinny and black.
TS: As expected, I wear the same thing. There are some days I think I should start wearing suits every day because I like the idea of being James Bond running around, chasing people on trains, but the reality is that most days I wake up and we go straight to the studio, so there's really no reason to overdress.
What does your weekend wardrobe consist of?
AB: Right now, I'm really into white on white and denim on denim. And, on the weekends, we'll still shoot, so I'll wear an outfit that I want to document but that I can also live in and enjoy myself.
TS: At this point, all my jeans are by Naked and Famous, because they can kind of blend into different situations by throwing on a blazer and changing from sneakers into dress shoes.
AB: When Tyler finds a brand he likes, he will stick with it. But I like to discover new things and try new brands that I haven't heard of before.
Are you ever influenced by Ania's more adventurous style?
TS: It's not so much dressing more adventurously as it is trying to look nice enough to be with her so that I don't get kicked out of the parties she gets us invited to [laughs].
What Calgary events are you looking forward to attending?
AB: All the PARK events: PARKLUXE and PARKSHOW. We love them, and we think they're doing amazing things for fashion in the city.
TS: Ania models in them all and then I shoot video, so we get pretty involved.
What will you wear to them?
AB: I don't know yet, but I will for sure want to dress up, and I'll probably wear something with fringe. Even though my clothes will be coming off and I'll be wearing the designers' [clothes], we will go to the after-party at the end.
TS: I'll wear a suit, and I always wear the same brand: Theory. Most of my suits are pretty simple. I like a variety of textures, but it's more about a classic slim fit that isn't too skinny.
Where do you like to go in Calgary to see and be seen?
AB: We love what's been happening with the food scene here. There are so many restaurants opening all the time, and we love checking them out. Suzette Bistro is our new favourite, as well as Bocce.
Who are your style icons?
AB: I really like Carine Roitfeld, the [former] editor-in-chief of Vogue Paris. I like her off-duty look. It's very put-together, but also casual, and that's sort of the look that I strive for when I'm not in front of the camera.
TS: I don't think I have one. I like knowing a lot of the "firsts" of anything classic. I have this book about when the staples in men's clothing were first established.
What draws you to the classic look, Tyler?
TS: When I think of the ways I dressed as a teenager, I just looked so dumb, and I'm aiming for the rest of my life to not look dumb. I like wearing clothes that have never gone out of style.
Ania, has modelling added to your sense of experimentation with your style?
AB: Yeah, 100 per cent. I love playing around and I feel like, because I've been a canvas for stylists for so many years, I like to play different characters. One day I'll want to be a cowboy, and another day be super-girly and flirty.
What's your wardrobe's MVP?
AB: Black skinny jeans and my rings. I wear them every day and don't take them off. And I love hats. I got my first really well-made hats in L.A. by Gladys Tamez Millinery. I was fortunate enough to go in and Gladys herself made me a custom one.
TS: On that same trip, I got my new favourite watch, which is a Hamilton. It's going to be on every day for a while. This company used to make military watches, so it can kind of straddle the line between a dress watch and a utility watch.
Do you have a piece that you pine for?
AB: There is this Celine box bag that I really want. It's kind of cube-shaped and has a little clasp, and it's very classic. In my mind, if I'm going to spend a lot of money on a bag, it should be something that I can look back on when I'm 80 and still love.
TS: If it counts as an accessory, I would love to have a Leica film camera someday, mostly because they're beautiful.
Where in Calgary do you love to shop?
TS: I like Gravity Pope. That's where I end up getting most of my boots from. They have really great selection, especially for men's shoes, which can be really hard to find.
AB: They bring brands that other places just don't carry; they curate their collection really well.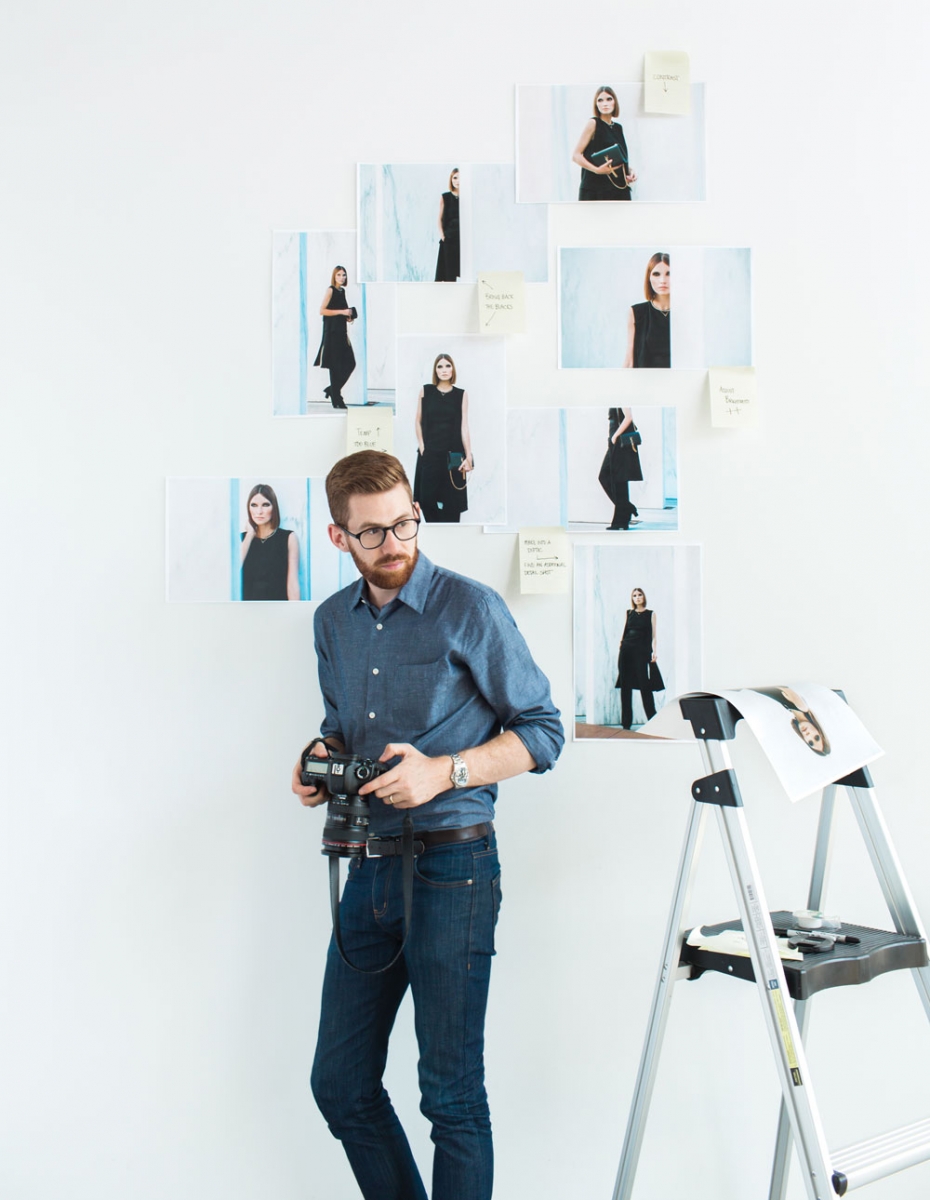 Naked & Famous jeans from Holt Renfrew; shirt from Club Monaco.
---
20 question rapid-fire
Where are you from?
AB: Szczecin, Poland.
TS: I was born in Nelson, B.C., but I grew up in Calgary.
What do you do?
AB: We work full time on the aniab.net blog. We also do stock photography, video and shoot commercial and editorial portraiture for magazines and commercial clients.
What did you think you'd do when you were growing up?
AB: I wanted to be an actress – but for no reason. I just thought it was a glamourous job.
TS: I thought I would make video games.
What would you do if you didn't have to make a living at it?
TS: I'd probably be doing this, but in a different form.
AB: If I wasn't doing this, I would probably work in public relations.
What do you listen to in the car?
AB: I play my iPod. Right now, it's Marina & the Diamonds.
TS: I listen to a lot of podcasts. My favourite would be Back to Work.
What book are you reading?
TS: Creativity, Inc. by Pixar's Ed Catmull.
AB: My eyes and ears are out for any sort of blog-related material.
What's your favourite blog?
AB: 5 Inch and Up and Who What Wear.
Favourite childhood book?
AB: Robinson Crusoe. That really got me into reading fiction novels.
TS: Where the Sidewalk Ends by Shel Silverstein. I haven't read it since I was a kid, but I just remember what it looked like and what it felt like.
Glasses or contacts?
AB: Contacts.
TS: Glasses.
Denim or leather?
AB: Leather.
TS: Denim.
Red or white?
AB: Neither for me; I don't actually drink at all.
TS: Either for me.
AB: See? We complete each other.
Favourite breakfast food?
AB: Avocado and toast. I'm obsessed with it.
TS: Yeah, that's a good answer. I can get on board with that, too.
Pet peeve?
AB: People who try too hard to be mysterious and who aren't open.
TS: When people use flash when trying to take a photo at a concert. It doesn't do anything at all.
Midnight snack?
TS: After Eights.
AB: Honestly, anything that's around.
Favourite drink?
TS: I drink at least one cappuccino every day.
AB: Peppermint tea.
What's your guilty pleasure?
AB: Swiss cheese.
TS: I like cheese, too, but I don't feel guilty about it.
Ice cream flavour?
TS: I like children's ice cream flavours like bubble gum and cotton candy – carnival flavours.
AB: I like fruit flavours, but my favourite is grapefruit sorbet.
What is your greatest extravagance?
AB: Designer handbags and shoes.
TS: Camera gear – there's never enough gear.
Which words or phrases do you most overuse?
TS: I end up saying "like" way more than I want to. I sound like a teenager.
AB: And "totally," that's probably me.
Who is your favourite fictional hero(ine)?
AB: Ripley from the Alien movies.
TS: Arthur from The Hitchhiker's Guide to the Galaxy.