Gwendolyn Richards Talks Personal Style
Gwendolyn Richards' pin-up style, patent-leather shoe addiction and Bettie Page bangs make her one of Calgary's most recognizable women
By Meredith Bailey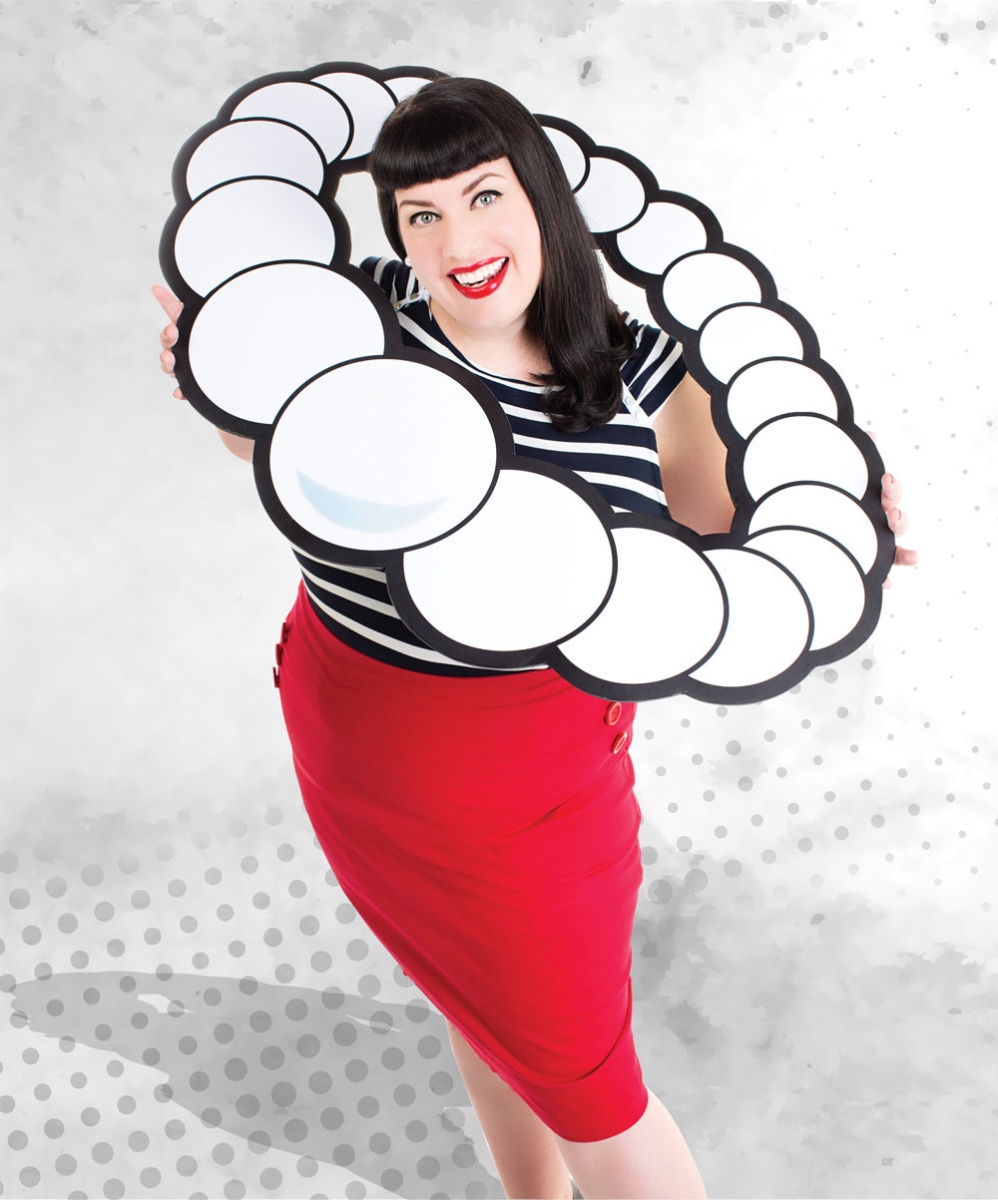 photography by erin brooke burns, styling by carl abad (artists within), hair and makeup by kate barutowicz
Top from Additional Elle; skirt purchased online from Collectif Clothing; earrings from Joe Fresh.
Gwendolyn Richards' style seems effortless, as if she's always worn fitted cardigans, 1950s-inspired dresses and deep-red lipstick. But Richards first adopted her unique look five years ago, after she bought her first pair of patent leather shoes.
As a journalist, Richards' career has taken her to dozens of small-town newspapers in British Columbia, including pit stops at the Vancouver Sun and the crime desk at the Calgary Herald. Now, she's the Herald's food writer and covers the city's burgeoning dining scene.
In her spare time, Richards cooks – in heels, naturally – and shares her recipes on her blog, patentandthepantry.com.
Next month, Richards' first cookbook, Pucker: A Cookbook for Citrus Lovers, published by Whitecap Books, hits the shelves.
Tell me about Pucker.
It's my first cookbook of recipes with lemon, lime or grapefruit, the citrus fruits that pucker. Citrus is really approachable and refreshing.
You created all of the recipes?
Yes! Almost all. I nearly had a mental breakdown. It covers everything from breakfast to dessert, main dishes, soups, salads and everything in between. There are more than 90 recipes. Some recipes I'd get on the first or second try. There was a muffin recipe that took me eight.
I read that your grandpa inspired your cooking.
He was Canadian, but he liked to pretend that he was Italian. We would make elaborate pasta meals together. There are dishes that are inextricably linked to him. I'm grateful that, whenever I make those things, I'll always have that connection to the time we spent together.
I like your shoes! That's probably a good place to start, fashion-wise.
It is, actually. There were three entry points that kicked me off on this fashion evolution into my classic, pin-up retro look. This all started five years ago. One of them was finding a pair of patent peep-toe shoes.
Where?
Browns. They're low-heeled, black patent peep toes and I still have them. They were my gateway drug, if you will, to my problem with patent.
What were the other two entry points?
The first pencil skirt I bought, and then there was the two-year fight with my hairdresser over bangs.
Why the fight?
I think she just thought bangs wouldn't work on me. I have kind of a cowlick. The day she cut them, I walked into the office past my best friend and she didn't recognize me.
The bangs transformed your look?
They did and it was absolutely a huge turning point for me. It took me 33 years to figure out how I wanted to look.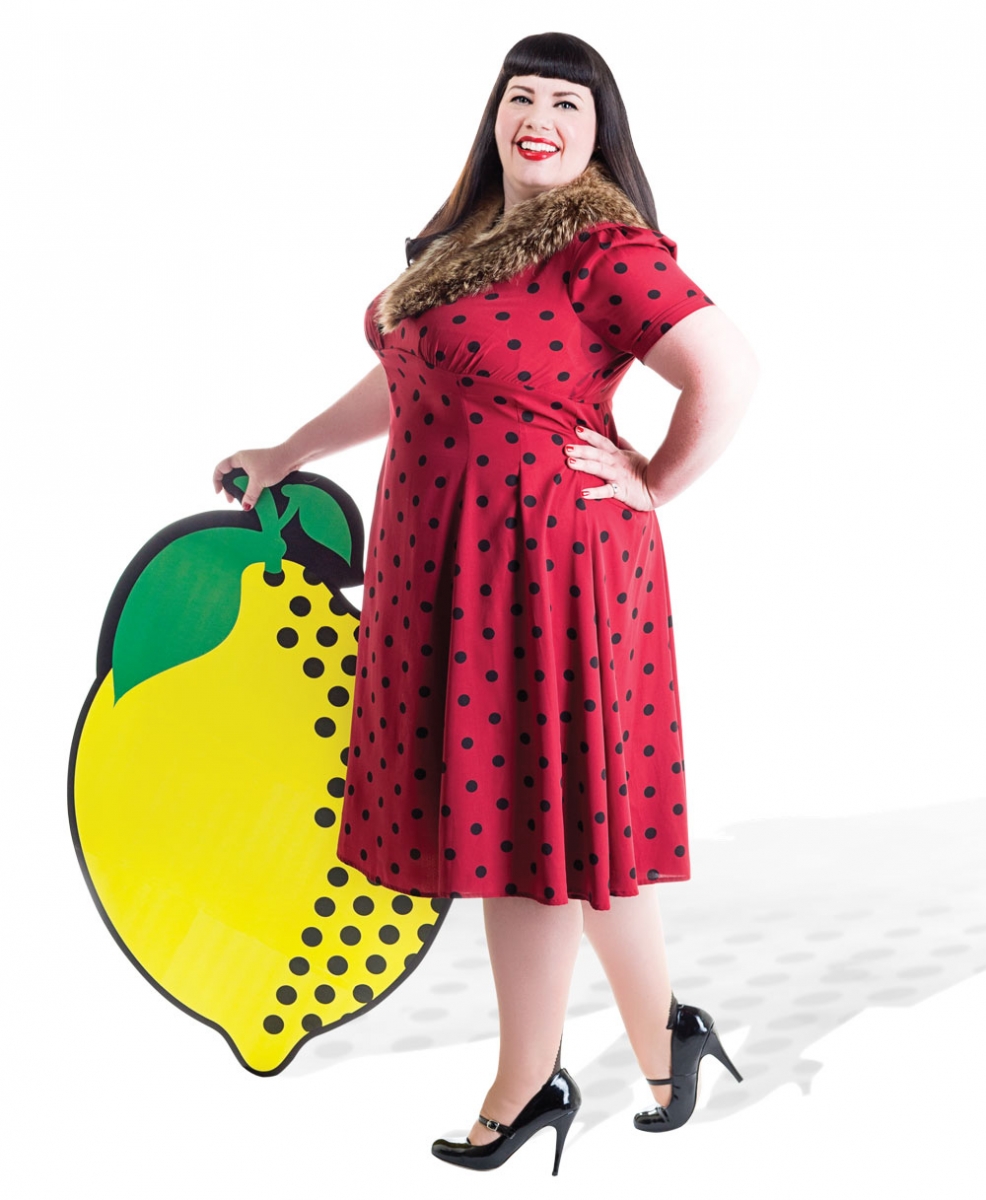 photograph by erin brooke burns
Dress by Hell Bunny Vixen from Rowena in Edmonton; vintage fur stole from Vintage Affair; stockings by Leg Avenue; shoes by Betsey Johnson.
Have you always had a feminine style of dressing?
I have. As a kid, I was a girly-girl. I always wanted skirts that would go straight out when you twirled around. I think now I've taken it to a whole new level. I don't wear pants anymore.
What about in the winter?
I go the entire winter without wearing pants. I'll wear nylons or tights, but again I'm not really known for dressing appropriately for the weather or the situation. I definitely push it.
You used to work the crime beat at the Calgary Herald. With your pencil skirt and patent-leather heels, I can easily imagine you in a film noir movie.
Totally, with my fur stole! I would go to these crime scenes in my fancy shoes. It became this big joke with the other reporters. Like, "What's Gwendolyn wearing to the crime scene?" On the cop desk, you never knew what you were going to get, but I was always dressed wrong.
What is it about the vintage look that appeals to you?
It makes me feel really good. I've never been particularly stylish – by that I mean I'm not trendy – so this is a way for me to not have to worry about trends. I've got curves, so wearing pencil skirts and cardigans is a good look for me because it's flattering. I feel really sexy when I get dressed.
Would you say you have a uniform?
Yeah, it's a pencil skirt and a cardigan with pearls or a vintage brooch.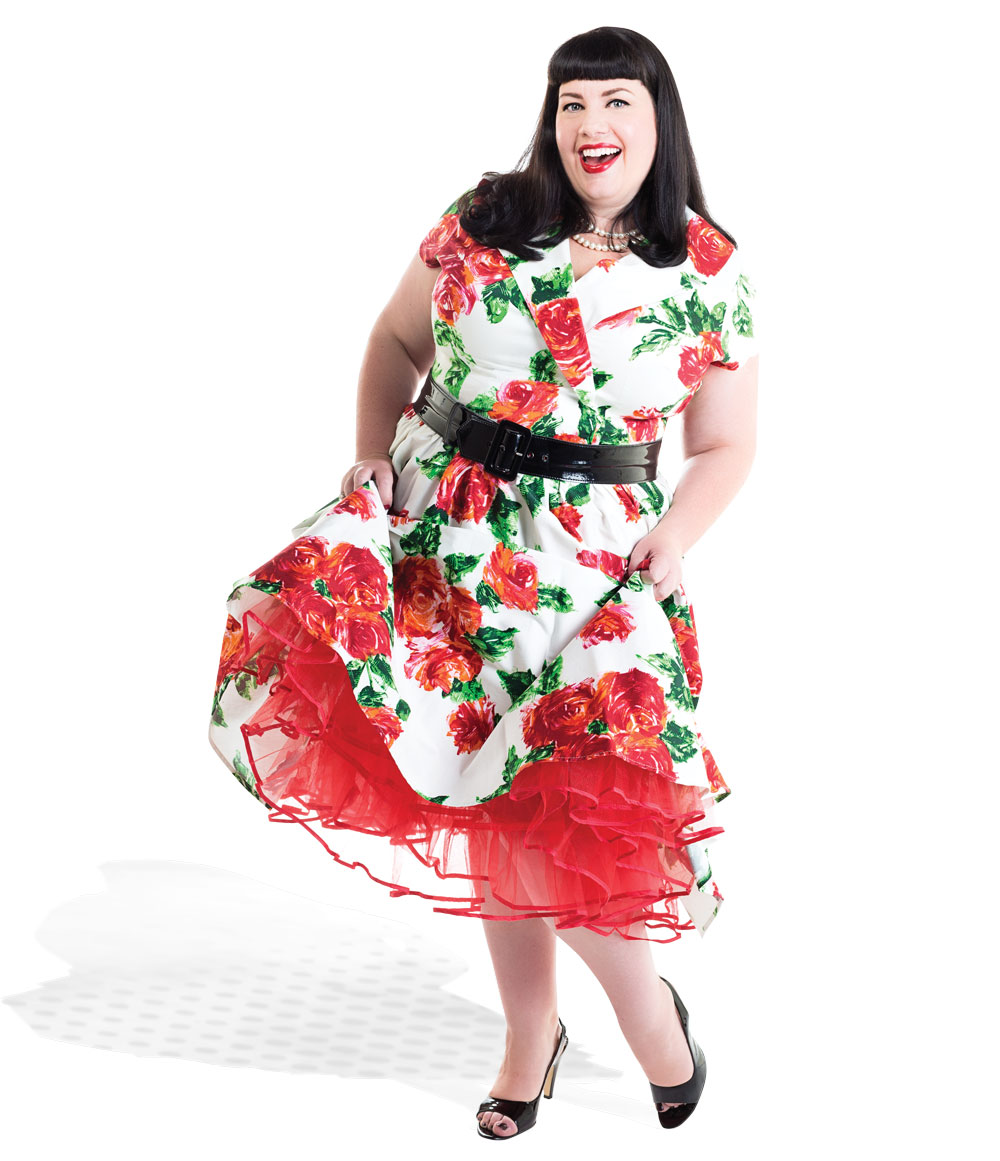 photograph by erin brooke burns
Dress purchased online from Pinup Girl Clothing; crinoline from Cherry Velvet in Vancouver; shoes by Anne Klein from Towne Shoes; necklace from Forever 21.
What would someone see if they opened your closet?
A rainbow of colour-coordinated cardigans.
Where do all of your shoes go?
My coat closet in the front foyer is not a coat closet. It's a shoe closet. It's not all patent. I have 35 to 40 pairs of shoes.
Who are your style icons?
The cast of Mad Men. From the head up, my look is very Bettie Page. Grease, John Waters films [like] Hairspray. And Dita Von Teese. She is stunning.
When you decided to embrace your trademark look, what changed for you?
Besides spending more money on clothing? I think what changed is my confidence went up. This is how I want to look and present myself to the world. If people think it's weird or kitschy or off the wall, it doesn't matter because I think I look good. That became the most important part of it.
Was it empowering?
It wasn't an overnight change and I'm still working my way through it, but, yeah, it was empowering.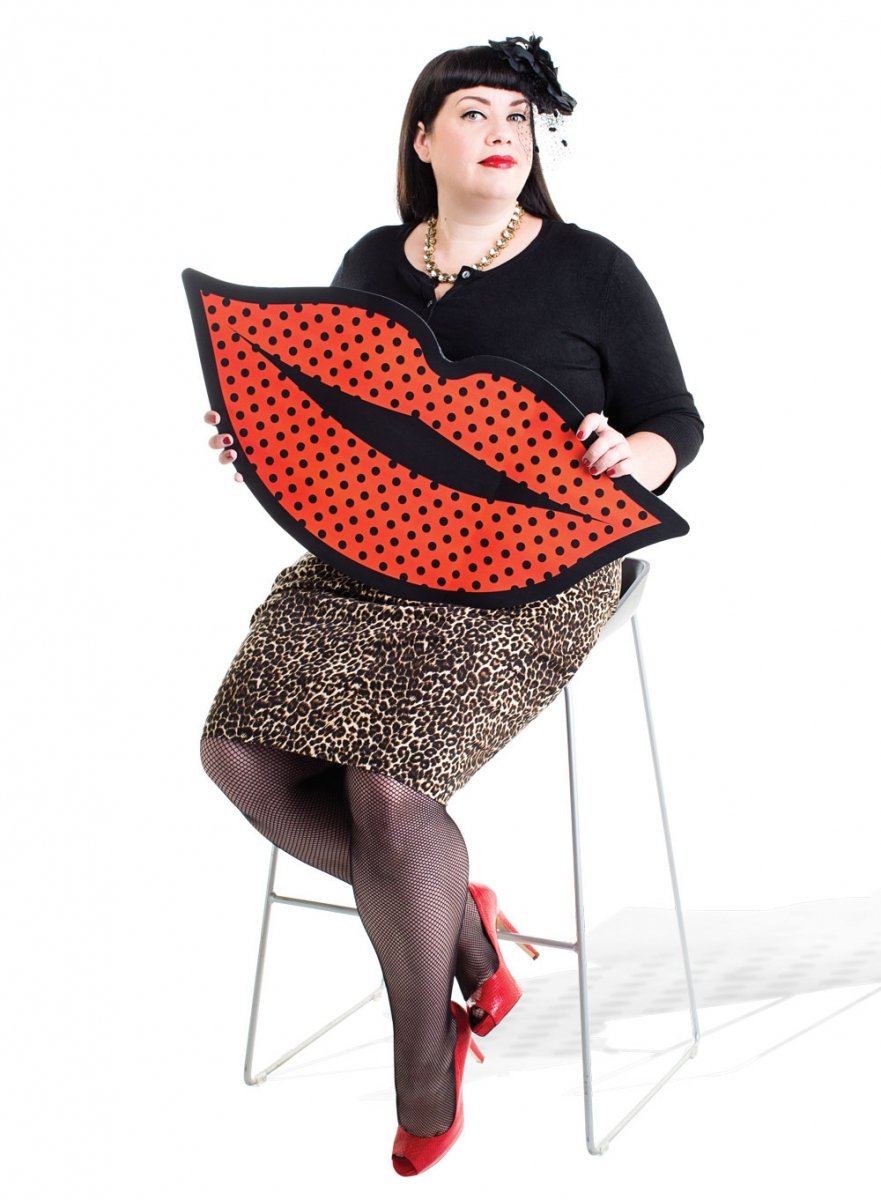 photograph by erin brooke burns
Cardigan from Ricki's; skirt purchased online from Pinup Girl Clothing; fishnet stockings from Addition Elle; shoes from Kate Spade in New York; necklace from J.Crew.
How often do you shop for vintage clothing?
I'm a plus-size girl, and there's not a lot of plus-size vintage out there. I've started to buy from a company in the States that does vintage reproductions. It's called Pinup Girl Clothing. It just expanded its plus-size line. It seems like more designers are realizing that plus-size clothing is an untapped market.
Has that helped with your fashion evolution?
I realized I should stop hiding in my clothes. I would wear a lot of shapeless things. I realized it didn't look as good as when I wore clothes that were more form-fitting. I had to face the fear of putting myself out there.
Was it hard to put on that first pencil skirt?
I remember putting it on and thinking, this is tighter than anything I've ever worn before. It was only that it was fitted as opposed to an A-line. I definitely had to think about it. But I liked it so much, I bought another one two weeks later.
Do you feel more confident about your body in general since your style changed?
In general, yes. I was walking into the office today and I had on a new pencil skirt, which is quite fitted, and as I was walking I thought, "I feel really good." That's what it's about: when you find your look and the clothes to work with your look, what it does to your state of mind and how you feel about yourself is phenomenal.