Forget Hair Dye: Grey Is the New Bombshell
Four women share how they gave up the dye and learned to love their natural colour
By Rita Sirignano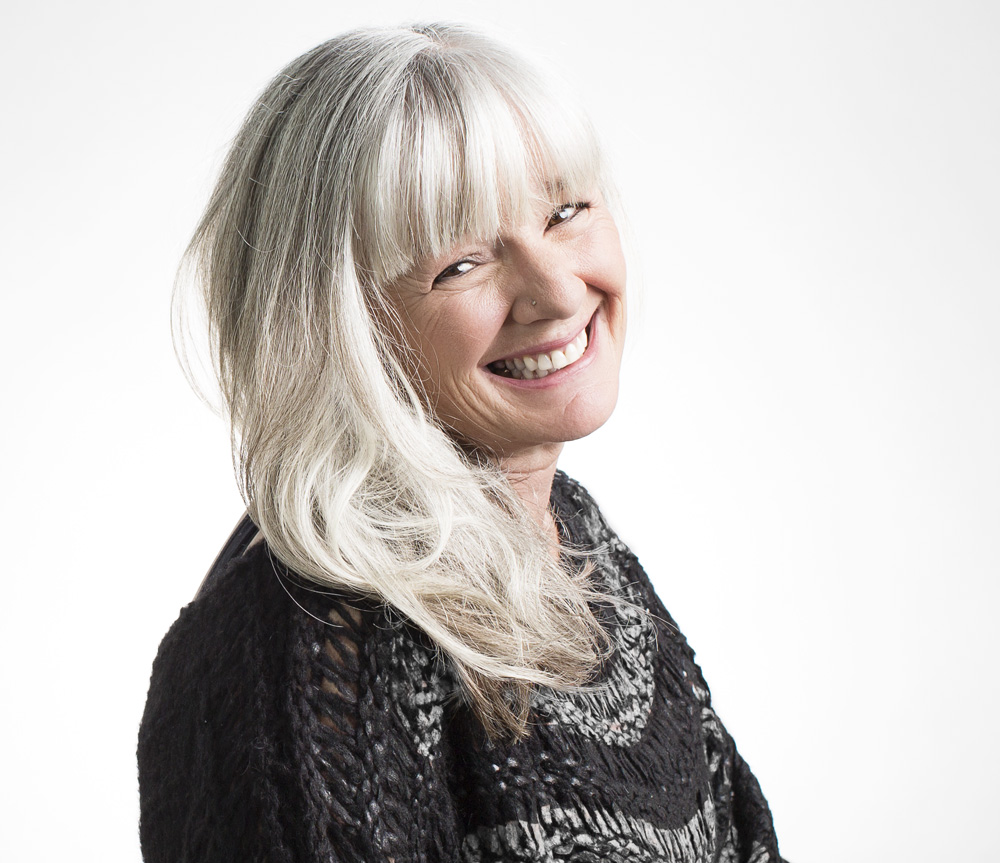 photograph by erin brooke burns
Irvine's reaction to hair dye revealed her beautiful, natural grey.
Alison Irvine was in her early 40s and had been dyeing her hair for a dozen years – she saw her first grey hairs in her early 20s – when she had an allergic reaction to the hair colour she'd been using.
"My scalp got red and itched and burned and I just thought I'm not doing that anymore. And that was it!" she says.
Ten years later, Irvine, now 54, is upfront and a tad cheeky when she talks about her grey hair.
"A friend calls it Arctic Blonde. It suits my skin tone better," she says. "I am so glad it's not that red that isn't found in nature. And I no longer look like [TV news anchor] Lloyd Robertson, with that halo of grey and the orange hair dye at the ends."
She also doesn't miss the time and money once spent on upkeep.
"It's freeing when you finally go for it," says Irvine. "But I have to say, men like grey hair more than women do. A lot of women don't like it. I don't understand it, but I also don't care – if you don't like it, f off!"
Colette Flemming was even younger – only 16 – than Irvine when she began to go grey. She remembers being frequently teased about it and began to dye her hair in her early 20s, only to stop when she realized it wasn't good for the environment.
"So then I started to henna it," says Flemming. "I had long, hennaed hair, and one day a friend said he could see the grey that was growing in and it looked awesome."
The fact the friend was male may have been telling. Flemming says when she finally gave up colouring none of the women in her life supported it. "Men, on the other hand, were very supportive. My husband was supportive," she says. "With women, I think it's a reflection of their own issues with aging. Someone has a problem with age, and it's not me."
That someone, for a long time, was me. I only stopped dyeing my hair four years ago, and I'm afraid toxic allergens and environmental responsibility had nothing to do with it. Newly separated and broke, I simply couldn't afford a trip to a salon every few weeks to cover the grey, which increasingly began to reappear within days of the process. One day, as the expression goes, I literally did the math: the yearly cost of biweekly trips to a salon was taking up close to a 10th of my after-tax income.
But I loved my long dark hair!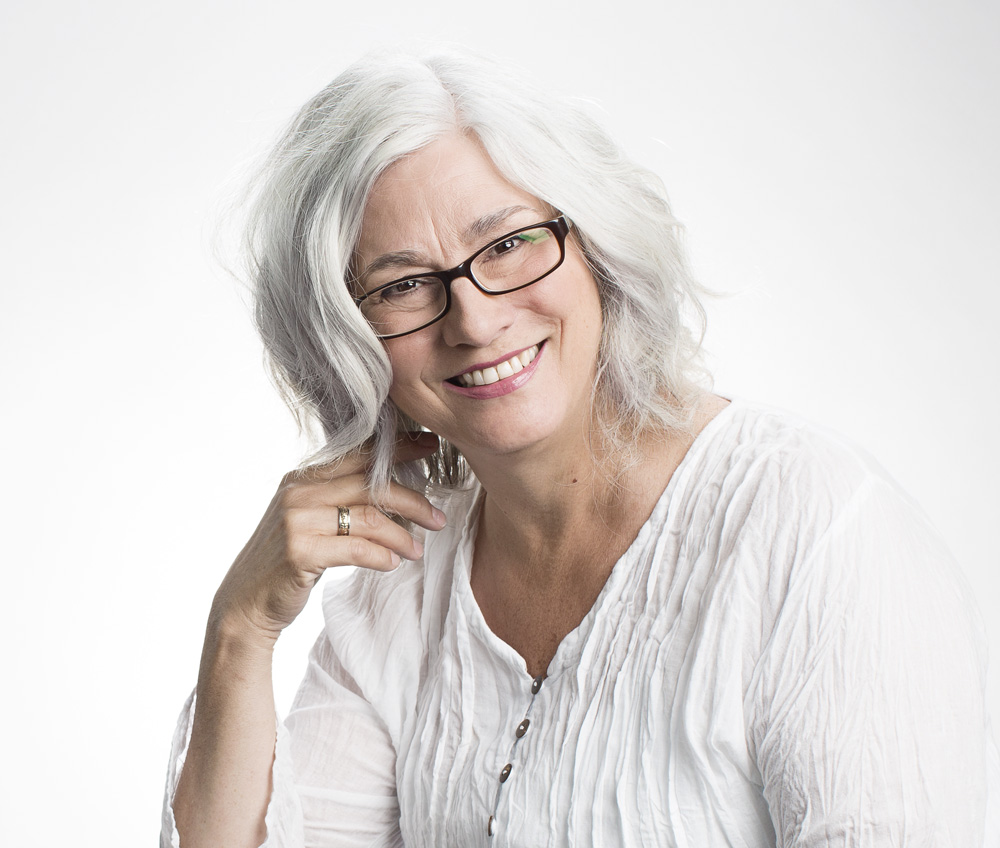 photograph by erin brooke burns
Flemming would never return to dyeing her hair.
So, like an addict trying to quit sugar, at first I tried to just cut back. I'd space out appointments to every eight weeks, colouring it at the bathroom sink between visits, a messy business that left permanent brown spots on the porcelain. "Hmm … I can see you've been using home product," sniffed more than one stylist, derisively, as their fingers raked through my fried black hair, despite the shade on the box being medium brown. The famous Miss Clairol catchphrase, "Only her hairdresser knows for sure," was never truer.
Still, I wavered. I was carded in a liquor store on my 34th birthday; with grey hair, I'd no longer be able to pass as younger than my years. I gave myself deadlines – when I turned 50, which became 51.
Once I managed to make it four months, then caught a glimpse of myself in a mirror, saw my 80-year-old mother look back and ran screaming to the drugstore.
Finally, a week before my oldest son's wedding – I wanted to look good in the photos – I coloured my hair for the last time. Luckily, the marriage took place in late August. I made do with Root Touch-Up until the weather turned cold, then wore a toque for the next nine months. (Going cold turkey isn't an option unless you cut off most of your hair. Brown or not, I'm very attached to mine.)
Eventually, I found a hairstylist who was supportive. Employing a combination of low- and highlights, she helped me make the transition – a change as much psychological as it was physical – to that of a middle-aged woman with grey hair.
Flemming recalls that, when she went grey 20 years ago, there were no role models to emulate. Today, there are supermodels with grey hair.
With impeccable timing, the same month I ditched the dye, 40-something Kristen McMenamy appeared in the annual "Age" issue of Vogue magazine, with grey hair as long as Rapunzel's. Whenever someone would question my decision ("You'll look like a crazy cat lady!" said both my teenage son and a close friend), I'd point to McMenamy.
"Yeah, but you're not going to look like her," said the friend. Ouch.
Vogue's endorsement of grey hair in its editorial pages – still the exception, not the rule – brought the entire history of hair colour full circle. In the late 1950s, at most seven per cent of women dyed their hair; today, the estimate is more than 10 times that.
In my mother's day, you were "cheap" if you coloured your hair; dye was for showgirls or strumpets. Today, in our Botox and filler world, the perception is that, if you don't colour your hair, you've given up.
"You can be a stylish, silver-haired woman, or you can be an unstylish one. But you'd be the same with dyed hair," counters writer Laura Wershler, 61.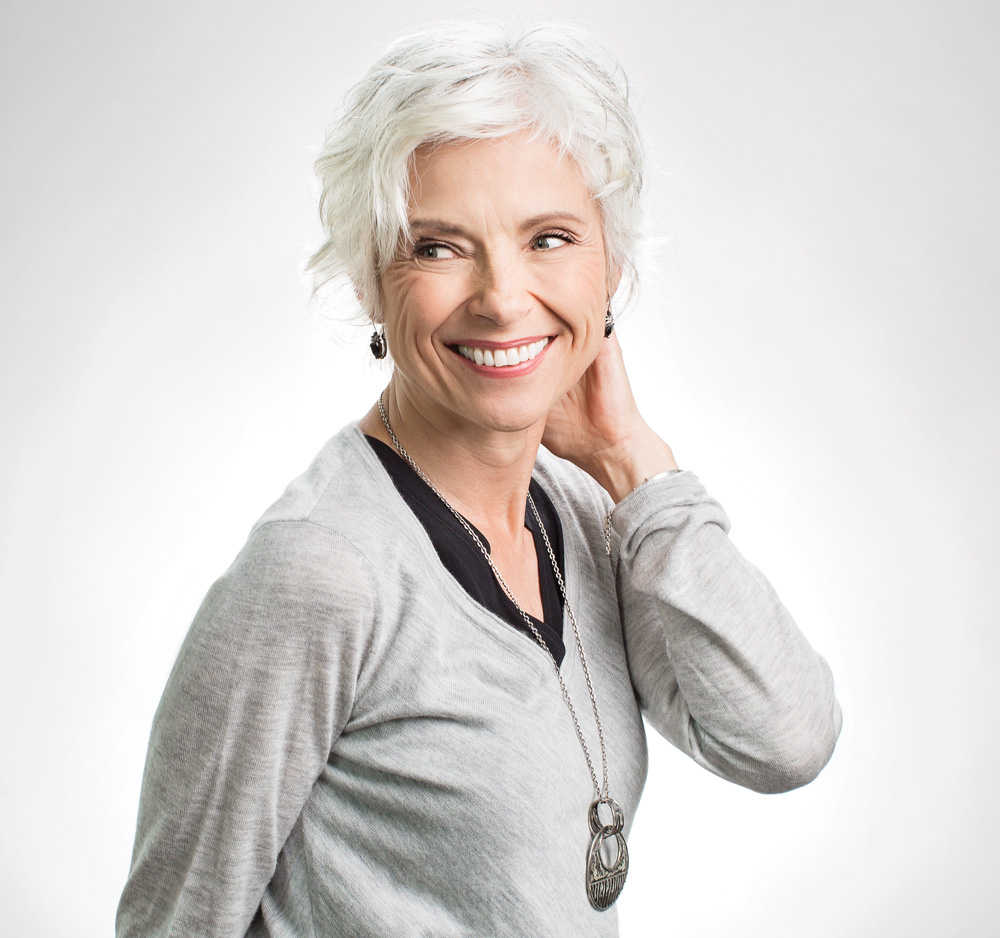 photograph by erin brooke burns
Wershler's grey hair led to a second career as a model.
The former executive director of Sexual Health Access Alberta, Wershler picked up a second career as a model when, shortly after she stopped colouring her hair, Dove chose her for its Real Beauty hair campaign. Since then, she's appeared on the cover of Seattle Woman magazine and in numerous print ads targeting boomer consumers.
Flemming also occasionally models for a stock photography company, though it sometimes doesn't know what to do with her. "In the same day I've played the grandmother, and then they'll change my clothes and I'm out with the 30-year-olds," she says. "And they've booked and cancelled me when they see I'm not old enough. It's like the awkward teenage years where I'm not young and I'm not old."
Which is perhaps the most frustrating – and, at times, funny – part about having hair that reads old. (That is, if you're a woman. No one tells George Clooney to colour his hair.) I once bought vitamins at Shoppers Drug Mart and couldn't figure out why the bill was so cheap until I was in the car and looked at the receipt – the teenage cashier had given me the seniors' discount. Irvine and I have been given the senior price at movies and plays, too.
While having your age overestimated has slight financial benefit, Irvine wonders whether it could work against her if she ever needs to change jobs. "A prospective employer can't legally ask your age," she says. "Will they look at my hair, plunk me in the 'past due' column and think, 'I can't hire her, she'll be dead in four years?'"
Still, Irvine says she'd never go back to dyeing her hair. Nor would Wershler or Flemming. And, after a long four years, neither would I.
Invisibility is the curse of getting older, and my silver hair gets way more attention than my brown hair ever did; much of it from men, by the way, in case you're worried that having grey hair means you'll never have a date again. Moreover, in the end, there's something empowering about embracing one's authentic self while at the same time subverting the status quo.
"I'm noticing a growing sisterhood of the silver hair," notes Wershler. "When we're out and about, we nod and smile at each other, maybe exchange comments, but it's clear we share the same secret. That it was one of the best decisions we ever made."
Not that there aren't moments I don't look in the mirror and long for my lost youth. But, at 55, I suspect I'd have those moments, even if my hair were still brown.
Irvine has a cure for that nostalgia. This past March, feeling her age, she pierced her nose.