Homeowners Anna and Paul Niemczewski in the kitchen of their Housebrand-built inner-city home.
After living in a Ramsay heritage home for nearly four years and with news of a baby girl on the way, Anna and Paul Niemczewski decided that 2015 was going to be the year to look for their next house. But it wasn't until they secured a 25-foot-wide lot, also in Ramsay, that they decided to build a home.
Their first big challenge was finding an architect and builder who would take on the smaller-scale, inner-city project. They interviewed several builders who were just not interested. "It was too small a project for them and the site had a lot of challenges," says Anna, "but Housebrand jumped at it."
The couple decided to go with the Calgary-based architecture and building firm, not only because of its reputation for being a design-led, environmentally focused builder with experience building inner-city homes, but also because of Housebrand's great communications skills. "When you're asking a million questions – small questions, large questions, and stupid ones – they were just so open, and that was the biggest thing for us," says Anna. "It's a big commitment. There's money involved, and it's our house."
For Anna, owner of the family-run designer eyewear shop and optometry clinic, Chinook Optical, Paul, a physician to Calgary's homeless population, and their daughter Inez (now two years old) the home had to have threefold practicality. It had to be a flexible space that could allow their family to grow and evolve; it had to be a blank canvas where Anna and Paul (and one day, Inez) could express their love of industrial design, art and architecture; and, because of their love of bold, graphic monochromatic design, the house also had to be completely black and white.
"[Anna and Paul] came to us at the beginning with this idea of having a black house on the outside and a white house on the inside," says Matthew North, principal at Housebrand, who designed the house with the couple. "They had a very strong vision of what they wanted and we were excited to work with them to make it a reality."
The completed home is sleek and modern, with white-oak herringbone floors, white walls and monochromatic furniture, but it is far from sterile. For Anna, the home's white walls are a blank canvas she finds freeing. "It feels like there's so much potential where it can be whatever it wants, she says. "Two years down the road if we want it to be French Country then we can make that happen because we have a canvas to work with."
Fitting into a 25-foot-wide lot
One of the challenges the Niemczewskis faced when planning their new home was how to squeeze a spacious-feeling structure onto the existing 25-foot-wide lot. Housebrand's experience working on inner-city homes built within tight parameters was one of the reasons the Niemczewskis selected the firm. Almost immediately, Housebrand proposed using its innovative, industry-leading FAB home concept.
The FAB home (which stands for Future Adaptive Buildings) is an architecturally designed, custom-built home that is assembled with pre-manufactured, customized components such as wall systems, foundation and cabinetry that can conform to any shape or size of house. This streamlined building process meant that the Niemczewskis' 2,200-square-foot home was completed – from demolition to move-in – in only 33 weeks.
Several elements of the interior, such as the closets and doorways, are moveable so the floor plan can be reconfigured to increase or decrease the number of rooms to suit the changing needs of the family – or, as Housebrand describes it, be "future adaptive."
"Everybody's life is always in flux, and houses are crystallizations of need at the time they were built and also of lifestyle," says John Brown, founding principal at Housebrand.
For example, he says, a typical bungalow built in 1945 reflects what life was like at that time: small, enclosed kitchen, small bedrooms and closets, one bathroom. By the 1970s, there were more bathrooms, a formal living room, but with the addition of a family room; now, homes are being designed without a formal living room. "It just keeps shifting, so we should just accept that," says Brown.
The adaptability of the FAB home was a selling point for the Niemczewskis. "For us, flexibility was key. What does the next 10 years look like for us as a young family?" says Anna. "There are a lot of opportunities there where [life] is not going to look anything like it does today, so we needed a house that really allowed for those potentials to happen. That's what we pursued with Housebrand, and they were really open to that."
Creating an artful home
The Niemczewskis cite travel as their main source of inspiration in terms of design and art, and the family is always on the lookout for fresh new artists and meaningful pieces to introduce into their home. "Travelling, for sure, is one of the best ways for us to explore our style and see art, basically expanding our understanding of it all. There is a lot that I love and can appreciate out there, but not necessarily that I need to live with – I'm always editing," says Anna. "I get inspired in so many different places. We recently added one of Angela Chrusciaki Blehm's ribbon paintings to our home. She is an artist from Georgia that I discovered on Instagram recently."
The crisp, gallery-inspired white walls of the home lend themselves to the ever-expanding collection of pieces the Niemczewskis have curated together over the years, which includes several personal and sentimental pieces from designers and artists they count as friends.
"We love to pick up new prints or paintings on our travels or buy from our friends who make things," says Anna. "The beautiful leather baskets in our living room were made by our friend Carey Jones [owner of Inglewood-based furniture store Guildhall]. "We love supporting our friends this way and enjoying their work in our daily life. It is what makes our home personal and unique."
---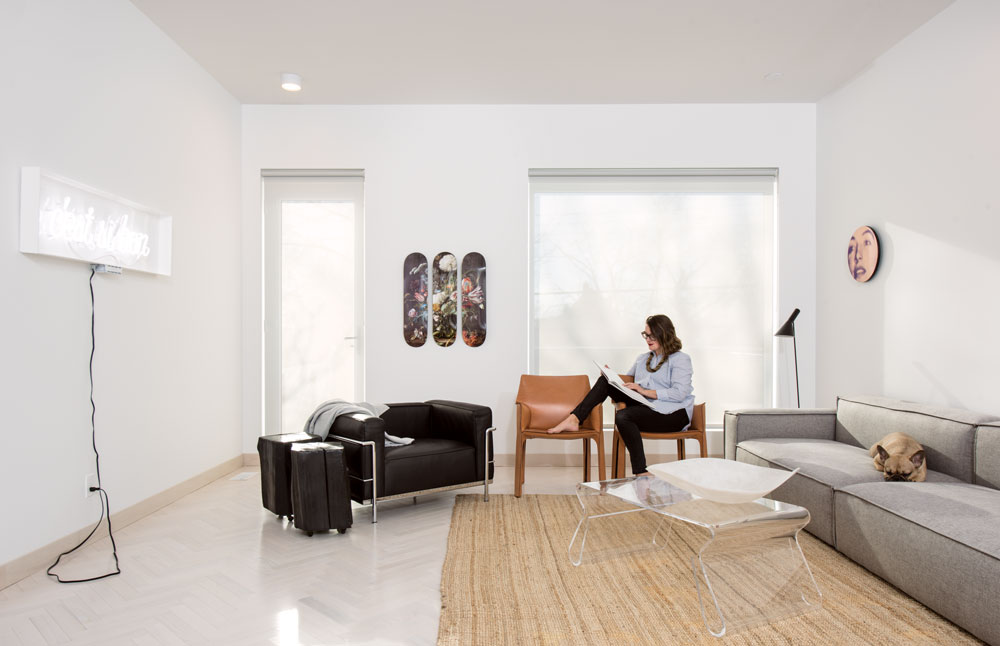 The white walls provide the perfect gallery space for the Niemczewskis' art collection.
Sofa from G. Romano; Cassina "Cab" chair and Le Corbousier "LC3" armchair from Kit Interior Objects; Side tables and bowl on coffee table by Martha Sturdy; Floor lamp by Arne Jacobsen; Art by Chris Cran from Trépanier Baer Gallery; Triptyque art in living room from Boom-Art; Jute rug from IKEA.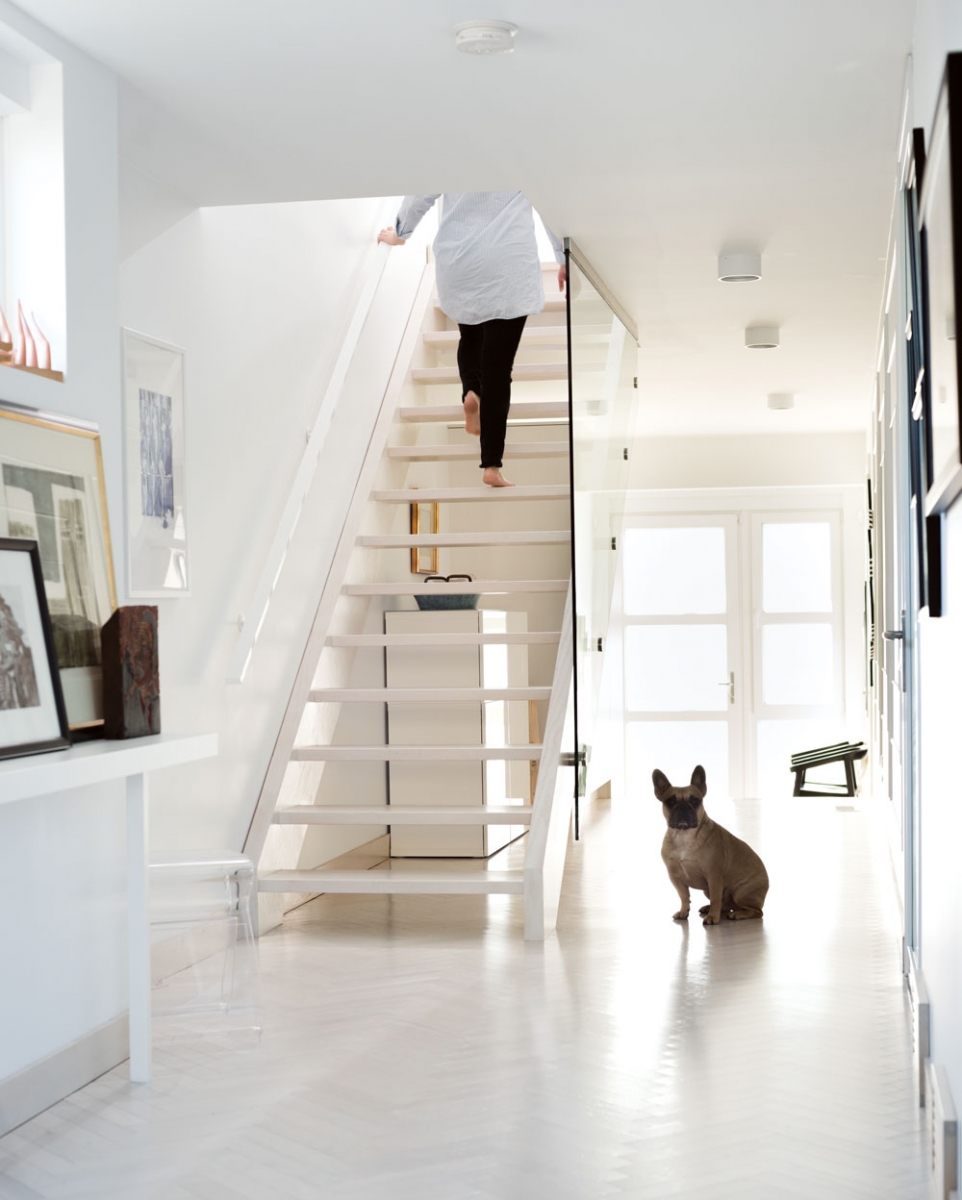 Natural light from the front door, a partial glass wall and an open-tread stairway keep the first floor entryway feeling open and spacious. And a white-oak herringbone floors and a black-and-white palette make the home feel spacious despite its narrow width.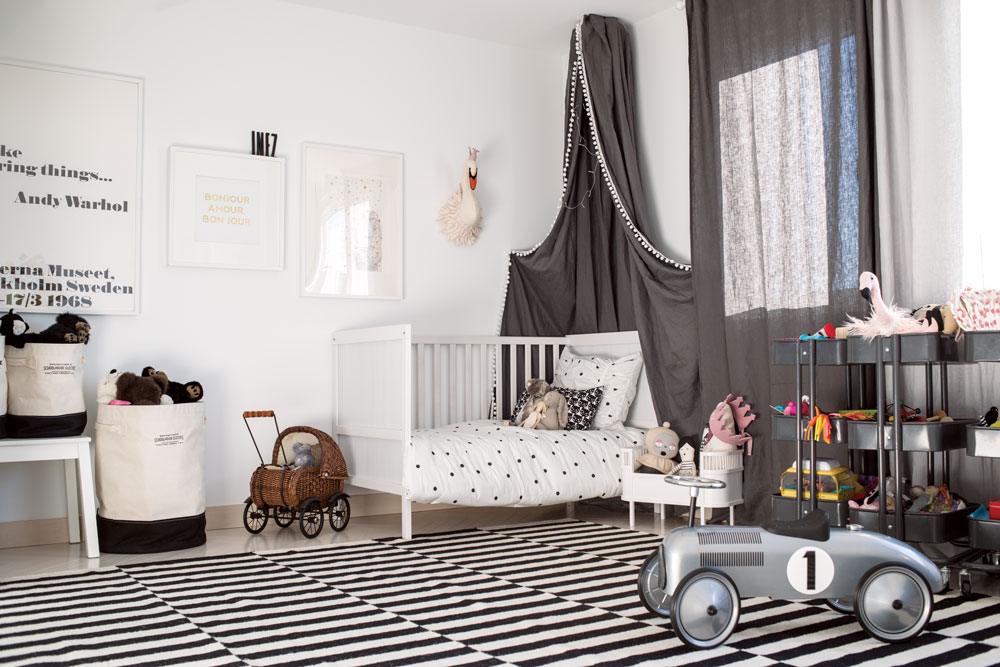 Daughter Inez's bedroom also has the black-and-white colour scheme.
"Odette" swan sculpture from Sew Heart Felt; bed from IKEA; Racer car in from Land of Nod.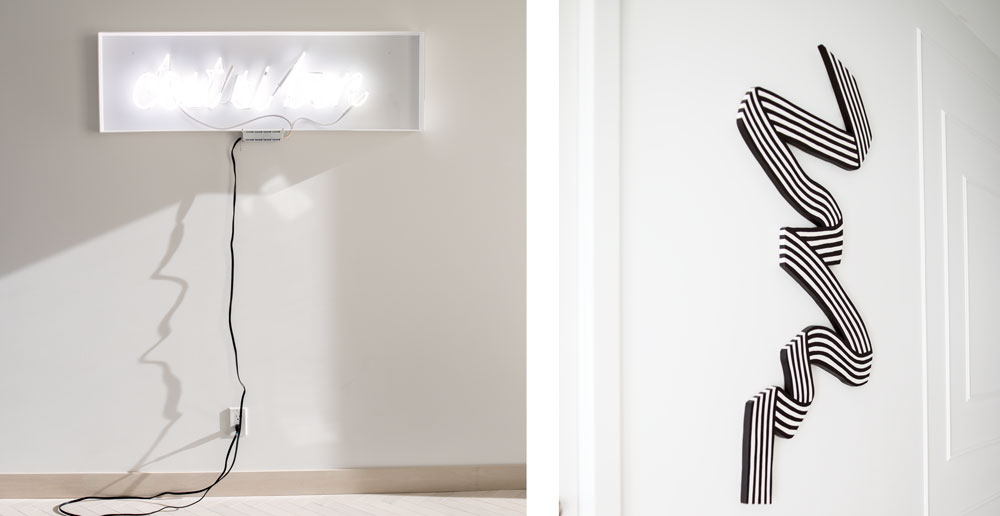 The Niemczewskis' love of art and design is displayed throughout the home.
"C'est Si Bon" neon sign by Endeavour Neon; Ribbon painting by Angela Chrusciaki Blehm.
---
Housebrand partner Matthew North on the elements of a FAB home
Flooring
"We've been using a lot of white oak with an oil stain because it is so resilient. In Anna and Paul Niemczewski's home we did a unique herringbone pattern with the white oak that created a lot of interest. We also always do a hardwood baseboard that wraps up from the floor to the wall, creating a seamless look that is also very strong."
Doors
"In the FAB houses, all of the interior doors are powder-coated metal and glass. They allow great interior lighting during the day but still have lots of privacy. There is a resiliency to them that you don't get with wooden doors."
Floating cabinetry and moveable closets
"In FAB homes the bedrooms are defined by the closets, which are actually modular units that can be moved. In Anna and Paul's home there are several different configurations of rooms on the top floor to make larger or smaller spaces, depending on the needs of their family."
Lighting
"We do all of the electrical on a grid and we pre-figure out certain points in the house for future use. We used octagon-based lighting in Anna and Paul's house so that any of the lighting can be moved around or adjusted. Since they moved in they have already changed a few things – that is how simple it is."
Windows and blinds
"We've designed a pocket for the blinds within the structured insulated panels [SIP] that we use for the exterior walls so that we can add a blind without having to put a valance in. Our windows open in two directions, so we had to allow the blinds to move to accommodate this."
Minimal waste
"There is actually minimal waste in a FAB home in regards to framing materials. SIP walls are precut on machines that are very accurate and then assembled on site. We don't even use waste bins anymore because we don't have the volume of garbage as regular home-construction projects."