The living room in designer Sarah Ward's home maintains a mid-century aesthetic with vintage-style chairs and a Noguchi-style coffee table.Vintage chairs; Embroidered cushions from Schoolhouse Electric Co; Barristers bookcase from Crate & Barrel; Owl by Anna-Wili Highfield; Zebra from Anthropologie; Chateau by Jeremy Kohm, available through 20×200.com.
With a client list that includes The Nash and Proof, interior designer Sarah Ward is known for transforming spaces into eccentric and eyecatching cocktail bars and refined restaurants.
In her Bankview home, Ward mingles vintage and modern elements, nestling items from chain stores next to those from coveted designers, and then sprinkling in quirky pieces that serve as hidden gems. Her idiosyncratic style leads to bold and unexpected design choices. The black walls in the former office that now serves as an ad-hoc library, for instance, always take people aback. But instead of creating a gloomy shrunken feel, the ebony walls have the opposite effect. "They're always surprised a black room can be so open and approachable," says Ward, adding she loves the drama of it. "It's one of the quirkier rooms of the house. Because it's not a main living space, we felt we could be more experimental."
Unexpected design touches, like the black library walls, the vibrant peacock blue ones in the dining room, the decommissioned fireplaces that are also painted black, and unusual details, such as a portrait of Bill Murray and a mounted zebra head, give the space a bit of eccentricity. "I love the zebra in the living room," says Ward. "You can't look at it and not smile."
The Murray portrait and a cross-stitch of The Royal Tenenbaums serve as part of a running Wes Anderson theme. A framed photograph of a hotel pool, while not directly linked to the quirky film director, is in line with his unique aesthetic and colour palette.
"I love things that bring joy and delight in whatever form that is," says Ward. "I love that the zebra is so weird. And so is Bill Murray."
A home with high-low design
Ward took six months to decide on the fabric for her Eero Saarinen womb chair. The coveted designer piece is a focal point in the black library – a place to curl up, relax and read. This was no impulse purchase, but a long-held desire to own one of these chairs finally realized. "Ever since I was in design school, this was the chair I wanted," she says.
In that same space a credenza from Calgary's Bex Vintage, reflects Ward's love for mid-century furniture. But next to these investment pieces the home also features finds from Anthropologie, IKEA and Crate and Barrel. "You acknowledge your taste won't be the same forever," she says. "I'm not willing to spend a lot of money on things that won't be with us for a long time. I love to mix things that I have coveted for a long time with those I know I can replace in a few years because my tastes have changed."
That philosophy means Ward practices patience when it comes to adding more expensive items to her home. The dining room drapes – saturated in colour with bold dragons and bright chrysanthemums and peonies – are a fabric Ward had long desired before finally purchasing.
The first piece of fine art she and husband Dave McDougall purchased was a painting by Heidi Conrod. The couple initially walked away from it to mull over. "It's important to wait with fine art," says Ward.
The modern piece, with its lively strokes of auburn and orange, teal and smoky blue, now hangs in the dining room and was the couple's fifth anniversary gift to each other. "It feels like it's us in colour," Ward says.
Secret mementoes
There are no framed family photos, shots from Ward's wedding to McDougall or snaps from vacations away, but family mementoes and souvenirs from travel are always close at hand in subtle ways.
A signature of Ward's home-design sensibility is incorporating covert reminders of the people she holds dear. The unexpected black-and-white shot of a 1938 high-school rugby team includes McDougall's grandfather; a painting by Ward's sister of a Cavalier King Charles spaniel is a portrait of Ward's first dog; and the framed pressed flowers on display in the living room are from her grandmother's garden. It's a way of secretly having reminders of family and loved ones nearby in a unique way. "I like belongings instead of framed pictures," says Ward.
Ward treats vacation souvenirs the same way. A black, nubbly chunk of lava from a trip to Iceland, a large framed poster of Lugano (cheekily purchased in Hawaii) and a handmade shaker box, steamed and hand nailed, from a village in Vermont all serve as unconventional reminders of the trips she and McDougall have taken together.
"I love things that have a story," says Ward.
---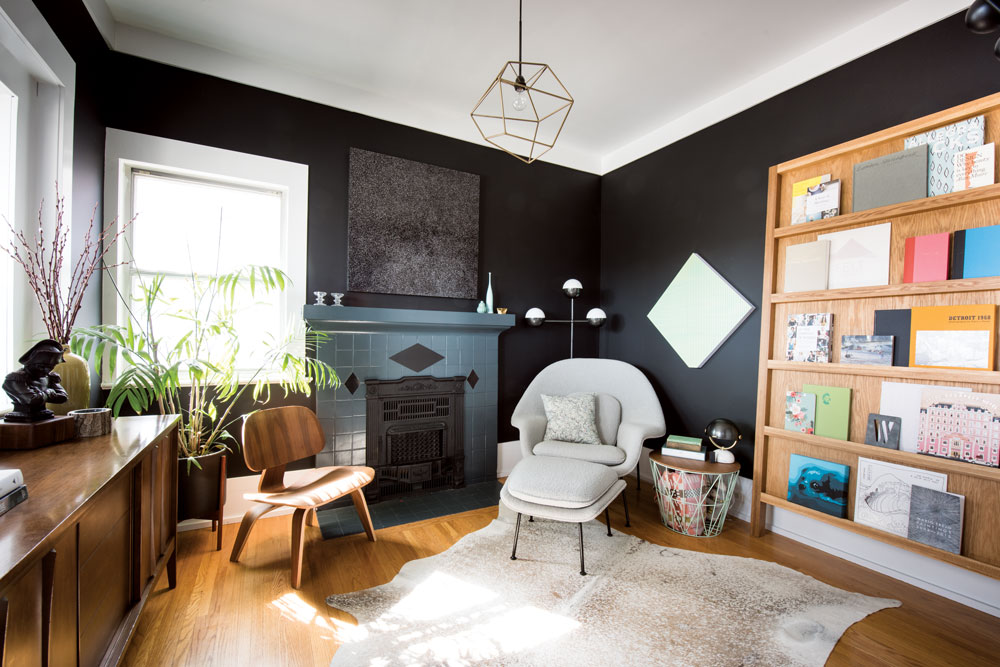 The easel-style bookcase lets book and magazine covers become part of the decor.
Painting above fireplace by Mario Trejo, available through Herringer Kiss Gallery; Custom light fixture, available through Sarah Ward Interiors; Womb chair by Eero Saarinen for Knoll, available through Kit Interior Objects; Side table by Ferm Living, available through Kit Interior Objects; Painting on wall by Rhys Douglas Farrell, available through Herringer Kiss Gallery; Custom bookcase available through Sarah Ward Interiors; Cowhide rug from Tandy Leather.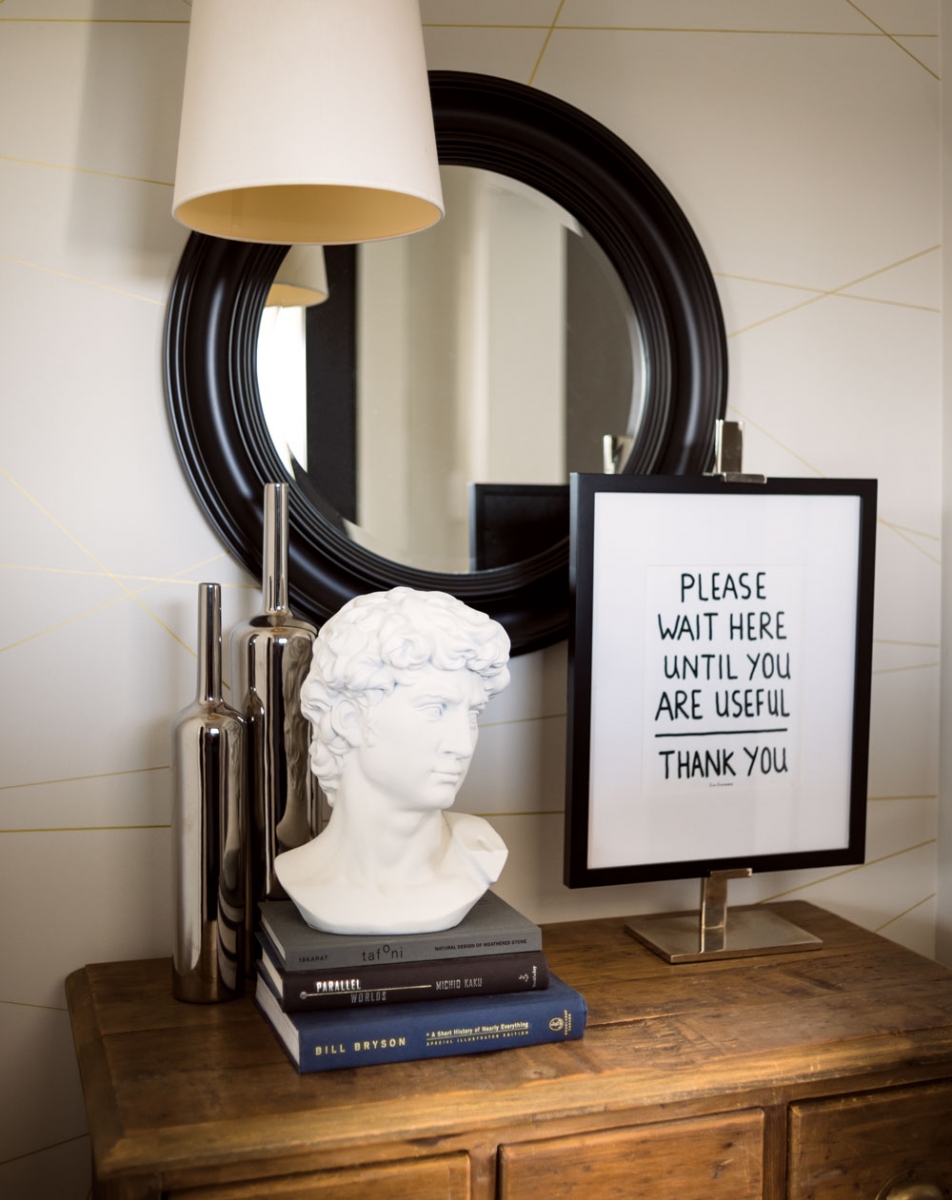 Playful sayings in unusual frames serve as art around the house.
Vintage dresser; "Please Wait Here" by Ian Stevenson, available through theymadethislondon.com; Josephine Pendant, Metalarte, available through Lightform.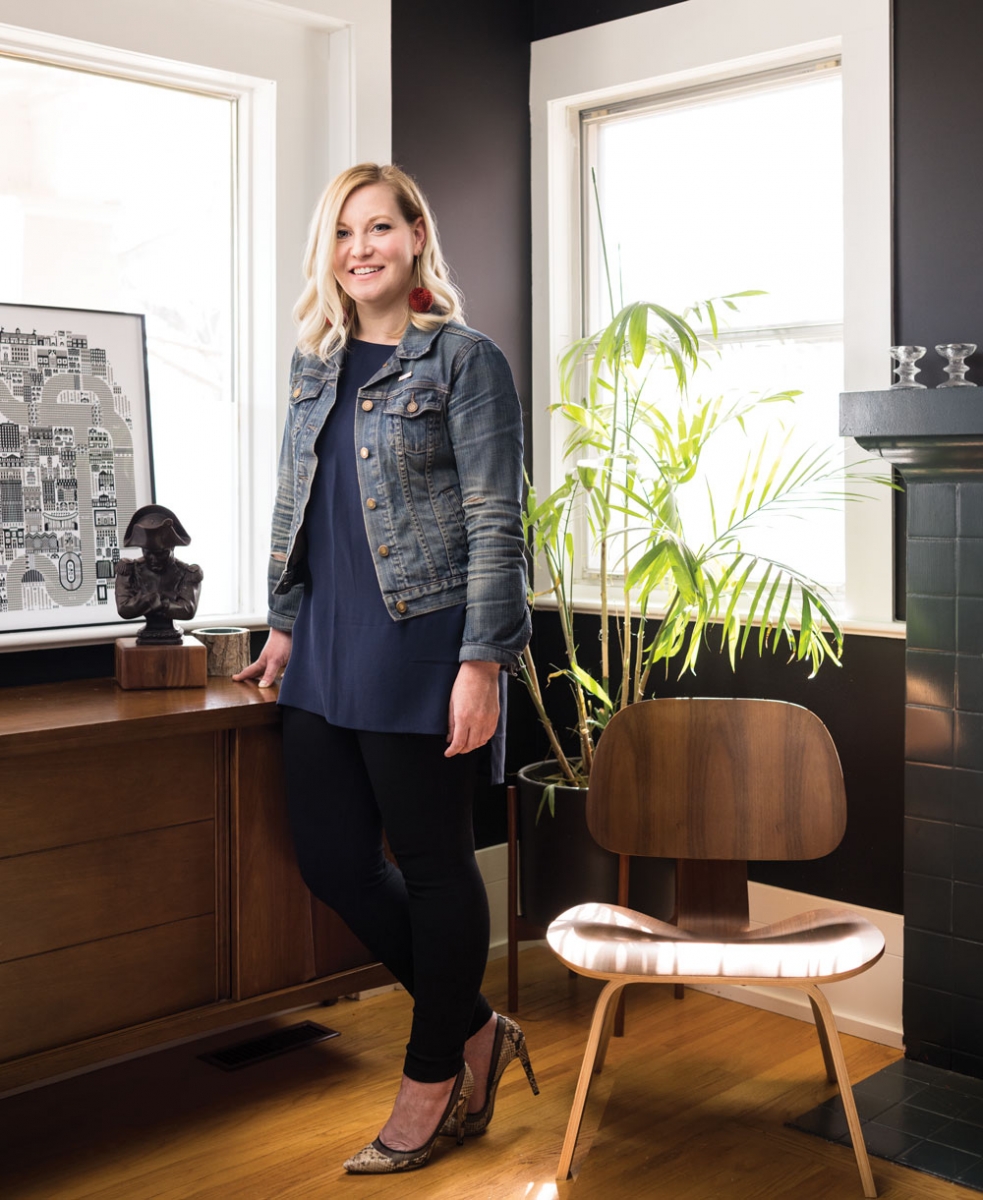 Designer and homeowner Sarah Ward stands next to a credenza purchased from Bex Vintage, a Calgary-based seller of mid-century furniture.
Vintage credenza available through Bex Vintage; Modernica planter, available through Kit Interior Objects; Eames molded plywood lounge chair, Charles and Ray Eames for Herman Miller, available through Kit Interior Objects; Calgary print by Raymond Biesinger, available through Kit Interior Objects.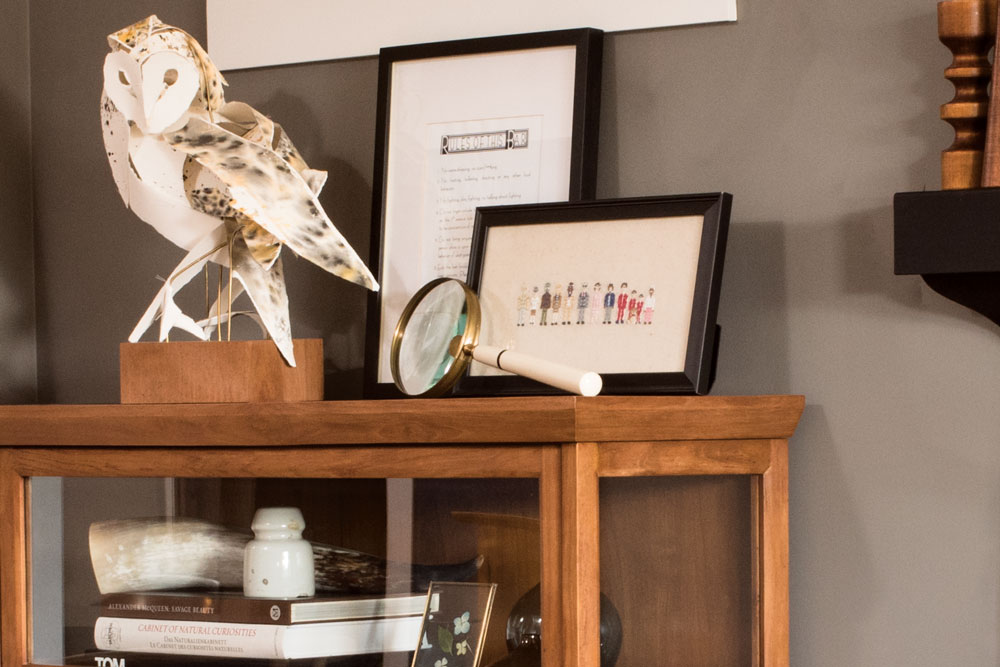 An owl sculpture from Australia, a painting of the Royal Tenenbaums and a framed list of "bar rules" from New York City, are some of the eccentric curios on display in the living room.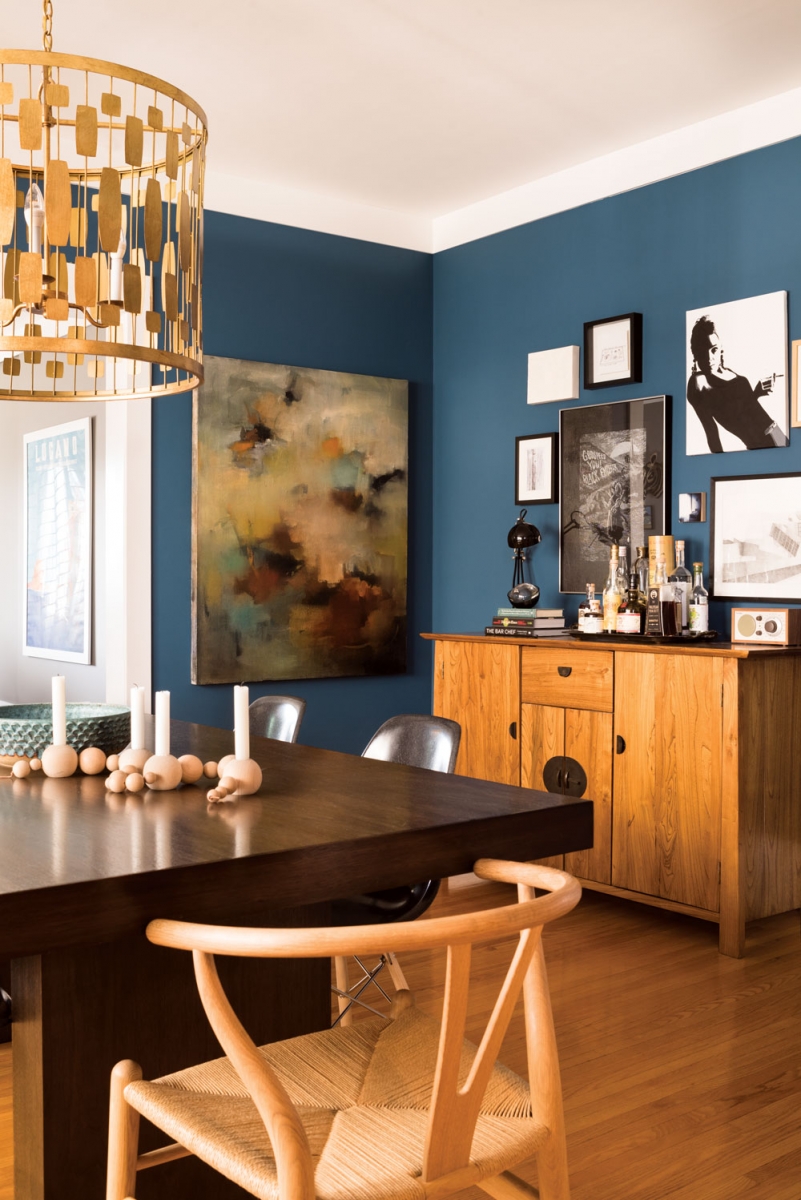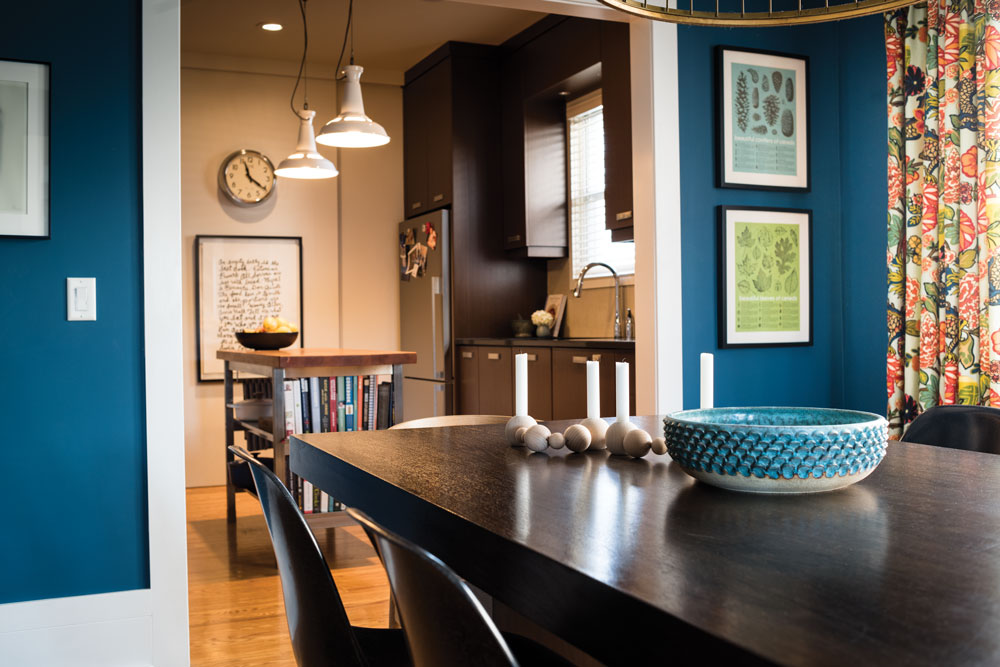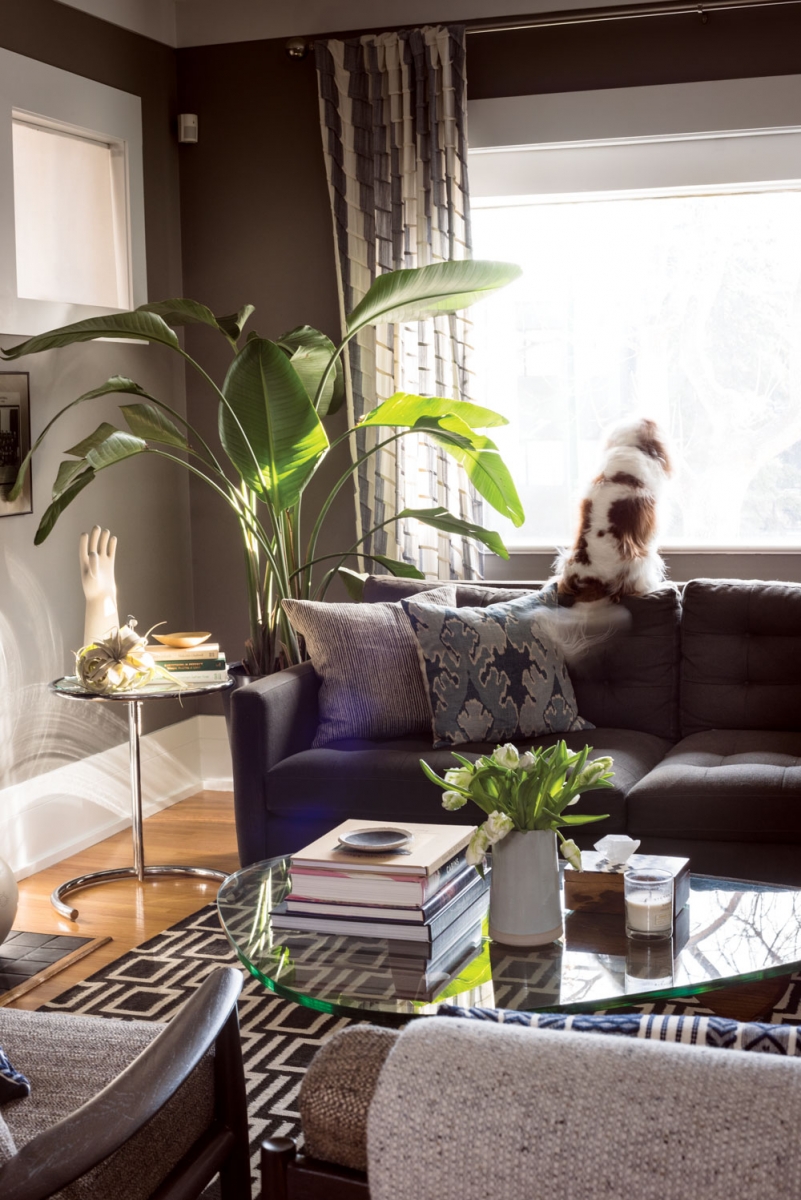 ---
Sarah Ward shares five ways to incorporate idiosyncratic design style
Surround yourself with things you love
"Let each object tell a part of your personal story. Unusual items create a distinct space that is uniquely you."
Embrace colour
"Colour is the easiest and simplest way to create a unique space, and is really cost-effective. It also amplifies the palette around it, which is why you see some fine art galleries use very saturated shades for their walls."
Support small businesses and artisans
"Whether you shop at local retailers, art markets, or sites like Etsy, there is an incredible amount of wonderful work out there, and it's better to buy directly from an individual than a large retailer."
Display inspiration
"I love coffee-table and art books, as they allow me to surround myself with a library of work and inspiration that is easily accessible. But they get lost when they are all clustered together on bookshelves. I display them in stacks throughout the house that are rotated frequently."
Play with texture
"I think texture is often under-utilized in many spaces. The use of tactile materials is what makes the best designers really distinct. Looking to a variety of natural materials is the easiest way to bring texture into your home, whether it's through a cowhide rug, plants, or natural artifacts – like our lava rock from Iceland. But don't go stealing from protected sites!"