Interior designer Aly Velji of Alykhan Velji Designs took inspiration from the rug from HPR Gallery for the rich colours and textures of the living-room palette. The burnt-cedar stools work as seats, side tables and sculptural elements. Several accessories allude to the couple's love of travel, including a monk's bowl from Bangkok.
For Michael and Jennifer Koury, finding the right house wasn't necessarily about downsizing, but rightsizing. They didn't necessarily need less space, but rather a specific configuration that would work right away, as well as in later years.
They wanted a home that was not only a welcoming haven where they could host large family gatherings but that would also work layout-wise for them in retirement. The Kourys' wish list included a self-contained main-floor living space as well as an open-concept separate living area for overnight guests, plus room to build a studio.
They made their dreams reality three years ago when they bought a renovated mid-century bungalow with a walk-out basement. The location in the heart of Foothill Estates, a small sub-district within the central-northwest community of Collingwood, was the icing on the cake.
"We always loved this neighbourhood because of its larger lots, mature trees and proximity to downtown," Michael says.
"In fact, we had looked at a property here many years ago, but with three children and us in the early stages of our careers we just couldn't afford it."
Although both Michael and Jennifer are now retired, the opportunity to buy in Foothill Estates came while they were still working down in Houston, Texas. "The plan was always to return to Calgary," says Michael. "We're from here, so it's our home." The couple are avid skiers and also own a recreational property in Fernie, B.C., which was part of what drew them back to Calgary.
The almost 4,000-square-foot mid-century home was originally acquired and renovated by master craftsman Pawel Lewandowski of Liveable Spaces Ltd. When the Kourys bought the home, they retained Lewandowski to further customize it to their specifications. The underground garage was relocated to the front of the house both for aesthetic and practical reasons. The move freed up the lower level for more living space and the backyard for a studio.
Because the Kourys had sold all of their furniture before they moved to Texas, the home needed to be furnished from the ground up. Enter Aly Velji, principal designer at Alykhan Velji Designs, a master of blending a variety of design styles with unifying patterns and textures. Although Velji had come highly recommended to the Kourys, like any business transaction, Michael ran a competitive process. "I had no idea at the time that he was a famous personality," Michael says, laughing. "It was a combination of the ideas he brought to us, the look of his website, and the fact that he gave us a fixed bid."
Velji helped the Kourys create a modern-yet-inviting feel that didn't look like it had all been purchased in one go. Using a colour palette of navy, indigo and burnt orange, Velji unified the large open space and created continuous flow. "You don't want to jar the eye by using multiple colours in every room," says the designer, on his rationale for using one palette throughout.
Velji also added warmth and sophistication to the space by marrying a mix of styles, particularly in the living room, where rustic cedar stools and a Persian rug are paired with comfortable mid-century chairs (upholstered in the signature burnt orange) and a modern coffee table. Custom pieces such as the dining-room table made by Izm out of Edmonton, not only fit the space but also impart a unique look.
However, it is the inventive feature wall by Calgary-based Interiors to Inspire that really anchors the main floor. "Michael and Jennifer were [considering] a large-scale piece of art but they trusted us when we suggested a custom treatment," says Velji.
The resulting statement piece is a feature that the Kourys love and that also unites their two homes. "If you look carefully, you can see Fernie: the ski runs, trees, the rock face and the colours of the mountains," says Michael. "The stars aligned when we found this place. It just took 30 years, that's all."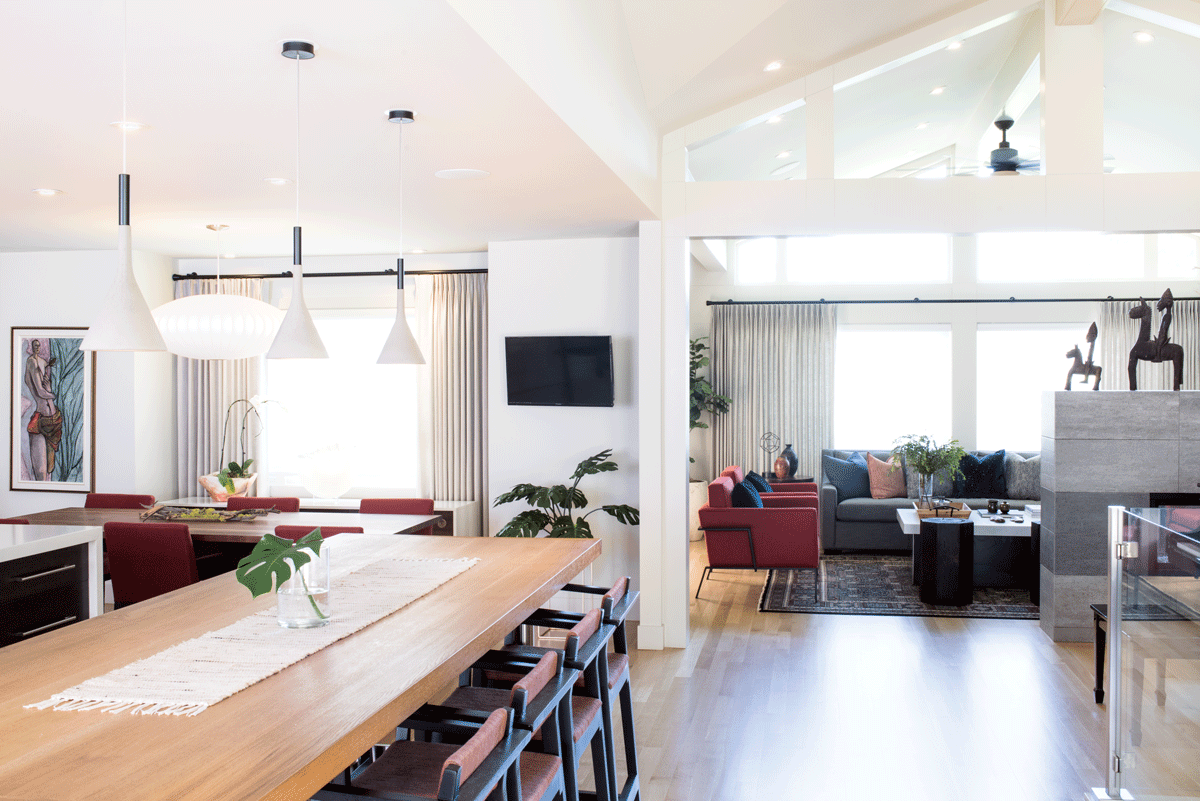 The open-concept main floor offers several seating areas, making it an ideal space for large family get-togethers.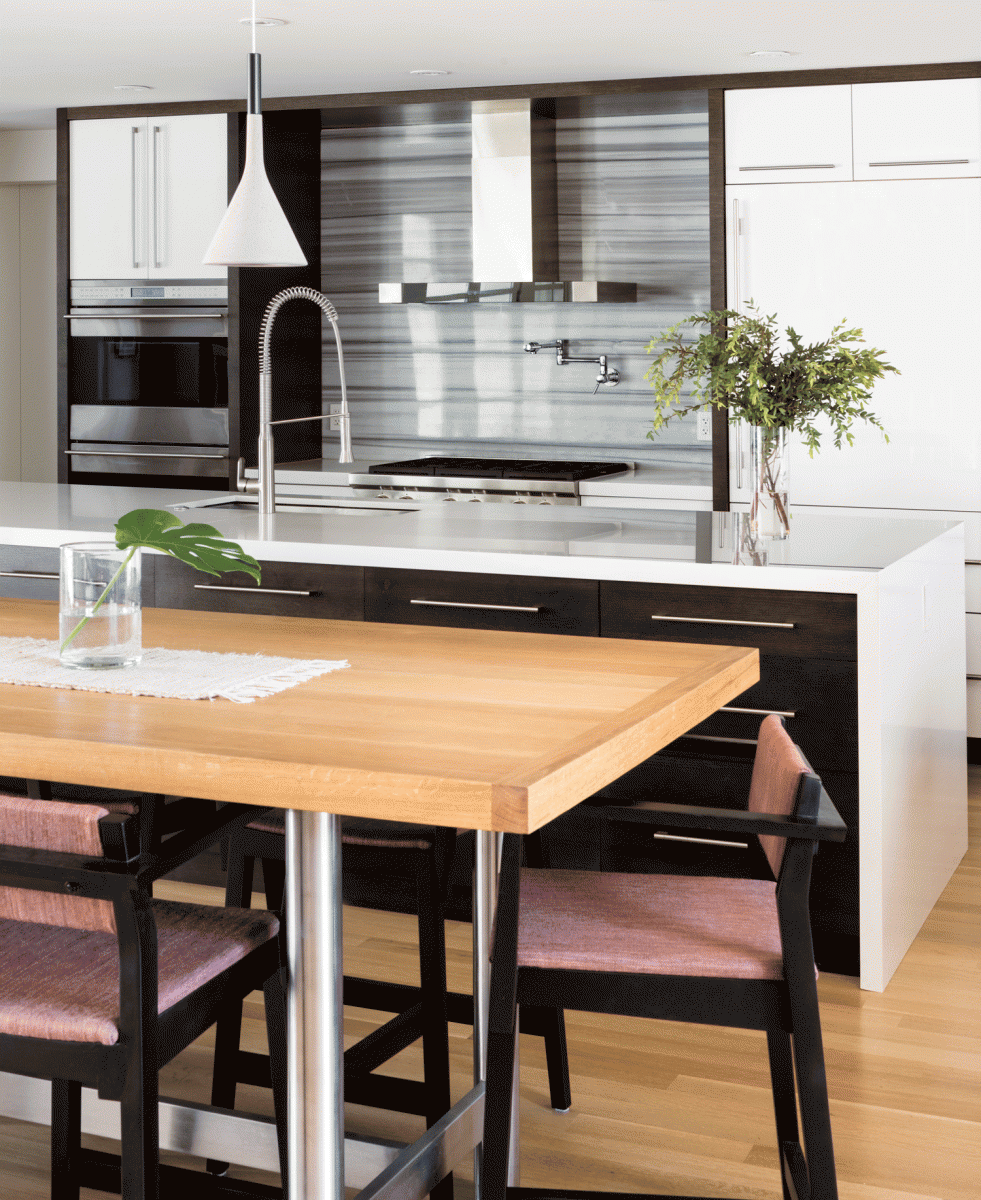 Other than changing out the lighting over the island, the Kourys did not alter the kitchen, as designed by Liveable Spaces, which features a Caesarstone countertop, natural stone backsplash and oak flooring.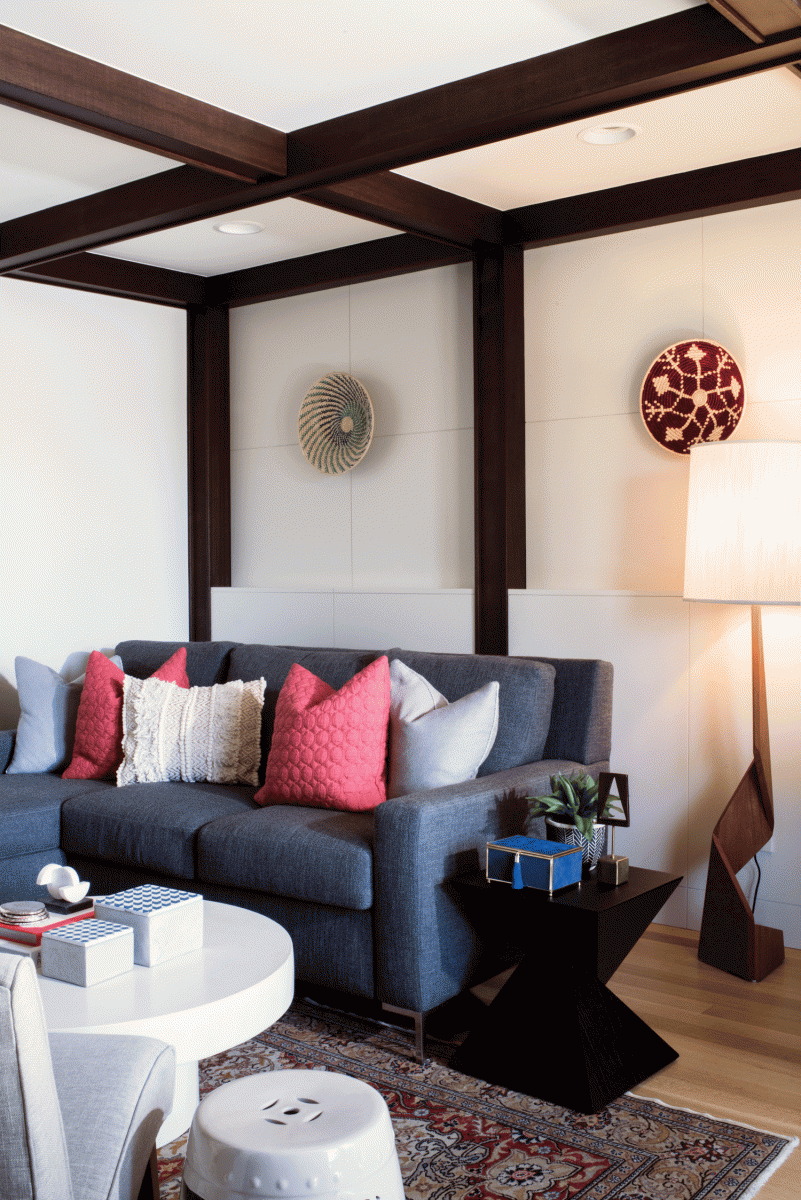 Unique accessories such as a vintage lamp and baskets from Ten Thousand Villages mounted as art create visual interest in the media room.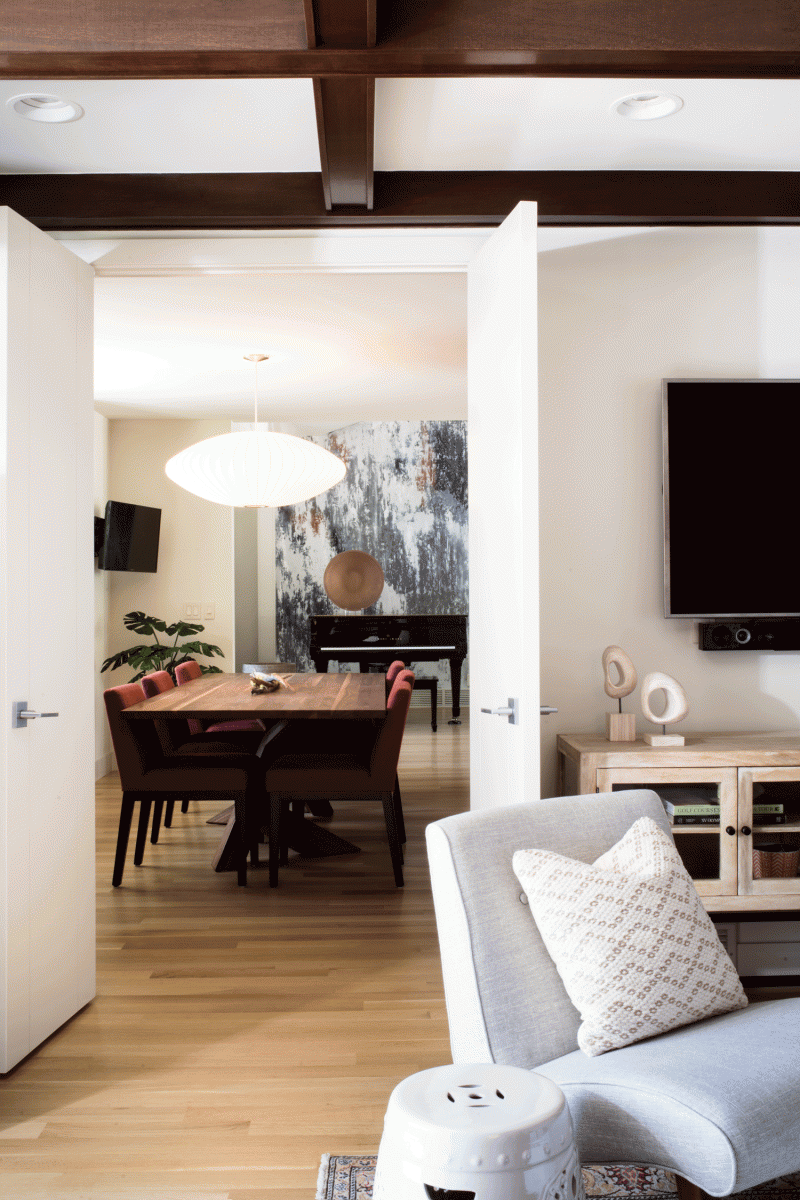 The double doors to the media room can be closed for privacy or opened when entertaining large groups to allow conversation to flow to the nearby dining room.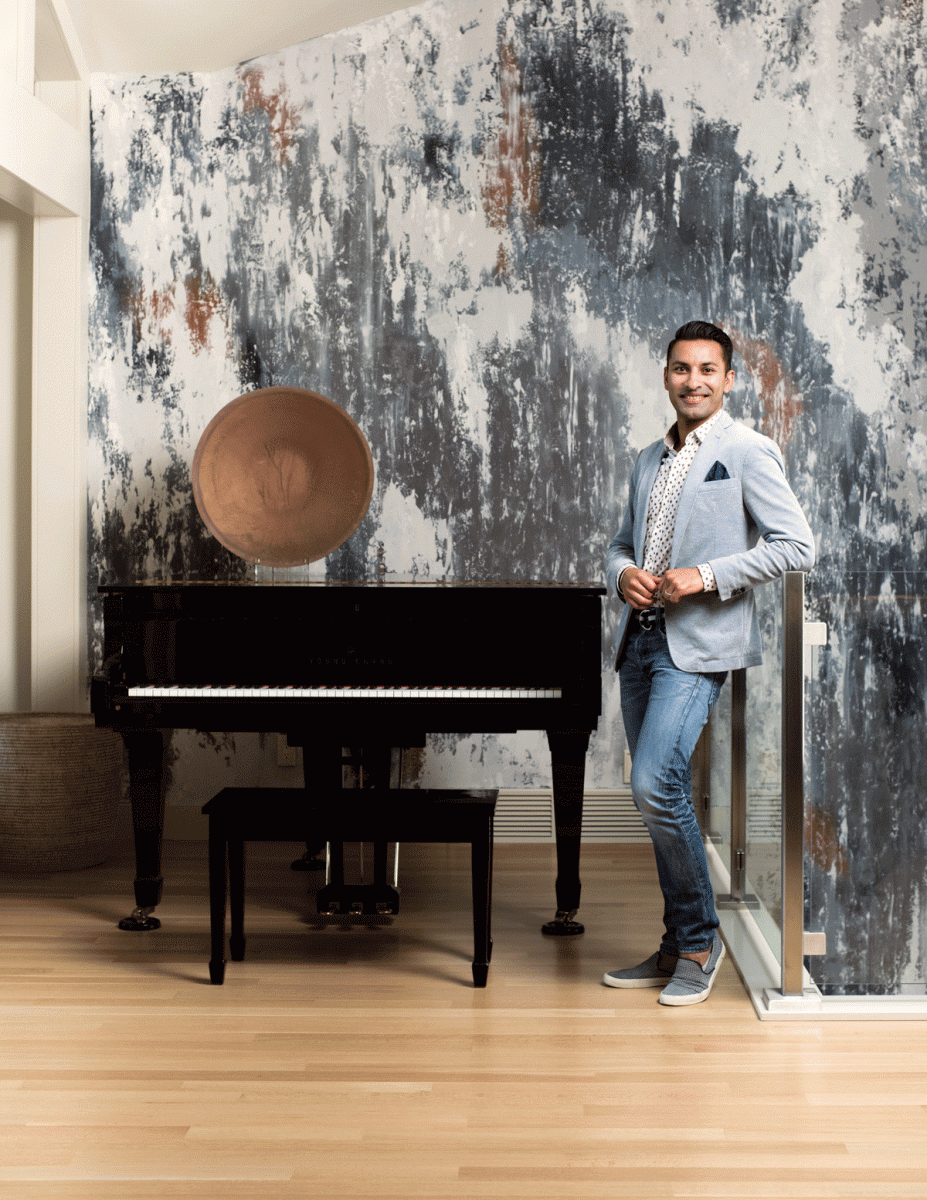 Designer Aly Velji stands in front of the feature wall painted by Interiors to Inspire. Look closely and you'll see it depicts Fernie, where the homeowners have a recreational property. A resin platter by Martha Sturdy sits on the baby grand piano Michael Koury bought as a retirement gift for his wife.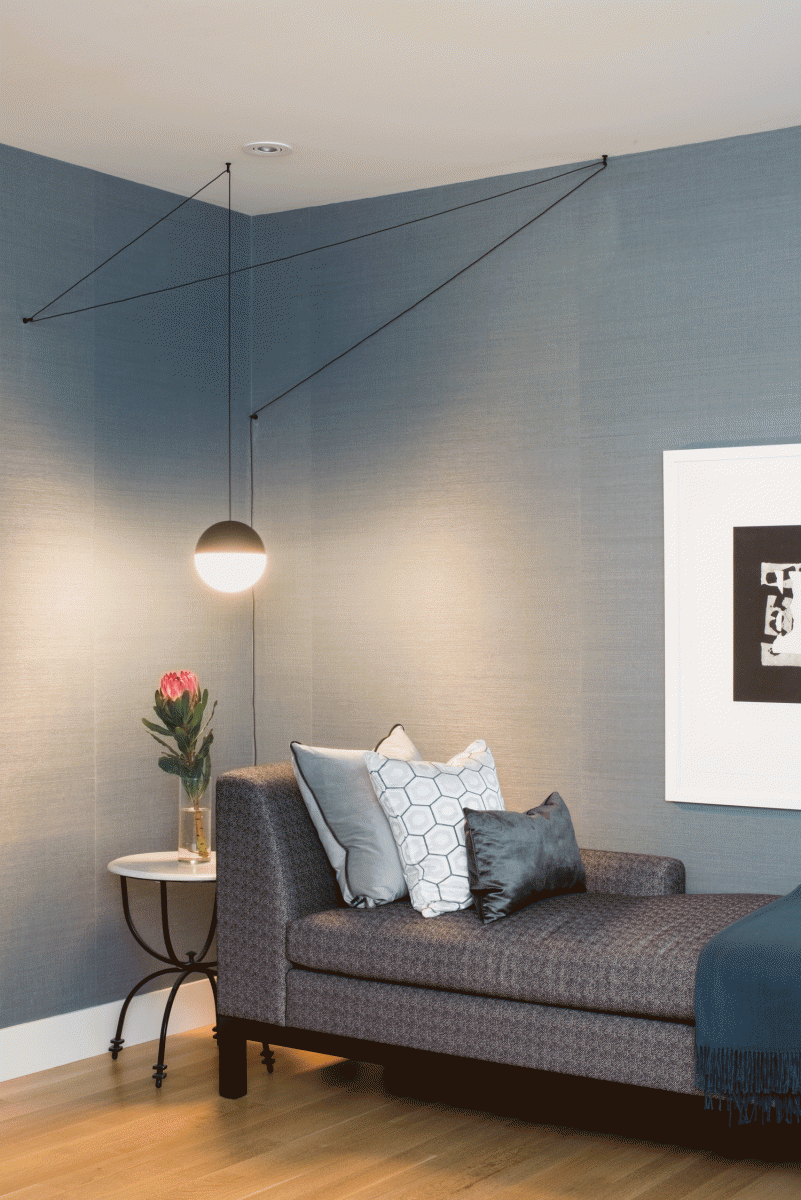 The custom seating in the main bedroom created by Calgary-based Red Eight Workshop is the perfect spot to curl up and read. Grasscloth wallpaper in a warm pearl-grey adds a touch of glamour.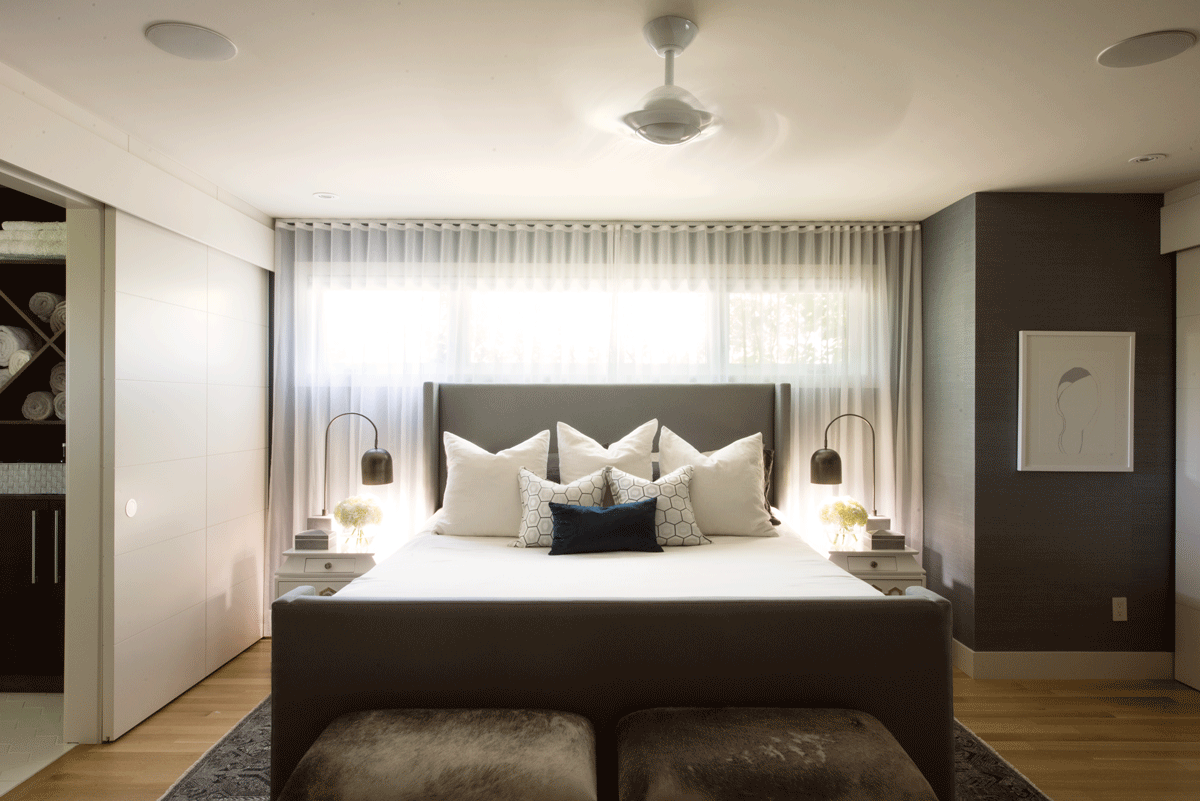 The main bedroom has a custom king-sized bed created by Red Eight Workshop, dressed in handsome neutral bedding. Sheer drapery completes the serene look.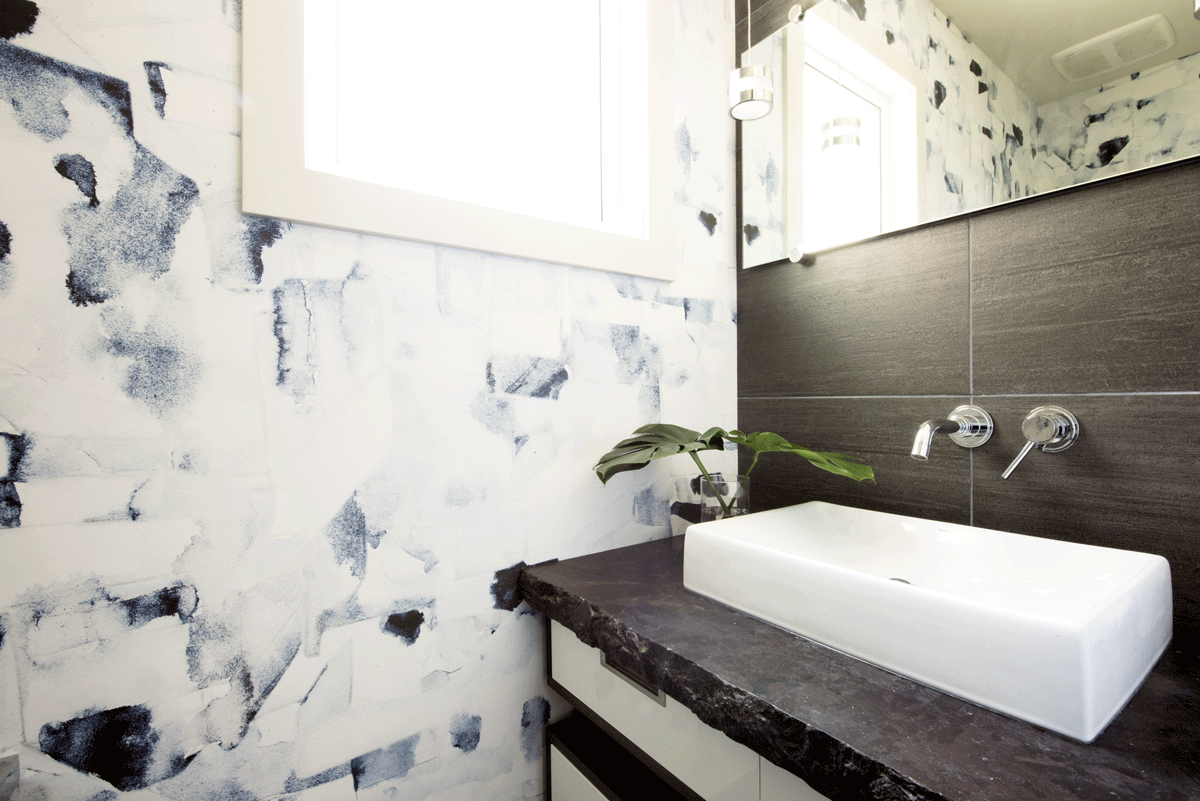 Custom wallpaper from Eskayel in swashes of blues and whites, creates a bold look in the upstairs powder room.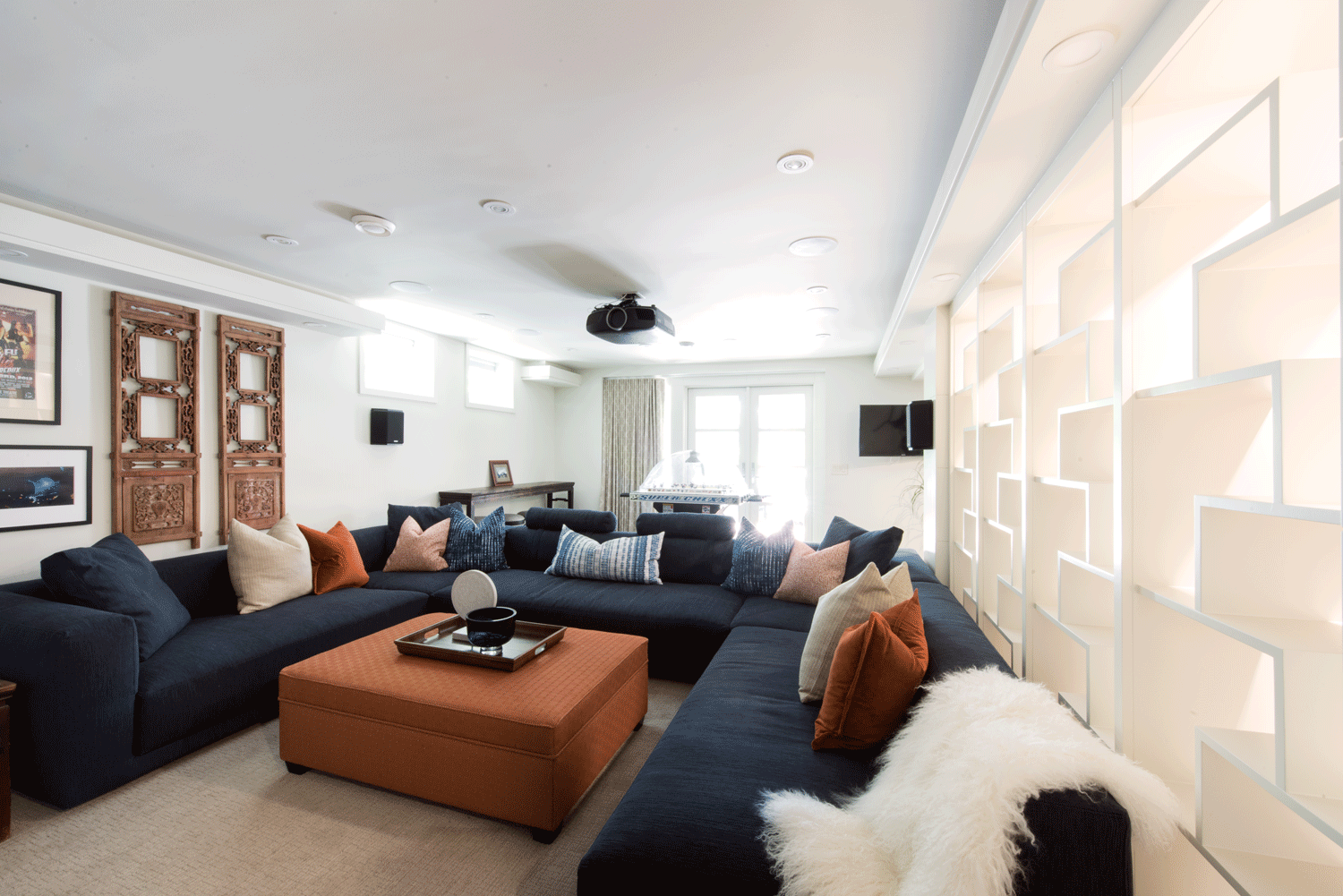 The sectional sofa by CF Interiors easily accommodates the entire family for movie night. Velji designed the custom screen dividing wall to separate the sitting area from an adjacent fitness studio space.
Tips for unifying an open concept home
1. Choose a signature colour palette and use different variations of it throughout to maintain a cohesive look.
2. Use patterned area rugs to define conversation zones within a larger space.
3. Add layers of warm colours and inviting texture with plush seating, velvet accent pillows, woven throws, luxurious fabrics and cozy bedding.
4. Transform empty corners into visually interesting spaces by staging pretty vignettes using plants, pots and accessories.
5. Repeat materials, such as natural stone and wood, through-out the home to create flow.
6. Incorporate a mix of lighting, including overhead pendants as well as lamps dressed with shades.