From one day to the next, Laura Atkins never knows what hidden gems she might uncover. As the owner of one of Calgary's best mid-century modern furniture stores, Louche Milieu, Atkins has been collecting furniture for many years – long before mid-century style became all the rage. By taking one look around her remodelled 1950s Wildwood-neighbourhood home, any visitor would be hard-pressed to find a single piece made this millennium. For Atkins, there is no rush when it comes to getting it right.
"I'm not a buy-it-all-at-once kind of person," she says. "There are always things coming in and out of the store, and there are always works in progress. My home is a constant evolution. Three months before today and three months after, it could be completely different."
After adding something new, Atkins says she always has to live with it a while before making her final decision on whether or not to keep it.
Sometimes, she surprises herself. The eye-catching blue fabric covering the Danish couch and chair set in the living room is one detail Atkins never thought she would like. "I've never been a colour person, but, because of that couch, I [now] have so much colour in my home," she says. "It's a surprise for me. I brought it in to reupholster it, and, when the set stayed, it opened up a bunch of, 'Now what?' It opened up the colour and it opened up the joy. This is furniture that has some soul."
A home with mid-century roots
Atkins' earliest memory is of crawling beneath the chair at her childhood home in Calgary's Mount Royal neighbourhood. Lying on her back, she gazes up at the chair's base and traces her fingertips over the small enamel medallion marking the Danish manufacturer's name: France & Son.
Years later, when Atkins began collecting mid-century modern furniture herself, she experienced a strong feeling of dj vu when she flipped over a chair to find the same enamel button. "I was stunned," Atkins says. "I realized that this was the furniture I grew up with. That first memory is the thread that goes back to being raised in that house and having that comfort."
Atkins' father, Gordon Atkins, was one of Calgary's foremost architects, and his eye for design is at the root of his daughter's love of the mid-century era. The Victorian-style house of her childhood was filled with high-design furniture, teak and custom-built bookcases – design features not dissimilar from her home now.
"My parents were very deliberate about what they invested in," she says. "They bought quality things that were cutting-edge design at the time. They still have an amazing number of these objects and, with care, their longevity is notable in our throw-away world."
The longevity of mid-century modern design that has always intrigued Atkins. Another architectural concept she took from her father is "form and function." It has to be both useful and well-designed. "There's something to be said for a beautiful thing – but another thing to be said for a beautiful, well-thought-out thing," she says.
The art of furniture
The open floor plan and high ceilings of Atkins' home are features any visitor to her house can appreciate, but it's the furniture that truly takes centre stage. "These pieces are sculptural and interesting from all angles," she says. "I consider it art, and I like to put an artist's name to it and give them credit. It's important to me to know the history and to pass that history along."
To Atkins, mid-century modern is about forward-thinking designers and architects. The sleek yet bold aesthetic was a response to the heavy, dark design of the Victorian era. "A lot of [mid-century modern] furniture was designed with courage by people who wanted to change the aesthetic," she says. "These people were pioneers; they were courageous in their art, because they had to come up with an entirely new language."
Atkins's passion to research the history of each of her pieces is always at play. Her prized Arne Jacobsen Egg chair, which was originally designed in the 1950s for the SAS Royal Hotel in Copenhagen, is a prime example of her passion for provenance.
A man from London purchased her particular chair in 1963, and, when Atkins was in talks to purchase it, the man's family came to her home twice to interview her. "Even though I was paying quite a bit of money for the chair, that's not what it was about," she says, with a laugh. "They really wanted it to go to a home that would appreciate it. I had to pass muster or I wouldn't have that chair – whether I had the money or not. But I truly have a passion for it, along with all the other stories. I love filling my home with them."
---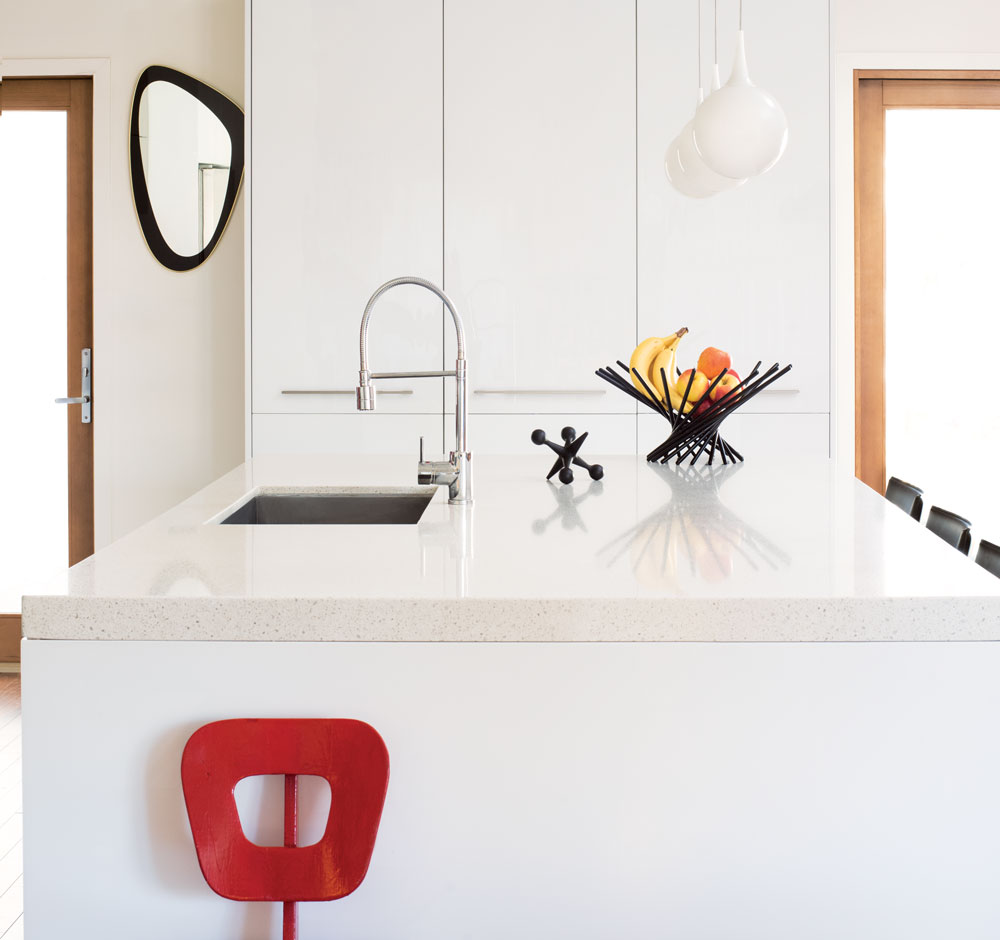 Homeowner Laura Atkins accessorizes with pops of colour and unique mid-century modern pieces, such as the atomic mirror by Simpsons-Sears.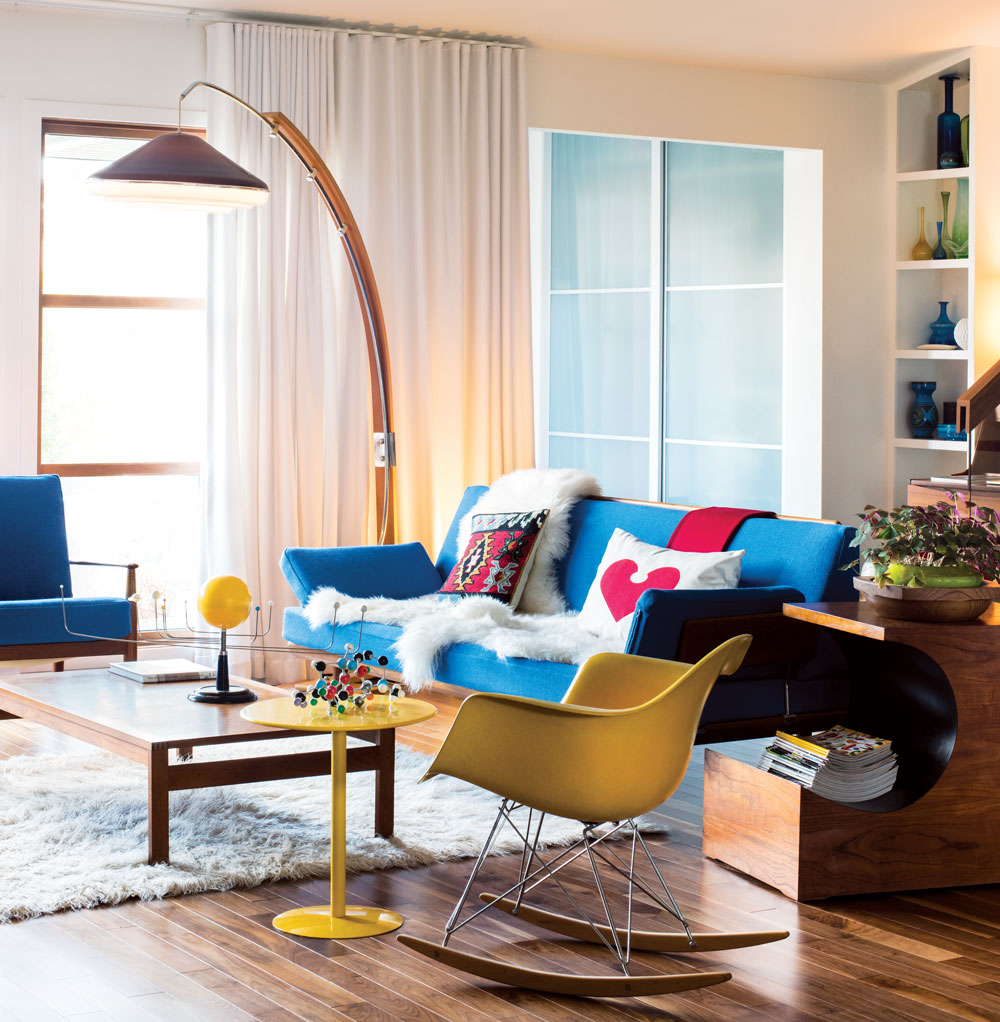 Atkins didn't expect to love this bright blue couch set as much as she does and says it has opened her mind to using colour throughout the home.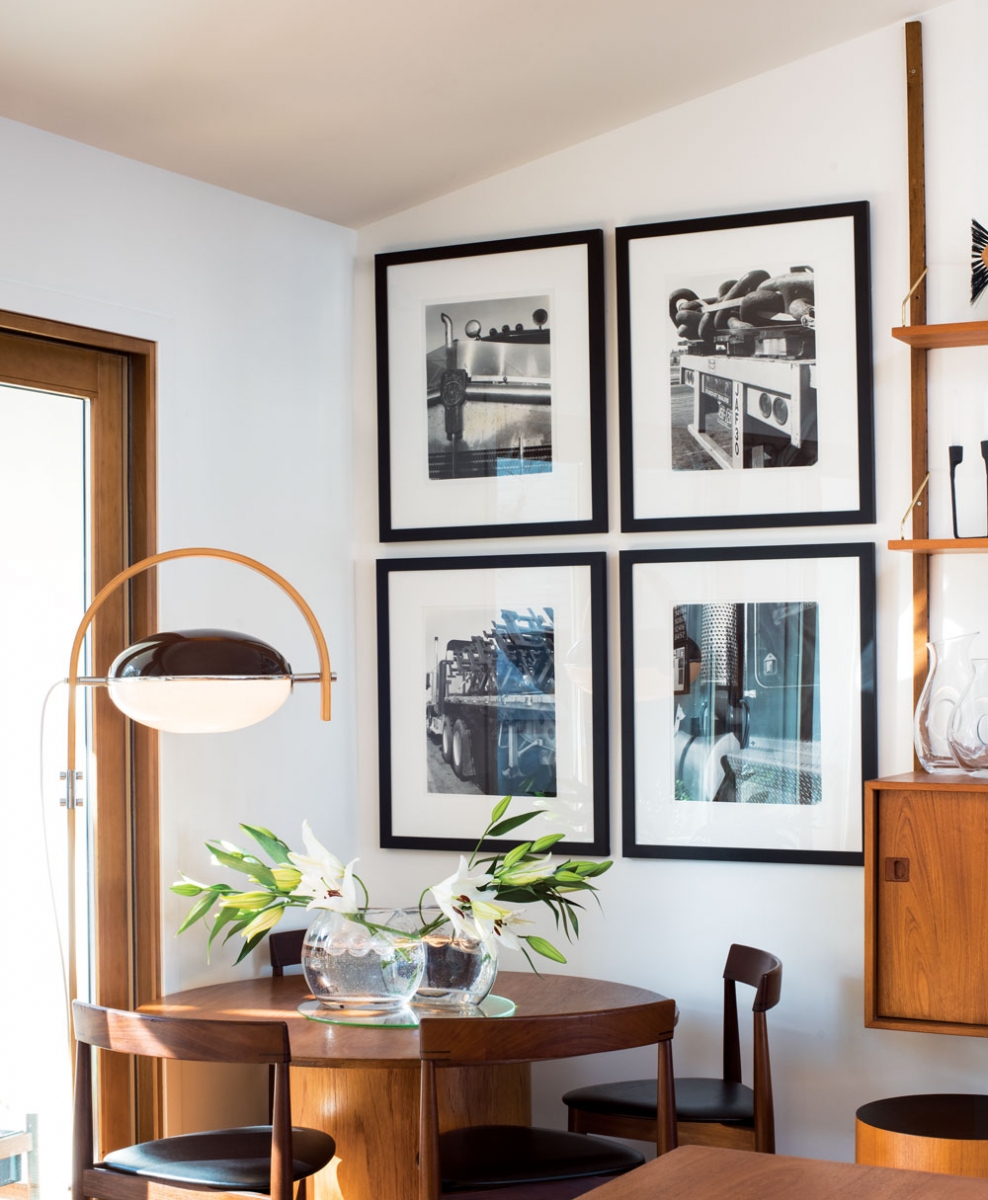 Large format film photography by Atkins' husband Joseph Hirsch off-sets the wood of the teak furniture.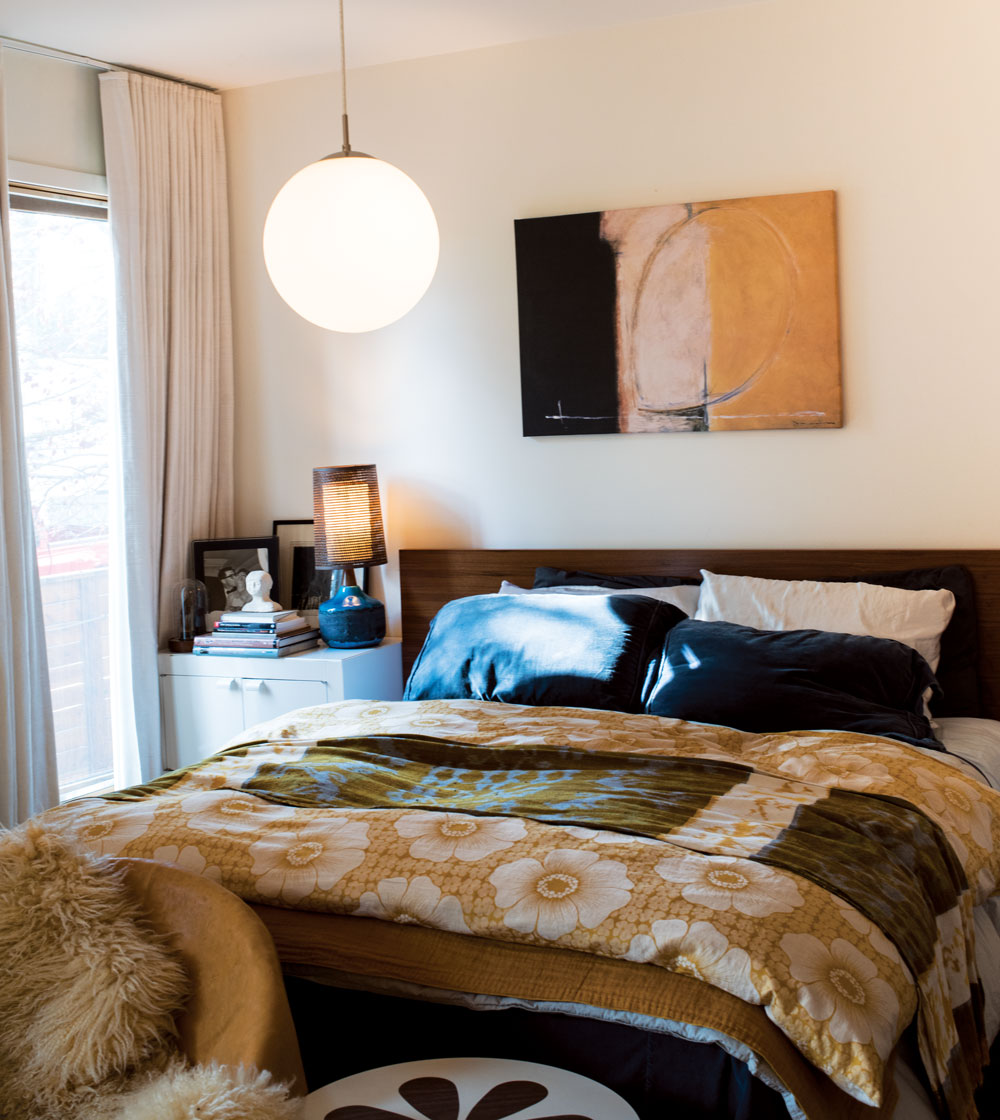 The master bedroom incorporates hues of gold, cream and blue for a relaxing, cozy feel.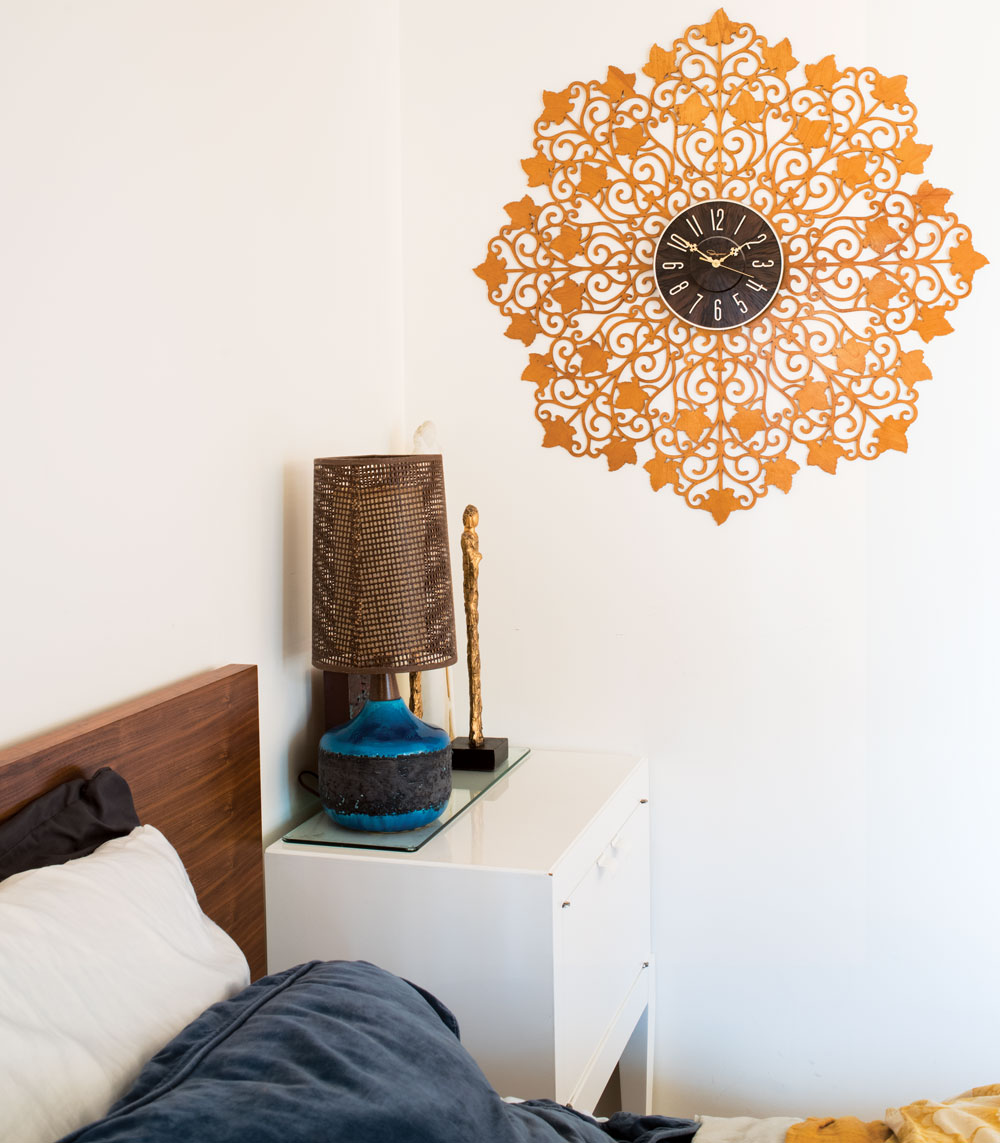 A vintage mid-century modern Ingraham wall clock hangs in the master bedroom.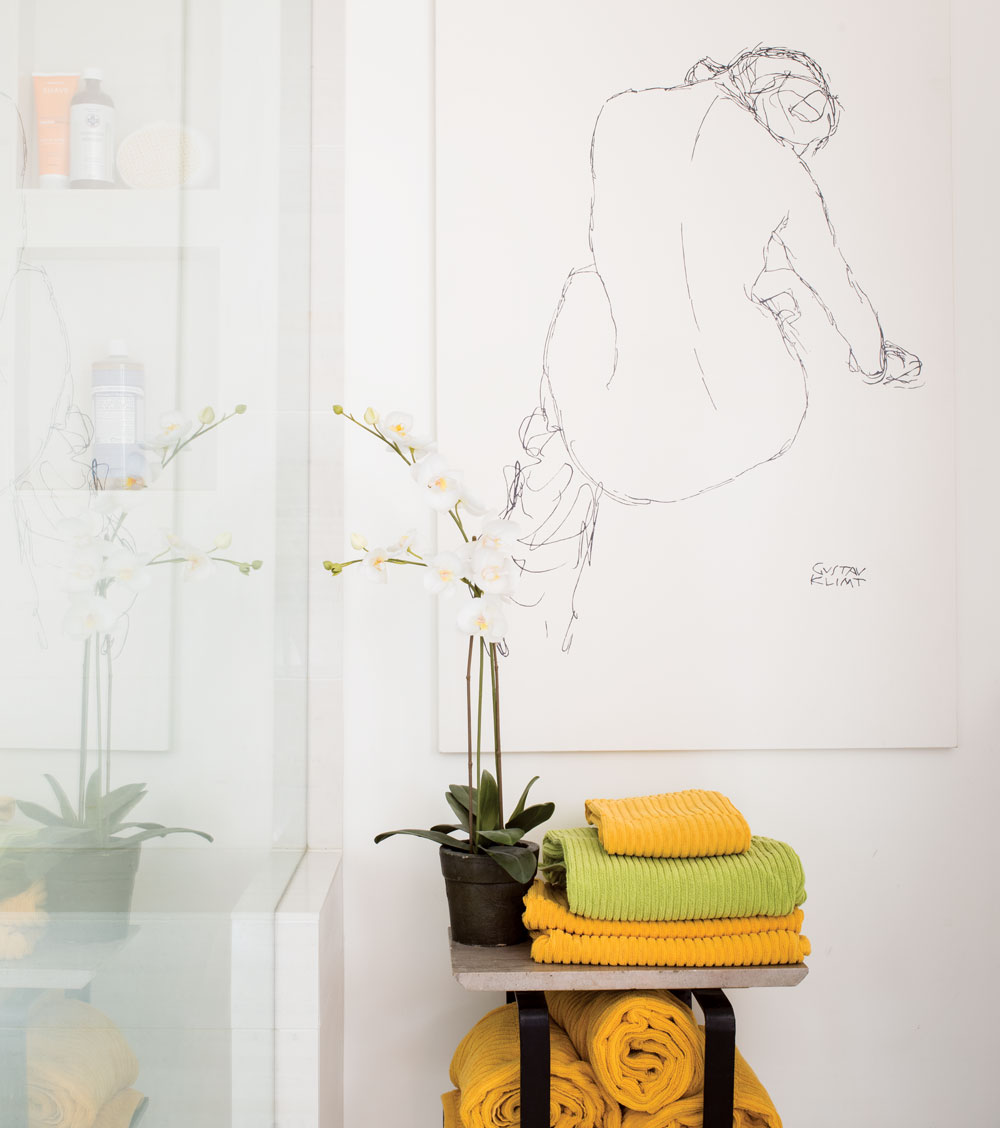 With white marble and a walk-in steam shower, Laura Atkins says the ensuite bathroom is her sanctuary.
The ensuite bathroom is offset from the master bedroom, which is in the "adult" wing of the house.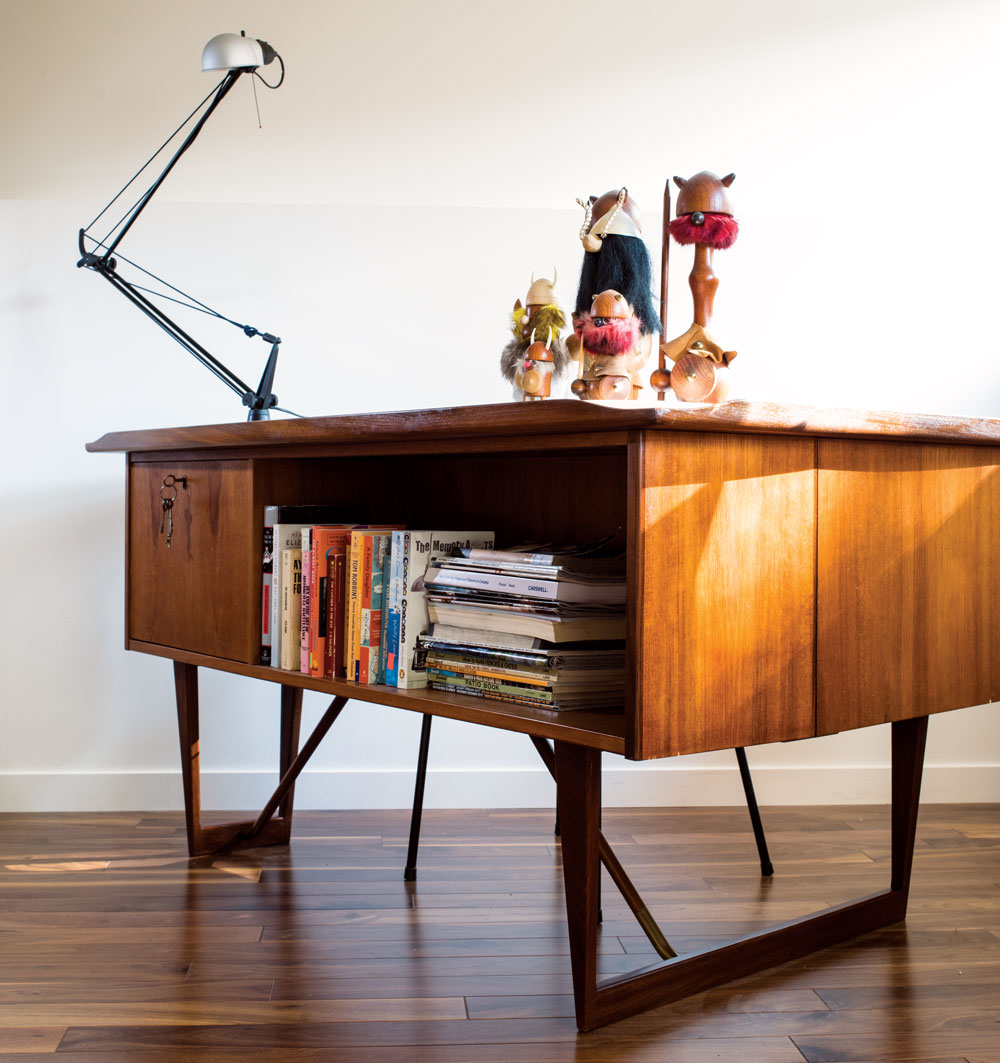 This teak boomerang desk by Peter Lovig Nielsen features a desk with drawers on one side and a drop-down bar cabinet and book shelf on the other.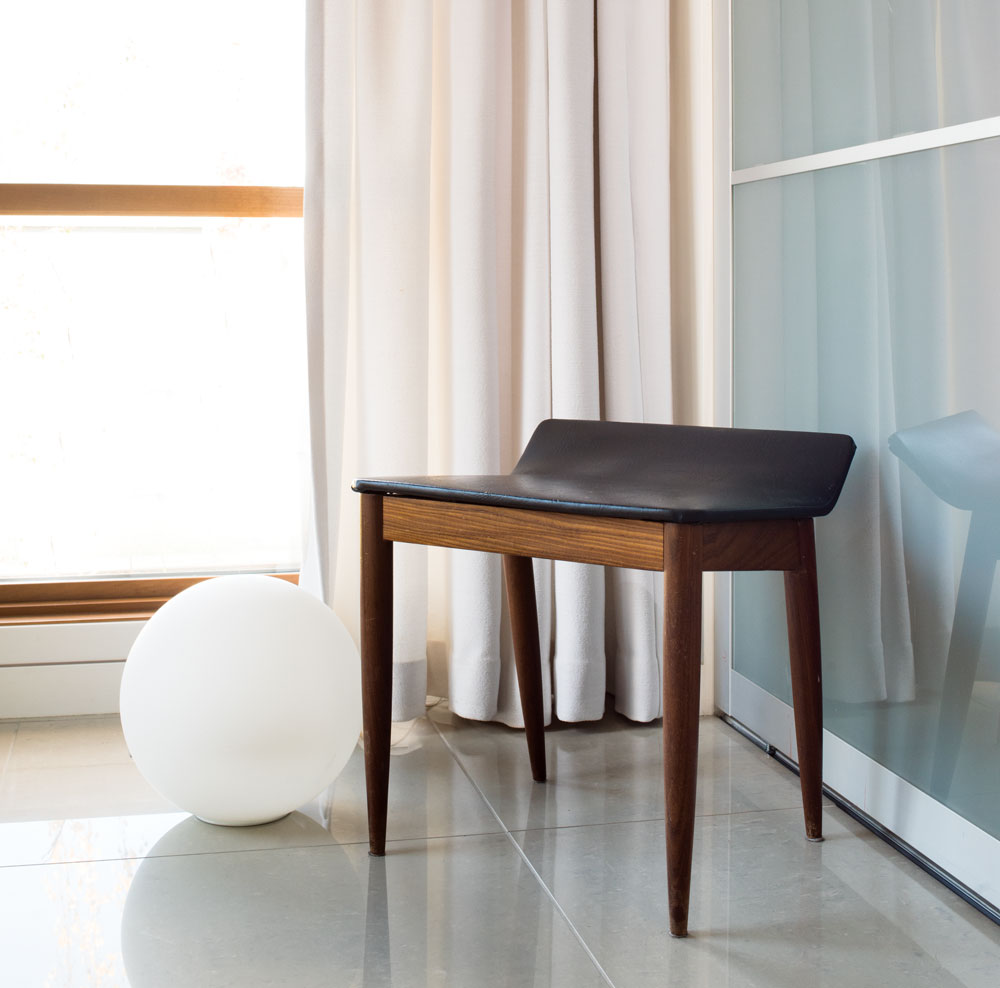 This Danish mid-century stool and globe floor lamp by Torre & Tagus sits at the entryway.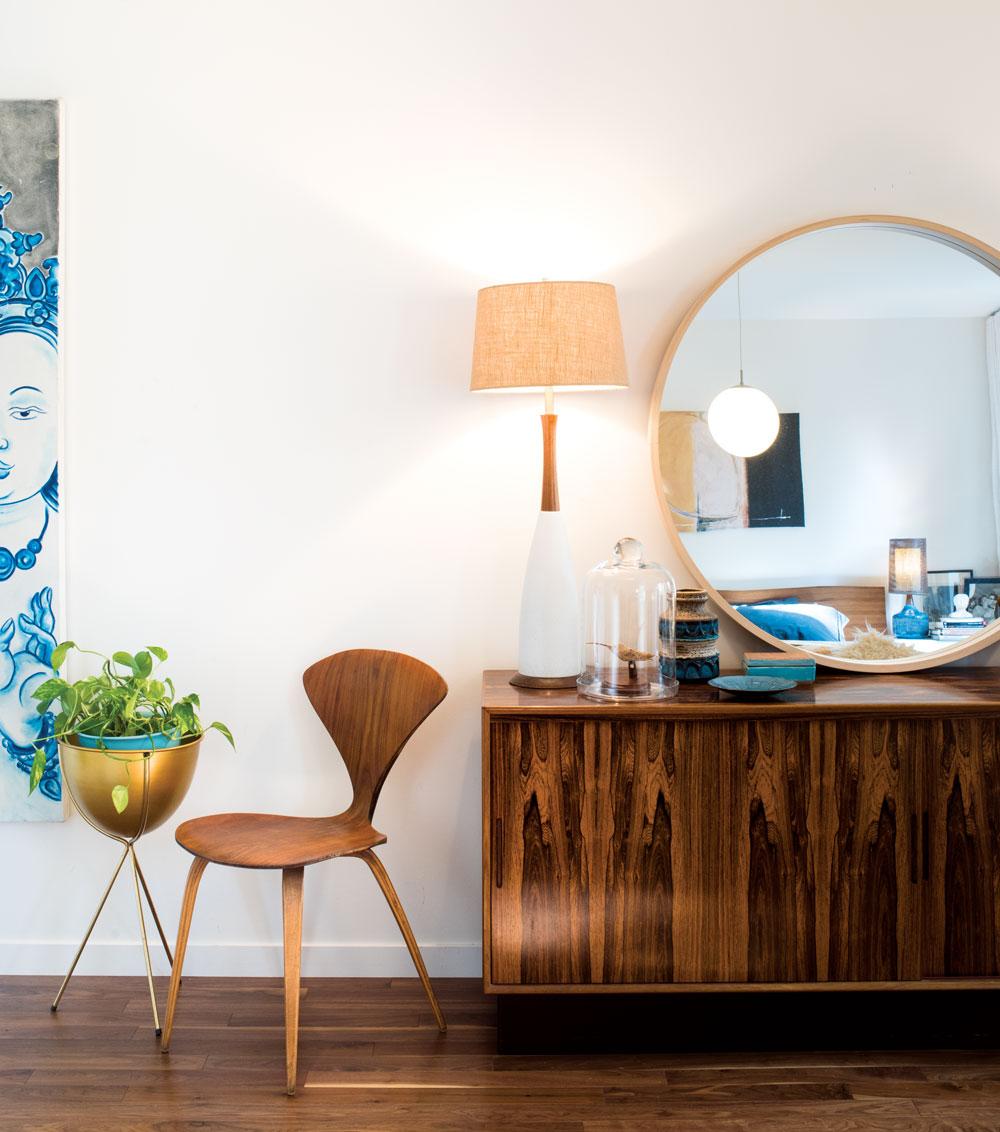 The mid-century credenza dresser in the master bedroom is made from rare Brazilian rosewood and topped with a vintage circular mirror.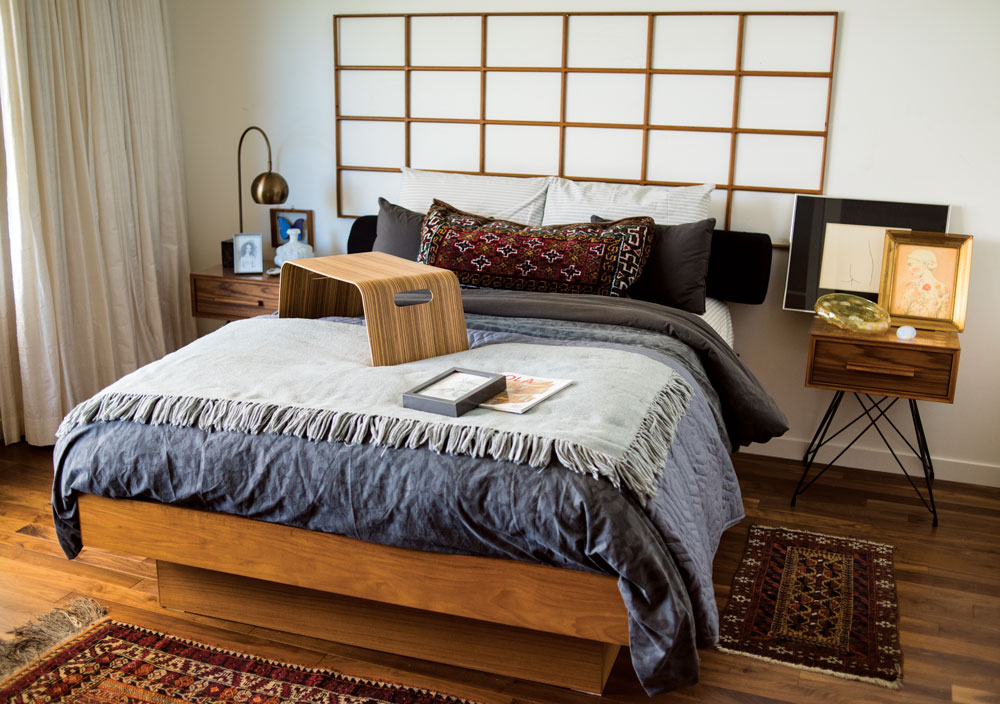 Laura Atkins' daughter's bedroom features vintage carpets and pillows and a teak platform bed with a headboard made of architectural salvage teak.
---
Laura Atkins' 5 tips on buying mid-century modern furniture
 Educate yourself
There are different eras for style, quality and material. Some mid-century modern furniture was mass-produced, and some is affiliated with a designer or manufacturer. This makes these items collectable, which means they will hold or increase in value. This is why you really need to look into the background of every piece.
 Look for something both useful and unique
If you're working with a tight budget, invest in a few high-quality, multifunctional pieces that have sculptural lines – especially in storage pieces. If you invest in a couple of cool pieces, it will pay off immensely from a design perspective. These will lift up everything in your space and make it all look more important. You can fill the rest with garage-sale finds and deals.
 Buy the best quality you can afford
You can pay $199 for furniture over and over in your life, or you can invest in solid, comfortable, timeless pieces. Mid-century modern furniture has stood the test of 30 to 60 years of continual use and still looks fantastic. Plus, it's still stylistically relevant.
 Inject your personality and history into your space
Even one or two mid-century family pieces will provide historical continuity that you can pass down. The piece doesn't have to be big and it can also be anything: furniture, kitchenware, toys, pottery or a cool retro light.
 Consider Calgary's climate
I hear a lot of sad stories about vintage and modern wood pieces brought to Alberta from more humid or tropical climates. We have a very specific, very dry climate here, and we blow forced air on our furniture for 10 months of the year. Buy local for the best results to protect your investment.