Victoria Park, home to advertising agencies, Village Ice Cream and the former location of the National Music Centre, is a neighbourhood bound for a bit of a design revolution. One of the first new retail spaces that marks this renaissance for Calgary's second oldest neighbourhood is The Loft, a multi-use design project helmed by the team at Amanda Hamilton Interior Design.
The concept is fairly straightforward. The Loft acts as a hub for the design team to meet with clients, while also providing a unique retail shopping experience. The Loft will also be showcasing designer collaborations in mediums such as wallpaper, textiles and ceramics. You can also expect to see regular events and panel discussions hosted in the space to bring Calgary's design community together in new ways.
The Loft at The Guardian Towers, North Tower Street Level, 405 11 Ave. S.E., theloftyyc.ca
---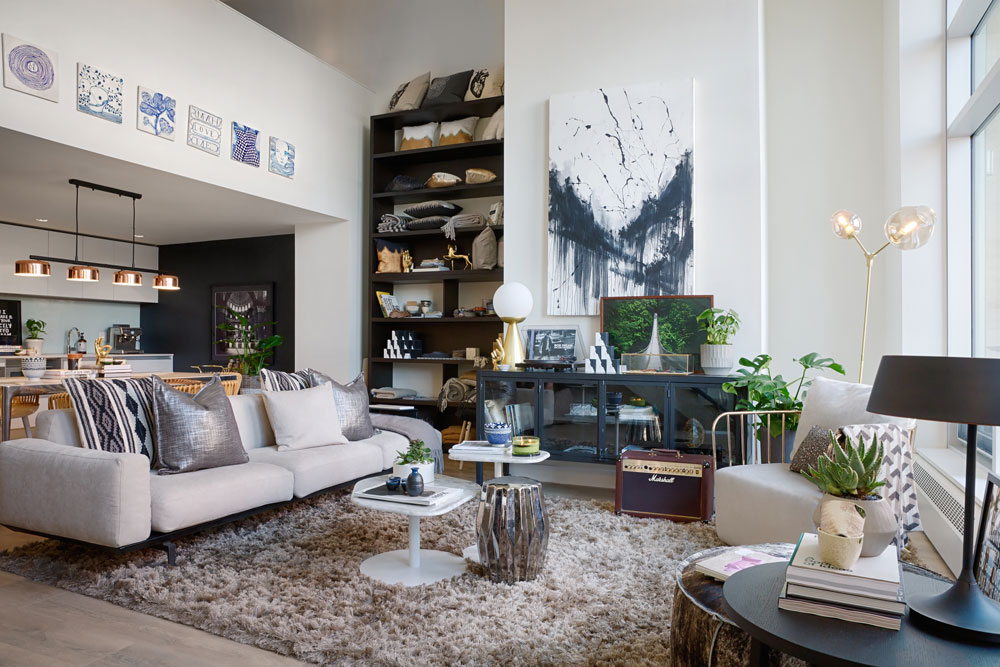 photograph by phil crozier
The Loft is a unique design shop concept where everything in the showroom is for sale, allowing clients to see the pieces in an environment that feels like home. Interior designer Amanda Hamilton, of Amanda Hamilton Interior Design, acts of creative director of The Loft, bringing in fresh retail picks along with her own design collection.
PHOTOGRAPH BY PHIL CROZIER
Creative director and interior designer Amanda Hamilton plans on using the space to host events for the design community here, like topical panel discussions and networking. "When we officially took over the space, we really wanted to weave together the story of a well-travelled individual through a collection of goods in one beautifully designed space," says Hamilton. "The Loft is an extension of our focus on supporting the community of Calgary through design education and engagement."
PHOTOGRAPH BY PHIL CROZIER
"Everything here is for sale, from the furniture to the accessories to the art on the walls," says Hamilton. "We also have our line of pillows and candles here. We are launching a few more brand collaborations later this year, including a plate collection with a California-based potter."
PHOTOGRAPH BY PHIL CROZIER
Tailored, one-on-one design consultations can be booked with Amanda Hamilton Interior Design on Fridays or by appointment. These services include colour palette recommendations, furniture procurement, home styling, art consultation and gift registry.
photograph by chris amat
Curating a selection of beautiful furniture pieces, The Loft's inventory is constantly on rotation and clients can purchase items right off the showroom floor.
PHOTOGRAPH BY CHRIS AMAT
Your dream bar cart is a reality with Amanda Hamilton Interior Design's styling services. They'll help you source the bar cart and all of the glassware and accessories to complete it. Bartending services are all up to you.
PHOTOGRAPH BY CHRIS AMAT
The Loft's 16-foot ceilings make it an ideal space for showcasing artwork. The one-of-a-kind collection here does not disappoint. The selection features Canadian artists and photographers.
PHOTOGRAPH BY CHRIS AMAT
"We're offering in-house services for clients who need help with styling or smaller consultations," says Hamilton. "Sitting down at The Loft is a much more approachable way to access design. It is not high pressure – we want to be able to sit down with clients and have a real conversation about their homes."
PHOTOGRAPH BY CHRIS AMAT
One of The Loft's goals is to provide clients with goods that aren't available anywhere else in Canada. They are the only retail location in Canada that currently retails Camerich modern furniture.
PHOTOGRAPH BY CHRIS AMAT
The Loft's retail side encompasses their clients' entire lifestyle. A one-stop-shop, you'll be able to source everything from pillows and throws, books, small objects, sculptural lighting, rugs, furniture and more.
PHOTOGRAPH BY CHRIS AMAT
"Our clients are really varied; some are condo dwellers seeking out condo-sized pieces while others just really love the concept of shopping in our loft," says Hamilton.