The bonus room at a Jayman show home adds valueable extra square footage to the plan and provides the prospective buyers with an area dedicated to watching TV and socializing.
Photograph courtesy of Jayman
A bonus is a good thing. Usually. Unless the bonus is a 400-square-foot room above your garage that you have no idea how to use.
Chances are that same room was part of the reason you bought the house in the first place. When presented with an expansive bonus room – or flex room (there are a few names for them) – you viewed it as a blank canvas and a world of possibilities opened up. Maybe you'd set up that art studio you've always wanted, or, "Perhaps," you thought, "I can finally move the TV out of the living room."
You're not alone. According to Bruce Harvey, director of show home design and merchandising at Jayman, bonus rooms have become a selling feature. But they didn't start out that way, he says. What once were rooms with awkward configurations and sloped ceilings have evolved considerably and are now expected in new homes.
"Now architect and draftspeople are drawing them into plans because people like them," says Harvey. "This is like the new contemporary family room. I think a bonus room on a second level makes the house breathe easier."
The added space and clean slate is a tantalizing proposition to potential homeowners, especially families. The separation between main-floor living spaces such as the living room and the great room and a space upstairs dedicated to playing, gaming or watching TV can help keep the more public rooms tidy and put-together.
What should and shouldn't go in a bonus room
But that doesn't mean the bonus room should be a dumping ground for old furniture, says Calgary-based interior decorator Cat Hackman, owner of Room4Refinement.
"One of the things I find people tend to do with offices and bonus rooms is they always use the leftovers there," she says. "So, they want this great-looking room, but they really want to keep their old filing cabinets and their old sofa."
Hackman says that, if it's a room you really want to enjoy and hang out it in, then start over and get exactly what you need. "I think people get so stuck on the sofa they had forever because, 'It's so comfy and I really want to keep it.' It ruins everything," she says with a laugh. "They have a vision, but they're stuck on keeping something for some reason and then you don't get the look you're after."
Hackman's own bonus room serves as her sewing room, a home gym, TV room and a games room for the family. "It's definitely a multi-purpose room," she says. And the most multi-functional piece of furniture in the room, Hackman says, is surprisingly the Ping-Pong table. When it's not being used as it was originally intended, she uses it as a crafting table for wrapping Christmas presents and for cutting fabric. And her photographer husband uses it as a stand for shooting small objects.
Making the most of a small bonus room
But not all bonus rooms are large, cavernous spaces like the ones that pop up above a double-car garage. Sometimes, this category of room appears in smaller homes and condos in the form of flex space. It could be a nook just off the entryway or a small room that can't be considered a bedroom for lack of windows and closets – still a bonus, just a smaller one.
It's this type of space Mark Adolf, co-owner at Resource Furniture, encounters most often. "A lot of times, customers have a hard time understanding what to do with it," he says. Adolf says the majority of his customers are empty nesters looking to downsize, or young families who have a small footprint and need to maximize every square foot in their home.
"When we look at a flex space like that, our philosophy is we just take the time to understand our customer," he says. "We ask, 'How are you going to use this space the majority of the time?'"
Once he gets that understanding, he builds multi-function around it to create a space his customers will actually use. Part of the process is helping the homeowner visualize how it could all work together. "I think the reality is that people have wanted to do this," Adolf says. "They have ideas, but there hasn't been the furniture to back it up yet."
One of Resource Furniture's most popular pieces is the LGM Tavolo, a shelving unit with a collapsible desk that pivots to reveal a pull-down bed. "No one ever thinks it's a bed," says Adolf. A piece like this lets the space function in several ways – as an office, as a bedroom or guest bedroom and as a storage unit.
Regardless of the size and placement of the room you're working on, the tenets remain the same: treat the room like a bonus, but don't squander it.
---
Two products to add to your bonus room
The LGM Tavolo
The LGM Tavolo from Resource Furniture converts from a shelving unit with a collapsible desk into a bed with surprising ease.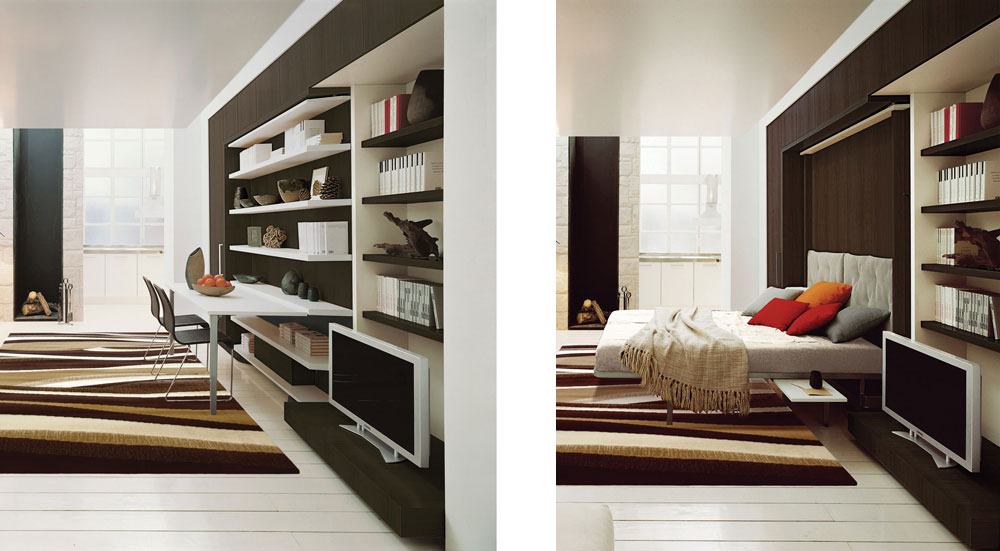 photographs courtesy of resource furniture
The LGM Tavolo closed (left). The LGM Tavolo open (right).
Resource Furniture Calgary, 510 12 Ave. S.W., 403-457-5711, resourcefurniture.com
A Ping-Pong table
Get a Ping-Pong table for maximum versatility. The You and Me Ping-Pong table by APO, available by special order at Dade Art & Design Lab, isn't just good looking, it's very versatile in a bonus room.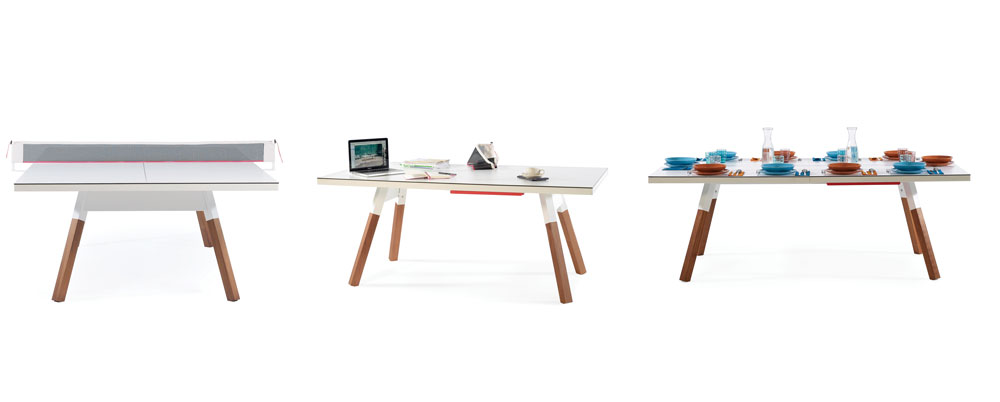 images courtesy of apo
Play Ping-Pong on it (left), use it as a desk with lots of room to spread out (centre) or use it as a dining table with enough space to seat 10 people (right).
Dade Art & Design Lab, 1327 9 Ave. S.E., 403-454-0243, dadeartanddesignlab.com