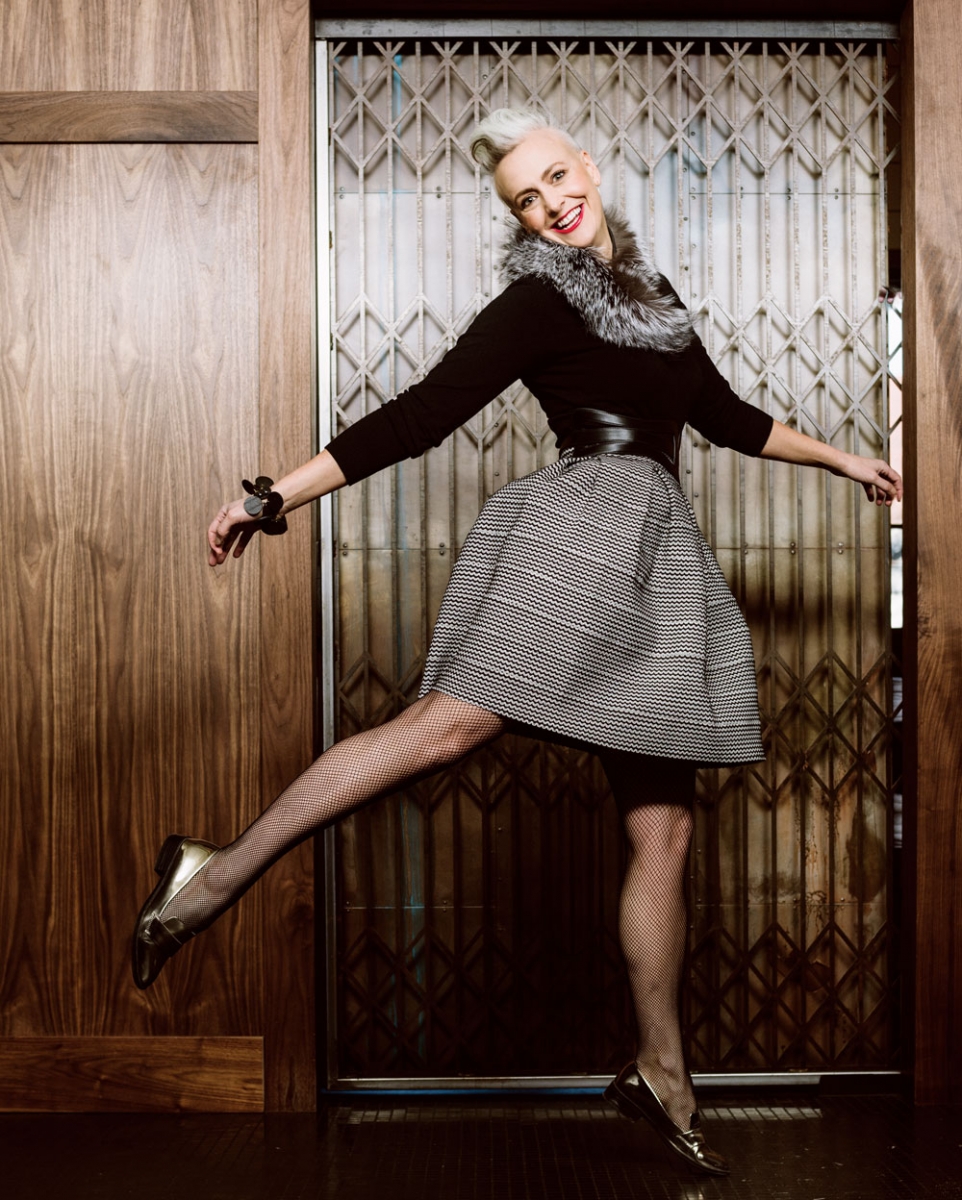 photography by Jared Sych; styling by Aldona Barutowicz; hair and makeup by Kate Barutowicz; Photographed at Cannibale
Top and loafers, both from Zara; Garcia skirt from HauteLook; fur collar from Hudson's Bay Fur Salon; belt from BCBG Max Azria; earrings by Kari Woo; bracelet from Ball's personal collection; Hue fishnet stockings from Hudson's Bay.
Karen Ball has been making a name for herself working in the culture sector, both provincially and nationally, for 20 years. She has worked as the director of community investment and also as director of resource development for Calgary Arts Development, was the executive director of the Calgary2012 campaign and is now running an independent practice as a culture and community engagement consultant. As a private consultant, Ball has worked with organizations such as the University of Calgary and the Premier's Council on Culture.
But, for 18 of those years, she kept her edgy, tailored and adventurous style confined to the weekends – keeping not only separate wardrobes for her personal and professional lives but also separate closets. "Two years ago, I decided, 'This is ridiculous. Who I am should be who I am all the time, from a style perspective,' " says Ball, who traded her brunette locks for a striking white-and-black mohawk and married the two closets.
"I feel like I can have a more authentic interaction with my community now," Ball says, adding that, when she amalgamated her work and play wardrobes, her play wardrobe improved. "Being able to funk up the preciousness of those work clothes made me more confident," she says.
What prompted you to become so involved in Calgary's arts and culture scene?
I have always thought that it was important to live in a community that was enriched by the arts.
Why is that presence, and your contribution to the cultural community, important to you?
Because this city has the ability to really hum. I think it's buzzing away, but, once we get going, we have all the ingredients here to be remarkable. And I get so much energy out of that.
What are some inspiring Calgary projects that we should keep our eyes out for?
January is High Performance Rodeo month, and I hear there is a new One Yellow Rabbit piece in creation called Calgary, I Love You, But You're Killing Me [Jan.12 to 23 at the Big Secret Theatre]. And the INPUT [International Public Television] 2016 Festival I'm producing will be here in May and that's four days of viewing the best content for small screens from the world over.
How would you describe your style?
It's resort wear meets '80s punk rock. I like the clean lines and the crisp, almost preppy freshness of most resort wear, but edgy '80s rock is also appealing.
Who are your style icons?
Rosalind Russell's character in Auntie Mame. I also like Annie Potts' character, Iona, from Pretty in Pink; she was a big inspiration when I was a kid. And I'm inspired all the time by streetwear in Calgary.
You dramatically changed your style two years ago. What influenced that shift?
I always had more edge than I projected. I turned 40 and I think I felt more confident in my place in the community. I felt like I already had a personal brand around my skill set, but I wasn't matching it in my style, so I let go of my worry about appearing professional and decided, 'People know who I am and what I can do. I don't need to build that with my image.'
What thoughts were going through your head when you decided to change your style?
I was feeling like I had spent a long time focusing solely on work, and I started to introduce other things in my life that were just about me. I realized that I owed it to myself to live my own best life – that sounds like Oprah [laughs].
How does style fit into your life and express your personality?
I like it to be a bit playful, particularly if I have a job where I have to stand and deliver in front of a room. I like to set a mood where people feel comfortable, and I think sometimes a hot-pink pair of tights can do that. You put your personality out there and people are more willing to put theirs out there, as well.
What do you typically wear to work?
I usually wear something that is a little bit tailored – not slouchy. I usually overdress. I'll wear proper shoes; I rarely wear a sandal. I'll wear a jacket if the occasion calls for it.
What do you wear when you're not working?
Same thing. Actually, I have this great kimono that I got in Japan. It's beautiful, and that is what I wear when I work from home.
Why is it important to express yourself through style?
I don't actually think it is important for everyone. I think it is important that you dress to your lifestyle in a way that you are happy with.
How does your self-expression translate into other areas of your life?
I want to live in a space with objects that are beautiful, that are meaningful and that have harmony with each other. I feel that way about my wardrobe, as well.
What's your wardrobe's MVP?
Coats, in Canada, are definitely centre players. You wear them every day, everywhere, and they make the first impression. I have a full-length, Ralph Lauren Black Label black cashmere coat. And I have a silver fox fur stole that I wear with it. Last year, this coat got me bumped up to first class, twice.
What's on your wish list?
I'm looking for the perfect pair of black or red (but not middle-aged-woman-red) booties.
Where in Calgary do you love to shop?
It's nice to support local boutiques, like Purr, Espy or Kismet. And I love to shop at Nordstrom – I don't shop there often, but I like to go there and pretend I shop there often. But I do most of my shopping online now; I like the HauteLook website.
What's in your purse? Be specific.
Very little. A tiny change purse from Florence and a cardholder from Tokyo – it's all one piece of folded leather. And my phone and lip gloss and that's it.
What events are you looking forward to?
The Junos [to be hosted by Calgary on March 28] – 2016 is the "year of music" in Calgary, so we are going to have the Animated Music Mile and the National Music Centre is going to open. I'm looking forward to taking in a ton of live music.
What will you wear to them?
I have this cute, black, silk drop-waist dress that I will be wearing a lot this winter. And this accessory designer I follow on Instagram called Wysh Collective just moved to Calgary, so I'll be rocking her stuff, too.
Where are your favourite spots in Calgary? Where do you go to see and be seen?
For a fun night out in Calgary, I look at what is lined up for fundraisers in the culture sector because they're usually great parties. Cannibale is a favourite bar for me and Native Tongues Taqueria is also really great.
What does your future hold?
I spent so much time making an effort to get my life where I want it to be in the last couple of years that I am looking forward to enjoying the space I am in right now – being grounded and enjoying the present.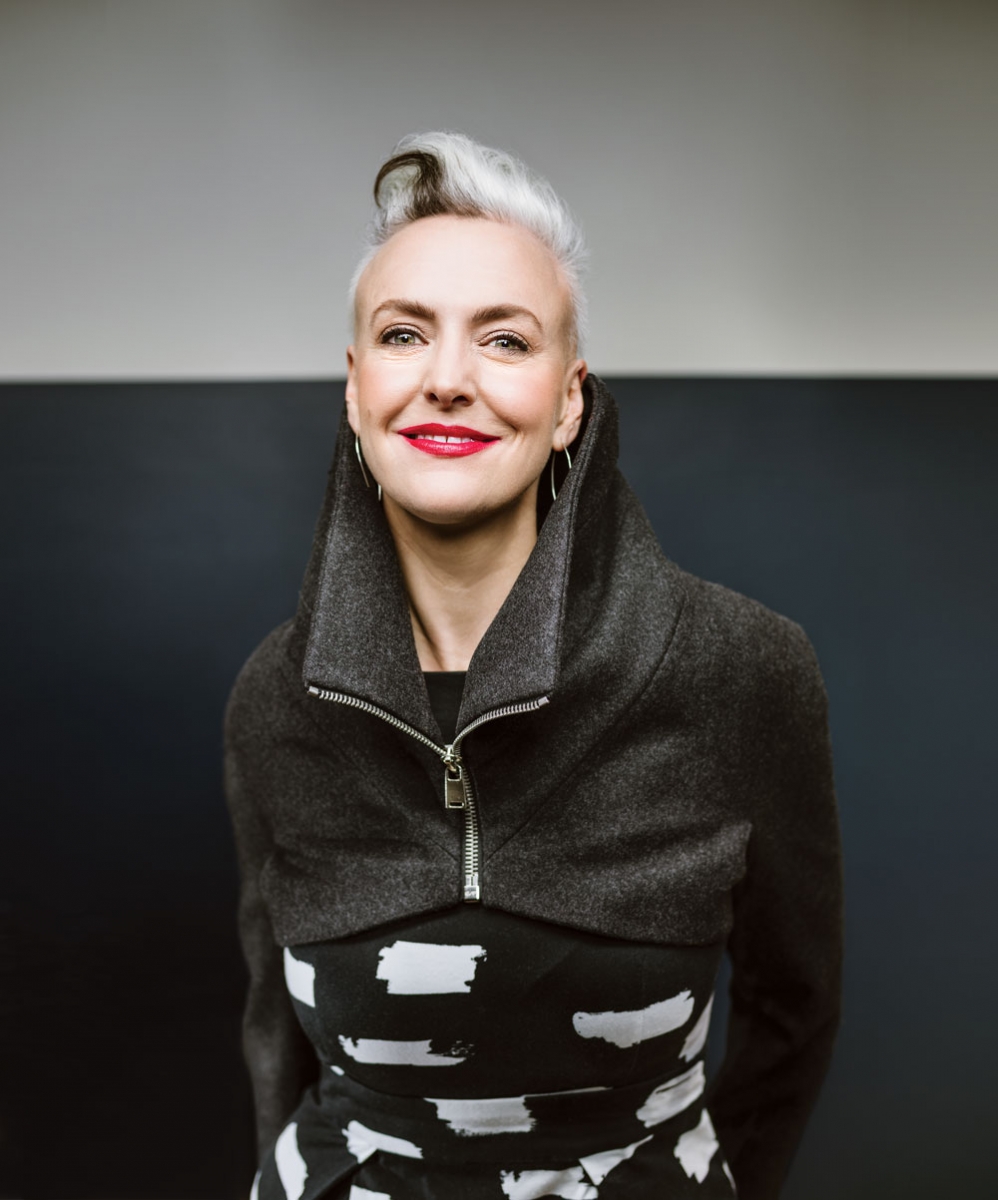 Dress, from French Connection; bolero jacket is vintage.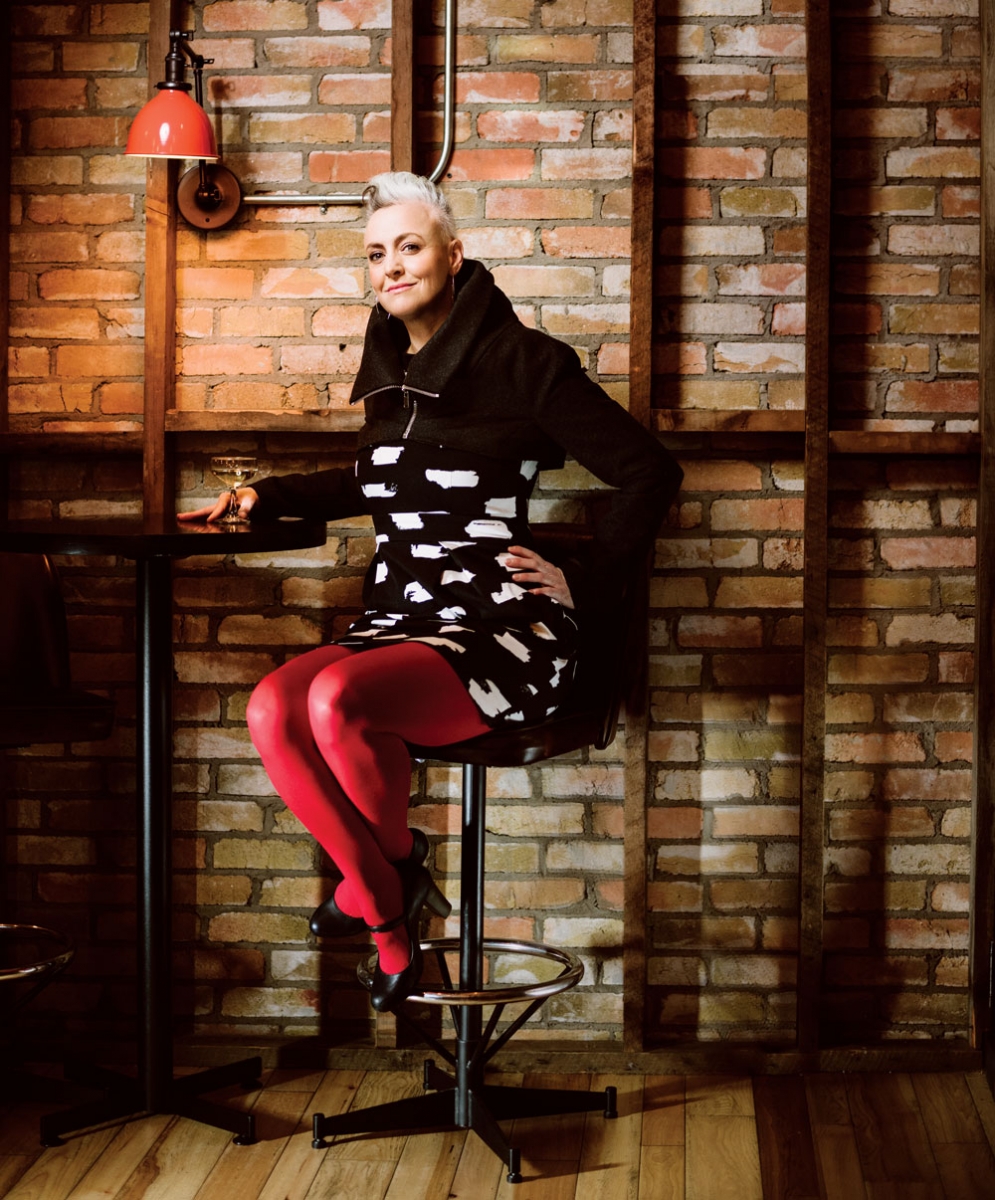 Dress, from French Connection; bolero jacket is vintage; Camper shoes, from gravitypope; red tights and cuff, both from Hudson's Bay; earrings by Kari Woo.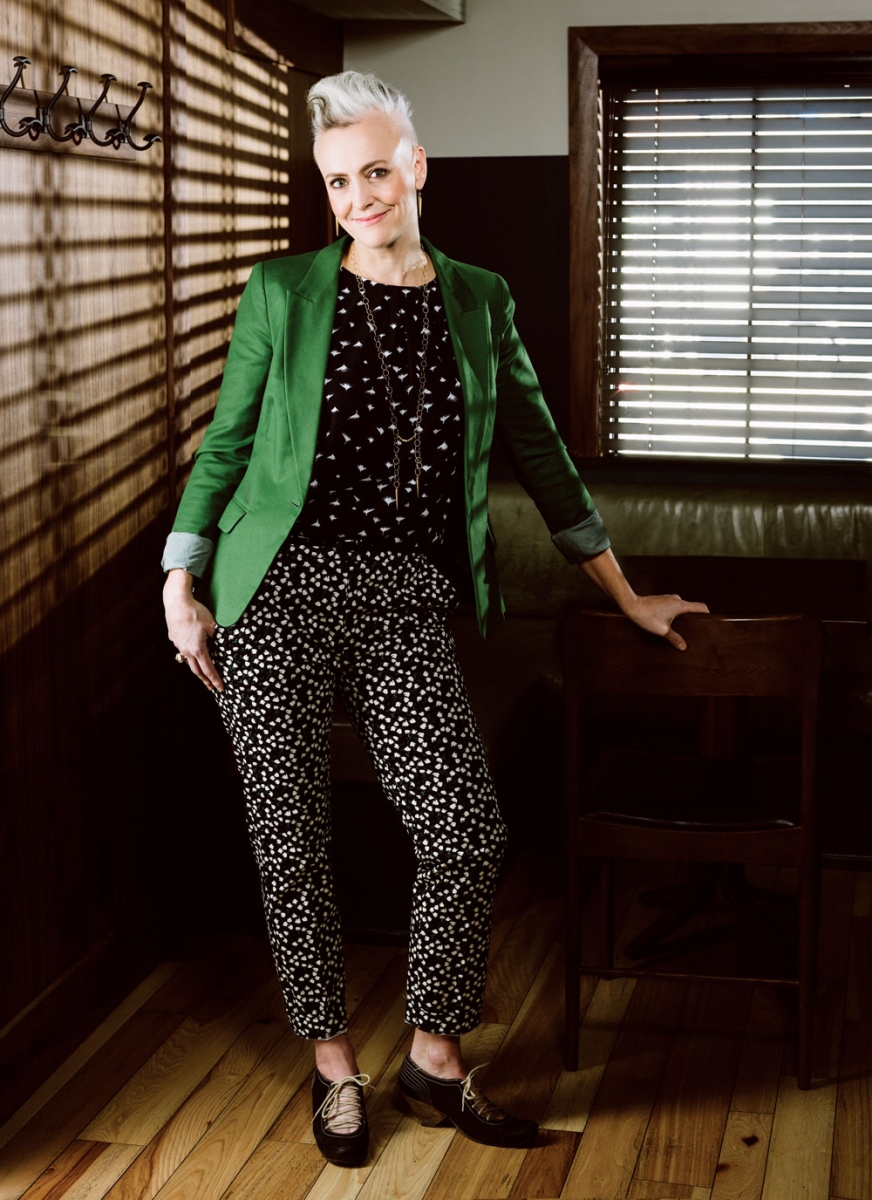 Blazer and pants, both from Zara; French blouse from Purr; shoes from Fluevog; necklace and earrings, both by WyshCollective; gold knot ring is vintage.
16 rapid-fire questions with Karen Ball
Where are you from?
I was born in Calgary, but I grew up in Edmonton.
What do you do?
I have an independent practice as a consultant mostly focused in the area of culture and community engagement.
What would you be doing if you didn't have to make a living at it?
I travel a lot, but I think it is safe to say that I would be living the kind of life that didn't have one home base.
What did you think you'd do when you were growing up?
I probably thought I would do something with fashion; I was really interested in design and clothing from an early age. I also thought I would be the first lady prime minister in Canada; then Kim Campbell ruined it for me.
What book are you reading?
The Vivisector by Patrick White.
Favourite childhood book?
Illusions: The Adventures of a Reluctant Messiah by Richard Bach.
Red or white?
White colour, red wine.
Denim or leather?
Neither; I would choose velvet.
Favourite breakfast food?
I don't really like breakfast – I hate brunch – so, with that in mind, anything you could make in a blender. Usually a fruit smoothie.
How do you take your coffee?
With soy milk.
Dream vacation?
I've been trying to spend a month in the south of France for five years – of course, two weeks in Paris to start.
Pet peeve?
Leaf-blowers.
Midnight snack?
I have been known to eat charcuterie over the sink at midnight after coming home from an event. Preferably with a glass of prosecco.
Favourite cocktail?
I've been enjoying bourbon-based cocktails lately – made by someone who knows what they are doing. Which is not me.
What's your guilty pleasure?
Sugar, which I could pretty much snort up my nose, Swedish berries being the No. 1 sugar-delivery device.
If you could have been born in any era, when would you choose?
I'm a feminist, so it would have to be post-1970.