Practicing yoga taught Kimberly Wiebe that finding balance is essential. When the long-time yoga instructor reached her 40s, she felt something was missing. Wiebe, who spent her life weaving in and out of the fashion and retail scene in the city, soon found herself as the manager of Calgary's flagship J.Crew store (a brand she's always loved and supported) and, then, before she knew it, was working as famed Calgary-based designer Paul Hardy's right-hand woman.
She now holds a permanent position as Hardy's director of sales and is helping clients channel their inner power in a whole new way.
When did your love for fashion begin?
Since I was young, I loved clothes. I always did. When I think back to being a kid, my mom had great clothing. She was a real estate agent. I remember going into her closet, and I always saw myself as dressing up and being a businesswoman. I just loved to go and feel and touch. That's a big part of it for me.
How would you describe your personal style today?
I would say classics with a twist, and finding that balance between masculine and feminine. I don't like typical; I like unexpected. Simple, not flashy. It's not crazy, but it's unexpected and quirky.
Tell me about how you got into the fashion scene in Calgary.
When I came back to Calgary after studying business at the University of Toronto, I worked at several little shops in the city and eventually started managing the Gap when it was really taking off in Calgary. The Chinook store had just opened and the Market Mall store had just opened. I was a manager with them for about five years. Then I started to pursue lots of different careers – everything from financial services to oil and gas, and while I was working in oil and gas, I started doing yoga.
And that turned into a career for you?
I had a very successful career teaching yoga for about 15 years. I had yoga videos, and Lululemon sold them, and I had my own teacher-training programs. It was a really great career, and lots of people said I seemed to have life figured out, and I had this good job and made a difference in people's lives. But, at the end of the day, around turning 40, I was like: this isn't what I dreamed of; this wasn't the plan for me. So I asked myself that question: if money was no object, what would I do? I would sell clothes.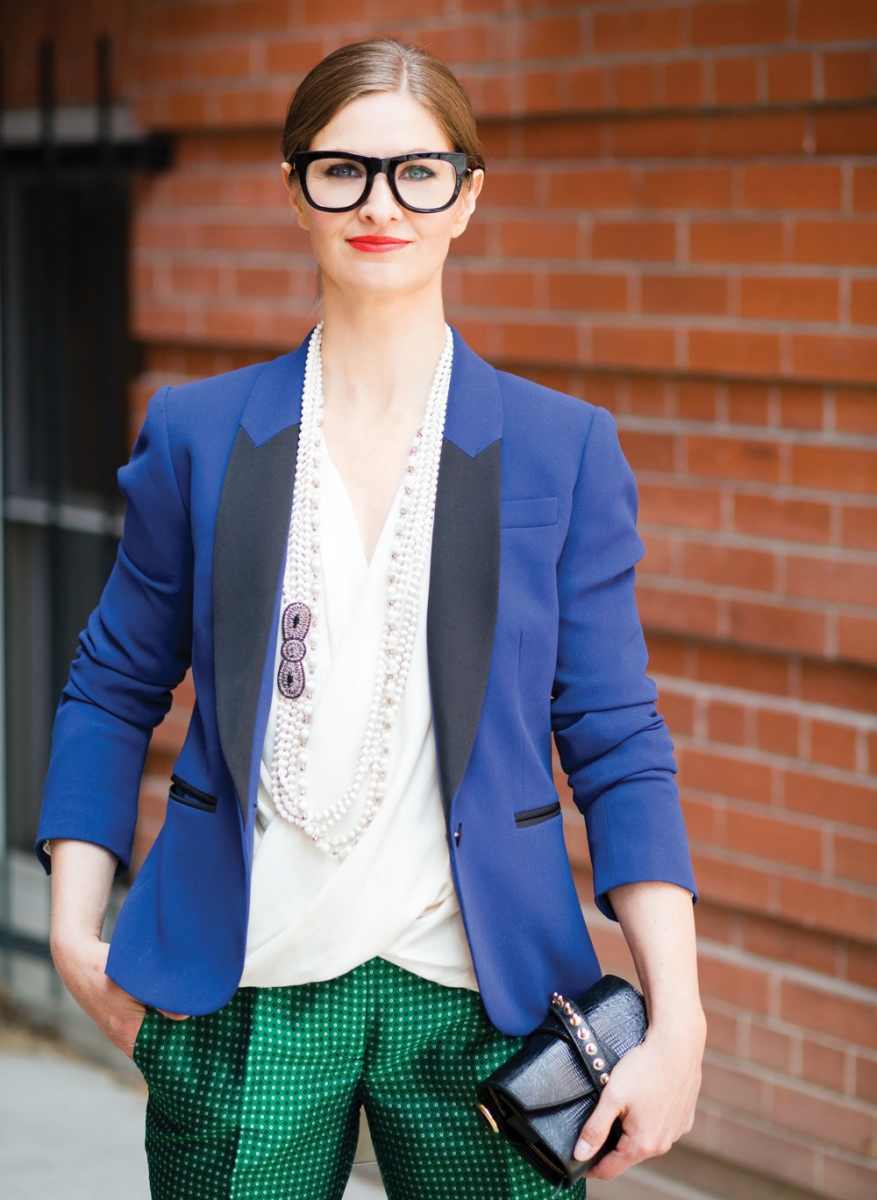 Public School for J.Crew jacket, J.Crew Collection pants and Super eyeglasses, all from J.Crew; Citrus Accessories necklace and Loes Vrij bag, both from Paul Hardy Design.
Where did that lead you?
I got a part-time job at a little boutique in the city a couple of years ago and, on my first day, I walked in wearing J.Crew. The owner told me a store was opening here later that year, so right away I phoned the Edmonton location and I started in sales and then as a part-time stylist with them when they opened in Chinook Mall. I eventually became the store manager and worked there until the opportunity with Paul [Hardy] came along.
How did that opportunity to work with Paul come up?
It's funny. Paul kind of passed in and out of my life for a number of years. This opportunity came about from some private yoga clients I had who also happened to be investors in Paul's business. When the position became available, they asked if I'd be interested.
What's it like to be able to work with a local designer as talented as Paul Hardy?
People are interested in supporting him – that's what I feel my job is. Anything I can do to have him be freed up to be creative and to do those kinds of things, then that's what I want to do.
Why is it important to you to support local designers?
I believe we work so hard for our money, and what we spend that money on should be really important. You're trading your life for this; why would you go and give it away for something that's really meaningless? I'm voting with my money. If I spend it on this guy who's amazingly creative, who supports our local economy, who gives back to the community, who makes a difference in the world – if I support that, then that's what I'm saying I want to trade my time and energy for, and that's important to me.
What's the most rewarding part of your job?
Just like teaching yoga, for me, clothing is very similar in the way that you build a relationship with a client. They begin to trust you and, through that trust, you sort of push them out of their comfort zone. When you have that trust, they're willing to go there with you. Through that, you see them really get this incredible self-esteem because they begin to try something they didn't think they would wear. And, when they have that sense of self-esteem and that confidence, they go out into the world and they feel good and they make a difference.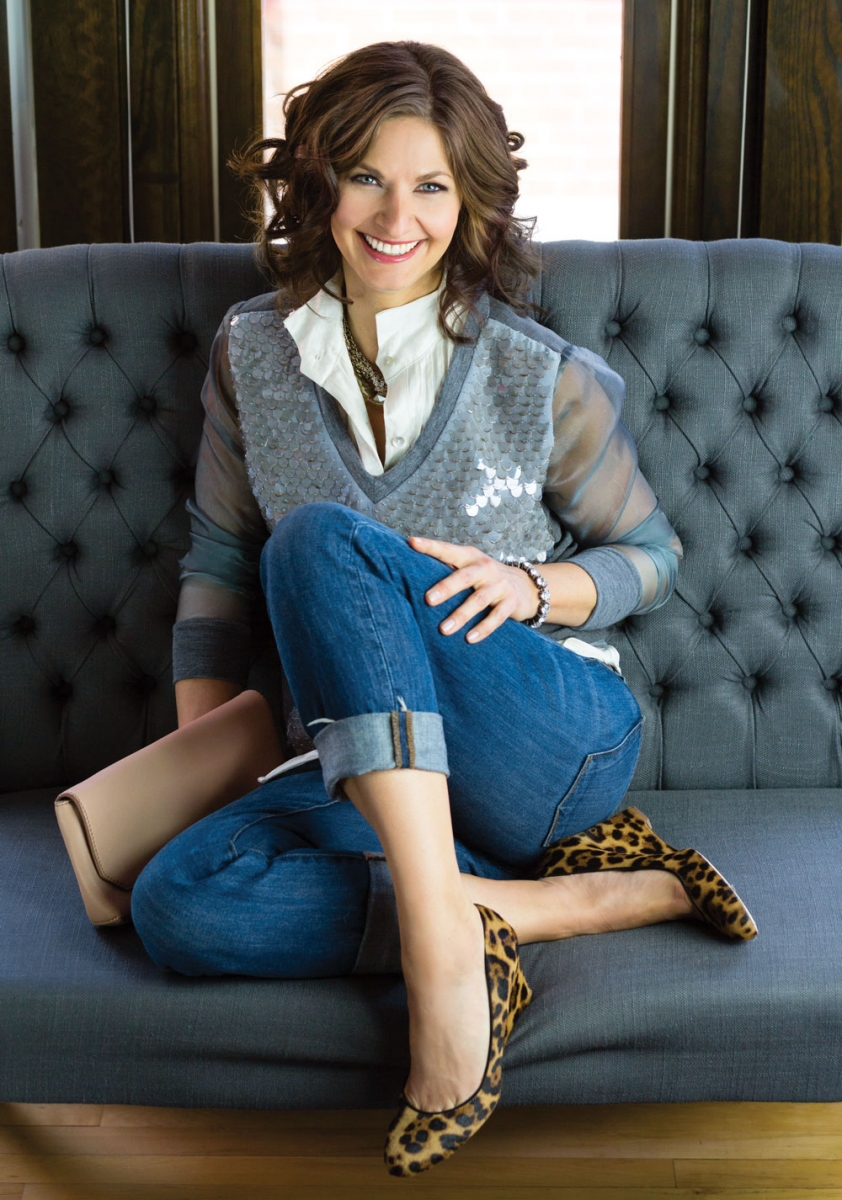 Blouse and sequined top, both from Paul Hardy Design; clutch, bracelet, Point Surf for J.Crew jeans and J.Crew Collection shoes, all from J.Crew; necklace from Banana Republic; vintage stone necklace, private collection.
---
Lightning round
Where are you from? Calgary, born and raised.
What do you do? Director of sales at Paul Hardy Design and teach yoga part-time. I also offer personal styling consultation, from closet organization to shopping.
What did you think you'd do when you were growing up? All I knew was I was going to be a busy, successful businesswoman. I used to practice signing my name for cheques!
What station is your car radio set to? CBC Radio 2 and XL103 for my '80s fix.
What book are you currently reading? The Healing Code by Alexander Loyd.
Favourite childhood book? Winnie the Pooh.
Glasses or contacts? Glasses.
Red or white? Red, but I do like white, too.
Denim or leather? Denim.
Dream vacation? Paris and then to the south of France.
Pet peeve? Dishonesty.
Midnight snack? Nachos.
Favourite cocktail? Old Fashioned.
Favourite locally made edible treat? Anything from Yann Haute Patisserie.
Ice cream flavour? Salted caramel from Village Ice Cream with a side of chocolate.
What is your greatest extravagance? Travel and Paul Hardy clothing!
Who is your favourite fictional hero(ine)? Vianne Rocher from Chocolat.
Favourite season? Summer for weather, fall for fashion, never winter.
Booth or table? The bar. You meet people and have great conversations – two of my favourite things.
In which era do you wish you had lived? The Roaring Twenties.